"Waning immunity?" Experts say term leads to false understanding of COVID-19 vaccines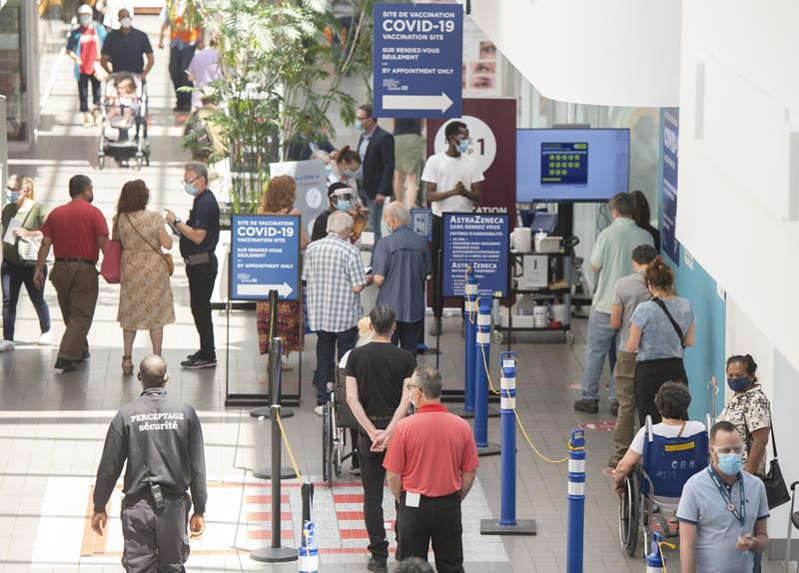 The idea of waning immunity has picked up steam in recent weeks, with some countries using it to justify rolling out third-dose COVID-19 vaccine boosters to their populations. But immunologists say the concept has been largely misunderstood.
While antibodies — proteins created after infection or vaccination that help prevent future invasions from the pathogen — do level off over time, experts say that's supposed to happen.
And it doesn't mean we're not protected against COVID-19.
Jennifer Gommerman, an immunologist with the University of Toronto, said the term "waning immunity" has given people a false understanding of how the immune system works.
"Waning has this connotation that something's wrong and there isn't," she said. "It's very normal for the immune system to mount a response where a ton of antibodies are made and lots of immune cells expand. And for the moment, that kind of takes over.
"But it has to contract, otherwise you wouldn't have room for subsequent immune responses."
Antibody levels ramp up in the "primary response" phase after vaccination or infection, "when your immune system is charged up and ready to attack," said Steven Kerfoot, an associate professor of immunology at Western University.
They then decrease from that "emergency phase," he added. But the memory of the pathogen and the body's ability to respond to it remains.
Kerfoot said B-cells, which make the antibodies, and T-cells, which limit the virus's ability to cause serious damage, continue to work together to stave off severe disease long after a vaccine is administered. While T-cells can't recognize the virus directly, they determine which cells are infected and kill them off quickly.
Recent studies have suggested the T-cell response is still robust several months following a COVID-19 vaccination.
"You might get a minor infection … (but) all of those cells are still there, which is why we're still seeing very stable effectiveness when it comes to preventing severe disease," Kerfoot said.
A pre-print study released this week by Public Health England suggested protection against hospitalization and death remains much higher than protection against infection, even among older adults.
So the concept of waning immunity depends on whether you're measuring protection against infection or against severe disease, Kerfoot said.
Ontario reported 43 hospitalized breakthrough cases among the fully vaccinated on Friday, compared to 256 unvaccinated hospitalized infections. There were 795 total new cases in the province that day, 582 among those who weren't fully vaccinated or had an unknown vaccination status.
British Columbia, meanwhile, saw 53 fully vaccinated COVID-19 patients hospitalized over the last two weeks, compared to 318 unvaccinated patients.
"You'll hear people say that vaccines aren't designed to protect infection, they're designed to prevent severe disease," Kerfoot said. "I wouldn't say necessarily it's the vaccine that's designed to do one or another … that's just how the immune system works."
Moderna released real-world data this week suggesting its vaccine was 96 per cent effective at preventing hospitalization, even amidst the more transmissible Delta variant, and 87 per cent effective at preventing infection — down from the 94 per cent efficacy seen in the clinical trials last year.
Moderna CEO Stéphane Bancel said that dip "illustrates the impact of waning immunity and supports the need for a booster to maintain high levels of protection."
Pfizer-BioNTech has argued the same with its own data, and an advisory panel to the U.S.-based Food and Drug Administration voted Friday to endorse third doses for those aged 65 and older, or at high risk for severe disease.
However, the panel rejected boosters for the general population, saying the pharmaceutical company had provided little safety data on extra jabs.
Gommerman said the efficacy data presented by Moderna doesn't signal the need for a third dose.
"The fact it protects 87 per cent against infection, that's incredible," she said. "Most vaccines can't achieve that."
Bancel said Moderna's research, which has yet to be peer reviewed, suggested a booster dose could also extend the duration of the immune response by reupping neutralizing antibody levels.
But Dr. Sumon Chakrabarti, an infectious physician in Mississauga, Ont., said looking solely at the antibody response is misleading, and could be falsely used as justification for an infinite number of boosters.
Israel, which has opened third doses for its citizens, recently talked about administering fourth doses in the near future.
"This idea of waning immunity is being exploited and it's really concerning to see," Chakrabarti said. "There's this idea that antibodies mean immunity, and that's true … but the background level of immunity, the durable T-cell stuff, hasn't been stressed enough."
While some experts maintain boosters for the general population are premature, they agree some individuals would benefit from a third jab.
The National Advisory Committee on Immunization has recommended boosters for the immunocompromised, who don't mount a robust immune response from a two-dose series.
Other experts have argued residents of long-term care, who were prioritized when the rollout began last December, may also soon need a third dose. The English study suggests immunity could be waning in older groups but not much — if at all — among those under age 65.
Chakrabarti said a decrease in protection among older populations could be due more to "overlapping factors," including their generally weaker immune systems and congregate-living situations for those in long-term care.
"These are people at the highest risk of hospitalization," he said. "Could (the length of time that's passed following their doses) be playing a role? Yeah, maybe."
While we still don't know the duration of the immune response to COVID-19 vaccination, Gommerman said immune cells typically continue to live within bone marrow and make small amounts of antibodies for "decades."
"And they can be quickly mobilized if they encounter a pathogen," she said.
This report by The Canadian Press was first published Sept. 19, 2021.
Melissa Couto Zuber, The Canadian Press
Mohawk Council of Kahnawake 'repulsed' by politicization of Habs' land acknowledgment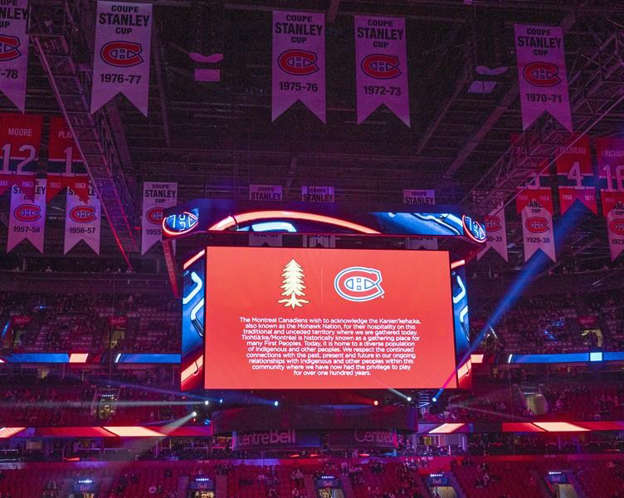 MONTREAL — The Mohawk Council of Kahnawake is blasting the Quebec government for questioning a land acknowledgment by the Montreal Canadiens that refers to the unceded territory of the Mohawk Nation.
The statement, which has been read before the NHL team's home games this season, acknowledges the hospitality of the Mohawk Nation "on this traditional and unceded territory where we are gathered today."
Quebec Indigenous Affairs Minister Ian Lafrenière told reporters on Wednesday the acknowledgment may be an error.
In a statement Thursday, the elected council for the First Nations reserve across the river from Montreal commended the hockey club's gesture as an example of true reconciliation and added it was "repulsed" by the province's attempt to politicize the effort, which it said undermines the Mohawk presence in the Montreal region.
On Wednesday, Lafrenière told reporters that referring to a specific nation may be a mistake as historians differ on which nation was the first to live in Montreal, while adding it was important to recognize that First Nations were the first occupants.
Grand Chief Kahsennenhawe Sky-Deer said in a statement that land is an essential part of Mohawk identity.
"It holds the knowledge of our ancestors, our history and our presence, now and for the future," Sky-Deer said. "Opinionated commentary that challenge and discredit our presence are not only insulting, they are taken as displaced attacks on our existence."
This report by The Canadian Press was first published Oct. 21, 2021.
The Canadian Press
Supreme Court of Canada sides with injured woman in snow-clearing squabble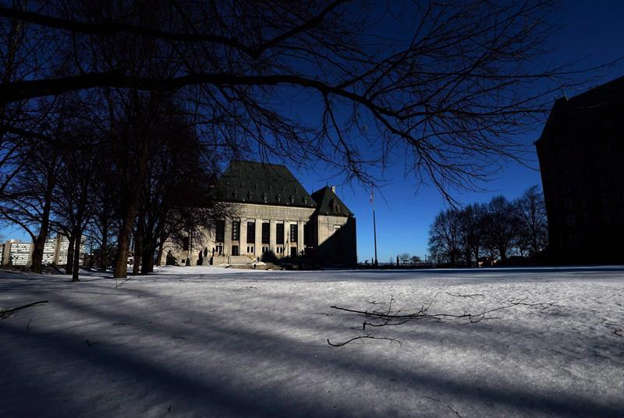 OTTAWA — A woman will get another chance to sue for damages over a leg injury she suffered while climbing through snow piled by a city's plow, the Supreme Court of Canada has ruled.
Taryn Joy Marchi alleged the City of Nelson, B.C., created a hazard when it cleared snow from downtown streets after a storm in early January 2015.
The removal effort left snow piles at the edge of the street along the sidewalk early in the morning of Jan. 5.
Late in the afternoon of Jan. 6, Marchi — then a 28-year-old nurse — parked in an angled spot on the street and, wearing running shoes with a good tread, tried to cross a snow pile to get on to the sidewalk.
Her right foot dropped through the snow and she fell forward, seriously injuring her leg.
Marchi contended the city should have left openings in the snowbank to allow safe passage to the sidewalk.
She pointed to the neighbouring municipalities of Castlegar, Rossland and Penticton in arguing there were preferable ways to clear the streets so as to ensure safe access for pedestrians.
However, the trial judge dismissed her case, saying the city was immune from liability because it made legitimate policy decisions about snow clearing based on the availability of personnel and resources.
In any event, the judge concluded, Marchi assumed the risk of crossing the snow pile and was "the author of her own misfortune."
The B.C. Court of Appeal overturned the decision and ordered a new trial, saying the judge erred in addressing the city's duty of care and the question of Marchi's negligence.
The ruling prompted the City of Nelson to seek a hearing in the Supreme Court.
In a written submission to the high court, the city said its actions amount to "a clear example of a core policy decision" that should be immune from liability.
In her filing with the court, Marchi said city employees made a number of operational decisions that fell below the expected standard of care of a municipality — decisions not required by the written policy.
In its 7-0 ruling Thursday, the Supreme Court said a fresh trial should take place because the city has not proved that its decision on how to clear the snow was "a core policy decision" immune from liability.
While there is no suggestion the city made an irrational or "bad faith decision," the city's core policy defence fails and it owed Ms. Marchi a duty of care, justices Sheilah Martin and Andromache Karakatsanis wrote on behalf of the court.
"The regular principles of negligence law apply in determining whether the City breached the duty of care and, if so, whether it should be liable for Ms. Marchi's damages."
This report by The Canadian Press was first published Oct. 21, 2021.
Jim Bronskill, The Canadian Press