Virgin Galactic completes final test flight before launching paying customers to space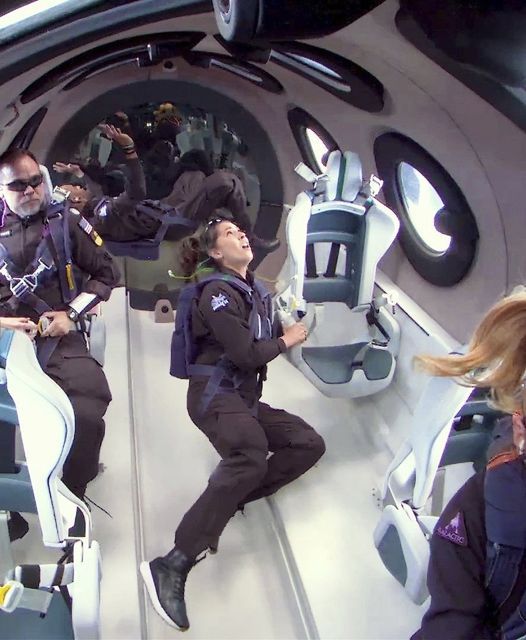 Huie, left, instructor Luke Mays, center, and mission specialist Jamila Gilbert during a test flight on Thursday, May 25, 2023. Virgin Galactic completed what's expected to be its final test flight Thursday before taking paying customers on brief trips to space. (Virgin Galactic via AP)
ALBUQUERQUE, N.M (AP) — Virgin Galactic completed what is expected to be its final test flight Thursday before taking paying customers on brief trips to space, marking what the space tourism company described as a "fantastic achievement" in what has been a long road to commercial operations.
Six of the company's employees, including two pilots, landed at Spaceport America in southern New Mexico after the short up-and-down flight that included a few minutes of weightlessness. It took about an hour for the mother ship to carry the spaceplane to an altitude of 44,500 feet (13,563 meters), where it was released and fired its rocket motor to make the final push.
"Successful boost, WE HAVE REACHED SPACE!" Virgin Galactic tweeted.
It reached an altitude of 54.2 miles (87 kilometers) before gliding back down to the runway, according to the company.
Jamila Gilbert, who grew up in southern New Mexico and leads the company's internal communications, was among those on board who were evaluating what it will be like for paying customers.
It was hard for her to put the experience into words, saying it probably will take a lifetime to process the sights and the feelings that filled those moments between the rocket igniting and the spaceship reaching its highest point.
"It was just this magnetic pull," she said in an interview. "Once I started looking out, I could feel that I was floating. I could hear voices. But I couldn't stop looking at the planet, and I couldn't look away."
Fellow crew member Christopher Huie said it seems as if everything stopped when the spaceship was released from the carrier plane.
"You're just waiting for the rocket to light," said Huie, an aerospace engineer. "And I think that moment had so much anticipation, and I could have lived in that moment forever."
Then came a little jostle with the firing of the rocket, and the crew were pinned to their seats as the G-forces kicked in.
The flight came nearly two years after founder Richard Branson beat fellow billionaire and Amazon founder Jeff Bezos and rocket company Blue Origin into space. Bezos ended up flying nine days later from West Texas, and Blue Origin has since launched several passenger trips. Federal aviation authorities banned Virgin Galactic launches after Branson's flight to investigate a mishap.
Virgin Galactic has been working for more than a decade to send paying passengers on short space hops and in 2021 finally won the federal government's approval.
The next step will be for Virgin Galactic to analyze data from Thursday's flight and inspect the planes and other equipment as the company prepares for commercial service, possibly as soon as late June.
Virgin Galactic CEO Michael Colglazier has acknowledged the delays and missed deadlines over the years. But on Thursday, he said seeing the crew's reactions after landing gave him confidence in what the company has built so far.
The initial commercial flight will include members of the Italian AirForce who will conduct experiments. Next will come customers who purchased tickets years ago for their chance at weightlessness aboard a winged spacecraft that launches from the belly of an airplane.
About 800 tickets have been sold over the past decade, with the initial batch going for $200,000 each. Tickets now cost $450,000 per person.
Virgin Galactic has reached space five times since 2018 and will be aiming for 400 flights per year from Spaceport America once it finishes building its next class of rocket-powered planes at a facility in neighboring Arizona.
After Branson's trip, the Federal Aviation Administration grounded flights as it investigated a problem that caused the rocket ship to veer off course during its descent back to its runway in the New Mexico desert. Virgin Galactic insisted at the time that Branson and others were never in any danger.
The company made changes to its carrier airplane and the spaceplane. The delay was nearly twice as long as expected, partly because of supply chain issues and labor shortages.
Branson joined a group of customers who watched Thursday's flight from Spaceport America.
Huie, a senior manager with Virgin Galactic's flight sciences engineering team, said the company is ready for commercial service and will be expanding its fleet over the coming years.
"We're looking to scale up in a big way," he said, "and the goal is to populate lots of spaceports with lots of spaceships and motherships and send hundreds of people every year to space."
Virgin Galactic founder Richard Branson answers students' questions during a news conference at Spaceport America near Truth or Consequences, N.M., on July 11, 2021. Virgin Galactic completed what's expected to be its final test flight Thursday, May 25, 2023, before taking paying customers on brief trips to space. The company is planning its first commercial flight, a science mission with the Italian Air Force, in late June. (AP Photo/Susan Montoya Bryan, File)
Cost of living: Pepsi and Coca-Cola absent in meeting with federal industry minister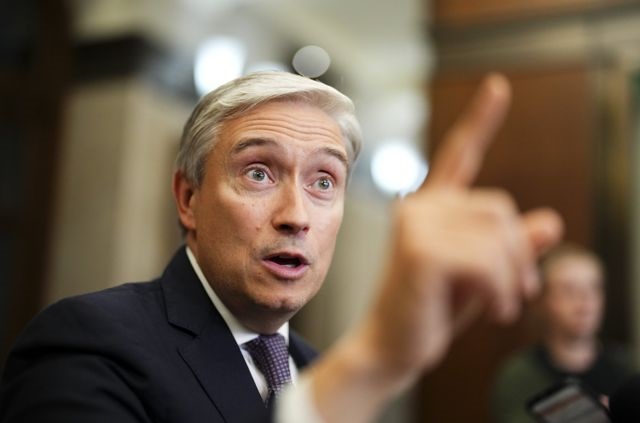 Innovation, Science and Industry Minister Francois-Philippe Champagne speaks to reporters in the foyer of the House of Commons on Parliament Hill in Ottawa on Tuesday, Sept. 19, 2023. Canada's industry minister made a point of calling out Pepsi and Coca-Cola for not sending representatives to a meeting he convened on Monday with manufacturing companies to discuss stabilizing grocery prices. THE CANADIAN PRESS/Sean Kilpatrick
Canada's industry minister made a point of calling out Pepsi and Coca-Cola for not sending representatives to a meeting he convened on Monday with manufacturing companies to discuss stabilizing grocery prices.
François-Philippe Champagne singled out the two companies when asked by a journalist what the consequences would be if major industry players did not succeed in stopping high inflation.
"This morning, (their CEOs) did not attend the meeting," Champagne said of beverage giants Pepsi and Coca-Cola.
"I intend to call on them and I will continue to do so. … I don't stop," he told reporters.
The Canadian leaders of seven international manufacturing companies, including Nestlé and Kraft Heinz, met with Champagne.
He summoned them to answer to Prime Minister Justin Trudeau's call earlier this month for Canadian grocers to come up with a plan to stabilize prices by Thanksgiving.
If major grocers fail to deliver ideas, Champagne said, "the consequence is for all 40 million Canadians because we will be able to see who is taking action and who is not."
A government source told The Canadian Press that the CEOs of Pepsi and Coca-Cola responded to the federal government summons by stating they were not available Monday. The source was granted anonymity because they were not allowed to speak publicly about the matter.
It's unclear, however, whether another meeting between major food companies and the government will take place.
Monday's meeting brought together top Canadian executives from McCain, Unilever, Nestlé, Lactalis, Lassonde, Kraft Heinz, and Smucker Foods.
All avoided speaking with journalists. The CEO of the Food, Health & Consumer Products of Canada association, Michael Graydon, attended the meeting and agreed to answer questions on their behalf.
Graydon called the meeting "very productive."
"We're very much about co-operation and support, collaboration," he said. "It's an industry that needs to align and work collectively to find a solution."
He said manufacturers want to collaborate with other players in the supply chain, such as major retailers like Loblaw and Costco, whose leaders Champagne met with one week earlier.
In a statement, Pepsi said it is open to meeting with Champagne.
"We are pleased that our industry association, FHCP, led a productive conversation with the government and representatives from industry today," it said.
"We were not able to attend today's meeting, but we offered to meet with the minister. We are committed to collaborating with the government to identify solutions during this challenging time for Canadians."
Trudeau has said that if the government isn't satisfied with what major grocers come up with to stabilize prices, he would intervene, including with tax measures.
Graydon said it remains to be seen how detailed the plans will be by the government's Thanksgiving deadline.
"We'll have to see whether, you know, the detail of how much completeness can be done by that time. But I think everybody's working very hard to achieve that," Graydon said.
Champagne said he is happy Graydon "wants to do something," because "it's a gain for Canadians."
"It's clear that what's important is that we have timelines, work plans, and obviously concrete actions," the minister said.
This report by The Canadian Press was first published Sept. 25, 2023.
Moneris confirms credit and debit card processing outage, but offers few details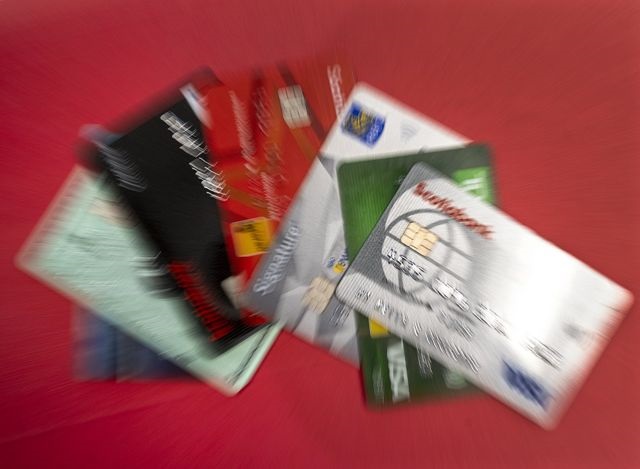 Toronto
The Canadian payment processing firm Moneris confirmed Saturday that credit and debit card transactions were interrupted by a network outage earlier in the day.
The Toronto-based technology company issued a statement saying there was nothing to suggest the outage was related to a cyber attack.
Complaints about outages started rolling in to the Downdetector.ca website before noon eastern time, but Moneris did not say when the outage started.
About three hours later, Moneris posted a message on X — the social media site formerly known as Twitter — saying it had resolved the network problem.
It remains unclear how many businesses and transactions were affected, but data provided by Downdetector.ca indicated complaints had come in from across the country.
In a statement provided to The Canadian Press, the company said the outage lasted about 90 minutes.
"We have resolved the network outage and returned transaction processing to normal," the statement said. "We continue to investigate the root cause of the issue. There are no indications this appears to be cyber-attack related and all transaction systems are functioning normally again."
The company, a joint venture between Royal Bank and BMO Bank of Montreal, said transaction processing could be slow as its systems catch up with the backlog.
Moneris says it supports more than 325,000 merchant locations across Canada.
This report by The Canadian Press was first published Sept. 23, 2024.