Vancouver port authority suspends Rolling Truck Age Program for at least nine months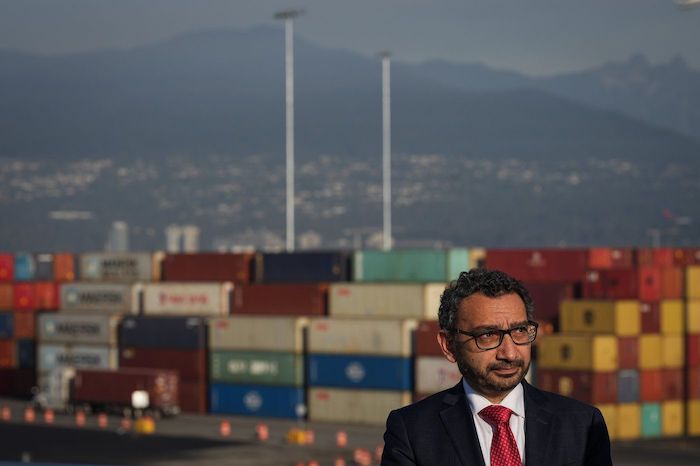 Minister of Transport Omar Alghabra listens during an announcement at Port Metro Vancouver's Centerm container terminal, in Vancouver, on Friday, October 14, 2022. The Port of Vancouver announced that they have delayed the start of its Rolling Truck Age Program for another nine months due to the current economic landscape and the continued pandemic related issues their press release states. THE CANADIAN PRESS/Darryl Dyck
By Maya Riachi in Ottawa
The Vancouver Fraser Port Authority is suspending a controversial program to replace older trucks servicing the port for at least another nine months while it reassesses its plans.
It is the third time the port is postponing the Rolling Truck Program, which was supposed to begin April 3 to phase out trucks more than 12 years old to improve air quality and community health.
Truckers who use the port say the onus is on owners and operators to replace the older vehicles at a steep cost, even though many of them already meet emissions standards.
The port authority says the decision comes because of the state of the economy and ongoing issues related to the pandemic but it plans to explore new technologies and will reassess its emissions-reduction strategy.
The latest delay comes after four Liberal MPs wrote letters to Transport Minister Omar Alghabra expressing their frustration over the program and asking him to intervene.
In a statement on Twitter, Alghabra said the Liberal government is committed to working with both the port authority and truck drivers to find a common path forward.
A letter from Surrey, B.C., MP Randeep Sarai earlier this week said he has met with truckers who have complied with the new measures but still find it unreasonable and worry about the requirement to replace more vehicles from their fleets down the road.
Other Liberal MPs from the area, including Sukh Dhaliwal, Parm Bains and John Aldag, sent similar letters.
Conservative Leader Pierre Poilievre called on Prime Minister Justin Trudeau to direct Alghabra to "immediately cancel" the program in a statement on Thursday.
"Justin Trudeau's out-of-touch government is supporting another back-breaking policy at the Port of Vancouver that will further drive up the cost of goods," Poilievre said.
Gagan Singh, a spokesperson for the United Truckers Association, said he wants the program scrapped entirely, and called on the federal government to facilitate talks with the port.
For others, news of the delay is "unfortunate." Dave Earle, president and CEO of the British Columbia Trucking Association, said people knew the change was coming.
"The vast majority of operators have already chosen to make the investment necessary to reduce their (greenhouse gas) profile," said Earle. "While the transition is difficult to do, certainly, it's been in the works for a long time."
Earle said newer vehicles are more fuel efficient and have lower greenhouse gas emissions.
"We've talked with every level of government about supporting the industry and accelerating fleet turnover — that is one of the best things we can do," said Earle.
He remains "deeply hopeful" that the program will eventually happen.
Although the legislation was introduced under Stephen Harper's former Conservative government, implementation of the program happened under the current government.
In a press release, the Port of Vancouver said it will consider new technologies and federal and provincial "fleet greening programs." It also intends to reassess its emissions-reduction strategy.
The port said 85 per cent of truck operators are compliant with requirements of the program, which it estimates has led to a 79 per cent reduction in diesel particulate matter.
The port has also said in a previous press release that once trucks built before 2009 have been removed, it expects to see a reduction of about 15,000 tonnes of greenhouse gases being released each year, including 575 tonnes of smog-forming nitrogen oxide and 37 tonnes of carcinogenic particulate matter.
This report by The Canadian Press was first published Feb. 24, 2023.
StatCan report casts clouds on claims of a widespread labour shortage in Canada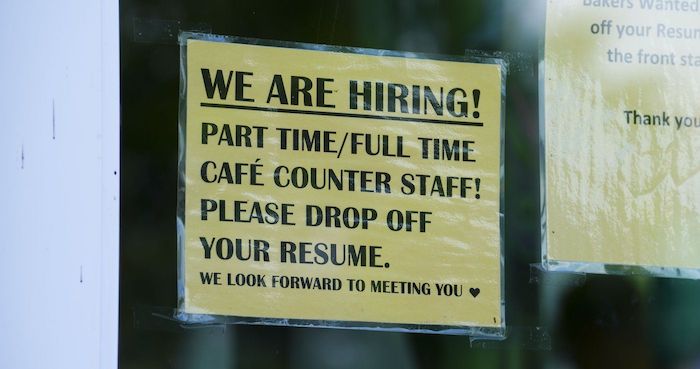 A new report is casting doubt on the idea that Canada is facing a widespread labour shortage, bolstering arguments by labour economists who say the country has more than enough workers. A sign for help wanted is pictured in a business window in Ottawa on Tuesday, July 12, 2022. THE CANADIAN PRESS/Sean Kilpatrick
By Nojoud Al Mallees in Ottawa
A new report is casting doubt on the idea that Canada is facing a widespread labour shortage and bolsters the arguments by some labour economists that high job vacancies aren't due to a shortage of workers.
The Statistics Canada analysis finds there are no labour shortages for jobs that require high levels of education, suggesting other factors, such as a mismatch in skills and pay, might be to blame for a high number of empty positions.
In the aftermath of the COVID-19 pandemic, labour shortages have grasped headlines from coast to coast as businesses have advertised more job openings than ever. Job vacancies skyrocketed to more than one million at one point last year.
The perceived countrywide labour shortage has put pressure on governments to help businesses find workers, including by increasing Canada's immigration targets.
But the report published this week compares unemployment and job vacancies by education level and paints a more nuanced picture of the labour market.
"Things look really different depending on whether you look at vacancies that require a high level of education, versus those that require a high school diploma or less," said René Morissette, the assistant director of social analysis and modelling division at the federal agency.
The report, which looked at labour data between 2016 and 2022, found for jobs requiring a bachelor's degree or higher education, there were always fewer jobs available than people to fill them.
For example, there were 113,000 vacant positions requiring a bachelor's degree or higher education in the fourth quarter of 2022, but 227,000 individuals who held such an education were unemployed during the same period.
But for positions that required a high school diploma or less, the shortage of workers only started in the third quarter of 2021.
Morissette said the findings don't mean that there are no labour shortages in some markets, but shortages may not be as extensive as previously assumed.
"It's certainly conceivable that there are local shortages in some in some positions," Morissette said. "What we're saying is that the shortages may not be as widespread as initially assumed in the early discussions about the high vacancy rates in Canada."
For employers trying to fill vacancies that require a post-secondary education, the report says their hiring challenges cannot be attributed to a lack of workers available with those qualifications.
Instead, the difficulties may be the result of a mismatch in skills required for the job and those possessed by candidates. Another factor could be that employers aren't offering wages that are on par with what job seekers expect.
The report also casts doubt on the hiring challenges facing firms trying to recruit workers with lower levels of education.
"The degree to which these job vacancies can be attributed to labour shortages in specific low-skilled occupations instead of relatively low-wage offers and fringe benefits or other factors remains an open question," the report says.
Jim Stanford, an economist and the director of the Centre for Future Work, says the report from Statistics Canada busts "long-standing myths" about labour shortages in the country.
"If you were really short of labour, and you couldn't find someone to do that minimum wage job at a McDonald's restaurant, then why aren't they either increasing the wage or trying to replace the work with machinery?" Stanford said.
"Neither are happening, which suggests to me that employers in general are quite happy with the current state of affairs, no matter how much they complain about labour being in short supply."
So what explains the high number of job vacancies?
Morissette said for low-skilled industries, businesses may be choosing to keep wages low and accept higher vacancy rates.
"For employers that have negligible training costs, a human resource strategy that combines relatively low wages with high worker turnover and some vacancies might actually … maximize profits," he said.
The federal government has kept an open ear to business groups raising alarm bells about labour shortages.
In the fall, Ottawa announced new immigration targets that would see the country welcome 500,000 immigrants annually by 2025. Immigration Minister Sean Fraser has touted the new plan as a solution to the country's labour woes.
Canada has also experienced a surge in the number of temporary foreign workers brought into the country to help businesses fill vacant positions.
The apparent shortage of low-skilled workers could push policymakers to think that even more temporary workers are needed, but Stanford said that would be a "disastrous" conclusion to draw from the report.
Many economists have reservations about temporary foreign worker programs that they worry can suppress wages domestically, if used excessively.
"The goal of immigration policy should not be to solve the recruitment problems faced by low-wage employers, or any employers for that matter," he said.
This report by The Canadian Press was first published May 27, 2023.
WestJet pilots deal grants 24% pay raise over four years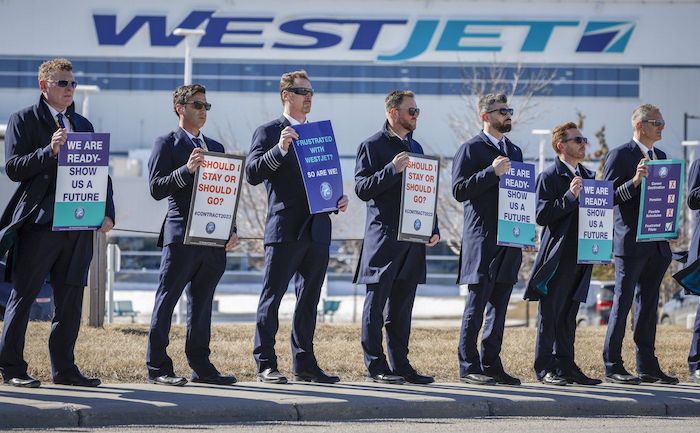 WestJet pilots are poised to get a 24 per cent pay bump over four years under an agreement-in-principle between the company and the union. Members of the Air Line Pilots Association demonstrate amid contract negotiations outside the WestJet headquarters in Calgary, Alta., Friday, March 31, 2023.THE CANADIAN PRESS/Jeff McIntosh
Calgary
WestJet pilots are poised to get a 24 per cent pay bump over four years under an agreement-in-principle between the company and the union.
A copy of the tentative agreement summary obtained by The Canadian Press states that pilots will receive a 15.5 per cent hourly pay raise this year retroactive to Jan. 1 upon ratification of the deal.
It also lays out a cumulative 8.5 per cent hike to their hourly wage over the remainder of the contract, from 2024 through 2026.
Bernard Lewall, who heads the Air Line Pilots Association's WestJet contingent, said last Friday after reaching a deal that the union achieved its main goals of better pay, job security and work-life balance.
Aviation expert Rick Erickson says the deal marks a new standard for labour negotiations in Canadian aviation, and could also make it tougher for budget airline competitors to retain pilots.
Bargaining came down to the wire last week, with WestJet cancelling more than 230 flights in preparation for job action before a deal was reached hours ahead of the strike deadline Friday morning.
This report by The Canadian Press was first published May 26, 2023.