Urging political action, Cafe Owner Chris Scott instructs tens of thousands of followers to bring down Premier Kenney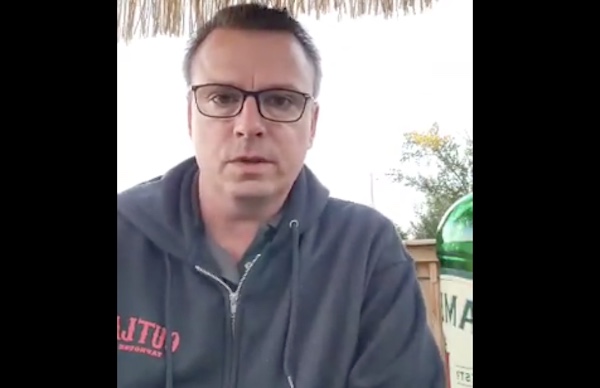 Shortly after Premier Kenney announced the latest covid 19 restrictions, a frustrated Chris Scott took to social media to vent and to urge Albertans to get politically active.  Chris Scott, owner of The Whistle Stop Cafe in Mirror may be a small town cafe owner, but he commands a huge audience of over 45,000 followers on Facebook.   Many of them are politically active.  Many others soon will be.  That's if they take on the challenge from Scott who urged all Albertans to get involved with Alberta's Conservative party and influence the local Constituency Associations to start a movement to close this chapter of Premier Kenney's political life, the way the Premier will undoubtedly be closing another round of businesses who won't survive this next round of mandates.
To see what else Chris Scott is up to, click here to see the Whistle Stop Cafe Facebook Page.
CP NewsAlert: Albertans who voted want equalization removed from Constitution
EDMONTON — The final results from Alberta's equalization referendum show almost 62 per cent of those who voted want to see the principle of equalization removed from the Constitution.
A second referendum question to keep daylight time year-round failed by a whisker: 50.1 per cent to 49.9 per cent.
The votes were held a week earlier in conjunction with municipal and school board elections across the province.
More coming …
The Canadian Press
Former federal cabinet minister to be sworn in as Edmonton's first mayor of colour
Edmonton's first racialized mayor and a diverse city council are to be sworn in this afternoon.
Amarjeet Sohi, an immigrant from India and a former federal Liberal cabinet minister, won the municipal election last week.
He will lead the capital's most diverse council yet.
Eight of the 13 council members are women and four are people of colour.
Sohi says in a statement that he is excited for the ceremony, which will abide with all public health orders related to COVID-19.
Edmonton's council will have its first meeting following the swearing-in ceremony.
This report by The Canadian Press was first published Oct. 26, 2021.
The Canadian Press