Unwelcome spotlight falls on NHL team Pride night events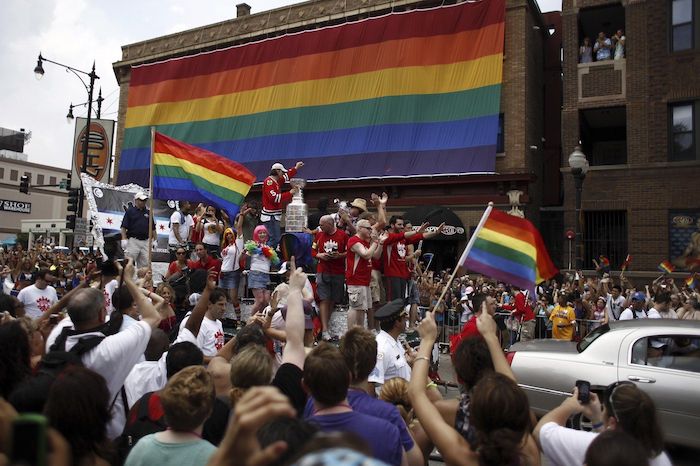 The Stanley Cup makes an appearance during the Gay Pride Parade in Chicago, Sunday June 27, 2010. At least one National Hockey League team with a Russian player on its roster has decided against wearing special warmup jerseys to commemorate Pride Night because of a Russian law that expands restrictions on activities seen as promoting LGBTQ rights. (AP Photo/Chicago Tribune, William DeShazer, File)
By Stephen Whyno
Pride nights, held annually for several years by National Hockey League teams to show support for the LGBTQ+ community, are in the spotlight following several high-profile incidents this season.
A handful of players have objected to participating in pregame warmups that included Pride-themed jerseys, most recently Florida's Eric and Marc Staal on Thursday night. On Wednesday, the Chicago Blackhawks decided against having players wear Pride-themed warmup jerseys for their upcoming Pride night, citing an anti-gay law in Russia.
WHAT ARE THE OBJECTIONS?
The Staal brothers and San Jose's James Reimer — who are Canadian — and Philadelphia's Ivan Provorov, who is Russian, all pointed to their religious beliefs for refusing to take part in warmups.
"We carry no judgement on how people choose to live their lives, and believe that all people should be welcome in all aspects of the game of hockey," Eric and Marc Staal said in a statement. "Having said that, we feel that by us wearing a Pride jersey, it goes against our Christian beliefs."
The Blackhawks said they acted out of concern that the safety of their Russian player and two others with connections to Russia could be jeopardized by the law when they return home because it expands restrictions on supporting LGBTQ+ rights.
Chicago coach Luke Richardson said he and his players were disappointed.
"It's an unfortunate situation," Richardson said. "I don't think we can control the world issues, so that takes it out of our hands."
The New York Rangers and Minnesota Wild decided not wear Pride-themed jerseys during warmups after advertising that they would. While each team has at least one star Russian player on its roster, neither specified the reason for the change.
IS THIS RELATED TO RUSSIA'S WAR IN UKRAINE?
Somewhat. Russia's invasion of Ukraine and the anti-gay law signed by President Vladimir Putin in December have combined to pose some problems for the NHL and its 32 teams.
No North American professional sports league has as many Russian players as the NHL. The Russian contingent includes some of the league's best athletes.
There are currently 45 Russia-born players spread across 28 teams, or about 6.4% of all players. They include No. 2 career goal-scorer Alex Ovechkin of the Washington Capitals, Tampa Bay's two-time Stanley Cup-winning goaltender Andrei Vasilevskiy, Lightning teammate and 2019 MVP Nikita Kucherov and reigning Vezina Trophy winner Igor Shesterkin of the New York Rangers.
The top five highest-earning Russian players receive an average annual salary of $11.1 million this season.
Russian players almost never discuss the war, in part out of concern for the safety of their loved ones at home. It was not clear if there was any credible threat behind the Blackhawks' decision.
WHAT'S THE NHL'S HISTORY WITH PRIDE?
The Stanley Cup first appeared at a Pride parade in 2010 when then-Blackhawks defenseman Brent Sopel brought it to the celebration in Chicago. A few years later, in 2013, the league partnered with the You Can Play Project, which advocates for LGBTQ+ participation in sports. The NHL added team Pride ambassadors in 2016-17.
Rainbow Pride stick tape debuted with the Edmonton Oilers in 2016. Now all 32 teams hold a Pride night, though many do so without themed jerseys. The Boston Bruins and Columbus Blue Jackets call theirs "Hockey Is For Everyone" night.
Pride nights, like other themed events, are planned and staged by individual teams, not the NHL.
WHAT HAS BEEN THE REACTION?
The You Can Play Project responded to Reimer's decision by saying it was disappointed.
"Religion and respect are not in conflict with each other, and we are certainly disappointed when religion is used as a reason to not support our community," the organization said.
Nashville Predators prospect Luke Prokop, who in 2021 made history as the first player signed to an NHL contract to come out as gay, called the Pride night incidents a "step back" for hockey.
WHAT DID LEAGUE OFFICIALS SAY?
NHL Commissioner Gary Bettman said defending teams' handling of the situation, saying the boycotts were not about accepting bigotry.
"Whether or not you choose to embrace and make a statement on behalf of a cause affirmatively, if you choose not to do that, it doesn't necessarily make you a bigot," Bettman said last month. "I'm sure you don't endorse every single charity that solicits you, and you don't participate in every social cause. You pick and choose the ones that are important to you."
The league declined to comment on the Blackhawks' decision.
WHAT'S NEXT?
Teams with Pride nights coming up have some decisions to make. The Buffalo Sabres are set to host their event on Monday, and the Vancouver Canucks on March 31. Each team has at least one Russian player.
It was not clear if players would wear Pride jerseys in warmups, as the teams have done in the past.
___
AP NHL: https://apnews.com/hub/nhl and https://twitter.com/AP_Sports
In this youth baseball league, fans who mistreat umpires are sentenced to do the job themselves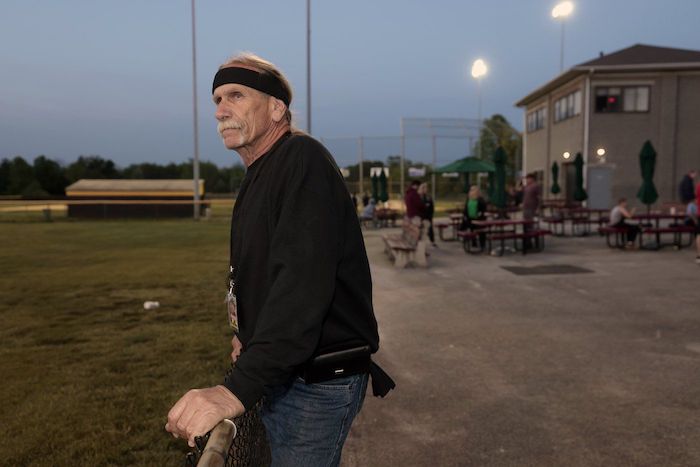 Deptford Little League president Don Bozzuffi stands next to a Little League field in Deptford, N.J., May 10, 2023. Deptford is trying to curb the appetite among the crowd watching 10- and 11-year-olds play baseball who curse at the unpaid volunteers behind the plate. The fans could become the umpires if they won't follow league rules on sportsmanship. (Elizabeth Robertson/The Philadelphia Inquirer via AP)
By Dan Gelston in Deptford
DEPTFORD, N.J. (AP) — The April Facebook post hardly seemed like national news at the time for Deptford Little League president Don Bozzuffi. He'd lost patience when two umpires resigned in the wake of persistent spectator abuse. So he wrote an updated code of conduct.
It specified: Any spectator deemed in violation would be banned from the complex until three umpiring assignments were completed. If not, the person would be barred from any Deptford youth sports facilities for a year.
In G-rated terms (unlike the ones that will get you tossed), the mandate just wants helicopter parents to calm the heck down. No 9-year-old will remember, as an adult, being safe or out on a bang-bang play at first. But how deep would be the cut of watching dad get tossed out of the game and banished for bad behavior?
The league doesn't want to find out. "So far, it's working like I'd hoped and just been a deterrent," the 68-year-old Bozzuffi said.
The problem, though, isn't limited to Deptford and its handful of unruly parents. Outbursts of bad behavior at sporting events for young people have had frightening consequences for officials at all youth levels. Pick a town, any town, and there are adults assaulting referees or chasing umpires into parking lots looking for a fight, all available on the social feed of your choice.
The videos pop up almost weekly: inane instances of aggressive behavior toward officials. Like in January, when a Florida basketball referee was punched in the face after one game. Or last month, when an enraged youth baseball coach stormed a baseball field in Alabama and wrestled an umpire to the ground. Other adults and kids tried to break up the melee that took place in a game — at an 11-and-under tournament.
Jim McDevitt has worked as a volunteer Deptford umpire for 20 years. But he turns 66 this month and won't call games much longer. He wonders where the next generation of officials will come from, especially when the job description includes little pay and lots of crap.
Youth officiating is in crisis. According to a 2017 survey of by the National Association of Sports Officials, nearly 17,500 referees surveyed said parents caused the most problems with sportsmanship at 39%. Coaches came in at 29% and fans at 18%.
Barry Mano founded the association four decades ago to advocate for youth officials. Mano, whose brother Mark was an NBA referee, has watched fan conduct become "far worse" than he could have imagined.
"Sports is simply life with the volume turned up," Mano says. "We've become louder and brasher. We always want a second opinion on things. That's where the culture has gone. I don't think we're as civil as we used to be toward each other, and it plays out in the sporting venues."
In Deptford, things seem to be working — at least in attracting non-mandatory umps. Bozzuffi says that since his rule grabbed national headlines, three umpires have joined the league and more volunteers want to be trained.
And those who might get sentenced to umping? McDevitt puts it less delicately. "We'll see how their sphincter feels when they have to make a tight call and the parents are all screaming and hollering at them."
The Deptford Little League playoffs, a time when tensions rise, are under way, and Bozzuffi has urged his umps to show restraint. Bozzuffi, who has served as league president for 14 years and been connected to the league for 40, doesn't want any fan to get ejected. He just wants to get them thinking.
For many, every "safe!" when the tag is missed, every called strike on a pitch below the knees is one more reason to blow a fuse in a youth sports culture full of hefty fees for league play and travel teams that have already heightened the financial and emotional attachment and encouraged a sense of parents as constituents who have a right to be heeded.
And it's getting attention all the way up the youth baseball chain. Little League President Stephen D. Keener had this to say: "We applaud the volunteers at Deptford Township Little League for coming up with a creative, fun solution to shine a light on the importance of treating everyone with respect, on and off the Little League field."
OK. But here's the fine print.
Beyond the headlines that suggest Fuming Father No. 1 is going to get the call from the bleachers and suddenly start ringing up strike three, there's this: It's too much effort. The risks! The potential safety problems! The insurance!
Bozzuffi and the town's mayor teach a three-hour safety certification class each offender must complete before receiving an umpire assignment. Rookie umps must pass a background check and complete an online concussion course. After all that, a real, qualified umpire would be stationed next to the replacement ump to ensure accuracy and fairness.
It hasn't happened — yet.
"The first person that we have to do this to, nobody is else is going to challenge this," Bozzuffi said. "Nobody wants to go through all this."
So for now, at least on a recent weeknight in Deptford, parents, grandparents and friends, were on their best behavior. Parent Dawn Nacke found it unfair that the town was labeled as "obnoxious parents when we're just caring about our kids."
"We know that they ump for free, but sometimes bad calls are made and they cost us the game," she said.
Has she ever been guilty of popping off too much?
"Mouthy, yes. But we all have to bite our tongues over here because of the new rule," she said. "I just have to keep my mouth shut more. Scared me straight. I'm more angry that they call us obnoxious parents. That really upset me when I read it in the news. But this is their rule and I'm going to follow it."
Just the way Deptford drew it up.
___
Follow Philadelphia-based AP Sports Writer Dan Gelston on Twitter at http://twitter.com/apgelston
Adams Jr., Rhymes in sync in B.C. Lions' 25-15 win over Calgary Stampeders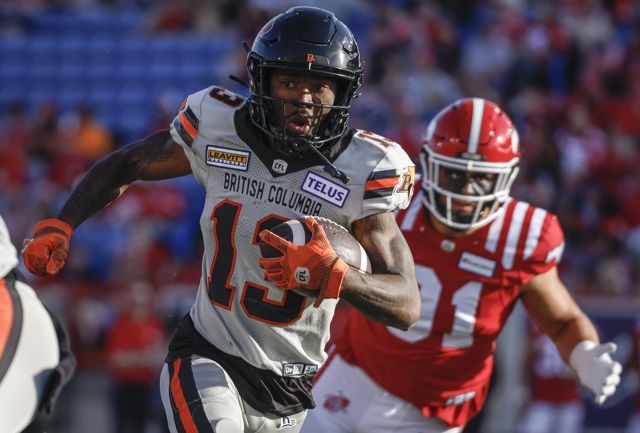 B.C. Lions wide receiver Dominique Rhymes, left, runs the ball as Calgary Stampeders defensive linemen Isaac Adeyemi-Berglund chases him during first half CFL football action in Calgary, Thursday, June 8, 2023.THE CANADIAN PRESS/Jeff McIntosh
By Donna Spencer in Calgary
Vernon Adams Jr. and Dominique Rhymes clicked early for the B.C. Lions in a 25-15 win over the Calgary Stampeders to open the CFL season Thursday.
Rhymes caught two touchdown passes and totalled 100 receiving yards in the game.
He picked up where he left off in 2022 when his 1,401 yards ranked second among CFL receivers behind Winnipeg's Dalton Schoen and earned Rhymes a league all-star designation.
B.C.'s quarterback was efficient early Thursday.
Adams threw for 176 yards in a pair of touchdown drives — one on B.C.'s first possession of the game and the other in the first minute of the second quarter.
He capped those drives with throws to Rhymes in the end zone.
"It's the work we've been doing as a whole offence together," Rhymes said. "When they give me opportunities to make plays, I've got to make plays for him.
"He's our quarterback and he's our leader and I want to be the best person I can be for him, so I can make our offence successful."
Adams was effective with his feet as well as his arm.
The quarterback rushed for 35 yards on 10 carries and also ran for a touchdown in the fourth quarter.
B.C. kicker Sean Whyte's 44-yard field goal with 25 seconds remaining put the game out of reach for the Stampeders.
"Starting fast was big," Lions head coach Rick Campbell said. "It's a 60-minute game, but playing Calgary here is tough.
"If they get momentum early, it's really hard. You fight an uphill battle. It was good to get ahead on the scoreboard and Vernon and our offence was a big part of that."
Tre Odoms-Dukes caught a fourth-quarter touchdown pass from Jake Maier for Calgary's lone touchdown in front of an announced crowd of 17,942 at McMahon Stadium.
Calgary's Rene Paredes kicked three field goals on five attempts.
He missed his first two from 39 and 45 yards, but was successful from 22, 39 and 52 yards.
Adams completed 27 of 35 passes for 270 yards and two touchdown throws in the game. He was intercepted by Mike Rose.
The Lions acquired Adams, a 2019 CFL all-star, from the Montreal Alouettes midway through last season when Canadian quarterback Nathan Rourke was injured.
With Rourke now property of the NFL's Jacksonville Jaguars, the Lions looked to the 30-year-old Adams to lead their offence.
"I am feeling a lot more comfortable than I was last year getting thrown in the fire," Adams said.
Maier struggled in Thursday's first half in completing just seven of 15 passes for 56 yards.
The 26-year-old was under pressure several times and sacked late in the second quarter by Mathieu Betts.
Maier finished 20-for-36 in pass attempts for 154 yards and a touchdown pass. He was intercepted once.
"There's no excuses," Maier said. "I'm never going to be an excuse guy.
"We didn't play that well, especially on offence in the first half and we're on to Week 2."
Calgary's Ka'Deem Carey, the CFL's leading rusher last season, ran for 42 yards on seven carries.
B.C.'s defence held top Stampeder receivers Reggie Begelton and Malik Henry to a combined 58 yards.
The Lions generated more first downs than the Stampeders over the first three quarters.
"We've got to stay ahead of the sticks, meaning we can't be a second-and-long team," Stampeders head coach Dave Dickenson said.
"We weren't able to necessarily give Jake the extra time to make that extra read, make that extra play.
"It's early. I'm not going to beat them up. I understand what it is. Look in the mirror. We've got to be better. Coaches as well."
Paredes' field goal from 52 yards late in the fourth quarter pulled the hosts within four points of B.C., but Whyte's 44-yarder sealed B.C.'s victory.
The Lions and Stampeders both posted 12-6 records in 2022.
B.C. downed Calgary 30-16 in last year's West Division semifinal before falling 28-20 to the Winnipeg Blue Bombers in the division final.
"Last year, we went to the game before the final, so we know what type of team we have," Lions defensive back Garry Peters said. "We came into the camp a lot further ahead.
"We have a lot of veteran guys, so that's just a testament of what type of team we have and that's what we put on the field today."
The Stampeders next face the host Ottawa Redblacks in a second straight Thursday night game to open their season.
The Lions are at home against the Edmonton Elks on June 17 with a pre-game concert by LL Cool J scheduled for B.C. Place
Campbell hopes bringing a win home from Calgary adds to the home-opener buzz.
"We're trying to do our part on the field," Campbell said. "Hopefully we get a huge crowd next week."
Notes: The Stampeders had nine rookies in their game-day lineup, including three receivers, compared to seven for the Lions . . . Since the CFL returned to a nine-team league in 2014, Calgary is 4-4-1 and the Lions are 4-5 in season openers.
This report by The Canadian Press was first published June 8, 2023.