Unprecedented construction needed in B.C. to offset record immigration: Report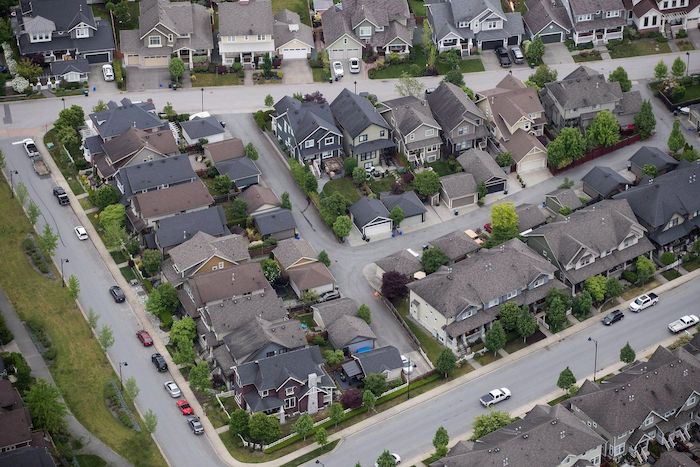 Vancouver – Houses and townhouses are seen in an aerial view in Langley, B.C., on Wednesday May 16, 2018. A new report says home construction in British Columbia will need to quickly rise to unprecedented levels to offset the impact of record immigration on the housing market.THE CANADIAN PRESS/Darryl Dyck
A new report says home construction in British Columbia will need to rise to unprecedented levels to offset the impact of record immigration on the housing market.
The B.C. Real Estate Association says the province must build 25 per cent more new homes than usual for the next five years to address deteriorating housing affordability.
It says construction needs to be ramped up to a record 43,000 housing completions a year for the next five years to counteract rapid population growth.
Brendon Ogmundson, chief economist with the association, says lowering price growth so incomes can catch up to prices is integral to improving housing affordability in B.C.
He says increasing supply would ease the upward pressure on housing prices from an immigration-driven demand shock and if sustained, help improve overall affordability.
The report says B.C. is expected to welcome an estimated 217,500 new permanent residents from 2023 to 2025, nearly double the historical average immigration levels.
This report by The Canadian Press was first published March 28, 2023.
UK leader Rishi Sunak signals plan to backtrack on some climate goals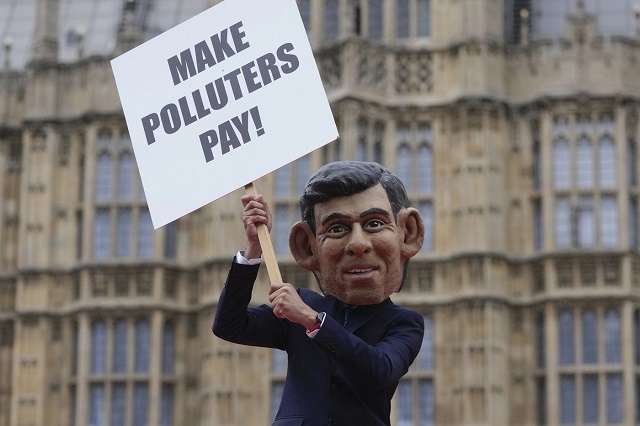 Oxfam's Rishi Sunak 'big head' protests outside the Parliament in London, Tuesday, Sept. 19, 2023. On the eve of the UN Climate Ambition Summit, Oxfam's Rishi Sunak 'big head' staged a protest on top of a giant oil barrel, amongst dozens of real oil drums, supporting the Make Polluters Pay campaign. Calling for oil and gas giants, such as BP and Shell, to pay more tax to raise critical funds to help communities devastated by climate change. (AP Photo/Kin Cheung)
By Jill Lawless in London
LONDON (AP) — Prime Minister Rishi Sunak is preparing to water down some of Britain's environmental commitments on Wednesday, saying the country must fight climate change without penalizing workers and consumers.
The news drew wide criticism from political opponents, environmental groups and large chunks of U.K. industry, but was welcomed by sections of the governing Conservative Party.
Sunak issued a late-night statement Tuesday in response to a BBC report saying the prime minister is considering extending deadlines for bans on new gasoline and diesel cars — currently set for 2030 — and on new natural-gas home heating, due in 2035.
Sunak said he would set out a "proportionate" approach to the environment. He summoned his Cabinet to an unscheduled conference call to discuss the plans ahead of a speech hastily rescheduled for Wednesday afternoon. It had been due later in the week.
"For too many years, politicians in governments of all stripes have not been honest about costs and trade-offs," Sunak said. "Instead, they have taken the easy way out, saying we can have it all."
Sunak did not confirm details of his announcements. He said he would keep a promise to reduce the U.K.'s emissions of climate-warming greenhouse gases to net zero by 2050, but "in a better, more proportionate way."
The government has previously boasted of Britain being a leader in cutting carbon emissions. U.K. greenhouse gas emissions have fallen by 46% from 1990 levels, mainly because of the almost complete removal of coal from electricity generation. The government had pledged to reduce emissions by 68% of 1990 levels by 2030 and to reach net zero by 2050.
But with just seven years to go until the first goalpost, the government's climate advisers said in June that the pace of action is "worryingly slow." Sunak's decision in July to approve new North Sea oil and gas drilling also spurred critics to question his commitment to climate goals.
Former Prime Minister Boris Johnson, who brought in the 2030 gasoline car target when he was leader, said businesses "must have certainty about our net-zero commitments."
"We cannot afford to falter now or in any way lose our ambition for this country," he said.
News of plans to backtrack broke as senior politicians and diplomats from the U.K. and around the world — as well as heir to the British throne Prince William — gathered at the United Nations General Assembly in New York, where climate is high on the agenda. Sunak is not attending, sending his deputy instead.
Greenpeace U.K. policy director Doug Parr said the prime minister was "taking the public for fools."
"Rowing back on home insulation and commitments to help people move away from gas will ensure we stay at the mercy of volatile fossil fuels and exploitative energy companies," Parr said.
Environmentalists were not the only ones blindsided by the move. Automakers, who have invested heavily in the switch to electric vehicles, expressed frustration at the government's apparent change of plan.
"We're questioning what is the strategy here, because we need to shift the mobility of road transport away from fossil fuels towards sustainable transport," said Mike Hawes, chief executive of the Society of Motor Manufacturers and Traders, an industry body.
Ford U.K. head Lisa Brankin said the company had invested 430 million pounds ($530 million) to build electric cars in Britain.
"Our business needs three things from the U.K. government: ambition, commitment and consistency. A relaxation of 2030 would undermine all three," she said.
Analyst Tara Clee of investment firm Hargreaves Lansdown said the retreat could undermine Britain's hard-won reputation for leadership on green technology, threatening the wider economy.
"The market has been directing capital to the net-zero transition and has been working in good faith," Clee said. "These changes send a message that nothing is set in stone, and committing in earnest to a movable goalpost could be a major business risk."
Britain's Conservatives have been openly reassessing their climate change promises after a special election result in July that was widely seen as a thumbs-down from voters to a tax on polluting cars.
The party, which trails behind the Labour opposition nationwide, unexpectedly won the contest for the suburban London Uxbridge district by focusing on a divisive levy on older vehicles imposed by London's Labour mayor, Sadiq Khan. Some Conservatives believe axing green policies is a vote-winner that can help the party avoid defeat in a national election due by the end of next year.
"We're not going to save the planet by bankrupting the British people," Home Secretary Suella Braverman said Wednesday.
But Conservative lawmaker Alok Sharma, who chaired the COP26 international climate conference in Glasgow in 2021, warned that it would be "incredibly damaging … if the political consensus that we have forged in our country on the environment and climate action is fractured."
"And frankly, I really do not believe that it's going to help any political party electorally which chooses to go down this path," he told the BBC.
Canada's inflation rate reaches four per cent in August: StatCan
The Bank of Canada wording on a Canadian $50 bill is pictured in Ottawa on Wednesday, Jan. 11, 2023. Inflation rose to four per cent in August, Statistics Canada reported. THE CANADIAN PRESS/Sean Kilpatrick
Ottawa
Higher gasoline prices drove Canada's inflation rate to 4.0 per cent in August, making it the second month in a row inflation has risen.
Statistics Canada released its consumer price index report Tuesday, which shows the annual rate rose from 3.3 per cent in July.
Economists widely expected this uptick in inflation and anticipate slower progress on getting price growth down over the next few months.
On a monthly basis, though, prices rose at a slower pace in August compared with July, largely due to lower prices for travel tours and air transportation.
Grocery prices are also rising at a slower annual pace, rising 6.9 per cent from a year ago compared with a reading of 8.5 per cent last month.
Meanwhile, grocery prices fell by 0.4 per cent between July and August.
Higher grocery prices have been a major pain point for Canadian families, particularly those with lower incomes who spend a larger share of their earnings on food.
Industry Minister Francois-Philippe Champagne met with the top executives of Canada's major grocery chains on Monday to discuss measures to stabilize prices.
After the meeting, Champagne said the grocers agreed to work with the federal government, but few details were provided on how prices could be stabilized.
Meanwhile, the Bank of Canada will be paying close attention to Tuesday's inflation figures.
Earlier this month, it decided to hold its key interest rate steady earlier this month as the economy slows.
But the central bank said it expects inflation to remain stubbornly high and to even rise in the short-term.
Tuesday's report shows the Bank of Canada's preferred measures of inflation — which strip out volatility — accelerated last month.
This report by The Canadian Press was first published Sept. 19, 2023.