UK leader Rishi Sunak signals plan to backtrack on some climate goals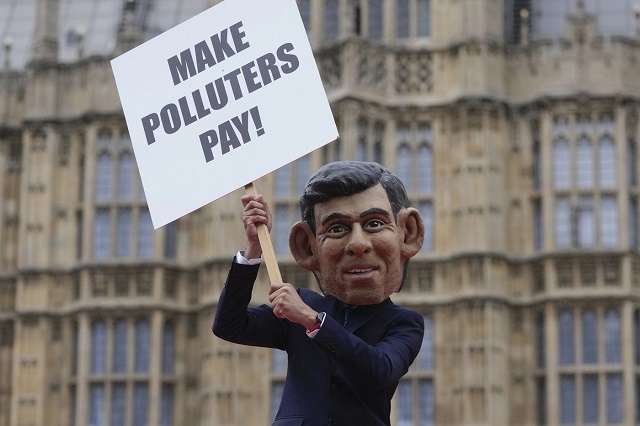 Oxfam's Rishi Sunak 'big head' protests outside the Parliament in London, Tuesday, Sept. 19, 2023. On the eve of the UN Climate Ambition Summit, Oxfam's Rishi Sunak 'big head' staged a protest on top of a giant oil barrel, amongst dozens of real oil drums, supporting the Make Polluters Pay campaign. Calling for oil and gas giants, such as BP and Shell, to pay more tax to raise critical funds to help communities devastated by climate change. (AP Photo/Kin Cheung)
By Jill Lawless in London
LONDON (AP) — Prime Minister Rishi Sunak is preparing to water down some of Britain's environmental commitments on Wednesday, saying the country must fight climate change without penalizing workers and consumers.
The news drew wide criticism from political opponents, environmental groups and large chunks of U.K. industry, but was welcomed by sections of the governing Conservative Party.
Sunak issued a late-night statement Tuesday in response to a BBC report saying the prime minister is considering extending deadlines for bans on new gasoline and diesel cars — currently set for 2030 — and on new natural-gas home heating, due in 2035.
Sunak said he would set out a "proportionate" approach to the environment. He summoned his Cabinet to an unscheduled conference call to discuss the plans ahead of a speech hastily rescheduled for Wednesday afternoon. It had been due later in the week.
"For too many years, politicians in governments of all stripes have not been honest about costs and trade-offs," Sunak said. "Instead, they have taken the easy way out, saying we can have it all."
Sunak did not confirm details of his announcements. He said he would keep a promise to reduce the U.K.'s emissions of climate-warming greenhouse gases to net zero by 2050, but "in a better, more proportionate way."
The government has previously boasted of Britain being a leader in cutting carbon emissions. U.K. greenhouse gas emissions have fallen by 46% from 1990 levels, mainly because of the almost complete removal of coal from electricity generation. The government had pledged to reduce emissions by 68% of 1990 levels by 2030 and to reach net zero by 2050.
But with just seven years to go until the first goalpost, the government's climate advisers said in June that the pace of action is "worryingly slow." Sunak's decision in July to approve new North Sea oil and gas drilling also spurred critics to question his commitment to climate goals.
Former Prime Minister Boris Johnson, who brought in the 2030 gasoline car target when he was leader, said businesses "must have certainty about our net-zero commitments."
"We cannot afford to falter now or in any way lose our ambition for this country," he said.
News of plans to backtrack broke as senior politicians and diplomats from the U.K. and around the world — as well as heir to the British throne Prince William — gathered at the United Nations General Assembly in New York, where climate is high on the agenda. Sunak is not attending, sending his deputy instead.
Greenpeace U.K. policy director Doug Parr said the prime minister was "taking the public for fools."
"Rowing back on home insulation and commitments to help people move away from gas will ensure we stay at the mercy of volatile fossil fuels and exploitative energy companies," Parr said.
Environmentalists were not the only ones blindsided by the move. Automakers, who have invested heavily in the switch to electric vehicles, expressed frustration at the government's apparent change of plan.
"We're questioning what is the strategy here, because we need to shift the mobility of road transport away from fossil fuels towards sustainable transport," said Mike Hawes, chief executive of the Society of Motor Manufacturers and Traders, an industry body.
Ford U.K. head Lisa Brankin said the company had invested 430 million pounds ($530 million) to build electric cars in Britain.
"Our business needs three things from the U.K. government: ambition, commitment and consistency. A relaxation of 2030 would undermine all three," she said.
Analyst Tara Clee of investment firm Hargreaves Lansdown said the retreat could undermine Britain's hard-won reputation for leadership on green technology, threatening the wider economy.
"The market has been directing capital to the net-zero transition and has been working in good faith," Clee said. "These changes send a message that nothing is set in stone, and committing in earnest to a movable goalpost could be a major business risk."
Britain's Conservatives have been openly reassessing their climate change promises after a special election result in July that was widely seen as a thumbs-down from voters to a tax on polluting cars.
The party, which trails behind the Labour opposition nationwide, unexpectedly won the contest for the suburban London Uxbridge district by focusing on a divisive levy on older vehicles imposed by London's Labour mayor, Sadiq Khan. Some Conservatives believe axing green policies is a vote-winner that can help the party avoid defeat in a national election due by the end of next year.
"We're not going to save the planet by bankrupting the British people," Home Secretary Suella Braverman said Wednesday.
But Conservative lawmaker Alok Sharma, who chaired the COP26 international climate conference in Glasgow in 2021, warned that it would be "incredibly damaging … if the political consensus that we have forged in our country on the environment and climate action is fractured."
"And frankly, I really do not believe that it's going to help any political party electorally which chooses to go down this path," he told the BBC.
Carbon tax costs taxpayers $200 million to administer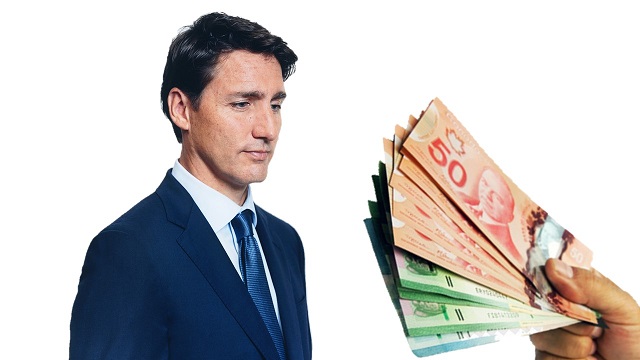 Author: Ryan Thorpe
The cost of administering the federal carbon tax and rebate scheme has risen to nearly $200 million since its inception in 2019.
That's according to government records obtained by the Canadian Taxpayers Federation and first reported by the online news site Blacklock's Reporter.
The hit to taxpayers last year alone was $82.6 million, with the government assigning 465 full-time employees to administer the carbon tax and rebate scheme.
"The carbon tax is a double whammy for taxpayers," said Franco Terrazzano, CTF Federal Director. "First, it makes our gas, heating and groceries more expensive. And then we're forced to pay higher taxes to fund Trudeau's battalion of carbon tax bureaucrats."
The records were released in response to order paper questions from Conservative MP Chris Warkentin (Grande Prairie-Mackenzie).
Carbon tax administration costs totaled $82.6 million in 2022, and $116.5 million between 2019 and 2021.
Last year, there were 223 bureaucrats "assigned to work on the collection of the fuel charge," while 242 administered the rebate scheme.
Annual costs spiked last year as the government changed the rebate scheme "from a
refundable credit claimed annually on personal income tax returns, to [a] quarterly tax-free payment made through the benefit system," according to the records.
"It should be obvious to everyone that the feds can't raise taxes, skim hundreds-of-millions off the top and hire hundreds of new bureaucrats, then somehow make everyone better off with rebates," Terrazzano said.
Cost to administer the carbon tax and rebate scheme, 2019 – 2022
| | | |
| --- | --- | --- |
| Year | Total annual cost | Number of employees |
| 2019 | $33,219,471 | 256 |
| 2020 | $40,541,290 | 316 |
| 2021 | $42,766,636 | 333 |
| 2022 | $82,628,993 | 465 |
The carbon tax will cost the average family up to $710 this year even after the rebates, according to the Parliamentary Budget Officer, the federal government's independent budget watchdog.
The carbon tax currently costs 14 cents per litre of gasoline and 12 cents per cubic metre of natural gas. By 2030, the carbon tax will cost 37 cents per litre of gasoline and 32 cents per cubic metre of natural gas.
"Canadians pay higher taxes so federal paper-pushers can increase our fuel prices and make our lives more expensive," Terrazzano said. "Prime Minister Justin Trudeau can immediately make life more affordable by scrapping his carbon tax and taking some of the air out of his ballooning bureaucracy."
Costly construction isn't the culprit behind unaffordable housing

By Wendell Cox
Land restriction creates what amount to land cartels. A now smaller number of landowners gain windfall profits, which, of course, encourages speculation
The latest Demographia report on housing affordability in Canada, which I produce for the Frontier Centre for Public Policy, reveals that over half of the 46 Canadian housing markets we assess are severely unaffordable. In fact, Vancouver and Toronto rank as third and 10th least affordable, respectively, among the 94 major global markets included in our latest international housing affordability study.
To evaluate housing costs, we utilize the "median multiple," which divides the median house price within a given market (census metropolitan area) by its median household income. A multiple equal to or less than 3.0 is categorized as "affordable," while anything exceeding 5.0 is labelled "severely unaffordable."
Among the major Canadian housing markets, Vancouver (with a median multiple of 12), Toronto (9.5), Montreal (5.4), and Ottawa-Gatineau (5.2) fall into the severely unaffordable category. Vancouver has maintained a high median multiple for several decades, while Toronto has been in this range for approximately two decades. The increased prevalence of telecommuting has recently contributed to Montreal and Ottawa-Gatineau's affordability challenges, leading to a surge in demand for larger homes and properties in more distant suburbs. In contrast, housing in Edmonton (4.0) and Calgary (4.3) remains comparatively affordable.
In Toronto and Vancouver, the implementation of international urban planning principles, particularly those promoting anti-sprawl measures like greenbelts and agricultural preserves, has led to unprecedented price hikes. This "urban containment" approach has consistently driven up land values where it has been adopted. And high land values rather than increased construction costs are what explain the substantial disparity between severely unaffordable and more budget-friendly markets.
Land restriction creates what amount to land cartels. A now smaller number of landowners gain windfall profits, which, of course, encourages speculation. Maintaining or restoring affordability requires eliminating windfall profits by ensuring a competitive market for land.
Another issue arises from urban planners' preference for higher-density housing, such as high-rise condos. Some households may prefer high-rise living, but families with children typically seek housing with more land, whether detached or semi-detached. When they're priced out of good housing markets, their quality of life suffers and they may even fall into poverty.
The troubling paradox is that unaffordable housing is far more common in markets like Vancouver and Toronto, which have embraced the planning orthodoxy — which is supposed to produce affordable housing. The same applies to international markets like Sydney, Auckland, London and San Francisco, where urban containment and unaffordable housing have gone hand in hand.
What's the solution? Give up on urban containment and make more land available for housing. But wouldn't that threaten the natural environment, as critics of Ontario's recent attempt to allow development of a sliver of its greenbelt argued?
Not at all. It's true that land under cultivation in Canada has been declining steadily over the years. But the culprit is improved agricultural productivity, not urban expansion. According to Statistics Canada, between 2001 and 2021, agricultural land shrank 53,000 square kilometres. That's about equal to the land area of Nova Scotia. And it's about triple all the area urbanized since European settlement began. Even in Ontario and B.C. where most of the severely unaffordable markets are concentrated, urban expansion from 2016 to 2021 took up less than one-quarter of the agricultural loss over that period. Urban expansion is not squeezing out agricultural land.
Given all this, what should we do about affordability? In my view, three things:
First, it's essential to acknowledge that Canadians are already addressing the issue by relocating from pricier to more affordable regions. Housing is more affordable in the Atlantic and Prairie provinces and areas in Quebec east of Montreal. So it's not surprising there is now a net influx of people to smaller, typically more affordable, locations. In the past five years, markets with populations exceeding 100,000 have collectively witnessed over 250,000 people moving to smaller markets.
Second, make more land available for development in increasingly unaffordable markets like B.C., southern Ontario, and the Montreal-Ottawa corridor. One way is with "housing opportunity enclaves" (HOEs), in which traditional, i.e., not high-density, housing regulations would apply, but essential environmental and safety regulations would. The aim would be to provide middle-income housing at the price-to-income ratios that were typical before urban containment came along and housing across the country was largely affordable.
Market-driven development would be ensured by relying on the private sector to provide housing, land, and infrastructure, a model that has been successful in Colorado and Texas. Current residents would maintain their property rights but could sell to private parties and First Nations for development.
HOEs would be situated far enough outside major centres to take advantage of low-priced land, prioritizing areas with the largest recent agricultural land reductions. Communities likely would resemble Waverly West in Winnipeg or The Woodlands in Houston, with ample housing space and yards for families with children.
These new communities would attract people working at least partly from home. Jobs would naturally follow, creating self-contained communities where most commutes occurred within the HOE. To ensure a competitive market and prevent land cost escalation, HOEs must have ample land available.
Third, public authorities should allocate an ample amount of suburban land to safeguard reasonable land values in the Prairie and Atlantic provinces, as well as in Quebec east of Montreal. This would allow currently more affordable markets such as Quebec City, Calgary, Edmonton, Winnipeg, Moncton and Halifax to accommodate interprovincial migrants without jeopardizing their affordability.
Provincial and local governments would need to monitor housing affordability multiples on at least a five-year cycle, and legislatures, land use authorities and city councils would have to allow enough low-cost land development to maintain price-to-income stability.
It's not enough just to provide enough building lots to meet projected demand. The goal should be to enable builders to provide housing at prices middle-income households can afford. The key to that is affordable land.
Wendell Cox is a Senior Fellow at the Frontier Centre for Public Policy. He is the author of 2023 Edition Of Demographia Housing Affordability In Canada and has been featured on Leaders on the Frontier – Cost of Living Under Crisis With Charles Blain.