UK energy bills are skyrocketing. Why is it happening?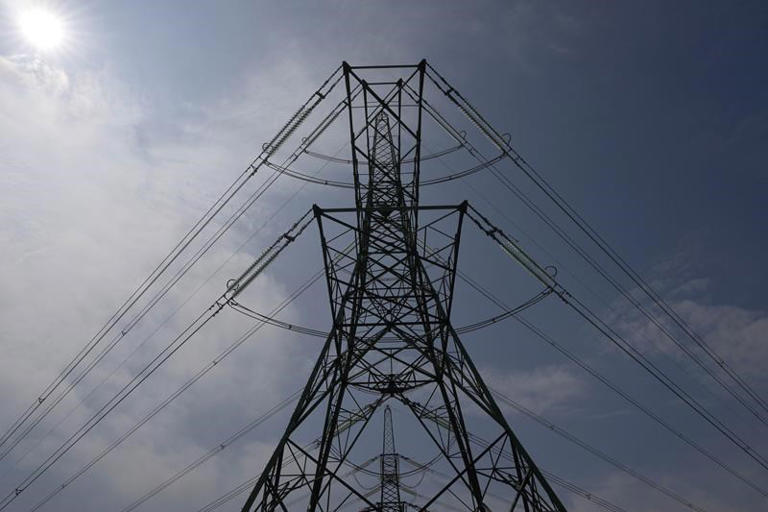 Scores are already struggling to make ends meet as inflation soared to 10.1% last month — the highest in 40 years — and the rapidly spiraling costs of energy and food are certain to hit the poorest the hardest.
The government is facing widespread calls to do more to offer relief, but no new measures are expected before the Conservative Party chooses a new prime minister to replace Boris Johnson.
Here's a look at the rising energy costs in the United Kingdom:
HOW STEEP IS THE RISE?
Annual energy bills for the average household paying by direct debit have already risen by a record 54% so far this year. Now, bills are capped at 1,971 pounds ($2,320) a year, compared with about 1,200 pounds last winter.
Under the revised price cap Friday, average household energy bills are expected to jump to around 3,600 pounds a year starting in October. They will go still higher when the price cap is updated again in January, expected to exceed 4,000 pounds.
U.S. bank Citi forecast that the huge energy cost increases could drive U.K. inflation to 18% next year. The Bank of England predicts a recession starting later this year.
Charities and public health leaders warn that the rocketing bills will be a "catastrophe" for poorer people heading into winter, as growing numbers are forced to make impossible choices between heating their homes and putting food on the table.
The energy regulator, the Office of Gas and Electricity Markets, said the quarterly update is meant to mitigate volatility in the energy market, allowing energy suppliers to better manage their risks so there's no sudden cost hikes for consumers.
WHY ARE ENERGY PRICES RISING?
Global oil and gas prices have been rising sharply since last year as economies worldwide recovered from the coronavirus pandemic and demand for energy surged. Russia's war in Ukraine created an full-on energy crisis as Moscow reduced or cut off natural gas flows to European countries that rely on the fuel to power industry, generate electricity and heat and cool homes.
Shrinking supplies, higher demand and fears of a complete Russian cutoff have driven natural gas prices to record highs, further fueling inflation that has squeezed people's ability to spend and raised the risk of a recession in Europe and the U.K.
"The market shows no sign of finding a new equilibrium," Rystad Energy analyst Lu Ming Pang said. "Market sentiment is a mixture of price record fatigue with quiet acceptance that this new normal is here to stay."
Although Britain only imports a small percentage of its gas from Russia, the U.K. relies more on gas than its European neighbors because it has less nuclear and renewable energy. It also does not have as much capacity to store gas, forcing it to buy on the short-term spot market that sees greater volatility in prices.
WHAT IS THE GOVERNMENT DOING ABOUT RISING ENERGY PRICES?
Officials say they have set aside a package of support worth 37 billion pounds to help with the cost of living. All households will receive 400 pounds off their energy bills this winter, and millions of low-income people will get a further 650 pounds.
The measures have been widely criticized as inadequate, but no new policy is expected until after Sept. 5, when the Conservatives announce who they have chosen for a new leader.
Some, including the opposition Labour Party, have called for officials to significantly increase financial support for people and to freeze the energy price cap. Labour proposed to pay for it by extending the government's temporary tax on the windfall profits of oil and gas companies.
Neither Liz Truss nor Rishi Sunak, the two politicians vying to become the next prime minister, appear to back such a plan.
Some critics say the U.K.'s fully privatized energy market — which can be traced back to Margaret Thatcher's liberalization drive in the 1980s — is partly to blame for the crisis.
Giovanna Speciale, chief executive of the Southeast London Community Energy group, which helps people in need with their household bills, said the energy market is "fundamentally broken."
Receiving "400 pounds, or 1,200 pounds in government support is not going to help very much — these are just sticking plasters," Speciale said. "What we need to address is systemic problems. Because the system is entirely private, there's very little that the government can do to intervene in this."
HOW DOES THE UK COMPARE WITH EU NEIGHBORS?
Energy prices are rising in other European countries, too, but people in some countries have not seen the same level of rocketing bills as the U.K.
In France, gas prices are frozen at October 2021 levels, and the freeze has been extended until the end of the year following a government decree announced in June. Low- and middle-income households also receive 100 euros to buy gas and electricity.
In Germany, average electricity prices for households rose up to 38% over the past year. A new levy to prop up energy companies buying more expensive natural gas would add several hundred euros for an average household per year. But the government is temporarily lowering taxes on natural gas from 19% to 7% to offset those costs and has approved one-off cash subsidies.
Italy also has seen increasing calls for an energy price cap amid parliamentary election campaigns. This month, the government earmarked 8.4 billion euros to help low-income households and businesses offset the increase in energy costs, following relief it previously approved.
___
AP reporters Jade Le Deley in Paris, Geir Moulson in Berlin and Colleen Barry in Milan contributed.
Sylvia Hui, The Associated Press
Growing number of forecasts predict oil will reach US$100 this fall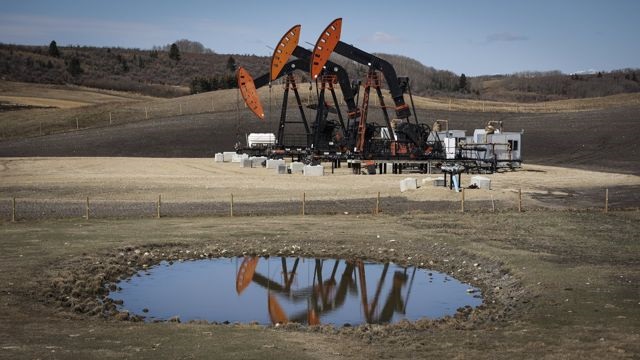 Pumpjacks draw out oil and gas from wellheads near Calgary on Friday, April 28, 2023. A growing number of forecasts are calling for the return of US$100 oil before the end of the year. THE CANADIAN PRESS/Jeff McIntosh
By Amanda Stephenson in Calgary
A growing number of forecasts are calling for the return of US$100 oil before the end of the year — a prospect that could put even more pressure on consumers and make it harder for central bankers to rein in inflation.
North American benchmark crude West Texas Intermediate has surged 30 per cent since June 1 and is hovering this week around US$90 per barrel, its highest point since November of last year. Global benchmark Brent crude was trading higher than US$93 on Wednesday.
In recent days, a number of analysts have revised their forecasts with the view that triple-digit oil prices may now be in the cards for this fall. Bank of America, Citigroup and Goldman Sachs are now all predicting US$100 Brent crude prices before 2024, as is Chevron CEO Mike Wirth, according to a Bloomberg report.
"We're chewing on this right now," said Andrew Botterill of Deloitte Canada, in an interview Wednesday in Calgary, where hundreds of oil and gas executives from around the globe are gathered this week for the 24th World Petroleum Congress.
Botterill said he's currently working on Deloitte's upcoming oil price forecast report and considering whether to revise his own earlier projections higher.
"I can absolutely see it ($100 oil) … I absolutely think we will have moments," Botterill said.
"I can list a lot more reasons why oil will move up right now than down."
Last week, the International Energy Agency predicted that world oil demand is forecast to grow to 101.8 million barrels per day by the end of this year, driven by resurgent Chinese demand.
In addition, Saudi Arabia and Russia recently agreed to extend their voluntary oil production cuts through the end of this year, leading to what the IEA calls a "substantial market deficit."
"We have very firm global demand right now," Botterill said.
"And as we get into the winter, that's always a big consumption season as you start to see heating demand … So that really has us looking at how much we might see that (price) strengthening."
Surging oil prices in the months ahead will likely make efforts by the Bank of Canada and other central bankers to get inflation under control more challenging.
According to Statistics Canada, Canada's annual inflation rate has risen for two consecutive months, with higher gasoline and energy prices the major driving factor.
Fuel price tracking website GasBuddy.com says the average gasoline prices in Canada Wednesday was $1.67 per litre, nearly 15 cents higher than the 2022 average.
"Energy costs play a big role in all of our lives, and they're certainly a big part of the inflation calculation for Canada," Botterill said.
"With these firm prices, will we see that soften some of the demand? Will you and I turn our thermostat down, drive a little less? I hope so, but it's the big (global) demand picture that's really continuing to grow."
However, Canadian energy companies are well-positioned to benefit from higher prices, said Lisa Baiton, president of the Canadian Association of Petroleum Producers on Thursday.
"The outlook is really bullish, for the foreseeable future," she said. "You're seeing a lot of activity, some M&A and consolidation. Companies are well-capitalized, and they're willing to put their capital at play."
Many Canadian oil and gas companies reaped record profits in 2022 due to the post-Ukraine invasion oil price spike. They were also criticized by environmentalists for directing the bulk of those profits into returns for shareholders, rather than investing in major emissions reduction projects.
But Baiton said Canadian companies are at a disadvantage to their American counterparts, who have access to an aggressive suite of government financial incentives for the deployment of technologies such as carbon capture and storage.
"Our members are ready to deploy capital into next-gen decarbonization projects. But again, capital is mobile – it will go to where there's the greatest rate of return," she said.
Keith Stewart of Greenpeace Canada said whether or not energy companies choose to invest in decarbonization projects, $100 oil may actually speed up the global energy transition.
"High oil prices are a double-edged sword for the oil industry, because while they mean big profits today, they also make alternatives like energy efficiency, electric vehicles and heat pumps much more attractive," Stewart said.
In a research note, Eight Capital analyst Phil Skolnick said for the full year 2024, he continues to forecast an average WTI price of US$86 per barrel and an average Brent price of US$90.
But he is also bullish on oil prices for this fall, pointing out that OPEC's global demand forecast for 2023 is a record 103 to 104 million barrels per day — even higher than the IEA's forecast.
"If OPEC's prediction turns out to be correct, the Q4/23 supply deficit may be the biggest in more than a decade," Skolnick wrote.
This report by The Canadian Press was first published Sept. 20, 2023.
Canada signs $3-billion deal to finance nuclear power in Romania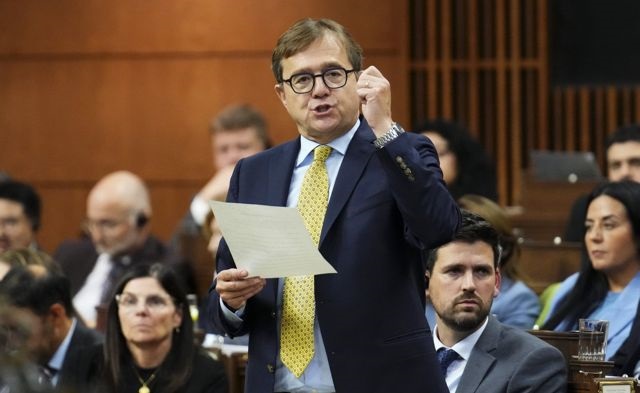 Canada is helping finance two new nuclear reactors in Romania which that country's energy minister says will help diminish the ability of Russia to use its energy exports as a weapon. Energy and Natural Resources Minister Jonathan Wilkinson answers a question during question period in the House of Commons on Parliament Hill in Ottawa on Tuesday, Sept. 19, 2023. THE CANADIAN PRESS/Sean Kilpatrick
Ottawa
Canada is helping to finance two new nuclear reactors in Romania, which that country's energy minister says will help diminish Russia's ability to use its energy exports as a weapon.
Canadian Energy Minister Jonathan Wilkinson signed the $3-billion deal with his Romanian counterpart, Sebastian Burduja, in Ottawa today.
The Canadian financing is limited to what Romania's nuclear operator spends to buy equipment and expertise from Canadian companies.
Burduja says the deal is partly about climate change, because it will help ease Romania's need to burn coal to make electricity.
But he says it is first and foremost about adding new non-Russian energy sources, and Romania is in talks to share with other countries in the region to ease their reliance on Russia, too.
Two Canadian-made Candu reactors already account for one-quarter of Romania's electricity supply and the two additional reactors will increase that to almost one-third.
This report by The Canadian Press was first published Sept. 19, 2023.