U.S. travel problems affecting transborder flights: Air Canada, WestJet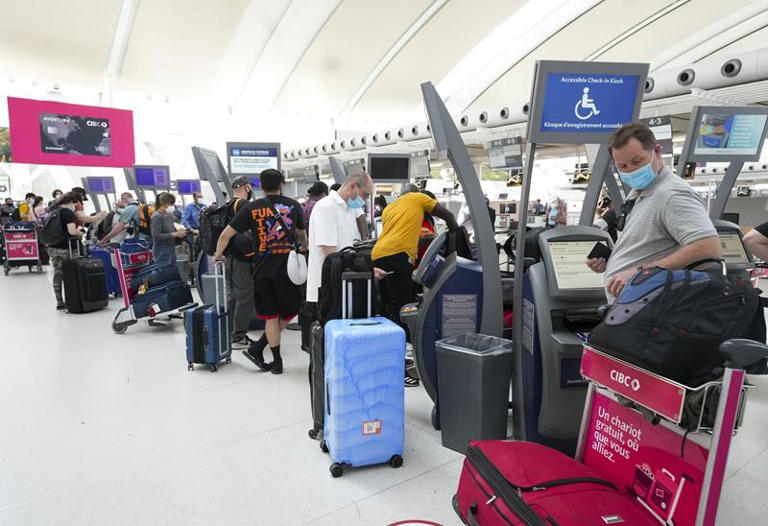 By Tara Deschamps in Toronto
Air Canada and WestJet encouraged travellers headed to or from the U.S. to check their flights before going to the airport after a key computer outage at the U.S. Federal Aviation Administration caused delays.
WestJet said six flights were delayed Wednesday morning because of the computer outage and none were cancelled, while Air Canada said the outage would have an effect on its transborder operations, but that it was not possible to determine the extent of the delays.
The FAA issued a grounding order for all departing aircraft Wednesday morning due to a problem with what is known as the Notice to Air Missions System (NOTAMs). The order remained in place until just before 9 a.m. ET.
Before commencing a flight, pilots are required to consult NOTAMs, which list potential adverse impacts on flights, from runway construction to the potential for icing. The system used to be telephone-based, with pilots calling dedicated flight service stations for the information, but has moved online.
The NOTAM system broke down late Tuesday, leading to more than 1,000 flight cancellations and more than 6,000 delayed flights by 11 a.m. Wednesday, according to the flight tracking website FlightAware.
Separately, Canada's NOTAM entry system also experienced an outage between 10:20 a.m. and 1:15 p.m. ET, said Nav Canada's manager of government and media relations, Vanessa Adams.
"We are still investigating the root cause of the failure," she wrote in an email.
"At this time, we do not believe the cause is related to the FAA outage experienced earlier today."
Nadine Ramadan, a spokesperson for Federal Transport Minister Omar Alghabra, said in an afternoon email that their office had been in touch with Nav Canada.
Earlier in the day, at a news conference in Port Colborne, Ont., Alghabra said he had reached out to his U.S. counterpart, Transportation Secretary Pete Buttigieg, about the U.S. NOTAM troubles.
"This was obviously a surprise. It was an unplanned interruption," Alghabra said.
"We still don't know all the facts yet, but good news is that I am hearing that traffic has restarted again, so we will stay in coordination with our U.S. partners to understand what had happened and what can we do to avoid similar interruptions."
The delays came after storms caused havoc for travellers during the busy holiday travel season.
"Canadians are patient when it comes to that as long as they are informed of what is happening, when they can get to their destination," Alghabra said of the storms.
"What compounded this situation was some unfortunate decisions made by one airline operator," in an apparent reference to Sunwing
Sunwing announced on Dec. 29 that it was cancelling its operations through Feb. 3 at Saskatchewan's two largest airports.
By then, hundreds of passengers were affected by Sunwing flight disruptions, which began to pile up on Dec. 22 due to weather. Some customers were stranded for days in tropical destinations amid a flurry of cancellations, winter storms and a breakdown with the airline's digital communication service that left some flights with empty seats.
The company has since apologized for the disruptions, said it has completed all recovery flights related to holiday disruptions and has a plan to fix technical issues with flight alert notifications and communication flow to customers.
Executives from Air Canada, WestJet and Sunwing are scheduled to appear before the MPs at a transport committee hearing on Thursday, where passenger compensation for delayed and cancelled flights is under discussion.
— With files from The Associated Press and Brett Bundale in Halifax
This report by The Canadian Press was first published Jan. 11, 2023.
Companies in this story: (TSX:AC)
Russia arrests Wall Street Journal reporter on spying charge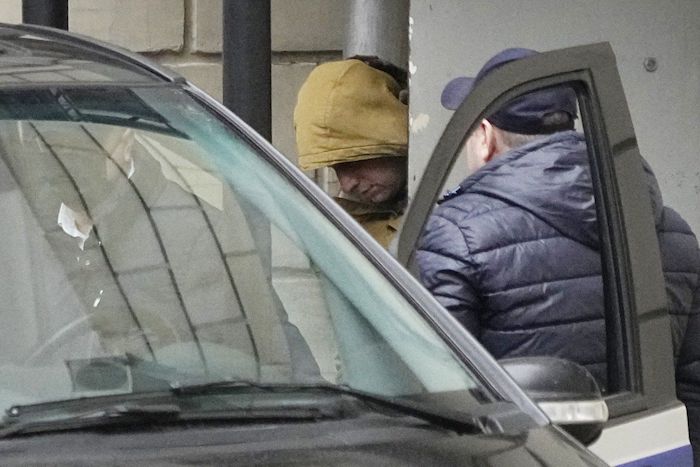 Wall Street Journal reporter Evan Gershkovich is escorted by officers from the Lefortovsky court to a bus, in Moscow, Russia, Thursday, March 30, 2023. Russia's top security agency says an American reporter for the Wall Street Journal has been arrested on espionage charges. The Federal Security Service said Thursday that Evan Gershkovich was detained in the Ural Mountains city of Yekaterinburg while allegedly trying to obtain classified information. (AP Photo/Alexander Zemlianichenko)
Moscow (AP) – Russia's security service arrested an American reporter for The Wall Street Journal on espionage charges, the first time a U.S. correspondent has been detained on spying accusations since the Cold War. The newspaper denied the allegations.
Evan Gershkovich was detained in the Ural Mountains city of Yekaterinburg while allegedly trying to obtain classified information, the Federal Security Service, known by the acronym FSB, said Thursday.
The service, which is the top domestic security agency and main successor to the Soviet-era KGB, alleged that Gershkovich "was acting on the U.S. orders to collect information about the activities of one of the enterprises of the Russian military-industrial complex that constitutes a state secret."
Kremlin spokesman Dmitry Peskov told reporters Wednesday: "It is not about a suspicion, is it about the fact that he was caught red-handed."
"The Wall Street Journal vehemently denies the allegations from the FSB and seeks the immediate release of our trusted and dedicated reporter, Evan Gershkovich," the newspaper said. "We stand in solidarity with Evan and his family."
The arrest comes at a moment of bitter tensions between the West and Moscow over its war in Ukraine and as the Kremlin intensifies a crackdown on opposition activists, independent journalists and civil society groups. The sweeping campaign of repression is unprecedented since the Soviet era.
Earlier this week, a Russian court convicted a father over social media posts critical of the war and sentenced him to two years in prison while his 13-year-old daughter was sent to an orphanage.
Gershkovich is the first American reporter to be arrested on espionage charges in Russia since September 1986, when Nicholas Daniloff, a Moscow correspondent for U.S. News and World Report, was arrested by the KGB. Daniloff was released without charge 20 days later in a swap for an employee of the Soviet Union's United Nations mission who was arrested by the FBI, also on spying charges.
At a hearing Thursday, a Moscow court quickly ruled to keep Gershkovich behind bars pending the investigation, according to the official Telegram channel of the capital's courts.
While previous American detainees have been freed in prisoner swaps, a top Russian official said it was way too early to talk about any such deal.
There was no immediate public comment from Washington, although a U.S. official indicated the U.S. government was aware of the situation and awaiting more information from Russia.
Gershkovich, who covers Russia, Ukraine and other ex-Soviet nations as a correspondent in The Wall Street Journal's Moscow bureau, could face up to 20 years in prison if convicted of espionage. Prominent lawyers noted that past investigations into espionage cases in the past took a year to 18 months during which time he may be held with little contact with the outside world.
The FSB noted that Gershkovich had accreditation from the Russian Foreign Ministry to work as a journalist, but ministry spokeswoman Maria Zakharova said Gershkovich was using his journalistic credentials as a cover for "activities that have nothing to do with journalism."
Gershkovich speaks fluent Russian and had previously worked for the French agency Agence France-Presse and The New York Times. His last report from Moscow, published earlier this week, focused on the Russian economy's slowdown amid Western sanctions imposed when Russian troops invaded Ukraine last year.
Ivan Pavlov, a prominent Russian defense attorney who has worked on many espionage and treason cases, said Gershkovich is the first criminal case on espionage charges against a foreign journalist in post-Soviet Russia.
"That unwritten rule not to touch accredited foreign journalists, has stopped working," said Pavlov, a member of the First Department legal aid group.
Pavlov said the case against Gershkovich was built in order for Russia to have "trump cards" for a future prisoner exchange and will likely be resolved "not by the means of the law, but by political, diplomatic means."
Russian Deputy Foreign Minister Sergei Ryabkov ruled out any quick swap.
"I wouldn't even consider this issue now because people who were previously swapped had already served their sentences," Ryabkov said, according to Russian news agencies.
Ryabkov added that the U.S. citizens swapped in the past were behind bars on "quite serious charges" while the Russians in the American custody had found themselves in "the millstones of the American system of persecution."
Gershkovich's arrest follows a swap in December, in which WNBA star Brittney Griner was freed after 10 months behind bars in exchange for Russian arms dealer Viktor Bout.
Another American, Paul Whelan, a Michigan corporate security executive, has been imprisoned in Russia since December 2018 on espionage charges that his family and the U.S. government have said are baseless.
Jeanne Cavelier, of press freedom group Reporters Without Borders, said Gershkovich's arrest "looks like a retaliation measure of Russia against the United States."
"We are very alarmed because it is probably a way to intimidate all Western journalists that are trying to investigate aspects of the war on the ground in Russia," said Cavelier, head of Eastern Europe and Central Asia desk at the Paris-based group. "The Western powers should immediately ask for clarifications on the charges, because as far as we know he was just doing his job as a journalist."
Russian journalist Dmitry Kolezev said on the messaging app Telegram that he spoke to Gershkovich before his trip to Yekaterinburg.
"He was preparing for the usual, albeit rather dangerous in current conditions, journalist work," Kolezev wrote. He said Gershkovich asked him for the contacts of local journalists and officials in the area as he prepared to arrange interviews.
Another prominent lawyer with the First Department group, Yevgeny Smirnov, said that those arrested on espionage and treason charges are usually held at the FSB's Lefortovo prison in Moscow, known for its stringent conditions. It was Moscow's Lefortovo District Court that ruled behind closed doors to keep Gershkovich in custody.
Smirnov said espionage suspects are usually held in a total isolation, without phone calls, visitors or even access to newspapers. At most, they can receive letters, often delayed by weeks. Smirnov called these conditions "tools of suppression."
Smirnov and Pavlov both said that the investigation could last for 12 to 18 months, and the trial would be held behind closed doors.
According to Pavlov, there have been no acquittals in treason and espionage cases in Russia since 1999.
Most recently, Smirnov and Pavlov defended Ivan Safronov, a former Russian journalist turned an official with the federal space corporation Roscosmos who was convicted of treason.
Children lost in shooting were 'feisty,' a 'shining light'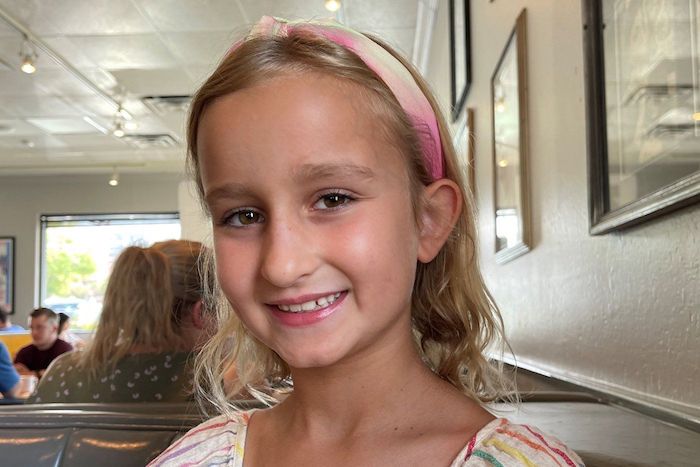 This undated photo shows Evelyn Dieckhaus a student at The Covenant School in Nashville, Tenn. Dieckhaus was one of six people killed on Monday, March 27, 2023, in the shooting at the school. (AP Photo)
By Adrian Sainz, Kristin M. Hall, Holly Meyer And Ben Finley in Nashville
NASHVILLE (AP) — Details from the rich, full lives of the three adults killed Monday at a Nashville elementary school have emerged quickly in the aftermath, but information on the three 9-year-old children — whose lives ended tragically young — has been slower to publicly surface from a community buried in grief.
The children slain at The Covenant School were Hallie Scruggs, described by an aunt as "always on the go"; Evelyn Dieckhaus, her family's "shining light"; and William Kinney, whose family has said little publicly so far.
A woman who identified herself as Hallie's aunt, Kara Scruggs Arnold, wrote on Facebook that Hallie was "incredibly smart, feisty enough to keep up with her 3 brothers and my 4 boys."
Hallie had a "love for life that kept her smiling and running and jumping and playing and always on the go," Arnold added in her post.
Hallie's father Chad Scruggs is the lead pastor of Covenant Presbyterian Church, which is associated with The Covenant School. The private Christian school has about 200 students from preschool through sixth grade, as well as roughly 50 staff members, according to its website.
Evelyn was described as the Dieckhaus family's "shining light" on a GoFundMe page that has been set up for them. But her family, too, was reluctant to talk about her or the enormity of their loss.
The adults who were killed were Katherine Koonce, 60, the head of the school, Mike Hill, 61, a custodian, and Cynthia Peak, 61, a substitute teacher.
In a video statement released Tuesday evening, Tennessee Gov. Bill Lee said Peak was supposed to have dinner with his wife, Maria, after filling in as a substitute teacher at Covenant.
"Maria woke up this morning without one of her best friends," Lee said, adding that Peak, Koonce and his wife had once taught together and "have been family friends for decades."
Sandra McCalla, a former administrator at the high school Peak attended in Shreveport, Louisiana, said Peak served as the statistician at girls' basketball games and track meets before graduating in 1979.
"She was busy in the background making good things happen," said McCalla, who served as the principal of Captain Shreve High School for 30 years.
Chuck Owen, who knew Peak from childhood, said Peak's father was a well-known doctor in Leesville, Louisiana, where the family lived before moving to Shreveport.
He said, "everyone knew her, knew her family" and that she was "just a sweet person from a sweet family."
Owen added that Peak was a devout follower of God, and it did not surprise him that she was working at a Christian school.
"She told me that she got saved in college and that God's love changed her life," he said.
Nashville songwriter Natalie Hemby posted on Instagram that Peak "taught me how to swim. Keep my head above water… which is what we're all trying to do right now."
Peak's family issued a statement saying their "hearts are broken," and called Peak "a pillar of the community, and a teacher beloved by all her students."
"She never wavered in her faith and we know she is wrapped in the arms of Jesus," the statement said.
Koonce, the head of The Covenant School, was a woman of deep faith who saw educating kids as her mission.
"It's what God called her to do," close friend Jackie Bailey said.
"We're in such shock," Bailey added. "I was looking around my house, and every piece of cross stitch that I have on the wall, she did – she gave to me."
One of them said: "A friend loveth at all times."
"That's Proverb 17:17," Bailey said. "That's the kind of person she was. She loved at all times."
Bailey added: "If there was any trouble in that school, she would run to it, not from it. She was trying to protect those kids … That's just what I believe."
Koonce's family said in a statement Wednesday that she "gave her life to protect the students she loved."
"We are devastated by our loss but depending on our God for comfort and healing," the family said. "It is our privilege to honor Katherine's legacy and to celebrate her remarkable spirit."
Before Koonce took the top role with Covenant, Anna Caudill, a former art teacher, worked with her for almost a decade at Christ Presbyterian Academy, another Christian school in the area connected to a Presbyterian Church in America congregation.
"She was an absolute dynamo and one of the smartest women I'll ever know," said Caudill, recalling how Koonce excelled at her day job while parenting her children, pursuing her masters and then her PhD, and writing a book.
Caudill, who grew up in several male-led Christian denominations, said Koonce was the first woman in such a setting to encourage her to keep learning and pursuing her life goals.
"She wasn't Wonder Woman, but I never saw the two in the same place," Caudill said.
Friends of Hill, the custodian, said they believed he would have died protecting the school's children.
Pastor Tim Dunavant, of the Hartsville First United Methodist Church, said in a Facebook post that he hired Hill to work at Covenant more than a decade ago.
"I don't know the details yet. But I have a feeling, when it all comes out, Mike's sacrifice saved lives," Dunavant wrote.
Hill's family issued a statement saying, "We pray for the Covenant School and are so grateful that Michael was beloved by the faculty and students who filled him with joy for 14 years. He was a father of seven children … and 14 grandchildren. He liked to cook and spend time with family."
Another pastor, Jim Bachmann, said Hill was "one of those people you cannot not like" and that he made a point of learning the names of all the students and talking to them.
Bachmann was the founding pastor of Covenant Presbyterian Church, which runs the school, and is the current pastor of Stephens Valley Church, where Hill was a member and sometimes served as a greeter.
On those occasions, Hill would "dress up like he was going to meet the president of the United States," Bachmann said. He added, "Everybody loved Mike, and he loved them back."
___
Associated Press reporters Travis Loller in Nashville and Beatrice Dupuy in New York contributed to this story. Sainz reported from Memphis. Finley reported from Norfolk, Virginia.