U.S. shows plenty of respect to Canada ahead of World Cup qualifying showdown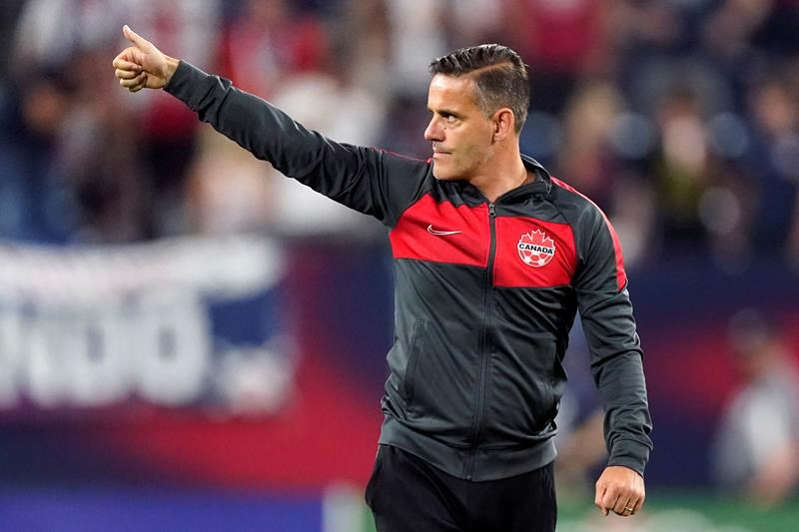 The U.S. takes the field Sunday with plenty of respect for the Canadian team that awaits them in Hamilton.
For one, the second-place Americans (5-1-3, 18 points) are looking up at Canada (5-0-4, 19 points) in the CONCACAF World Cup final qualifying round standings.
"We know that they're going to be fired up," said U.S. coach Gregg Berhalter. "We know they're playing in front of their home fans. We know they're going to be confident and it's going to be a competitive game. And if we can embrace that, we'll be OK. And it's a good opportunity for us to move up in the standings."
Both teams are coming off wins Thursday.
The 40th-ranked Canadians recorded their first victory in Honduras since 1985 with a 2-0 decision over the 76th-ranked Hondurans in San Pedro Sula while the 11th-ranked Americans downed El Salvador 1-0 in Columbus.
Canada closes out the international window on Wednesday at No. 70 El Salvador. Just three matches remain for coach John Herdman's team after that.
Thee top three sides come March will represent North and Central America and the Caribbean at Qatar 2022 with the fourth-place country taking on an Oceania opponent to see who joins them.
Canada is leading the way in the region, muscling past traditional CONCACAF heavyweights Mexico and the U.S.
"They have a talented group of players, make no mistake about it," said Berhalter, listing off Alphonso Davies, Jonathan David, Cyle Larin, Tajon Buchanan and Jonathan Osorio.
"They're a well-coached team. They know how to play. They've a clear philosophy and they deserve to be where they are," he added. "So for us it's an opportunity, that's all it is, an opportunity to try to get first in the group and that's where we want to finish."
Added U.S. defender Walker Zimmerman: "I think there's been a shift in their mentality. They play with a chip on their shoulder. They play with something to prove and they play with an intensity that is very high. So they're a confident group.
"And so whenever you go out there, you know that they're going to compete and that you have to match that level of intensity and desire. I think that's something that John has brought to that group. And that's a strength of theirs. We'll have to be up for it."
The Americans will be without two players at Tim Hortons Field.
Berhalter said defender Brooks Lennon has returned to Atlanta United to have a "slight" ankle injury evaluated while Lille forward Tim Weah was unable to get into Canada due to his vaccination status.
Weah had his first vaccine dose and then contracted COVID-19 while awaiting his second shot, a combination that meets full vaccination requirements in France but not in Canada, Berhalter explained.
"This was a nuanced technicality that we were hoping was going to get pushed through and unfortunately it didn't."
Canada is without Davies, the Bayern Munich star who has been sidelined by myocarditis, an inflammation of the heart muscle, after testing positive for COVID. The 21-year-old from Edmonton was an enthusiastic observer of the win in Honduras, however, livestreaming on Twitch as he watched the game.
Influential midfielder Stephen Eustaquio missed the Honduras match in the wake of Portuguese reports that he had tested positive for COVID. Herdman said he still hopes Eustaquio will play some role in the window.
Berhalter and Herdman are colleagues as well as rivals, with Herdman acknowledging in the past that he shares notes with his U.S. counterpart.
"He's done a great job with the program. I've said this over and over,' said Berhalter. "I think it's the talented players that the group has, but it's also his strong leadership and painting a vision for where the Canadian program can go. And once you have people buying into that vision, it's no surprise that they've had the success that they've had.
"We've been able to bounce some ideas and some notes off each other through qualifying. We're pulling for the Canadian team to qualify, there's no secret about that. It's only (Sunday) that I want them to lose. And then every other game, I'm happy that they win."
Sunday's game originally sold out in hours with Canada Soccer expecting a capacity crowd of 24,000. But stricter pandemic-related restrictions capped attendance at 12,000 with the first ticket sale voided.
Canada and the U.S. tied 1-1 when they met Sept. 5 in Nashville in the second game of the final qualifying round.
The U.S. won 1-0 when they met at the Gold Cup in July in Kansas City where the Americans scored in the first minute and then held off a Canadian charge the rest of the way.
While the Americans lead the overall series between the two North American rivals at 16-9-12, Canada has a 6-4-4 edge in World Cup qualifying.
—
Follow @NeilMDavidson on Twitter
This report by The Canadian Press was first published Jan. 29, 2022
Neil Davidson, The Canadian Press
Super Bowl 57: Chiefs, Eagles meet for title in Arizona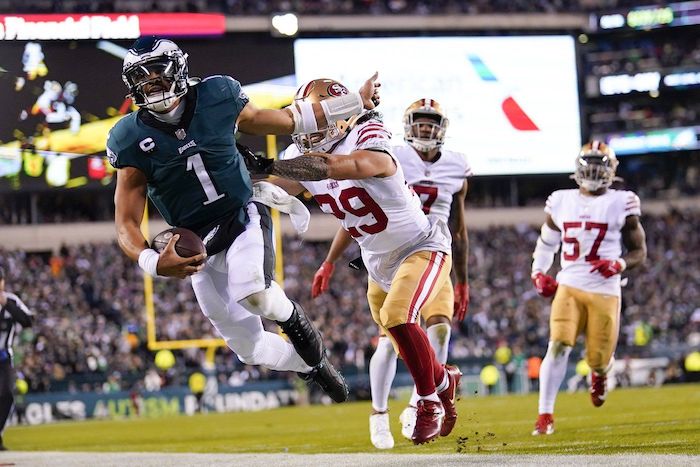 By David Brandt
Patrick Mahomes finally got the best of Joe Burrow.
All he needed was a little shove.
Harrison Butker made a 45-yard field goal with 3 seconds left — after Cincinnati's Joseph Ossai was flagged for a 15-yard penalty for shoving Mahomes after he was out of bounds — and the Chiefs beat the Bengals 23-20 in the AFC championship game to make it back to the Super Bowl.
Kansas City will face the Philadelphia Eagles in the Super Bowl on Feb. 12 in Glendale, Arizona.
The Eagles opened as a 1 1/2-point favorite, according to FanDuel Sportsbook.
There are no shortage of storylines: Kansas City coach Andy Reid goes against his old team — which he led to Super Bowl 39 — in a game that's also the first matchup of Black starting quarterbacks in the Super Bowl with Mahomes and Philadelphia's Jalen Hurts.
On top of that, there's a brother-against-brother showdown between Chiefs tight end Travis Kelce and Philadelphia center Jason Kelce.
" Officially done being a Chiefs fan this season!! " Jason Kelce tweeted immediately after the Chiefs won.
The Chiefs have been making deep postseason runs on a regular basis ever since Mahomes came to town as the franchise quarterback.
This was their fifth straight trip to the AFC title game and will be their third Super Bowl appearance in that span. They beat the 49ers for the NFL title in the 2019 season, but lost to the Bucs the following season.
The Eagles clobbered the Niners 31-7 in the NFC title gameearlier Sunday. They've looked dominant in the playoffs so far, also beating the New York Giants 38-7 in the divisional round.
Philadelphia is back in the Super Bowl five years after beating the New England Patriots 41-33 on Feb. 4, 2018.
Now a mostly new generation of Eagles — led by coach Nick Sirianni and Hurts — will come to Arizona to try and win another title.
The Chiefs-Bengals game looked as if it was going to overtime before Ossai's ill-advised play. Mahomes — who was playing on a badly sprained ankle — was running to get a first down in the final seconds as Ossai desperately tried to track him down.
Mahomes was out of bounds when Ossai gave him a shove, sending both players tumbling to the turf. The ensuing 15-yard penalty was enough to push Butker into field-goal range and the kick split the uprights.
A distraught Ossai sat on the bench with his head in his hands, well after the game was over.
The Bengals and Chiefs were playing for the fourth time in less than 400 days and Cincinnati had won the previous three meetings — all by three points. This one was decided by a field goal, too, and all Burrow could do was watch.
The Bengals lost to the Rams in last year's Super Bowl and they just missed another chance at returning to the title game.
NO DRAMA IN NFC
Oddsmakers thought fans were in for some close conference championship games.
They'll have to settle for a 50% success rate.
The NFC title game was a blowout. Niners rookie quarterback Brock Purdy was injured in the first quarter when Eagles linebacker Haason Reddick drilled his right arm on a play that was ruled a fumble. The Eagles recovered that fumble and the injury proved to be a game-changer.
With Purdy hurt, San Francisco turned to 36-year-old journeyman Josh Johnson, who couldn't do much before eventually leaving with a concussion. Purdy came back into the game, but could barely throw, and the Eagles cruised to the win.
The 49ers dealt with quarterback injuries all season, losing Trey Lance and Jimmy Garoppolo before turning to Purdy, a seventh-round draft pick out of Iowa State. Purdy stepped into a starter's role in December and won his first seven games before Sunday's injury.
Here's a few things to know about the upcoming Super Bowl:
WHAT'S THE UPCOMING SCHEDULE?
FEB. 5
Pro Bowl flag-football game, 3 p.m. EST, ABC/ESPN
FEB. 12
Super Bowl LVII, Philadelphia Eagles vs. Kansas City Chiefs, 6:30 p.m. EST, Fox
RIHANNA AT HALFTIME
Rihanna will take center stage as the headline act for this year's Super Bowl halftime show.
With sales of more than 250 million records worldwide, Rihanna ranks as one of the best-selling female artists ever. Her most recent album was 2016′s "Anti." Rihanna last performed publicly at the Grammy Awards in 2018.
The singer said she turned down a similar opportunity for the 2019 Super Bowl that was ultimately headlined by Maroon 5. At the time, many artists voiced support for Colin Kaepernick, the former San Francisco 49ers quarterback who protested police brutality against Black people and minorities by kneeling during the national anthem in 2016.
Country music star Chris Stapleton will sing the national anthem, while R&B legend Babyface will perform "America the Beautiful."
PRO BOWL MAKEOVER
The Pro Bowl is getting a major makeover this year after the NFL eliminated its full-contact all-star game and replaced it with weeklong skills competitions and a flag football game.
The flag football contest is Feb. 5 in Las Vegas at Allegiant Stadium, one week before the Super Bowl.
The Pro Bowl debuted in January 1951 in Los Angeles and stayed there for 21 seasons before the game moved to different cities from 1972-80. Hawaii hosted from 1980-2009, and the game has had several homes in the years since, including Miami, Phoenix, Orlando and Las Vegas.
"The game was kind of silly, I guess," Saints two-time Pro Bowl offensive lineman Ryan Ramczyk said back in September when the news was announced. "Guys weren't out there playing true football. Hopefully, there'll be a lot of interactions with the fans and guys will get their opportunity to go out there and show some skills. I could see that being a good change."
___
AP Entertainment Writers Jake Coyle and Jonathan Landrum Jr. and AP Pro Football Writer Rob Maaddi contributed to this story.
___
AP NFL: https://apnews.com/hub/nfl and https://twitter.com/AP_NFL
Oilers' offence lowers the boom on Blackhawks in 7-3 win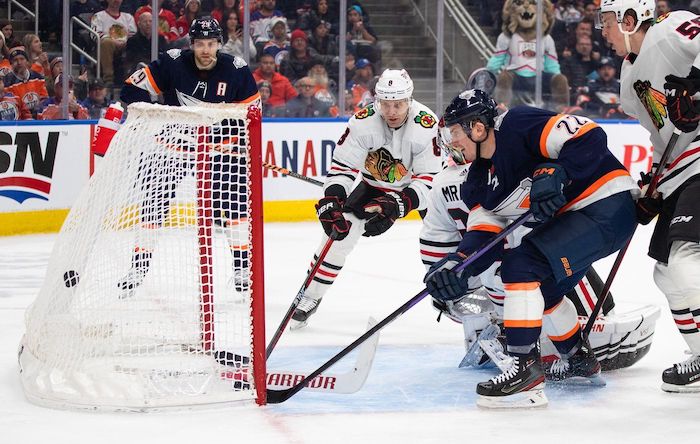 By Shane Jones in Edmonton
The Edmonton Oilers didn't leave anything in the tank before their all-star break hiatus.
Tyson Barrie scored a pair of goals as the Oilers headed into a nine-day break in the schedule on a winning note, coming away with a 7-3 victory over the lowly Chicago Blackhawks on Saturday.
"I thought we responded really well after a tight game against Columbus (Wednesday) where we only got one point against them (3-2 overtime loss)," Oilers forward Zach Hyman said. "I thought we played well and got the two points and we're feeling good going into the break."
Leon Draisaitl, Connor McDavid and Zach Hyman each had a goal and two assists, and Evander Kane and Ryan McLeod also scored for the Oilers (28-18-4) who have gone 7-0-1 in their last eight games leading into a break that sees them idle until Feb. 7.
"We took (the game) over in the second period, but there were still a couple of things I'd like to clean up," Oilers coach Jay Woodcroft said. "But our team is 10-3-2 since the Christmas break and you couldn't script it better for us. I think we've taken a step here, it's a credit to our players."
Jason Dickinson, Jonathan Toews and Taylor Raddysh replied for the Blackhawks (15-29-4) who have lost three of their last four and entered the night sitting in second-last place in the NHL.
"We had a great start, but we maybe just stopped skating a little bit from what we had done in the first," said Blackhawks veteran Patrick Kane. "It would have been nice to control it a little more in the second, those are usually make-or-break periods."
Despite Saturday's drubbing, Chicago still managed to win seven of their last 11 games. They are now off until Feb. 7.
"It is tough losing the last game before a break, but I feel like we have taken a big step in the last month and have been building on our game in all areas with every line chipping in at different moments," Raddysh said. "That is what we are going to need the rest of the way and we have to keep giving it our all every night and keep getting better."
Chicago had a glorious early chance when Andreas Athanasiou was sent in on a clear breakaway, but he bobbled the puck and was unable to get a shot on Oilers starter Jack Campbell.
The Oilers took the lead 5:20 into the first period on a power-play goal as Chicago goalie Petr Mrazek reached out to deflect a Barrie point shot, but it instead caromed off of his blocker and down into the net. Edmonton captain McDavid picked up an assist to give him points in 12 straight games and 29 of his last 30.
Dickinson tied the game 5:25 into the middle frame as he scored his seventh on a partial breakaway after picking up a backhanded feed through the slot from Patrick Kane.
Edmonton's lethal power play put them back in front just over a minute later as McDavid sent a nifty backhand return pass from behind the net to Draisaitl, who beat Mrazek for his 29th of the season.
The Oilers surged ahead with a pair of goals less than a minute apart with about eight minutes to play in the second period. Barrie scored his second goal of the game and seventh of the season after Hyman tipped a shot that trickled behind the Blackhawks goalie, allowing him to sweep in and whack it into an empty net.
McDavid then scored his league-leading 41st of the season, wheeling out from behind the net before elevating a beauty of a backhand shot past Mrazek.
Hyman picked up his third point in a 2:33 span a minute-and-a-half after that, smacking home the rebound of a McLeod shot for his 26th of the campaign. Hyman has now scored in five consecutive games.
Chicago got one back on the power play as Patrick Kane sent a perfect feed in front that Toews tipped past Campbell for his 14th.
However, Edmonton answered back just 12 seconds later as an egregious turnover allowed Draisaitl to make a one-touch pass to Evander Kane, who rifled home his first goal since returning from having his wrist sliced open by a skate blade.
McLeod made it 7-1 with eight minutes to play as his shot was deemed to have crossed the line before defender Seth Jones could bat it out, even though play went on for a while before the horn sounded.
The Blackhawks made it look better with five minutes left as Max Domi took advantage of a giveaway to send Raddysh in to score his 14th on a nice deke.
NOTES
Oilers netminder Stuart Skinner came down with a sudden illness, forcing them to activate emergency backup goalie Matt Berlin, a player from the University of Alberta Golden Bears. With their big lead, the Oilers put him in net with 2:26 to play, saving the only shot he faced. … Oilers forward Kane returned to the lineup after missing the last game while dealing with his bankruptcy case. As a result, James Hamblin was returned to Bakersfield of the AHL. … Out with injuries for Edmonton were Kailer Yamamoto (undisclosed) and Ryan Murray (back). … Chicago also had a prominent forward return as Toews was back after missing the last game with an illness. … The Hawks were without Tyler Johnson (ankle), Jarred Tinordi (facial fracture), Jujhar Khaira (back) and Alex Stalock (concussion). … McDavid became the first Oilers player with 50 assists in seven straight seasons since Jari Kurri (between 1982 and 1990) and the first player in the NHL with 40 goals and 50 assists in 50 or fewer games since Jaromir Jagr and Mario Lemieux both did it in 1995-1996.
UP NEXT
Both teams enter into lengthy breaks, with neither returning until Feb. 7.
This report by The Canadian Press was first published Jan. 28, 2023.