Tuned-in Tapia helps Jays defeat Orioles 6-3, widen gap in wild-card race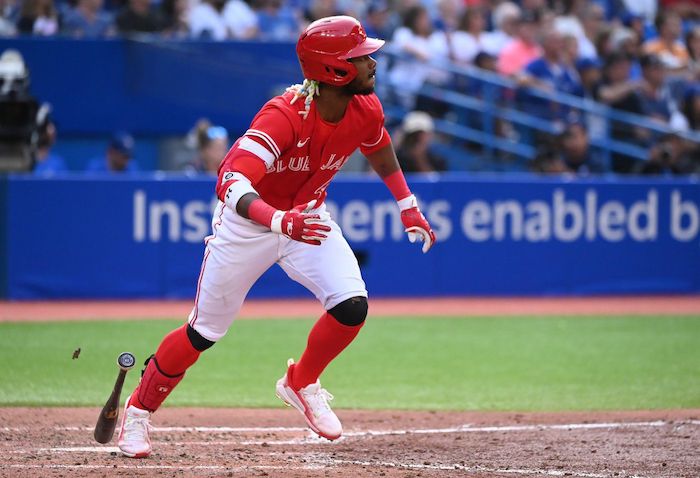 By Tim Wharnsby in Toronto
Left-fielder Raimel Tapia performed brilliantly with his bat and glove to carry on a superb September for the Toronto Blue Jays.
Tapia's impressive play in the Blue Jays' 6-3 win against the Baltimore Orioles on Saturday helped improve Toronto's record in September to a Major League Baseball-best 13-4.
The back-to-back wins against Baltimore also gave the Blue Jays six series wins in a row and put the club 20 games over .500 for the first time since they finished 2021 at 91-71.
"I feel good," said Tapia, who has recently enjoyed an abundance of playing time with regular left-fielder Lourdes Gurriel Jr. on the 10-day disabled list with a hamstring strain.
"But even when I'm not playing, I'm staying focused. I'm going to the batting cage because you have to be ready."
Tapia was ready from the start on Saturday. First, he snagged a fly ball off the bat of Orioles leadoff hitter Cedric Mullins that seemed destined to hit the fence for a double.
Then, in the fifth inning, with the Blue Jays' lead cut to 3-2, the left-handed hitting Tapia came to the plate with the bases loaded and two out. He slammed a double to centre field to clear the bases.
"I love those moments," Tapia said. "I love feeding off the fans and their energy."
Tapia's catch was the start of a first-rate defensive outing by Toronto. George Springer made a dandy diving catch on Ramon Urias's sinking fly ball in the fourth inning.
Jackie Bradley Jr. entered the game to make a nifty running catch in the ninth. Santiago Espinal made a pair of good plays at second, and shortstop Bo Bichette had to step over second base and runner Terrin Vavra in the second inning to record a tricky pop-fly out.
The Blue Jays (83-63) strong month has widened their gap on the Orioles (75-69) to seven games in the American League wild-card race.
Toronto sits first in the battle for the three wild-card spots, while the Orioles are fourth.
"We've had good starting pitching," Interim Toronto manager John Schneider said. "We've got timely hitting, today great defence. Obviously, it's a good recipe."
The Blue Jays scored a run in the first inning on Matt Chapman's sacrifice fly and two more in the second when Cavan Biggio and Espinal knocked one-out singles and scored on Springer's double off the left-field fence.
Baltimore starter Kyle Bradish (3-7) settled down after his shaky start. He retired nine in a row until a fifth-inning, one-out throwing error from Urias that ignited a Blue Jays rally.
Vladimir Guerrero Jr., who extended his hit streak to 11 games with a first-inning infield hit that dribbled down the third-base line, reached base on the Urias error.
Bradish's final batter, Chapman, walked, as did Teoscar Hernandez, to load the bases when Baltimore reliever Jake Reed took over. This set the table for Tapia's bases-clearing double.
Bradish lasted 4 2/3 innings, yielding six hits for three unearned runs, a walk and three strikeouts.
Toronto starter Jose Berrios (11-5) went six innings, striking out three, walking two and giving up seven hits before 44,448 at Rogers Centre.
He was tagged for a pair of runs in the third inning. A leadoff double from Mullins and a one-out double from Anthony Santander put Orioles on first and second.
Baltimore shortstop Gunnar Henderson drove in his teammates with a single to left to close the Blue Jays' advantage to 3-2.
Henderson also doubled with one out in the eighth inning and scored on Terrin Vavra's single off Toronto reliever Yimi Garcia.
Blue Jays stopper Jordan Romano closed the deal in the ninth inning for his 34th save, 21st at home, which is the most saves by a Toronto reliever since Kelvim Escobar's 22 in 2002.
INJURY UPDATE
Schneider reported there is a chance Alejandro Kirk (hip) could return after a four-game absence to catch Alek Manoah on Sunday. Kirk was behind the plate for all Manoah's 28 starts this season.
Gurriel is eligible to come off the 10-game disabled list on Sunday.
UP NEXT
Manoah (14-7) will face Orioles righty Dean Kremer (7-5) in the series finale on Sunday. Manoah is 2-1 with a no-decision in four starts with eight earned runs in 24 2/3 innings against Baltimore in 2022.
This report by The Canadian Press was first published Sept. 17, 2022.
Quebec says only people at risk who haven't had COVID-19 should get booster dose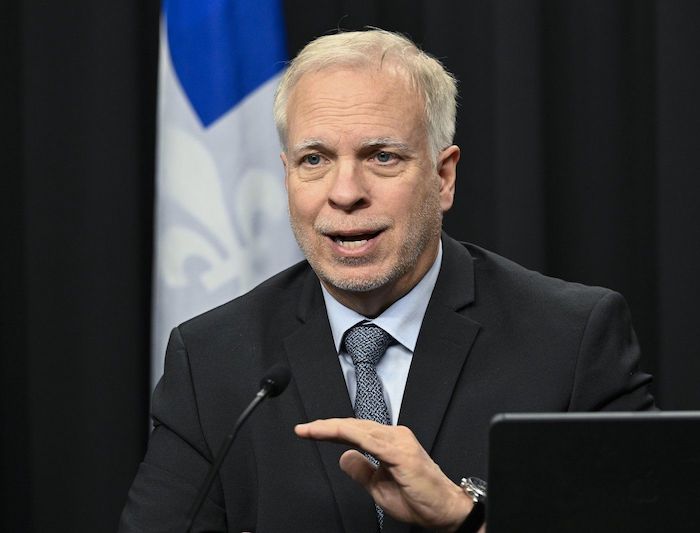 Only people who are considered at risk for severe COVID-19 — and who haven't already been infected — need to get a booster dose, Quebec's public health director said Thursday.
The vast majority of Quebecers have hybrid immunity — protection through vaccination and through a SARS-CoV-2 infection — making regular boosters unnecessary, at least for this winter and spring, Dr. Luc Boileau told reporters.
"People with hybrid immunity … have a very good protection against a severe form of the illness," Boileau said. "And this immunity lasts for a long enough time that we can propose changes."
Those who have been vaccinated but haven't contracted the virus are also protected against severe COVID-19, he said, but their immunity "has a tendency to drop with time."
Quebec's vaccination committee decided to focus the province's immunization policy on preventing hospitalizations and deaths, he said. People who are 60 and older or who have chronic illnesses, health workers, pregnant women and those who live in isolated regions are among the people who should get a booster every six months — but only if they have never caught the virus, Boileau said.
Dr. Caroline Quach-Thanh, chairperson of Quebec immunization committee, said the data shows that people already vaccinated for COVID-19 who have contracted the virus "maintain their protection."
"Adding a dose doesn't add a lot protection for severe (illness)," she said.
Health officials estimate that more than three-quarters of Quebecers under 60 have had COVID-19 over the past three years, while about half of those over 60 have caught the virus.
Boileau said only people who are immunocompromised should continue getting boosters even if they've been infected, "because their immunity could be affected by their condition."
Before Thursday's announcement, boosters were recommended for all people considered at risk of severe COVID-19. Boileau said COVID-19 vaccines will remain available to anyone who wants one. "We won't refuse anyone," he said.
This report by The Canadian Press was first published Feb. 2, 2023.
Senate passes Liberals' controversial online streaming act with a dozen amendments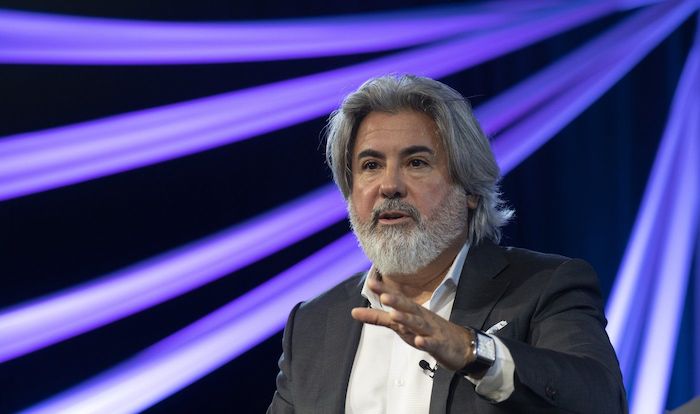 By Mickey Djuric in Ottawa
Big tech companies that offer online streaming services could soon be required to contribute to Canadian content as a controversial Liberal bill gets one step closer to becoming law.
The Senate has passed the online streaming act known as Bill C-11 with a dozen amendments following a lengthy study by senators.
The bill would update Canada's broadcasting rules to reflect online streaming giants such as YouTube, Netflix and Spotify, and require them to contribute to Canadian content and make it accessible to users in Canada — or face steep penalties.
Canadian Heritage Minister Pablo Rodriguez says he hopes the House of Commons will pass the bill next week after it reviews the Senate's changes.
Senators made amendments intended to protect user-generated content and highlight the promotion of Indigenous languages and Black content creators.
They also included a change that would prohibit CBC from producing sponsored content, and another that would require companies to verify users' ages before they access sexually-explicit material.
Rodriguez said Thursday that the Liberal government would not accept all of the Senate's recommendations, but he didn't say which ones he disagrees with.
"We'll see when the bill comes back. There are amendments that have zero impact on the bill. And others that do, and those, we will not accept them," the minister said Thursday during a Canadian Media Producers Association panel.
The Senate also removed a clause in the bill that Sen. Paula Simons described as giving "extraordinary new powers to the government to make political decisions about things."
Ian Scott, the former chair of Canadian Radio-television and Telecommunications Commission, had told a Senate committee that some provisions in the bill did move the balance point "slightly closer to lessening the independence" of the regulator — though he insisted that it would remain independent.
The CRTC, now under the leadership of Vicky Eatrides, will be tasked with enforcing the bill's provisions.
The Senate passed the bill on the anniversary of its introduction in the House of Commons.
Between the House of Commons and Senate, there have been approximately 218 witnesses, 43 meetings, 119 briefs and 73 proposed amendments, said Rodriguez.
"It's the longest bill," he said.
The proposed law has come under intense scrutiny amid accusations from companies and critics who said it left too much room for government control over user-generated content and social-media algorithms.
Rodriguez said tech giants can get creative with ways they promote Canadian content, such as with billboards, advertising or, if they so choose, tweaks to their algorithms.
The bill has also caught the attention of the United States. Its embassy in Ottawa recently said that it is holding consultations with U.S. companies that it is concerned could face discrimination if the bill passes.
Last week, two U.S. senators called for a trade crackdown on Canada over Bill C-11, saying that the prospective law flouts trade agreements.
"I'm not worried, because we think it complies with trade obligations," Rodriguez said.
This report by The Canadian Press was first published Feb. 2, 2023.