Trudeau moves on pledge to cap oil and gas emissions as COP26 talks begin in Scotland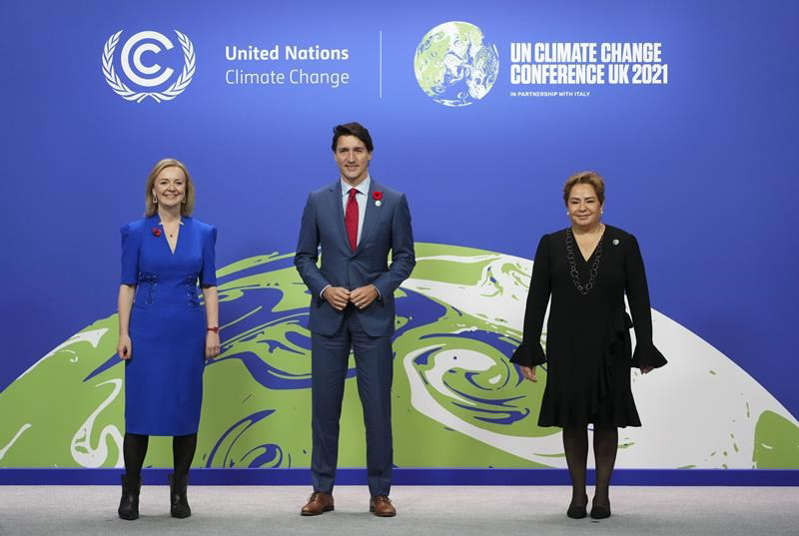 GLASGOW, United Kingdom — Prime Minister Justin Trudeau invoked the memory of Lytton, B.C., on Monday as he called for global action in the fight against climate change and formally committed to a cap on emissions produced by Canada's oil and gas sector.
The prime minister was speaking at the 26th meeting of the Council of Parties to the UN climate convention, known as COP26, where more than 120 world leaders have gathered for two days to assess global efforts to address what many see as an existential problem.
It was in that context that Trudeau referenced the record-setting temperatures that set the stage for the devastating wildfire that swept through the village of Lytton in June, destroying much of the community.
"What happened in Lytton can and has and will happen anywhere," Trudeau told the assembled leaders, including U.S. President Joe Biden and German Chancellor Angela Merkel. "How many more signs do we need? This is our time to step up — and step up together."
Trudeau went on to formally launch his government's latest effort to reduce Canada's greenhouse gas emissions by committing to a cap on emissions from the country's oil and gas sector.
Such a cap had been promised in the Liberals' recent election platform, with plans to force emissions down until they hit net zero in 2050. A lack of regulations for the sector has long been a sore spot between environmental groups and Ottawa.
"We'll cap oil and gas sector emissions today and ensure they decrease tomorrow at a pace and scale needed to reach net zero by 2050," Trudeau told the leaders.
"That's no small task for a major oil and gas producing country. It's a big step that's absolutely necessary."
Environment Minister Steven Guilbeault was expected to send a letter to the government's new net-zero advisory body to start the process later on Monday.
Trudeau arrived at COP from the G20 leaders' summit in Rome, where leaders agreed that global warming had to be limited to 1.5 C by the end of this century. However, they failed to agree on specific actions to make that happen.
While Trudeau promised to cap oil and gas sector emissions, Canada will not be increasing its targets for cutting greenhouse gas emissions further than what was announced earlier this year.
In July, Canada formally submitted its new target, which aims to have 40 to 45 per cent fewer emissions than in 2005 by 2030, to the UN. The previous target was a 30 per cent reduction in emissions from 2005 by 2030.
The prime minister said Sunday that while there is always a lot of attention on the setting of targets, not enough attention goes to meeting them. He said Canada is now focused on implementing the policies needed to meet its existing targets.
To that end, he used his address on Monday to list the actions his government has taken to make good on its promises, including putting a price on carbon.
He also noted that Canada has committed $5.3 billion to help low and middle-income nations with their emissions-reduction and mitigation efforts, with up to $1 billion of that funding will be dedicated to helping countries transition away from coal.
This report by The Canadian Press was first published Nov. 1, 2021.
Mia Rabson, The Canadian Press
Flames looking for 'foundation' after Game 2 loss: 'We're playing into their hands'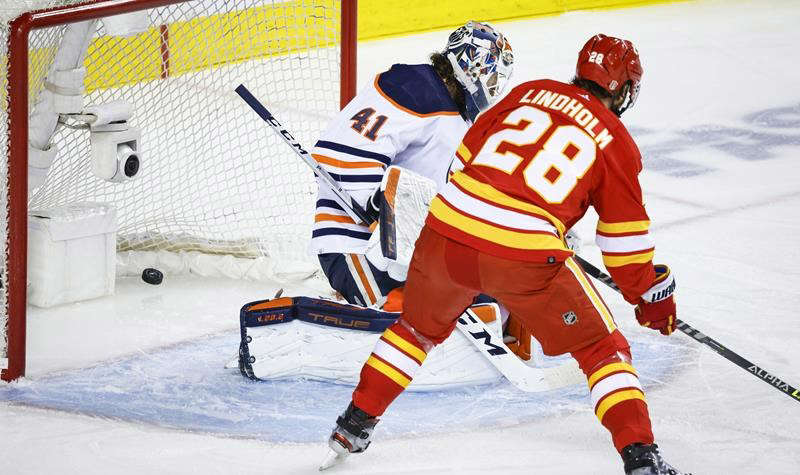 "We've got to clean that up."
Toffoli lamented his team's lack of discipline in a game that was there for the taking — especially early.
"We took too many penalties," the winger said after the Oilers connected on one of their six power plays. "We've got away from our type of game and started playing their game. When that happens they have guys that can do some of the things that they did.
"We didn't do a good job."
So why has Calgary strayed from a style that got the club to the top of the Pacific Division at the season's most critical juncture?
"I'm not really sure," Toffoli said. "It's something that we have to talk about within ourselves. At the end of the day, I've said last series as well, nobody's going to do it — it's only us.
"We have to find a way to get back to it and play five-on-five hockey and take over games."
Calgary jumped out to a 2-0 lead just over six minutes into Friday's contest after pushing ahead 3-0 in Game 2, but allowed Edmonton to find its footing.
"The main thing for us is just trying to keep it five-on-five," Hanifin said. "We're having good starts. We like our game at five-on-five.
"It's just when we start getting into those situations where it's four-on-four and stuff, it's not to our advantage, not our game, and they have success."
Toffoli, who won the Stanley Cup with the Los Angeles Kings in 2014, said the Flames simply need to get back to their old, trusted habits as the series now shifts to the Alberta capital.
"It's playoff hockey, it's not going to be perfect every single night," he said. "Things happen within a game and we have to stay composed.
"If we stay five-on-five we're in a good spot."
So far in this series, however, that's been easier said than done.
This report by The Canadian Press was first published May 20, 2022.
___
Follow @JClipperton_CP on Twitter.
Joshua Clipperton, The Canadian Press
Canadian Food Inspection Agency confirms another case of 'bird flu' in B.C.
RICHMOND, B.C. — The Canadian Food Inspection Agency has confirmed the presence of highly pathogenic avian influenza in a small flock of poultry in Richmond, B.C.
The agency did not provide information on the number of birds infected by H1N1, or the type of poultry.
It says while the so-called bird flu is not a food safety concern, it is spreading across the globe and anyone with birds must use preventive measures like securing their property by a fence.
It says small flocks are at risk of contracting viruses like avian influenza, especially if they have access to ponds or bodies of water known to be used by wild birds.
H1N1 can also be spread on the clothing and shoes of visitors and employees moving from flock to flock, through contaminated feed, water, bedding and farm equipment as well as via airborne particles and dust blown by the wind.
B.C.'s Agriculture Ministry said this week that avian flu had been found in a commercial flock in the Fraser Valley, home to 80 per cent of the province's poultry farms.
Avian flu cases have been confirmed in several other provinces, but no infections have been detected in humans.
This report by The Canadian Press was first published May 20, 2022.
The Canadian Press