Trudeau calls for clearing cyberspace of hate, disinformation at peace forum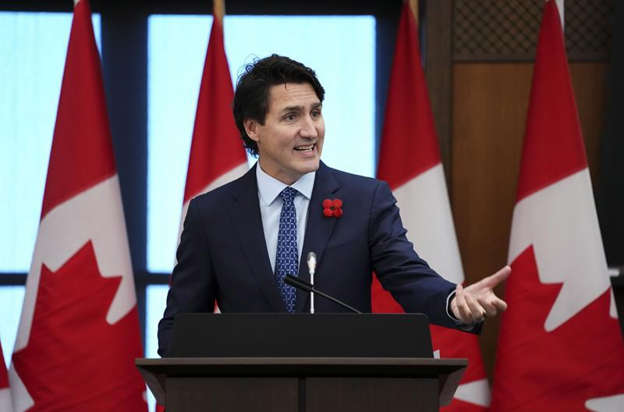 OTTAWA — Hate speech, disinformation and online extremism can't be allowed to prevent people from enjoying the freedom that cyberspace offers, Prime Minister Justin Trudeau said Thursday at an international discussion on the internet.
"There is no doubt: the digital space has incredible power for good. But from disinformation on vaccines to online extremism, we've also seen the threat it can pose to our democratic values, systems and our citizens," Trudeau said via video link from Ottawa to the Paris Peace Forum.
"We can't allow the benefits of the digital space to come at the expense of people's rights or safety."
The forum bills itself as an effort to revitalize global institutions, and is focusing this year on the vast inequalities exposed by the pandemic.
In-person attendees included the host, French President Emmanuel Macron, U.S. Vice-President Kamala Harris, and Canada's industry minister, Francois-Philippe Champagne, who is also attending a conference on artificial intelligence in the French capital.
Harris said the U.S. is committed to working with its allies to eliminate online terrorist content.
"For the United States, our approach to the digital domain is rooted in our democratic principles," she said. "We will continue to advocate for an open, secure and interoperable internet and work to ensure that technology helps, not harms, the people of our world."
Trudeau was addressing a panel on the challenges of the digital domain after co-founding a new international program last year with called the Global Partnership on Artificial Intelligence.
He noted that Canada served as the chair of the partnership last year and "focused on bringing together the international community to ensure AI respects rights and freedoms and doesn't harm democratic societies."
European Commission President Ursula von der Leyen addressed the gathering from Washington where she has been holding meetings with U.S. President Joe Biden.
She said the EU and U.S. have deepened their co-operation on how to make AI more "trustworthy" for its users.
"AI is without any doubt already changing our lives for the better. It can help for example, detect cyberattack… it can support doctors in more precise cancer diagnosis," said von der Leyen.
"Yet, for people to trust AI, we must also manage the risks."
Before the speeches, Macron welcomed a roomful of masked and physically spaced international politicians and business leaders to a high-ceilinged Parisian conference centre. That included Champagne, one of two Canadian federal ministers travelling in Europe this week, with whom the French president exchanged an extended handshake.
Earlier this week, Champagne told The Canadian Press he is planning to table a new digital charter after the return of parliament to address the issues surrounding AI and the internet-based economy.
Champagne said earlier this week the technology needs to be mindful of protecting privacy and that the government needs to create an overarching framework that reflects Canadian values.
Von der Leyen told the gathering that the EU was joining France in its pursuit of building trust and security in cyberspace.
"Throughout the pandemic, indeed, the internet has been a lifeline for millions of companies, and the only connection to our loved ones for so many of us," she said.
"Yet cyberspace has also become a more dangerous place, with rising threats against our critical infrastructure, our democratic processes, and even our personal health and safety, including our children's."
Trudeau's live video address to the conference also highlighted another challenge that those working through internet have had to rise above during the pandemic — a failing connection that cuts you off from the people you are trying to connect with.
About three minutes into his presentation from Ottawa, Trudeau's screen froze, and then cut out.
The live, onstage moderator back in Paris immediately pivoted back to the attendees.
"He seems to have disappeared. Anyway, thank you very much," he said, calling on the French crowd to give the Canadian prime minister a round of applause — which they did.
"It just goes to show that he really is live, and we're not so showing you pre-recorded videos."
This report by The Canadian Press was first published Nov. 11, 2021.
Mike Blanchfield, The Canadian Press
Canada tops Jamaica 4-1 on aggregate to qualify for 2024 Paris Olympics
TORONTO — Canada has booked its ticket to the 2024 Paris Olympics.
The 10th-ranked Canadian women's soccer team beat No. 37 Jamaica 4-1 on aggregate to earn the last CONCACAF entry in the 12-country field for the Games.
Canada won 2-1 on Tuesday at BMO Field in the second game of the two-legged Olympic qualifier after earning a 2-0 victory at the National Stadium in Kingston, Jamaica on Friday.
Cloe Lacasse and Jordyn Huitema scored for Canada in front of a sold-out crowd of 29,212 which set a new record for a men's or women's national team game in Ontario.
Drew Spence netted Jamaica's lone goal.
The U.S. qualified directly for the Games by defeating the reigning Olympic champion Canada 1-0 in the CONCACAF W Championship final in 2022.
Jamaica, which lost 3-0 to Canada in the semifinal, defeated Costa Rica 1-0 after extra time in the third-place playoff to set up the playoff with Canada.
The Canadian women have taken part in the last four Olympics, winning gold, bronze and bronze after finishing eighth at the 2008 Games in Beijing.
Canada has won all 10 of its previous meetings with Jamaica, outscoring the Reggae Girlz 62-2.
This report by The Canadian Press was first published Sept. 26, 2023.
Abdulhamid Ibrahim, The Canadian Press
Brooks Robinson, Orioles third baseman with 16 Gold Gloves, has died. He was 86
BALTIMORE (AP) — Hall of Fame third baseman Brooks Robinson, whose deft glovework and folksy manner made him one of the most beloved and accomplished athletes in Baltimore history, has died. He was 86.
The Orioles announced his death in a joint statement with Robinson's family Tuesday. The statement did not say how Robinson died.
Coming of age before the free agent era, Robinson spent his entire 23-year career with the Orioles. He almost single-handedly helped Baltimore defeat Cincinnati in the 1970 World Series and homered in Game 1 of the Orioles' 1966 sweep of the Los Angeles Dodgers for their first crown.
Robinson participated in 18 All-Star Games, won 16 consecutive Gold Gloves and earned the 1964 AL Most Valuable Player award after batting .318 with 28 home runs and a league-leading 118 RBIs.
"An integral part of our Orioles Family since 1955, he will continue to leave a lasting impact on our club, our community, and the sport of baseball," the team said.
He finished with 268 homers, drove in 1,357 runs and batted a respectable .267 in 2,896 career games. Not bad for ol' No. 5, the boy from Arkansas.
But he will be forever remembered for his work ethic and the skill he displayed at the hot corner, where he established himself as one of the finest fielding third baseman in baseball history, whether charging slow rollers or snaring liners down the third-base line.
"Brooks was maybe the last guy to get into the clubhouse the day of the game, but he would be the first guy on the field," former Orioles manager Earl Weaver said. "He'd be taking his groundballs, and we'd all go, 'Why does Brooks have to take any groundballs?'
"I wouldn't expect anything else from Brooks. Seeing him work like that meant a lot of any young person coming up. He was so steady, and he steadied everybody else."
Robinson arrived in Baltimore in September 1955 as an 18-year-old after spending most of his first professional season in baseball with Class B York. He went 2 for 22 with the Orioles and struck out 10 times.
He jockeyed between the majors and minors until July 1959, when he stuck around in Baltimore for good.
Brooks Calbert Robinson Jr. was born in Little Rock on May 18, 1937. He eventually made Baltimore his home but never really lost his southern twang, which was just fine with fans in blue-collar Baltimore, who appreciated his homespun charm and unassuming demeanor.
Dubbed "Mr. Oriole," he was a sports hero in Charm City, in the pantheon with former Colts quarterback Johnny Unitas and Orioles infielder Cal Ripken, who performed for a different generation.
Many Orioles rooters who never got to see Robinson play still were able to enjoy his observations as he was part of team broadcasts.
Ripken was known as The Iron Man because he played in 2,632 consecutive games, but Robinson wasn't fond of sitting on the bench, either. From 1960-1975, he played in at least 152 games in 14 seasons and in 144 games the other two years.
"I'm a guy who just wanted to see his name in the lineup everyday," he said. "To me, baseball was a passion to the point of obsession."
Robinson retired in 1977 after batting only .149 in 24 games. His jersey was retired that year.
Robinson's most memorable performance came as MVP of the 1970 World Series, when the Orioles bounced back from their stunning defeat to the New York Mets the year before and Robinson redeemed himself after batting just 1 for 19 in that series. Because he was so sensational in the field during Baltimore's five-game triumph over the Reds, few remember he hit .429 and homered twice and drove in six runs — or that he made an error on his first play in the field.
In Game 1, Robinson delivered the tiebreaking home run in the seventh inning. One inning earlier, he made a sensational backhanded grab of a hard grounder hit down the line by Lee May, spun around in foul territory and somehow threw out the runner.
Robinson contributed an RBI single in the second game and became forever a part of World Series lore with his standout performance in Game 3. He made a tremendous, leaping grab of a grounder by Tony Perez to start a first-inning double play; charged a slow roller in the second inning and threw out Tommy Helms; then capped his memorable afternoon with a diving catch of a liner by Johnny Bench. The Series ended, fittingly, with a ground out to Robinson in Game 5, a 9-3 Orioles win.
"I'm beginning to see Brooks in my sleep," Reds manager Sparky Anderson said during the Series. "If I dropped this paper plate, he'd pick it up on one hop and throw me out at first."
Anderson also said, "He can throw his glove out there and it will start 10 double plays by itself."
Jim Palmer and other teammates would say that the country got to see what Robinson did routinely during the regular season. Robinson used to blush when asked to recall his heroics in October 1970.
"I tell people that I played 23 seasons and I never did have five games in a row like I did in that World Series," he said. "It was a once in a lifetime five-game series for me, and it just happened to be in a World Series."
His legacy in Maryland continued long after his retirement.
There's a Brooks Robinson Drive in Pikesville, and the annual state high school All-Star game played at Camden Yards is named in his honor.
___
AP Baseball: https://apnews.com/hub/MLB
David Ginsburg, The Associated Press