'Treated like mines:' Feds mull stronger rules for Indigenous cultural property
The federal government is considering how to legally enshrine Indigenous people's ownership of traditional culture — from songs to art to the use of medicinal plants.
Ottawa has signed agreements with the Assembly of First Nations and the Metis National Council to explore ways for Aboriginal communities to control and benefit from their cultural knowledge.
"We want Indigenous people to understand … that their traditional knowledge and traditional culture expressions are protected in a manner they feel comfortable with," said an official, speaking on background, from Innovation, Science and Economic Development.
It's an attempt to reconcile western individualist concepts with Aboriginal ideas of common inheritance. It must balance ownership against stewardship and temporary rights with permanent protection.
"When it comes to First Nations knowledge and cultural expression, every copyright, trademark or patent regime does not accommodate First Nations interest," said Stuart Wuttke, an AFN lawyer who was in Geneva last week for international meetings on the issue.
"There's no protection for that knowledge. Anybody can come and use that knowledge for themselves."
The question has deep roots in Indigenous communities, said Niigaan Sinclair of the University of Manitoba's Native Studies Department.
"This is absolutely huge," he said. "Indigenous peoples are treated like mines. We're like things to be extracted and stolen from and then turned back to those communities and charged triple the price."
Canada is just at the start of a long and complex discussion, said University of Ottawa law professor Jeremy de Beer. Copyright law may not even be the right way to address it.
"Copyright and patent law lack the legal tools to allow for truly collective ownership of content or ideas. It's a poor fit."
The Constitution guarantees Indigenous people the right to a cultural heritage, de Beer said, but it may be up to the courts to decide what that means.
"I won't be surprised to see this issue arising in litigation in the context of (the Constitution)."
There are few precedents aside from the well-known Igloo trademark on Inuit art that was transferred to an Inuit organization in 2017.
Part of any talks will be about protecting Indigenous intellectual property. Another part will be on setting terms for its use by non-Aboriginals.
"There's ability for outside parties to gain some of that knowledge," said Wuttke. "It is possible, but there's a process involved instead of someone just taking the knowledge and registering it, and they become the owner of it."
Engagement is the difference between appropriation and what Sinclair calls appreciation.
"Appropriation is not free speech. Appropriation is theft. Appreciation is relationships," he said. "When you appreciate something, you use it in your art or in your medicines. You appreciate it by making sure that it is better off because of your involvement."
De Beer said it will be crucial for copyrights around Indigenous knowledge to be led and designed by the people who will be most affected.
"The most important thing is that Canadians not attempt to define for Indigenous peoples what protection of Indigenous people's traditional knowledge or cultural expression should look like."
What happened at the Vancouver Olympics — an Inuit Inukshuk was used as a Games symbol without consultation — should never happen again, said Sinclair.
"Whether it be stealing the land or stealing the stories, it's the same stealing. Stealing is stealing is stealing."
— Follow Bob Weber on Twitter at @row1960
Bob Weber, The Canadian Press
Spanish museum returns 2 paintings looted by Nazis to Poland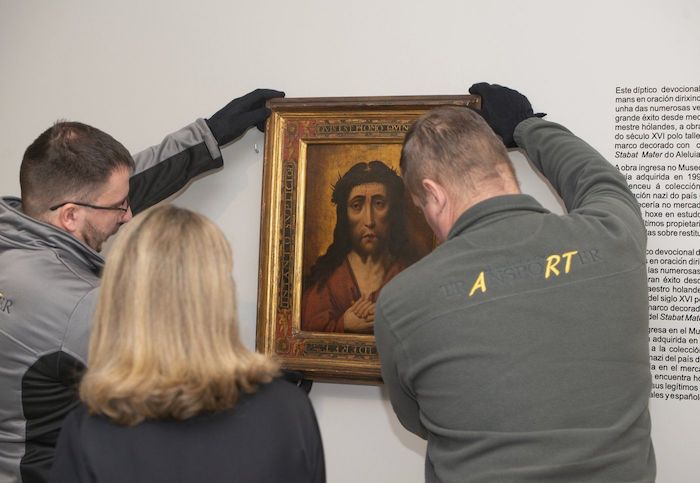 MADRID (AP) — A museum in northwest Spain returned two 15th-century paintings to Polish officials on Wednesday after it was determined that they had been looted by Nazi German forces during World War II.
The paintings "Mater Dolorosa" (Mother of Sorrows) and "Ecce Homo" were handed over to a delegation from Poland's culture ministry. According to Spain's Museum of Pontevedra, the works were originally believed to be by Dieric Bouts, a Flemish master born in the Dutch town of Haarlem, but now they are attributed to a member of his school or group.
The museum said that in 2020 Polish officials made it aware that the works had been looted by Nazi forces. The museum quickly decided to send them back to Poland, but the completion of official permits for the transfer had delayed it until now.
Nazi forces stole the works from the Czartoryski collection in Gołuchów when the city was occupied by the German military in WWII, Polish officials said. They appeared in Madrid in 1973 and had been in the Pontevedra museum since 1994 when they were acquired among over 300 works purchased from a Spanish private collector.
Poland saw much of its cultural patrimony destroyed or looted during the country's wartime occupation by Nazi Germany and the Soviet Union, and about 500,000 items remain missing.
The country has been making efforts to recover as much as possible. The Culture Ministry has a division for looted art that keeps a database of missing objects and scours foreign collections and auctions. When they locate a looted Polish painting, book or other object, they inform the law enforcement officials of that country.
___
AP writer Vanessa Gera in Warsaw contributed to this report.
Nominate an Alberta artist or arts collective for 2023 Distinguished Artist Award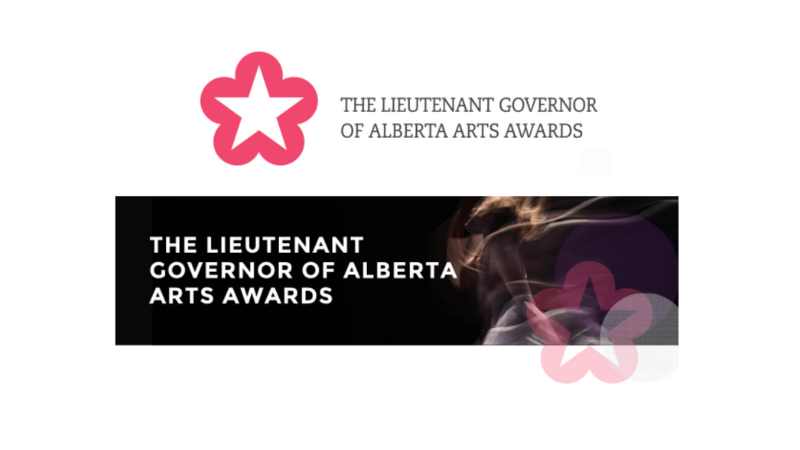 Since the program's launch in 2005, 23 Lieutenant Governor of Alberta Distinguished Artists have been awarded this title, along with a $30,000 prize, a two-week residency at the Banff Centre's Leighton Artist Studios, and a profile video on the artist. The awards were founded to highlight and celebrate Alberta's rich artistic talent – and we know there is so much to celebrate here!
The Lieutenant Governor of Alberta Distinguished Artists have impacted a wide range of arts disciplines provincially, nationally and internationally. Our Distinguished Artists include architect Douglas Cardinal – puppeteer Ronnie Burkett – visual artists Jane Ash Poitras, Alex Janvier, Peter von Tiesenhausen – sculptor Katie Ohe – composer John Estacio – dance choreographer Vicki Adams Willis – sopranist Frances Ginzer – authors Aritha van Herk, Rudy Wiebe – poet Alice Major, and theatre collectives One Yellow Rabbit and Old Trout Puppet Workshop – plus others! Check out our profiles of Alberta's Distinguished Artists at artsawards.ca
The Lieutenant Governor of Alberta Distinguished Artist Award is Alberta's most prestigious recognition of outstanding achievement in the arts. This award recognizes:
The highest degree of artistic excellence.
Career achievement; and/or significant body of work; and/or breakthrough contribution, including pushing the boundaries of the art from.
Significant impact on the arts in Alberta.
Help us celebrate Alberta's artists by nominating one or more artists for the 2023 Distinguished Artist Award. If you have nominated someone in the past who has not yet been recognized we welcome your updated re-submission.
This award has lifted our artistic spirit and propelled our work through the affirmation of our peers and our audience, and it has humbled us to be counted among such amazing talent – in this way we are driven to work harder and to reach further, to push the limits of art in Alberta.