Today is the day! Someone supporting the Child Advocacy Centre is going to win a huge jackpot!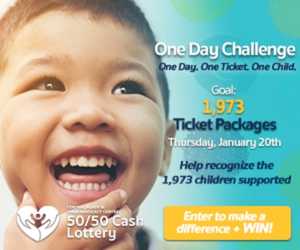 Or Call 587-272-2233
Phone lines will be open from 9:00AM – 7:30PM MTN
#CACACOneDayChallenge UPDATE
We are currently at
603
ticket packages
Goal: 1,973
We're almost half way there! Will you help us reach our goal!? Let's make a big push this afternoon to meet the challenge for these kiddos!
Thank you to those who took the Challenge and have already purchased!
Phone lines have been busy, so feel free to leave a voicemail with your details and we'll get back to you as soon as we can!
Visit our lottery website for more information, an updated list of winning numbers, and the full list of lottery rules! Or call 587-272-2233.
*Please Note: Phone lines are operated by CAC Staff. Open from 9AM – 4PM Monday – Friday. Please leave a voicemail with a detailed message & we will return your call as soon as possible.
Lottery License #578482
Hidden Valley School Parents Rally for a New Playground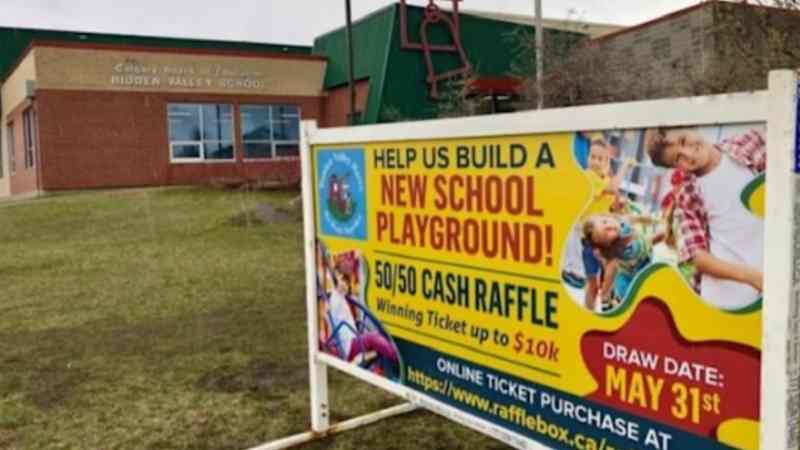 Hidden Valley School Parents Rally for a New Playground
Contributed by Friends of the Hidden Valley School Society
The Friends of Hidden Valley School Society is looking to replace the 17-year-old outdoor playground directly behind the school as soon as possible, as the existing play equipment is soon to be at the end of its lifecycle. The society has been proactively raising funds for several years but they have a long way to go.
Now that they have a conceptual design and an estimated cost for the project, the hardest part is fundraising. The parent society has raised 32% of the $370K project to date. They will need to raise at least half of the project costs on their own in order to be eligible to qualify for any kind of grant funding support.
"Our non-profit parent society financially supports our students and their learning annually by supplementing initiatives such as math and reading literacy kits for classrooms, providing buses for field trips like swimming lessons and paying for residency programs so that all our students get an equal opportunity for enhanced learning opportunities" states Sarah P, Chairperson. Figuring out now how to financially support the school on an annual basis in addition to building a new playground takes an enormous amount of time and effort from a volunteer perspective. "There are a lot of moving parts to a project this size, and collaboration with stakeholders is key. We've done our due diligence by hosting community engagement with students, staff and parents to decide on what types of play equipment should be included in an inclusive playground. Students, staff and external stakeholders have written letters of support in hopes of helping with seeking out external funding support."
Friends of Hidden Valley School Society has teamed up with Parks Foundation Calgary for money management of the project. Through its Project Support Program (PSP), the Parks Foundation can issue tax receipts for donations made to the project.
Hidden Valley School is a K-3 French Immersion public school located in the heart of the community of Hidden Valley in NW Calgary. The school's inclusive playground will have a direct impact on the 400+ staff and students at the school and 700+ children who live within the surrounding community neighbourhoods and utilize the playground outside of school hours. "Figuring out how to reach the greater community to support this project is the challenge. We're currently hosting a raffle that anyone in Alberta can enter in hopes of raising $20K in support of the project. This fall we will host a silent auction and if everything works out, we are hoping to reach 50% of our fundraising goal by 2023".
Replacing the school playground will allow students safe, continued use year-round. As mandated by Alberta Education's Daily Physical Activity (DPA) Initiative, the parent society will be supporting students in developing healthy, active lifestyles; increasing students' ability to learn. For more information about the Friends of Hidden Valley School Society's playground project visit the "Get Involved" section of the school's website or check out their Facebook Page at @Hiddenvalleyschoolcalgary.
Tour "The Abigail" by Sorento Custom Homes – Grand Prize in the 2022 Red Deer Hospital Lottery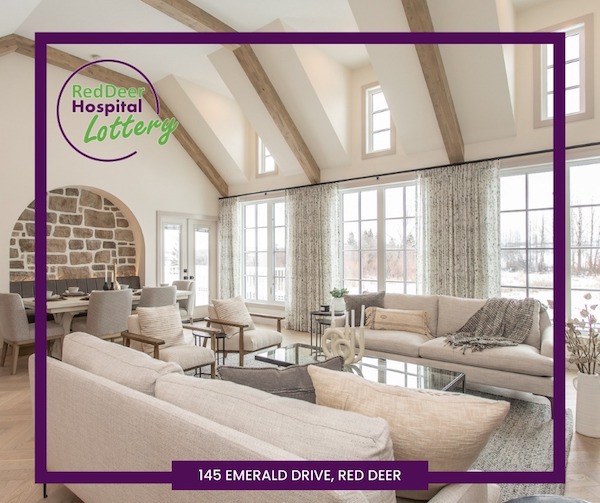 Have you seen it yet? Take a nice long look at the beautiful grand prize dream home!
NEW
TICKET GIFTING
OPTION
Step 1 – Click the GIFT TICKETS NOW! button
Step 2 – Enter the order for tickets and your personal information under buyers details
Step 3 – Click Send as Gift button and enter the giftee name and information
Print off this order form and mail in to the address listed on order form.
You can choose to get your tickets by mail, you will receive them in 3 to 4 week once processed by the lottery office.
You can also choose e-ticket and you will receive your tickets by email the day your order is processed. A valid email address is mandatory for e-ticket.
Mail to:
Red Deer Hospitals Lottery
PO Box 1098 Red Deer AB T4N 6S5
Call 1-877-808-9005 and a representative would be happy to help with your order, our agents are taking calls 7 days a week from 8am to 11pm
MAIN TICKETS
1 for $25 | 5 for $75 | 10 for $125 | 25 FOR $250
ORDER BY PHONE
Call Toll Free: 1.877.808.9005
MEGA BUCKS 50
1 for $10 | 10 for $25 | 25 for $50 | 50 FOR $75