Tkachuk says high time Calgary Flames get beyond first round of NHL playoffs
CALGARY — Can the arrival of a marquee goalie and a redistribution of the goalscoring load finally produce an extended playoff run for the Calgary Flames?
The Flames have exited the first round of playoffs in mortifying fashion three of the last four years, and missed the post-season altogether in 2018.
"It's time for people to look at us as a serious contender throughout the league," Flames winger Matthew Tkachuk said.
"We have to be looked at as one of those teams that is a contender each and every season and I think we have to start proving that this year."
The Flames (36-27-7) did eliminate the Winnipeg Jets in four games in last summer's best-of-five qualifying series to advance to the opening round of playoffs.
But up 3-0 on Dallas seven minutes into a must-win Game 6, Calgary imploded and gave up seven unanswered goals to the Stars to bow out.
The Flames topped the Western Conference in 2018-19 only to fall in five games to the Colorado Avalanche. The Anaheim Ducks blew by Calgary in four straight games in 2017.
"It's been way too frustrating the past couple of years the way it's ending," Tkachuk said. "The sour taste sticks with you forever. It's time to change that this year."
Elias Lindholm centred a line with Tkachuk in training camp instead of playing on the right side of centre Sean Monahan and left-winger Johnny Gaudreau.
Lindholm led Calgary in goals last season with 29, while Gaudreau posted career-low numbers and Monahan his lowest since his rookie year. 
Tkachuk led the Flames in points with 23 goals and 38 assists. Monahan, Lindholm, Mikael Backlund and Sam Bennett give Calgary depth up the middle.
"We'll use our people the best way we have to in order to win hockey games," Flames head coach Geoff Ward said. "We feel like our depth is a strength."
Lindholm's line can take offensive pressure off of and draw defensive attention away from Monahan and Gaudreau, who Ward intends to keep together.
"The amount of goals scored over the time that they've been together, there's not very many duos in the league that have been better than them," Ward said.
Calgary's goaltending carousel may have stopped with October's signing of Jacob Markstrom to a six-year, US$36-million deal. 
Six-foot-six and quick, Markstrom should give the Flames year-to-year stability in net that the team hasn't enjoyed since the Miikka Kiprusoff decade (2003-13). 
Getting Markstrom also brings the bonus of him no longer tending division rival Vancouver's net.
T.J. Brodie departing for Toronto leaves 24-year-old defenceman Rasmus Andersson quarterbacking the power play and playing big minutes alongside captain Mark Giordano.
MATTHEW TKACHUK
The straw that stirs the drink in Calgary with a combination of sandpaper, skill and competitiveness. Tkachuk's between-the-legs overtime winner against the Nashville Predators was one of the most spectacular goals of 2019-20. The Flames felt the 23-year-old's absence when injury sidelined Tkachuk the last four games of the Dallas series. 
MARK GIORDANO
The Flames need their 37-year-old captain maintaining 24 minutes a game against opposing team's top scorers. How much Giordano has in the tank is a question given his age, but he's less than two years removed from winning the Norris Trophy.
JUUSO VALIMAKI
Calgary's first-round draft pick in 2017 travelled a long road back to the Flames' lineup. An off-season knee injury sidelined Valimaki for all of 2019-20, including the post-season. The 22-year-old Finnish defenceman got a head start on his NHL comeback, however, playing 19 games on loan to Ilves Tampere in the fall.
NEW LOOK
The interim tag was removed from Geoff Ward's title and Jason Labarbera is on board as a goaltending coach. The signing of 31-year-old defenceman Chris Tanev compensates only somewhat for experience lost in the off-season shedding of Brodie, Travis Hamonic, Derek Forbort and Erik Gustafsson. Defenceman Nikita Nesterov, as well as forwards Dominik Simon, Joakim Nordstrom and Josh Leivo join Markstrom among Flames newcomers. 
SCHEDULE WATCH
The Flames get a five-day breather after their first three games to iron out early wrinkles. The highly anticipated Battle of Alberta commences Feb. 6 when the Flames host the Oilers in the first of 10 regular-season meetings. Calgary opens on the road Thursday in Winnipeg before hosting the Vancouver Canucks on Saturday.
This report by The Canadian Press was first published Jan. 12, 2021.
Donna Spencer, The Canadian Press
Calgary Meals on Wheels Community Demand Grows 30% amid COVID-19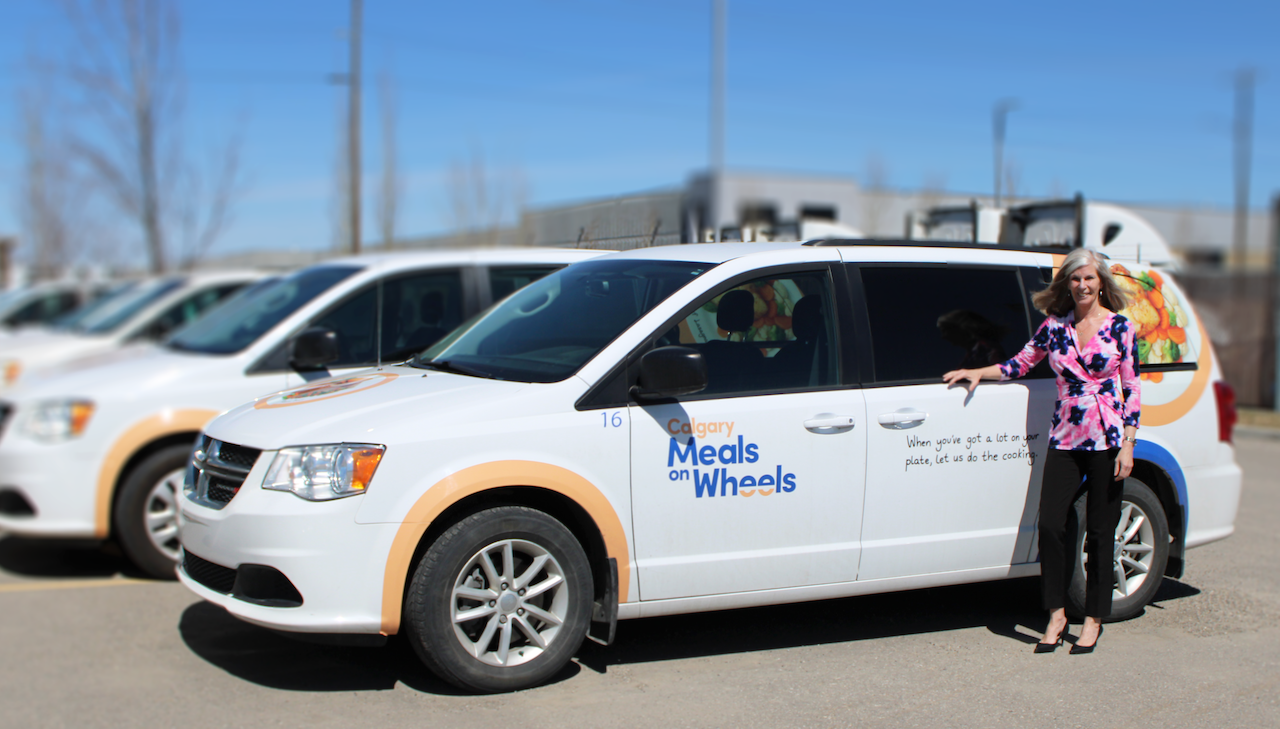 Local non-profit organization Calgary Meals on Wheels will celebrate 56 years of providing nutritious, accessible meals to Calgarians this November after a year of unprecedented demand and growth. 
Calgary Meals on Wheels originated in 1965 as the Calgary Church Women's Community Care organization, which launched with the goal of providing meals to senior citizens who had been released from hospital and required additional support.  The organization was renamed Calgary Meals on Wheels in 1975, and has since expanded enormously within Calgary, extending its customer base to serve any and all Calgarians in need, regardless of circumstance. 
According to Calgary Meals on Wheels, "Whether it's navigating life with a new baby, an unexpected or chronic illness, living with a disability, the loss of a loved one, divorce, or simply the natural effects of aging, we're here to provide the comfort of healthy, delicious meals." 
"We want people to feel comfortable coming to us, no matter what challenges they face." Says Robyn Weatherly, Marketing and Communications Coordinator for Calgary Meals on Wheels. 
The non-profit is now located in the Great Plains Industrial Park, having moved a number of times over the years to accommodate the growing demand across Calgary. Their current facility features a custom built, 15,000 square foot production area that allowed them to produce more than 3,000 meals per day in 2019. 
Like so many others, the organization was struck hard by COVID-19 in 2020, and was forced to pivot quickly to ensure no meals went undelivered. "COVID challenged literally every operational procedure we have," says Stephanie Ralph, Philanthropy and Communications Manager for Calgary Meals on Wheels, "but we have been able to adapt. We did not miss a single day of service."
According to Ralph, the impacts of COVID-19 led to a 30% increase in demand from 2019 to 2020 as more Calgarians remained at home. As a result, the organization served close to 800,000 meals last year.
It is the ongoing and incredible support they receive from the community and their volunteers that makes it possible, according to the team. "It just couldn't be done without the community," says Ralph, "at one point, we actually had a waiting list for volunteers. Our oldest was in her 90's, and she just retired this year, after 50 years of volunteering with us." 
In addition to supporting individuals, Calgary Meals on Wheels also partners with a number of organizations to cater to community groups and students in need through initiatives like their Hot Soup Program and Going Home Program. A major challenge the organization faced in 2020 was ensuring community members and students still had reliable access to food during the closures that kept everyone at home. In partnership with The Calgary Food Bank, South Centre Mall, Calgary Co-Op and The Genesis Centre, Calgary Meals on Wheels was able to effectively redirect non-perishable food items to those still in need throughout the duration of the lockdown measures that forced schools and community centres to close. 
As we head into 2021, Calgary Meals on Wheels remains committed to serving Calgarians and providing support for any member of the community who needs it, regardless of circumstance. To learn more about Calgary Meals on Wheels or how you can support this organization, visit https://www.mealsonwheels.com. 
For more stories, visit Todayville Calgary.
Political scientists say Kenney must rethink pugilistic approach on oil, environment
EDMONTON — Political analysts say Premier Jason Kenney must rethink his traditional "fight back" approach and start building bridges to reconcile environmental concerns with oil and gas development.
"Attacks are not going to persuade anybody," Lori Williams, a political scientist at Mount Royal University, said in an interview Thursday.
"You don't set up a war room whose purpose from the get-go is to go after environmentalists. That's a problem when you have an environmentalist in the White House."
U.S. President Joe Biden, on his first day in office Wednesday, fulfilled a long-standing campaign promise to cancel the permit for the Keystone XL pipeline expansion.
The line would have taken more oil from Alberta through the United States to refineries and ports to help alleviate the current price discount on the province's landlocked oil.
Biden had promised to cancel former president Donald Trump's permit for the line on the grounds that product from Alberta's oilsands does not mesh with broader goals to battle climate change.
Kenney called the decision an insult to Alberta and urged Prime Minister Justin Trudeau to deliver a breakthrough in talks or, if that fails, impose trade sanctions on the U.S.
Kenney's comments also lauded Canada's environmental record. Williams said those are valid arguments that Kenney needs to make a priority, married to policy initiatives as necessary, rather than throw them in as add-on talking points.
She suggested Kenney needs to pick a lane on the environment. Right now, she noted, he is promoting the federal climate plan as justification for Keystone while simultaneously challenging in court the plan's consumer carbon tax.
Political scientist Jared Wesley said Kenney's stance seems to be more about political damage control for a doomed project his government contributed $1.5 billion to last spring even though, at the time, it was a risky proposition.
"Kenney's not the first premier to have one gear when it comes to intergovernmental relations," said Wesley with the University of Alberta.
"The fight-back approach seems to be in (Kenney's) political DNA. He doesn't like being questioned and when his plans don't turn out, the default position is to blame someone else."
Kenney's challenge is that bridge-building premiers run the risk of being perceived as weak, Wesley said, so Kenney may feel he needs to be bellicose and hard line given his popularity is being challenged on the far right.
Kenney beat the NDP in the 2019 election in part by promising to challenge what he said are shadowy global foes and environmentalists who seek to undermine Alberta's oil industry. He set up a $30-million-a-year "war room" and struck a public inquiry into foreign funding of oil opponents. Both endeavours have been undermined by self-generated mistakes and controversies.
Kenney has blamed many of the province's economic and oil woes on the Trudeau government's policies. Yet the Liberal government in 2018 stepped in to buy the one pipeline that is proceeding – the Trans Mountain expansion from Alberta to the B.C. coast.
Wesley said Kenney blaming Trudeau has almost become a cliché and one that will hurt Alberta.
"The move (to blame Trudeau) has become so predictable that it's laughable," he said. "That's not just among his opponents here in Alberta, but among people he's supposed to be persuading nationally and internationally."
Political scientist Duane Bratt, also of Mount Royal University, agrees.
"This is really setting the stage for the old playbook of 'let's blame Trudeau' … and I'm not sure it's going to work this time," Bratt said.
"We're seeing the collapse of the fight-back strategy in so many different realms. Not only has it not worked, it has cost Alberta taxpayers billions of dollars and a real hit to our reputation."
This report by The Canadian Press was first published Jan. 22, 2021.
Dean Bennett, The Canadian Press