The USMCA's self-destruct button: review clause conjures fears of 2018 all over again
WASHINGTON — It's been less than three years since the U.S.-Mexico-Canada Agreement replaced NAFTA as the law of the land in continental trade, and there are already hints of the existential anxiety that preceded it.
That's because of the so-called "sunset provision," a clause that reflects the lingering working-class distrust of globalization in the U.S. that helped Donald Trump get elected president back in 2016.
Article 34.7 of the agreement, the "review and term extension" clause, establishes a 16-year life cycle that requires all three countries to sit down every six years to ensure everyone is still satisfied.
That clock began ticking in the summer of 2020. If it runs out in 2026, it triggers a self-destruct mechanism of sorts, ensuring the agreement — known in Canada as CUSMA — would expire 10 years later without a three-way consensus.
For Canada, the sunset provision "is a minefield," said Lawrence Herman, an international trade lawyer and public policy expert based in Toronto.
"It is certainly not a rubber-stamping exercise — far from it."
Of particular concern is the fact that the provision doesn't spell out in detail what happens if one of the parties indicates that it won't sign off on extending the deal without significant changes to the terms.
"The concern is that this could mean, in effect, that we'll be into a major renegotiation of CUSMA in 2026," by which time the political landscape in both the U.S. and Mexico could look very different, Herman said.
"What happens then? The government and business community need to be thinking about this and start preparing the groundwork and doing contingency planning now."
The deal as it stands is hardly perfect, if the number of disputes is any indication.
In the 33 months since USMCA went into effect in July 2020, 17 disputes have been launched among the three countries, compared with a total of 77 initiated over the course of NAFTA's 25-year lifespan.
The U.S. remains unhappy with how Canada has allocated the quotas that give American dairy producers access to markets north of the border. Canada and Mexico both took issue with how the U.S. defined foreign auto content. And Canada and the U.S. oppose Mexico favouring state-owned energy providers.
The Canada-U.S. disputes are likely to be on the agenda when Prime Minister Justin Trudeau sits down later this week in Ottawa with President Joe Biden, his first official visit to Canada since being sworn in two years ago.
"The president's really excited about doing this, about going up there and really going to Ottawa for no other purpose than the bilateral relationship," National Security Council spokesman John Kirby told the White House briefing Monday.
Prior meetings between the two have typically been on the margins of international summits or at trilateral gatherings with their Mexican counterpart, Andrés Manuel López Obrador.
Kirby cited climate change, trade, the economy, irregular migration and modernizing the continental defence system known as Norad as just some of "a bunch of things" the two leaders are expected to talk about.
"He has a terrific relationship with Prime Minister Trudeau — warm and friendly and productive."
Trade disputes notwithstanding, the overwhelming consensus — in Canada, at least — is that USMCA is vastly better than nothing.
"I don't want to be alarmist about this, but we cannot take renewal for granted," said Goldy Hyder, president and CEO of the Business Council of Canada, after several days of meetings last week with Capitol Hill lawmakers.
Constantly talking up the vital role bilateral trade plays in the continent's continued economic health is a cornerstone of Canada's diplomatic strategy. The message Hyder brought home from D.C.? Don't stop now.
"We met several senators, we met people from the administration, and their message was, 'Be down here. Make your case. Continue to remind Americans of the role that Canada has in their economy,'" he said.
"We've got to … be a little less humble in the United States and start reminding Americans just how much skin in the game that they have in Canada."
That can be a challenging domestic political truth in the U.S., where deep-seated resentment over free trade in general and NAFTA in particular metastasized in 2016 and persists to this day.
Biden likes to put a blue-collar, Buy American frame around policy decisions. His original plan to advance electric-vehicle sales saved the richest incentives for vehicles assembled in the U.S. with union labour.
Aggressive lobbying by Canada helped avert a serious crisis for Canada's auto sector; the Inflation Reduction Act that Biden ultimately signed included EV tax credits for vehicles assembled in North America.
For many, it was a cautionary tale about the importance of arguing Canada's interests in Washington.
A strong U.S. depends on a strong Canada, said Rob Wildeboer, executive chairman and co-founder of Ontario-based auto parts supplier Martinrea International Inc., who took part in last week's D.C. meetings.
"The USMCA and the ability to move goods across borders is extremely important to us, it's extremely important to our industry, it's extremely important to this country, and it's a template for the things we can do together with the United States," Wildeboer said.
"In order for the U.S. to be strong, it needs strong neighbours, and Canada's right at the top of the list."
This report by The Canadian Press was first published March 21, 2023.
James McCarten, The Canadian Press
United Conservatives jump out to early lead in tight Alberta election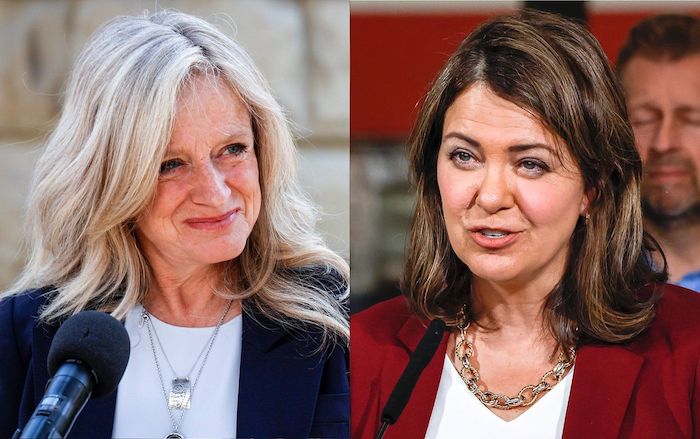 By Dean Bennett
Alberta's United Conservative Party jumped out to a lead over the NDP in early returns Monday in what was forecast to be a tight race in the provincial election.
Danielle Smith's UCP was holding strong in its traditional rural strongholds while Rachel Notley's NDP was faring well in Edmonton, where it won all but one seat in 2019.
Early results were still mixed in the key battleground of Calgary.
The UCP is seeking a second mandate while the NDP is fighting to regain the majority government it lost to the UCP in 2019.
Polling have suggested a close contest between the two parties, with support for smaller parties falling off.
Advance polls set a record of 758,540 votes cast, eclipsing the previous record of more than 700,000 in 2019.
The campaign has taken place alongside a record-breaking spring for wildfires in Alberta. Ten communities were under evacuation orders Monday.
Elections Alberta set up alternate voting locations for those displaced. Evacuation was added as an eligible reason to vote by special ballot and mobile voting stations were placed in evacuation centres.
Calgary has been seen as the campaign's battleground and half of the top 10 advance polling stations were in that city. Two were in Edmonton suburbs.
To win, the NDP would have to continue its dominance in Edmonton, flip the majority in Calgary and hope for some help in smaller cities, while defeating scores of UCP incumbents including cabinet ministers.
The NDP needs to swing 20 seats in the 87-seat legislature.
The UCP won 63 seats under then-leader Jason Kenney in 2019 to 24 for Notley's NDP.
Polls suggest the UCP should continue its near total domination in rural areas and smaller centres, giving it a cushion of up to 40 or so seats to reach the 44 needed to form a majority government.
The month-long campaign has been dominated by the economy and health care.
Albertans are struggling with high costs for consumer goods, a shortage of family doctors and long waits in emergency rooms.
Smith has promised to keep Alberta the lowest-tax regime in Canada.
Her government, she says, would introduce a law to mandate a referendum before any personal or corporate income tax hikes. There would also be tax changes to benefit those making more than $60,000 a year, at a cost of $1 billion annually to the treasury.
The NDP promised to maintain Alberta's status as Canada's lowest tax regime. It pledged to end the tax on small businesses and raise the corporate income tax to 11 per cent from eight per cent, which it says would help pay for investments in health and education while keeping the books balanced and maintaining the lowest corporate rate in Canada.
The NDP also promised legislation to counteract UCP policies that hiked the cost of utilities, auto insurance, a range of fees and tuition.
Both leaders promised to preserve the publicly funded health system while creating more primary care teams — physicians accompanied by related specialists such as nurses and therapists — so more Albertans are able to access a family doctor and not clog emergency wards for care.
Polls showed trust was a key issue, with Notley viewed more favourably than her party and vice versa for Smith.
Smith was dogged during the campaign by past comments she made comparing those who took the COVID-19 vaccine to credulous followers of Adolf Hitler. A report also came out mid-campaign from the province's ethics commissioner that concluded Smith undermined the rule of law by pressuring her justice minister to end the criminal court case of a COVID-19 protester.
This report by The Canadian Press was first published May 29, 2023.
Police looking for these 3 suspects after Super 8 Motel in Innisfail robbed early Monday morning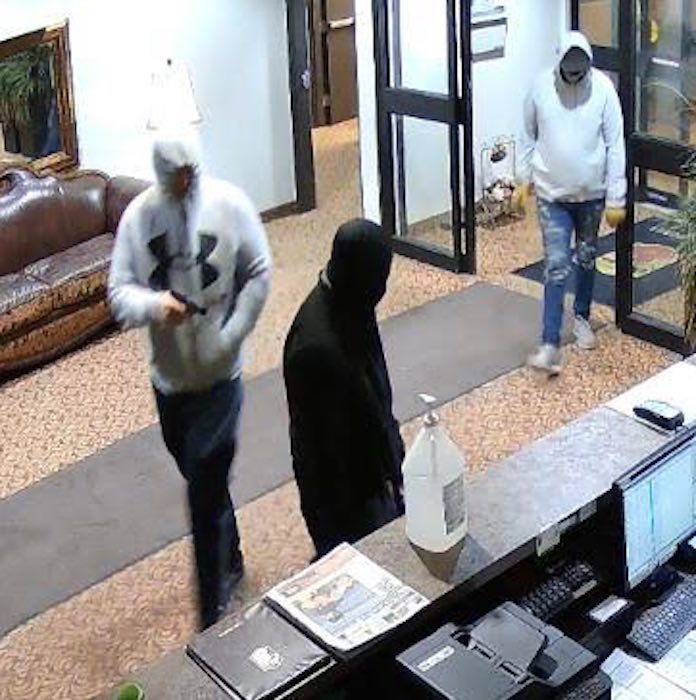 Innisfail RCMP investigate robbery
Innisfail Ala. – On May 29, 2023, at approximately 4:10 a.m., the Super 8 motel in Innisfail was the victim of an armed robbery. Three male suspects entered the hotel, two of which had firearms. Money was demanded from the manager. All three left the motel in a vehicle which is described as:
Chevrolet Dura Max truck
Sliver
Lifted
The suspects are described as:
Suspect #1: Caucasian male, tall and muscular. Wearing jeans and a grey Under Armour hoody. He was carrying a pistol.
Suspect #2: Caucasian male, short. Wearing all black. He was carrying a sawed off shotgun
Suspect #3: Caucasian male tall with a chubby belly. He was wearing a grey hoody, jeans and a black ball hat.
If you have information about this incident, please call the Innisfail RCMP at 403-227-3341 or call your local police. If you want to remain anonymous, you can contact Crime Stoppers by phone at 1-800-222-8477 (TIPS), by internet atwww.tipsubmit.com, or by SMS (check your local Crime Stoppers www.crimestoppers.ab.ca for instructions).