The Secret To The Joe Rogan Podcast
Joe Rogan may not have a University degree, but he has ingested far more information than he would have otherwise received with even a Master's degree. When you can read, and you have an open mind, it's amazing how much you can learn. Of all the books Joe has read, I'm willing to bet he's spent some time with Dale Carnegie's, "How to Win Friends, and Influence People". Being well-read though is only one part of what has made The Joe Rogan Experience Podcast, the most successful podcast on earth. Joe has a larger audience than any show on Fox, CNN, MSNBC, CBS, or any other major network. Joe doesn't just have the largest Podcast, he has the largest audience…period.
Inspired at least in part by Joe Rogan, myself and millions of other people have been trying to emulate his success by starting our own Podcasts. It doesn't matter what the topic, somewhere there is a Podcast talking about it. Whether you're interested in ceramic figurines, ten pin bowling, astronomy, or quilting, there is a Podcast for you…and it's usually FREE!
Much to the disappointment of many Joe Rogan emulators, their Podcasts usually fall far short of their expectations. Instead of amassing an audience of millions, they discover that they are lucky to have an audience of dozens. Due to these unfavourable results, the vast majority of podcast hosts give up, fold up their tent, sell their gear on kijiji, and pretend their failure never happened. Most who fail never fully understand WHY they failed, or how to fix it. Here are some considerations for you, if you wish to either start your own podcast or re-launch a stagnant one.
First, let's be honest…Joe had a head start. It's a lot easier to succeed at a Podcast if you already have a following who is interested in your opinions. Gaining a following is the toughest part, so if you're going to make it, you're going to have to earn your audience…it won't just happen on its own, nor will it happen by accident. Although pre-existing notoriety is a significant bonus, it's only part of the recipe. Numerous late-night hosts have started their own podcasts, only to discover that their late-show talent doesn't translate to their podcast talent. Despite their running start, these celebrities have not been successful in transitioning their existing audience to the podcast format. Here's what they're missing.
People hang out with people they like and trust. When you tune in to the Joe Rogan Experience (JRE) you don't feel like you're being force-fed a contrived narrative, instead, you feel like you're chatting with a good friend. Listening to the JRE is like having a virtual coffee shop chat with the most interesting people on the planet, who have interesting ideas. In contrast, listening to the news feels like we're being told what to think, and how to behave. A newscast pretends to be the unsullied purveyor of truth, though in recent years the credibility of this claim has been eroded worse than the wheel wells of a 1973 Chevy truck. We don't trust the news, because they have proven themselves to be untrustworthy.
Joe doesn't tuck us into the fold by proclaiming that he is the holder of the truth. Instead, Joe takes us on a journey of curiosity and shows us how to ask meaningful questions about interesting topics. Mr. Rogan models what it is to set your ego aside, and be open to the truth, whatever that may be. Being proven wrong is a Freddy Kruger level nightmare for many people, and they'll fight to be right till their last breath. Joe shows us a different way, the way of courageous curiosity.
The skeptic is forever looking through the lens of "What's wrong with this picture?" A person who chooses curiosity over skepticism looks through the lens of "What's the truth of this picture?" Joe's rare ability to disconnect from the outcome, and just follow the evidence is part of his magnetic charm. He earns our trust, by being willing to admit when he is wrong, and by rarely stating his opinions as facts. Joe doesn't actually "know" much, but he is aware of much. He follows the Socratic philosophy of, "the only true wisdom, is in knowing you know nothing". On most topics, Joe's just guessing, as are the rest of us and he doesn't try to hide it.
All of the above culminates to: Rule#1. Dig for the truth, not for validation that you are right.
Rule #2. Prioritize substance over bling.
A client of mine is a sales rep for Bacardi. He once told me that with enough money thrown into a marketing campaign, you can sell a whole lot of any liquid, but only for a short time. If it tastes like skunk piss, the marketing campaign will only yield short term success. For long term success, there must be quality in the substance of your message, not just clickbait.
Having celebrities on your show doesn't hurt, …but it's not as important as the topics you discuss. If you're not going to say anything original, then at least convey your thoughts in an original way. Ride the waves or relevance by being quick to discuss trending topics, but ensure to pose meaningful questions, and get beyond the surface of a story.
Rule #3. Respect your audience
Respecting your audience, means being a professional. Being a professional, means being prepared. Provide your audience with decent quality audio for starters. If you don't have a good quality microphone, you better have exceptional skills as an orator and be extremely likable for the audience to overlook your audio shortcomings. If you are interviewing a guest, have a plan. Make sure your launch straight into an engaging first question. The first question sets the tone, and the pace for the rest of the interview. If you get off to a slow start, it's tough to recover.
Rule #4. Be 100% honest and transparent.
Like selling piss in a bottle, if you put out clickbait, your success will be short-lived. It's difficult to gain the trust of an audience, but it's very easy to lose that trust. You won't get more than a second chance at best, so resist the temptation to B.S. your audience.
***disclaimer*** parody doesn't count, as long as your work is clearly a parody. EG: My recent "Trump" interview was a parody done with a professional impersonator, but some people thought it was real. The show notes have all the contact information for the impersonator, to ensure I'm not accused of violating Rule #4.
Mark Meincke
Redline Real Estate
403-463-4313
Buy the Home Seller's Bible by clicking HERE
Buy "Why not Me?" HERE
For more stories, visit Todayville Calgary
New app uses AI to help Calgary medical students practise interacting with patients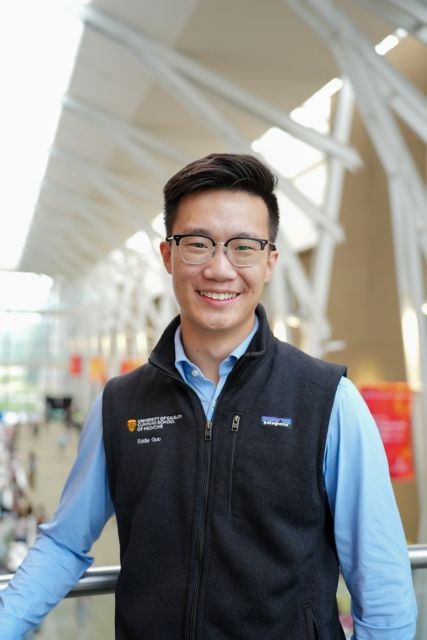 A Calgary medical student has developed a new app that allows future doctors to work on their diagnostic and communication skills before they set up their practices. Eddie Guo, seen in an undated handout photo, is a second-year student at the University of Calgary's Cumming School of Medicine. He says that one of the challenges in medical school is becoming better at interacting with patients. THE CANADIAN PRESS/HO-University of Calgary
By Bill Graveland in Calgary
A Calgary medical student has developed an app that allows future doctors to work on their diagnostic and communication skills before they set up their practices.
Eddie Guo, a second-year student at the University of Calgary's Cumming School of Medicine, said one of the challenges beyond the book learning in medical school is becoming better at interacting with patients.
As a result, he's turned to the rapidly growing area of artificial intelligence to create a number of virtual patients, with a variety of health conditions, that a student can talk to.
"It's good to get more than just two or four hours of the practice we get in medical school to really be able understand what it's like to communicate in a real-life scenario," said Guo.
"We think it's a good idea to have more than a few hours of practice before actually going out into the wild and seeing patients for the first time."
Guo created a program, called OSCE-GPT, where the computer is the patient. Users choose the patient's gender and can select a scenario or let the computer decide on one for them.
"I'm Ben Johnson and I've been having some really bad abdominal pains over the past two days. It's in the right upper quadrant and it spreads to my back," said the robotic male voice in the program.
"I've also been feeling nauseous and vomiting. I'm here in the emergency department because of the pain."
The AI patient can answer questions about its condition and, after the conversation, provides feedback to the student along with a list of other questions that could have been asked.
Guo said until he is finally allowed on the medical wards, the only other interactions he gets are with standardized patients, professional actors who present with various conditions.
"As you can imagine, they're really quite good at their job, but they're also very expensive," Guo said.
"We don't get that much opportunity really to practise speaking with a patient, and so what this app was born out of was a lack of possibility to practise."
Guo collaborated with medical resident Dr. Mehul Gupta. He said this kind of additional help will make for better doctors.
"One of the things we learn again and again in medical school, and that's reinforced again in residency, is that the history you take from a patient is almost 99 per cent of the diagnosis that you make and the impression you make on a patient the first time you speak with them is long-lasting," Gupta said.
"If you have the opportunity to practise to tailor your questions to see how you could have done better, you really do become a better doctor overall."
Guo said the app is still being upgraded and at this point there is no image of a patient that shows up on the screen. He said he is hoping that things like a chest X-ray, a CT scan or a picture of someone's skin could be incorporated into the program.
Within the first month of the app's launch, more than 550 health-care trainees from Canada and across the world including Europe, India, Saudi Arabia and the United States signed on.
This report by The Canadian Press was first published Sept. 22, 2023.
Officials say some patients showing 'severe symptoms' in Calgary daycare outbreak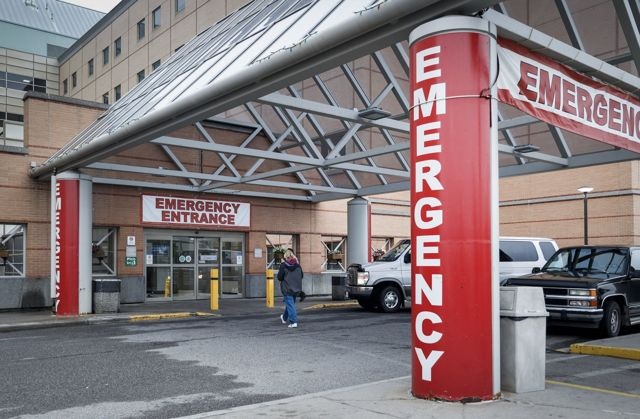 The entrance to the emergency department at Peter Lougheed hospital is pictured in, Calgary on Tuesday, Aug. 22, 2023. An Alberta health official says some of the 22 patients in hospital after an E. coli outbreak at several Calgary daycares have severe symptoms. THE CANADIAN PRESS/Jeff McIntosh
By Bill Graveland in Calgary
An Alberta health official says some of the 22 patients in hospital after an E. coli outbreak at several Calgary daycares have severe symptoms.
Alberta Health Services says there are now 96 laboratory-confirmed cases due to the outbreak, which is up from 56 on Tuesday.
Dr. Francesco Rizzuti, medical officer of health for the Calgary Zone, said Wednesday that the number in hospital has risen from 15. He said 16 are at Alberta Children's Hospital and six are at Peter Lougheed Centre.
"The majority of individuals that get sick from E. coli generally improve on their own and without specific treatment, typically within 10 days," Rizzuti said.
"However, a small portion may develop more severe complications. Currently, we have a handful of children who are hospitalized with these more serious illnesses related to this outbreak."
Rizzuti said that due to privacy concerns, he couldn't say how many are suffering from severe symptoms. He also would not would confirm any of them have hemolytic uremic syndrome, also known has HUS, which affects the kidneys and causes blood clots.
"Hemolytic uremic syndrome can be a severe consequence. At this time, because we do have small numbers and I want to respect the privacy of the parents, I'm unable to speak to the exact numbers," he said.
"But it is a small proportion of our laboratory-confirmed cases who do have severe illness and are in hospital at the moment."
Rizzuti said it was his decision to close six Calgary Fueling Brains daycares and five others out of an abundance of caution after he received calls from city emergency wards.
He said it could take a while before the investigation into the source of the E. coli is found. Public health officers have already taken samples from the central kitchen shared by the daycares.
"They collected a number of food samples, both leftover foods as well as frozen foods, from the site and these are being tested in our laboratory. These do take some time," Rizzuti said.
"Typically in outbreaks like this, we may not find a food source."
Faisal Alimohd, co-founder and chairman of Fueling Brains, said he's saddened that children are sick and immediately began working with AHS to investigate the outbreak.
"Though not all Fueling Brains child-care campuses are currently classified as being on outbreak status by AHS, we have proactively closed all potentially impacted locations as a precaution," Alimohd said in a statement.
"The exact source of the outbreak has not been identified, but we will be reviewing our policies, procedures and sourcing related to food services for our facilities."
This report by The Canadian Press was first published Sept. 6, 2023.