The return of Zellers: Hudson's Bay to resurrect Canadian discount retail chain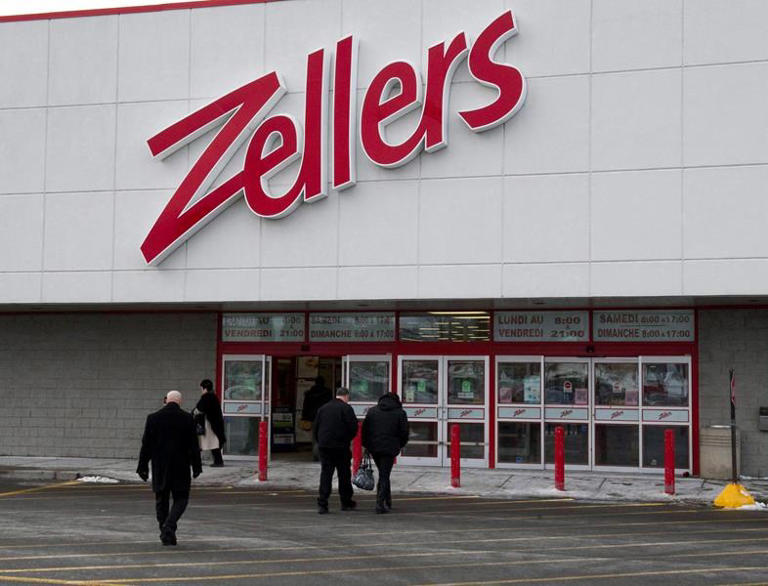 Canadian department store Zellers hopes to make a comeback next year, a decade after the discount chain shuttered most of its locations.
Hudson's Bay Co. said Zellers will debut a new e-commerce website and expand its brick-and-mortar footprint within select Hudson's Bay department stores across the country in early 2023.
The company said the relaunched Zellers will offer "a digital-first shopping journey that taps into the nostalgia of the brand."
The return of Zellers comes as soaring inflation drives consumers to discount retailers in search of lower prices and fierce competition from existing stores like Walmart and Dollarama.
It also comes amid an ongoing lawsuit over a Quebec family's use of the Zellers brand.
The Moniz family is behind various recent trademark applications and corporate registries, including Zellers Inc., Zellers Convenience Store Inc. and Zellers Restaurant Inc.
In a statement of claim filed last fall, HBC accused the Moniz family of trademark infringement, depreciation of goodwill and so-called passing off — the deceptive marketing or misrepresentation of goods.
The Zellers department store was founded in 1931 and acquired by HBC in 1978.
It operated as the discount division of its flagship Hudson's Bay department stores, with the slogan "Where the lowest price is the law."
The store hit its peak of about 350 locations in the late 1990s before losing ground to big box competitors such as Walmart.
In 2011, HBC announced plans to sell the majority of its remaining Zellers leases to Target Corp., closing most stores by 2013.
The retailer kept a handful of Zellers locations open as liquidation outlets until 2020.
The company recently launched pop-up Zellers shops inside Hudson's Bay department stores in Burlington, Ont., and in Anjou, Que.
This report by The Canadian Press was first published Aug. 17, 2022.
Brett Bundale, The Canadian Press
Dow sinks to 2022 low as recession fears roil world markets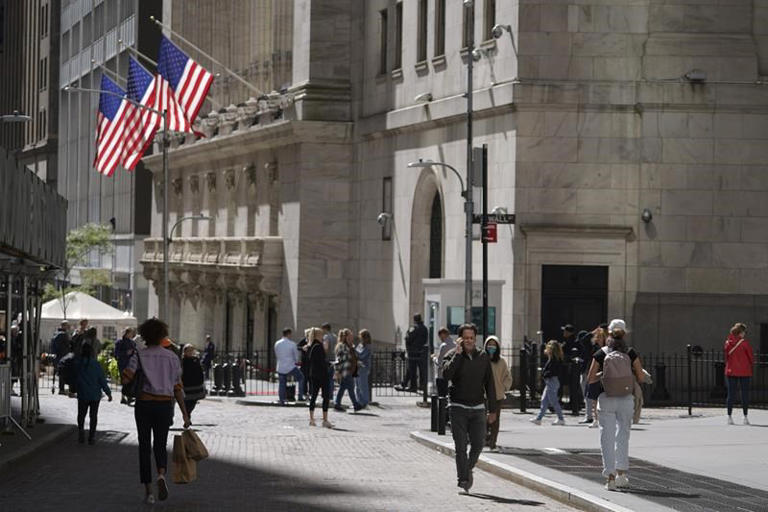 BEIJING — Stocks fell sharply worldwide Friday on worries an already slowing global economy could fall into recession as central banks raise the pressure with additional interest rate hikes.
The Dow Jones Industrial Average fell 1.6%, closing at its lowest level since late 2020. The S&P 500 fell 1.7%, close to its 2022 low set in mid-June, while the Nasdaq slid 1.8%.
The selling capped another rough week on Wall Street, leaving the major indexes with their fifth weekly loss in six weeks.
Energy prices closed sharply lower as traders worried about a possible recession. Treasury yields, which affect rates on mortgages and other kinds of loans, held at multiyear highs.
European stocks fell just as sharply or more after preliminary data there suggested business activity had its worst monthly contraction since the start of 2021. Adding to the pressure was a new plan announced in London to cut taxes, which sent U.K. yields soaring because it could ultimately force its central bank to raise rates even more sharply.
The Federal Reserve and other central banks around the world aggressively hiked interest rates this week in hopes of undercutting high inflation, with more big increases promised for the future. Such moves put the brakes on economies by design, in hopes that slower purchases by households and businesses will deflate inflationary pressures. But they also threaten a recession, if they rise too far or too quickly.
Besides Friday's discouraging data on European business activity, a separate report suggested U.S. activity is also still shrinking, though not quite as badly as in earlier months.
"Financial markets are now fully absorbing the Fed's harsh message that there will be no retreat from the inflation fight," Douglas Porter, chief economist at BMO Capital Markets, wrote in a research report.
U.S. crude oil prices slid 5.7% to their lowest levels since early this year on worries that a weaker global economy will burn less fuel. Cryptocurrency prices also fell sharply because higher interest rates tend to hit hardest the investments that look the priciest or the most risky.
Even gold fell in the worldwide rout, as bonds paying higher yields make investments that pay no interest look less attractive. Meanwhile the U.S. dollar has been moving sharply higher against other currencies. That can hurt profits for U.S. companies with lots of overseas business, as well as put a financial squeeze on much of the developing world.
The S&P 500 fell 64.76 points to 3,693.23, its fourth straight drop. The Dow, which at one point was down more than 800 points, lost 486.27 points to close at 29,590.41. The Nasdaq fell 198.88 points to 10,867.93.
Smaller company stocks did even worse. The Russell 2000 fell 42.72 points, or 2.5%, to close at 1,679.59.
More than 85% of stocks in the S&P 500 closed in the red, with technology companies, retailers and banks among the biggest weights on the benchmark index.
The Federal Reserve on Wednesday lifted its benchmark rate, which affects many consumer and business loans, to a range of 3% to 3.25%. It was at virtually zero at the start of the year. The Fed also released a forecast suggesting its benchmark rate could be 4.4% by the year's end, a full point higher than envisioned in June.
Treasury yields have climbed to multiyear highs as interest rates rise. The yield on the 2-year Treasury, which tends to follow expectations for Federal Reserve action, rose to 4.20% from 4.12% late Thursday. It is trading at its highest level since 2007. The yield on the 10-year Treasury, which influences mortgage rates, slipped to 3.69% from 3.71%.
Goldman Sachs strategists say a majority of their clients now see a "hard landing" that pulls the economy sharply lower as inevitable. The question for them is just on the timing, magnitude and length of a potential recession.
Higher interest rates hurt all kinds of investments, but stocks could stay steady as long as corporate profits grow strongly. The problem is that many analysts are beginning to cut their forecasts for upcoming earnings because of higher rates and worries about a possible recession.
"Increasingly, market psychology has transitioned from concerns over inflation to worries that, at a minimum, corporate profits will decline as economic growth slows demand," said Quincy Krosby, chief global strategist for LPL Financial.
In the U.S., the jobs market has remained remarkably solid, and many analysts think the economy grew in the summer quarter after shrinking in the first six months of the year. But the encouraging signs also suggest the Fed may have to jack rates even higher to get the cooling needed to bring down inflation.
Some key areas of the economy are already weakening. Mortgage rates have reached 14-year highs, causing sales of existing homes to drop 20% in the past year. But other areas that do best when rates are low are also hurting.
In Europe, meanwhile, the already fragile economy is dealing with the effects of war on its eastern front following Russia's invasion of Ukraine. The European Central Bank is hiking its key interest rate to combat inflation even as the region's economy is already expected to plunge into a recession. And in Asia, China's economy is contending with still-strict measures meant to limit COVID infections that also hurt businesses.
While Friday's economic reports were discouraging, few on Wall Street saw them as enough to convince the Fed and other central banks to soften their stance on raising rates. So they just reinforced the fear that rates will keep rising in the face of already slowing economies.
Economics Writer Christopher Rugaber and Business Writers Joe McDonald and Matt Ott contributed to this report.
Damian J. Troise And Alex Veiga, The Associated Press
Airbnb hosts are sick of Airbnb, too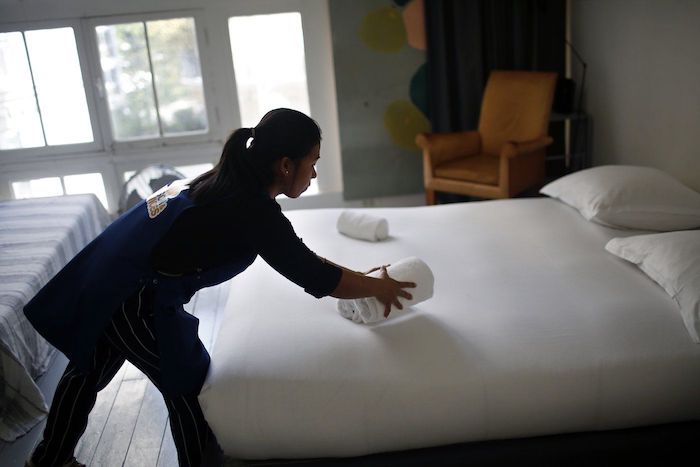 By Sam Kemmis Of Nerdwallet
Disgruntled Airbnb guests are taking to Twitter and TikTok to vent about everything from cleaning fees to misleading listings. But they aren't the only ones with complaints: Airbnb hosts themselves have become increasingly disillusioned with the platform and its disrespectful guests.
On message boards and Facebook groups, hosts are sharing their own challenges and horror stories. One host claimed that a group of guests was unwilling to leave the property despite receiving a full refund from Airbnb.
"I went to the apartment to check what was going on, and I was in shock to discover that the tenants were still in the apartment," the host wrote on the website AirbnbHell. "They immediately called the police on me and I was kicked out of my own apartment by a team of the police — a complete shock."
While these anecdotes might seem like the natural byproduct of the largely unregulated short-term rental industry, they speak to larger trends impacting hosts. A 2021 report from Bloomberg detailed how Airbnb's secretive crisis team spends millions of dollars to cover up crimes and other publicity nightmares in its listings. And the platform recently launched "anti-party technology " in an effort to defray hosts' frustrations with large, destructive gatherings.
These issues raise the question: Is Airbnb itself the problem — or are the guests?
SILLY STRING AND FOUL ODORS
In May of this year, Airbnb launched a new "AirCover" protection plan for guests and hosts . It promises quick reimbursement for hosts and up to $1 million in damage protection. And while many hosts consider this policy generous, it still comes with plenty of gray areas.
Emily Muskin Rathner , a digital marketing professional living in Cleveland, began renting her house on Airbnb in August 2021. She says that hosting has been a pleasant and profitable enterprise overall, but a few guests have caused major problems, including a family that rented the house this June.
"They left the house a mess," she says. "There was human feces on our laundry. They sprayed Silly String all over the place. I don't care about Silly String, but can you pick it up? It left stains, oddly."
Muskin Rathner received reimbursement from Airbnb for most of her claims. But some damage, such as nail polish smeared on the bathroom tile, didn't qualify for reimbursement because she wasn't able to provide documentation for the cost of the tile. And then there was the smell.
"It really, really stunk. The air conditioning had been left off for a week — in June."
RED TAPE EVERYWHERE
The early days of short-term vacation rentals offered hosts a simple proposition: Rent your home and earn some extra money. Yet as the industry has matured, it's been met with regulation efforts from local governments.
Cities such as Denver and Portland, Oregon, have been cracking down on unlicensed short-term rentals, levying fines against hosts and requiring expensive permits. These policies allow local governments to collect taxes and regulate problematic behavior, but they add one more layer of complexity for hosts, many of whom have little experience in hospitality.
Furthermore, many local governments place the burden of tax collection on hosts, not Airbnb. A 2022 analysis by the National League of Cities, an advocacy organization composed of city, town and village leaders, estimated that 82% of cities require hosts to remit taxes themselves, while only 5% require the platform to do so on hosts' behalf.
Hosts must now not only act as full-time customer service agents and hospitality experts, but also navigate local regulations and master convoluted taxation laws.
COMPETITION FROM MANAGEMENT COMPANIES
The romantic notion of home sharing as a means for homeowners to pay their mortgages has given way to management companies inserting themselves and aiming to maximize profits. And small-time hosts can't keep up with these corporate competitors.
A study of short-term rentals in the U.K. found that the number of listings managed by hosts with a single property dropped from 69% in 2015 to 39% in 2019. And data from the nonprofit Inside Airbnb suggests that only 39.1% of properties in Los Angeles are managed by single-property hosts.
These mega-hosts are able to operate at scale, maximizing efficiency on everything from pricing adjustments to cleaning staff. Single-property hosts can't keep up, or are unwilling to deal with the hassle, and are being elbowed out of the ecosystem.
___________________________________________
This article was provided to The Associated Press by the personal finance website NerdWallet. Sam Kemmis is a writer at NerdWallet. Email: [email protected]