Talk of race, sex in schools divides Americans: AP-NORC poll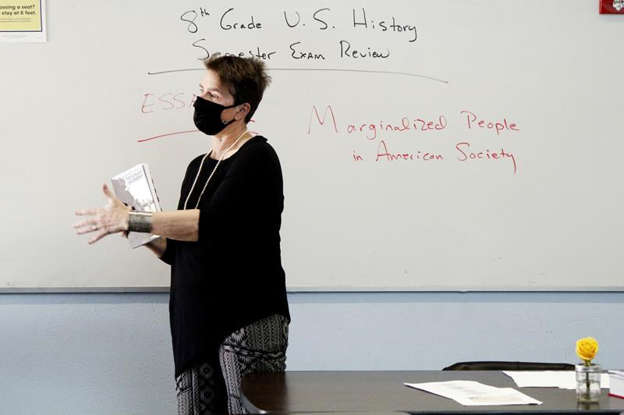 WASHINGTON (AP) — Americans are deeply divided over how much children in K-12 schools should be taught about racism and sexuality, according to a new poll released as Republicans across the country aim to make parental involvement in education a central campaign theme this election year.
Overall, Americans lean slightly toward expanding — not cutting back — discussions of racism and sexuality, but roughly 4 in 10 say the current approach is about right, including similar percentages across party lines. Still, the poll from the University of Chicago Harris School of Public Policy and The Associated Press-NORC Center for Public Affairs Research shows stark differences between Republicans and Democrats who want to see schools make adjustments.
About 4 in 10 Republicans say teachers in local public schools discuss issues related to sexuality too much, while only about 1 in 10 say too little. Among Democrats, those numbers are reversed.
The findings reflect a sharply politicized national debate that has consumed local school boards and, increasingly, state capitols. Republicans see the fight over school curriculum as a winning culture war issue that will motivate their voters in the midterm elections.
In the meantime, a flurry of new state laws has been introduced, meant to curtail teaching about racism and sexuality and to establish a "parents' bill of rights" that would champion curriculum transparencyand allow parents to file complaints against teachers.
The push for legislation grew out of an elevated focus on K-12 schools during the COVID-19 pandemic, when angry parents crowded school board meetings to voice opposition to school closures, mask mandates and other restrictive measures intended to prevent the spread of illness.
"All that that's happening these days kind of goes against the longer history of school boards being relatively low salience government institutions and, in a lot of cases, they are nonpartisan offices," said Adam Zelizer, a professor at the University of Chicago Harris School researching school board legislation.
What distinguishes this moment, Zelizer said, is the "grassroots anger" in response to school policies and the national, coordinated effort to recruit partisan candidates for school boards and local offices.
What started as parents' concern about virtual learning and mask wearing has morphed into something larger, said Republican pollster Robert Blizzard, describing parents as thinking: "OK, now that we have the schools open, what are these kids learning in school?"
The poll shows 50% of Americans say parents have too little influence on curriculum, while 20% say they have too much and 27% say it's about right. About half also say teachers have too little influence.
Kendra Schultz said she and her husband have decided their 1-year-old daughter will be homeschooled, at least initially, because of what friends have told them about their experiences with schools in Columbia, Missouri.
Most recently, she said, one 4-year-old's pre-K class talked about gender pronouns. Schultz offered that and mask requirements as examples of how the public school system "doesn't align with what we believe or how we would like to see our children educated."
"I'm just like, you're a little kid, you should be learning your ABCs and your numbers and things like that," said Schultz, a 30-year-old conservative. "That's just not something that me and my husband would be interested in having teachers share with our children."
In Florida, Republican Gov. Ron DeSantis in March signed into law a billbarring instruction on sexual orientation and gender identity in kindergarten through third grade. Opponents, including the White House, have dubbed it the "Don't Say Gay" law.
The poll shows Americans are slightly more likely to say the focus on sex and sexuality in local schools is too little rather than too much, 31% to 23%, but 40% say it's about right. The poll didn't ask about specific grade levels.
Blizzard, who has been working with a group called N2 America to help GOP candidates in suburbs, said the schools issue resonates with the Republican base and can motivate voters.
In the Virginia governor's race last year, Republican Glenn Youngkin won after campaigning on boosting parental involvement in schools and banning critical race theory, an academic framework about systemic racism that has become a catch-all phrase for teaching about race in U.S. history. His Democratic opponent, Terry McAuliffe, had said in a debate that parents shouldn't tell schools what to teach.
The poll also shows Americans have mixed views about schools' focus on racism in the U.S.
Randi Weingarten, president of the American Federation of Teachers, said parents and teachers alike are frustrated after pandemic disruptions and should partner to help kids recover. The efforts to predetermine curriculum and restrict teaching are getting in the way, she said.
"The people who are proposing them, they've been pretty clear … they just want to sow doubt and distrust because they want to end public education as we know it," Weingarten said.
Parents of school-age children aren't more likely than other adults to say parents have too little influence in schools. But there is a wide partisan gap, with 65% of Republicans saying that, compared with 38% of Democrats.
Michael Henry, a father of three in Dacula, Georgia, says he's wrestled over what the right level of involvement is. It didn't sit right with him, for example, that his 6-year-old was taught about Christopher Columbus in an entirely positive light. He says he's reflected on "some of the lies" and "glorifications of history" in his own public school education and thinks race needs to be talked about more.
But ultimately, school curriculum is "outside my area of expertise," said Henry, 31, an actuary who is also the acting president of the Gwinnett County Young Democrats.
"I have to do a lot of studying and work to be able to make informed decisions, and I don't feel like parents generally have that kind of skill set" for curriculum, he said. "I think professionals should mostly be determining what the curriculum should be."
Henry worries that new restrictions are "adding extra hassle for teachers, who already have a lot on their plate, to solve a problem that doesn't exist."
___
AP Education Writer Collin Binkley in Boston contributed to this report.
___
The AP-NORC poll of 1,082 adults was conducted March 17-21 using a sample drawn from NORC's probability-based AmeriSpeak Panel, which is designed to be representative of the U.S. population. The margin of sampling error for all respondents is plus or minus 4 percentage points.
Hannah Fingerhut, The Associated Press
Red Deer Polytechnic Means More for Students, Industry and Communities across Alberta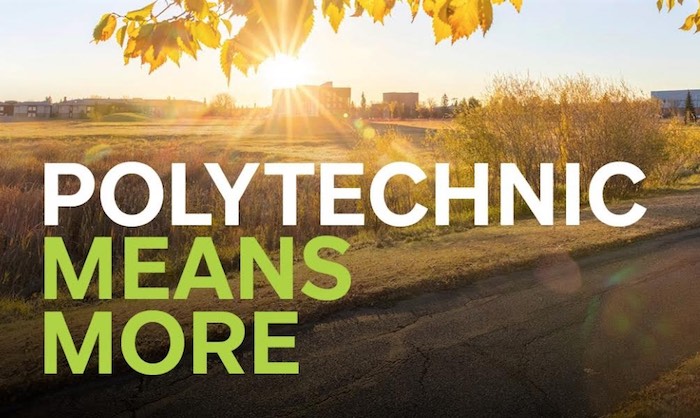 Red Deer Polytechnic (RDP) is highlighting its unique programs, hands-on training and applied research through a new "Polytechnic Means More" campaign. With more ways to learn and more industry connections, Red Deer Polytechnic provides its students with more opportunities to attain rewarding careers.
"Within a polytechnic model, our students receive outstanding learning experiences, focused on where industry is going, and the innovations required to get there. Through this campaign, our learners share their experiences about Red Deer Polytechnic's impact," says Stuart Cullum, President of Red Deer Polytechnic.
Brett Lower, a current Bachelor of Science Nursing student and member of the Kings Volleyball team, is one of the students profiled in the campaign. When he was considering post-secondary education after graduating from Lindsay Thurber High School in Red Deer, he wanted to attend an innovative institution that offered program excellence, technology integration, experiential learning opportunities, positive connections, and a strong athletics program. That led him to Red Deer Polytechnic.
The "Polytechnic Means More" campaign also highlights how applied research benefits students. By collaborating to solve complex social, technical and business challenges with industry, community partners, entrepreneurs and other stakeholders, RDP students are gaining the skills and competencies needed for their success in work and life.
"The 'Polytechnic Means More' campaign will be shared in a variety of ways across Alberta during the next six months. We're excited for this opportunity to engage with people across the province as we share more about our institution's impact," says Richard Longtin, Vice President, External Relations.
Red Deer Polytechnic is proudly rooted in central Alberta, while making an impact across the province and around the world.
"As a polytechnic institution, we will continue to leverage our regional strengths to create a bigger and broader impact across the province, nationally and around the world. We are strongly positioned to respond to the needs of learners, industry and communities to align with the economic and social priorities of Alberta," says Cullum.
Additional information about the "Polytechnic Means More" campaign is available online.
About Red Deer Polytechnic: This post-secondary institution's story began in 1964, as Red Deer College. Focused on the economic and social interests of Alberta, Red Deer Polytechnic proudly serves a community of learners through a diverse and growing number of industry relevant programs across a breadth of credentials.
These credentials include degrees, diplomas, certificates, apprenticeship training, micro-credentials, camps and workshops, and more, to thousands of youth and adult learners across our region. With modern teaching and learning spaces, and state-of-the-art research and innovation centres in advanced manufacturing and energy innovation, the Polytechnic provides applied research opportunities, leadership in the social, economic and cultural development of Alberta, and myriad lifelong learning opportunities.
Red Deer Polytechnic estimates that about 6,300 full-and part-time credit, collaborative and apprenticeships students will enroll for the 2022/2023 academic year, in addition to more than 3,000 learners within Extended Education programming. Red Deer Polytechnic's main campus is located on Treaty 7, Treaty 6 and Métis ancestral lands. This is where we will strive to honour and transform our relationships with one another.
For more information, please visit: rdpolytech.ca | twitter | facebook | instagram
Alberta premier defends new rules on in-person learning, no mask mandates in schools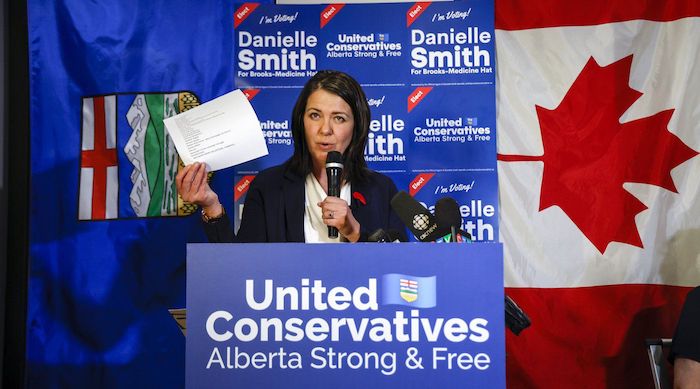 By Dean Bennett and Colette Derworiz
Alberta Premier Danielle Smith is defending new rules ordering schools to provide in-person learning during the current wave of viral illnesses, saying a clear, measured response is crucial for students and parents.
"We need a normal school environment for our children, and we need to make sure that the classrooms stay open to be able to support our parents," Smith said at a news conference in Medicine Hat on Friday.
"That's why we made the decision that we did — to give that clear direction."
Her comments came a day after she announced regulatory changes saying school boards must provide in-person learning. Schools also can't require students to wear masks in school or be forced to take classes online.
The changes take effect immediately.
"Anyone is welcome to wear a mask if they feel that that is the right choice for them, but we should not be forcing parents to mask their kids, and we shouldn't be denying education to kids who turn up without a mask," Smith said.
She has said mask rules and toggling from online to in-person learning adversely affected the mental health, development and education of students during the COVID-19 pandemic and strained parents scrambling to make child-care arrangements when schools shut down.
That's over, Smith said.
"We're just not going to normalize these kind of extreme measures every single respiratory virus season," she said.
School boards have been asking for more direction as a slew of seasonal respiratory and gastrointestinal illnesses, along with some COVID-19 cases, have led to high classroom absentee rates and have jammed children's hospitals.
In Edmonton, Trisha Estabrooks, board chair for Edmonton Public Schools, said the decision provided the clarity that the board was seeking.
"All Albertans now understand that it's not within the jurisdiction, and nor should it ever have been within the jurisdiction of individual school boards, to make decisions that belong to health officials," said Estabrooks.
She said the province has made it clear that any future public health order would supersede the new rules.
The in-person learning change applies to grades 1-12 in all school settings, including public, separate, francophone, public charter and independent schools.
The masking change applies to those same grades and schools, but also to early childhood services.
The Opposition NDP criticized the new rules, saying it's unrealistic to force schools to be all things to all students while also handling a wave of viral illnesses and not providing additional supports to do it.
Jason Schilling, head of the Alberta Teachers' Association, said the government needs to work with school boards to figure out how to make this work.
"You have schools that are struggling to staff the building, (they) can't get substitute teachers, teachers are sick, they're covering each other's classes, principals are covering the classes," Schilling said in an interview.
"And then to say if you go online, you are to still offer the same programming in person — we just don't have the people to do that."
Wing Li, communications director for public education advocacy organization, Support our Students, said it will be difficult for schools to offer hybrid learning without any additional resources.
"There are no teachers," Li said in an interview. "Pivoting online was mostly due to staffing shortages, which is worse now three years in."
Li said online learning is challenging for students but, when temporary and supported, can keep schools and communities safe from spreading illness.
"This is a quite aggressive use of the Education Act to enshrine an ideology," she said.
This report by The Canadian Press was first published Nov. 25, 2022