Taliban-run Kabul municipality to female workers: Stay home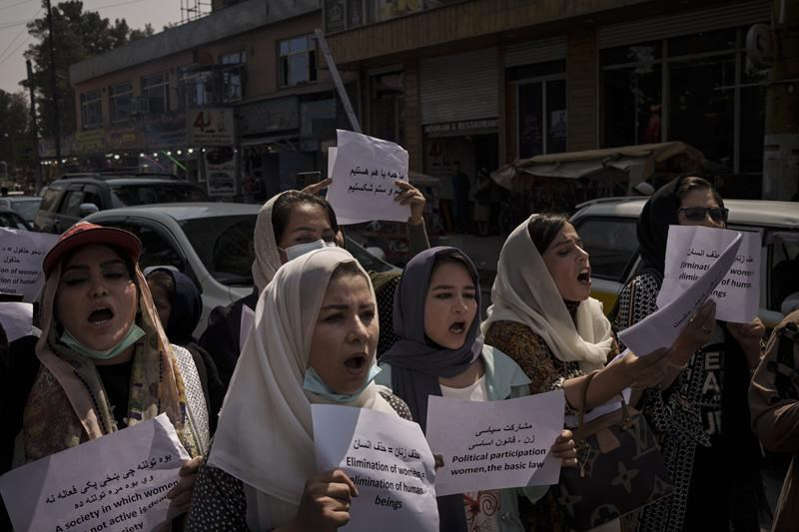 KABUL, Afghanistan (AP) — Female employees in the Kabul city government have been told to stay home, with work only allowed for those who cannot be replaced by men, the interim mayor of Afghanistan's capital said Sunday, detailing the latest restrictions on women by the new Taliban rulers.
Witnesses, meanwhile, said an explosion targeted a Taliban vehicle in the provincial city of Jalalabad, the second such deadly blast in as many days in an Islamic State stronghold.
The decision to prevent most female city workers from returning to their jobs is another sign that the Taliban, who overran Kabul last month, are enforcing their harsh interpretation of Islam despite initial promises by some that they would be tolerant and inclusive. In their previous rule in the 1990s, the Taliban had barred girls and women from schools, jobs and public life.
In recent days, the new Taliban government issued several decrees rolling back the rights of girls and women. It told female middle- and high school students that they could not return to school for the time being, while boys in those grades resumed studies this weekend. Female university students were informed that studies would take place in gender-segregated settings from now on, and that they must abide by a strict Islamic dress code. Under the U.S.-backed government deposed by the Taliban, university studies had been co-ed, for the most part.
On Friday, the Taliban shut down the Women's Affairs Ministry, replacing it with a ministry for the "propagation of virtue and the prevention of vice" and tasked with enforcing Islamic law.
On Sunday, just over a dozen women staged a protest outside the ministry, holding up signs calling for the participation of women in public life. "A society in which women are not active is (sic) dead society," one sign read.
The protest lasted for about 10 minutes. After a short verbal confrontation with a man, the women got into cars and left, as Taliban in two cars observed from nearby. Over the past months, Taliban fighters had broken up several women's protests by force.
Elsewhere, about 30 women, many of them young, held a news conference in a basement of a home tucked away in a Kabul neighborhood. Marzia Ahmadi, a rights activist and government employee now forced to sit at home, said they would demand the Taliban re-open public spaces to women.
"It's our right," she said. "We want to talk to them. We want to tell them that we have the same rights as they have."
Most of the participants said they would try to leave the country if they had an opportunity.
The explosion Sunday in Jalalabad targeting a Taliban vehicle was the second such deadly blast in as many days in an Islamic State stronghold.
The Taliban and IS extremists are enemies, and fought each other even before the Taliban seized control of Afghanistan last month.
Witnesses sid Sunday's blast targeted a vehicle of the border police, which is now run by the Taliban. Initial reports said five people were killed, including two civilians, among them a child. The Taliban were not immediately available for comment about possible casualties among their ranks.
Also on Sunday, interim Kabul Mayor Hamdullah Namony gave his first news conference since being appointed by the Taliban.
He said that before the Taliban takeover last month, just under one-third of close to 3,000 city employees were women, and that they had worked in all departments.
Namony said the female employees have been ordered to stay home, pending a further decision. He said exceptions were made for women who could not be replaced by men, including some in the design and engineering departments and the attendants of public toilets for women. Namony did not say how many female employees were forced to stay home.
"There are some areas that men can't do it, we have to ask our female staff to fulfill their duties, there is no alternative for it," he said.
Across Afghanistan, women in many areas have been told to stay home from jobs, both in the public and private sectors. However, the Taliban have not yet announced a uniform policy. The comments by the Kabul mayor were unusually specific and affected a large female work force that had been involved in running a sprawling city of more than 5 million people.
Namony also said the new government has begun removing security barriers in Kabul, a city that has endured frequent bombing and shooting attacks over the years. Such barriers — erected near ministries, embassies and private homes of politicians and warlords — had been commonplace in Kabul for years.
The mayor said private citizens would be charged for the work of taking down the barriers. While he said most barriers had been removed, reporters touring the city noted that barriers outside most government installations and embassies had been left in place.
The Taliban have tried to present themselves as guarantors of security, in hopes that this will win them support from a public still widely suspicious of their intentions. Under the previous government, a rise in crime had been a major concern for ordinary Afghans.
Perhaps the toughest challenge faced by the new Taliban rulers is the accelerated economic downturn. Even before the Taliban takeover, Afghanistan was plagued by major problems, including large-scale poverty, drought and heavy reliance on foreign aid for the state budget.
In a sign of growing desperation, street markets have sprung up in Kabul where residents are selling their belongings. Some of the sellers are Afghans hoping to leave the country, while others are forced to offer their meager belongings in hopes of getting money for the next meal.
"Our people need help, they need jobs, they need immediate help, they are not selling their household belongings for choice here," said Kabul resident Zahid Ismail Khan, who was watching the activity in one of the impromptu markets.
"For a short-term people might try to find a way to live, but they would have no other choice to turn to begging in a longer term," he said.
___
Associated Press writer Rahim Faiez in Istanbul contributed.
Kathy Gannon, The Associated Press
Mohawk Council of Kahnawake 'repulsed' by politicization of Habs' land acknowledgment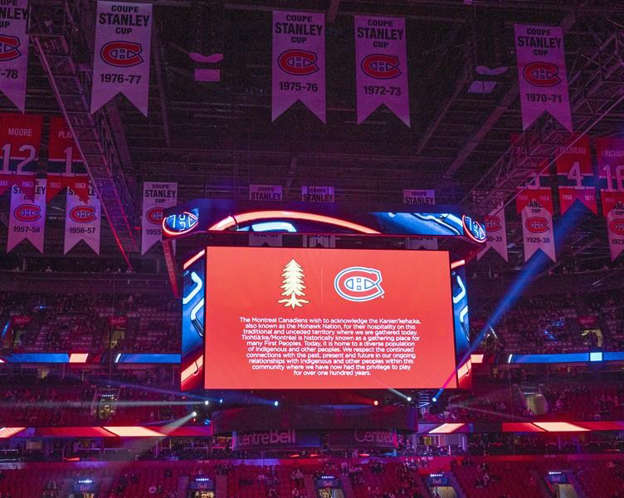 MONTREAL — The Mohawk Council of Kahnawake is blasting the Quebec government for questioning a land acknowledgment by the Montreal Canadiens that refers to the unceded territory of the Mohawk Nation.
The statement, which has been read before the NHL team's home games this season, acknowledges the hospitality of the Mohawk Nation "on this traditional and unceded territory where we are gathered today."
Quebec Indigenous Affairs Minister Ian Lafrenière told reporters on Wednesday the acknowledgment may be an error.
In a statement Thursday, the elected council for the First Nations reserve across the river from Montreal commended the hockey club's gesture as an example of true reconciliation and added it was "repulsed" by the province's attempt to politicize the effort, which it said undermines the Mohawk presence in the Montreal region.
On Wednesday, Lafrenière told reporters that referring to a specific nation may be a mistake as historians differ on which nation was the first to live in Montreal, while adding it was important to recognize that First Nations were the first occupants.
Grand Chief Kahsennenhawe Sky-Deer said in a statement that land is an essential part of Mohawk identity.
"It holds the knowledge of our ancestors, our history and our presence, now and for the future," Sky-Deer said. "Opinionated commentary that challenge and discredit our presence are not only insulting, they are taken as displaced attacks on our existence."
This report by The Canadian Press was first published Oct. 21, 2021.
The Canadian Press
Supreme Court of Canada sides with injured woman in snow-clearing squabble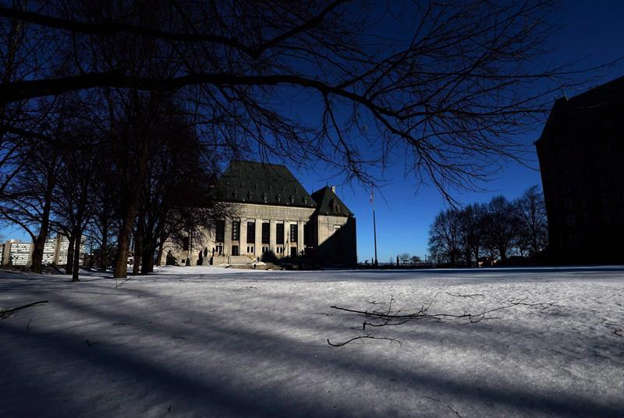 OTTAWA — A woman will get another chance to sue for damages over a leg injury she suffered while climbing through snow piled by a city's plow, the Supreme Court of Canada has ruled.
Taryn Joy Marchi alleged the City of Nelson, B.C., created a hazard when it cleared snow from downtown streets after a storm in early January 2015.
The removal effort left snow piles at the edge of the street along the sidewalk early in the morning of Jan. 5.
Late in the afternoon of Jan. 6, Marchi — then a 28-year-old nurse — parked in an angled spot on the street and, wearing running shoes with a good tread, tried to cross a snow pile to get on to the sidewalk.
Her right foot dropped through the snow and she fell forward, seriously injuring her leg.
Marchi contended the city should have left openings in the snowbank to allow safe passage to the sidewalk.
She pointed to the neighbouring municipalities of Castlegar, Rossland and Penticton in arguing there were preferable ways to clear the streets so as to ensure safe access for pedestrians.
However, the trial judge dismissed her case, saying the city was immune from liability because it made legitimate policy decisions about snow clearing based on the availability of personnel and resources.
In any event, the judge concluded, Marchi assumed the risk of crossing the snow pile and was "the author of her own misfortune."
The B.C. Court of Appeal overturned the decision and ordered a new trial, saying the judge erred in addressing the city's duty of care and the question of Marchi's negligence.
The ruling prompted the City of Nelson to seek a hearing in the Supreme Court.
In a written submission to the high court, the city said its actions amount to "a clear example of a core policy decision" that should be immune from liability.
In her filing with the court, Marchi said city employees made a number of operational decisions that fell below the expected standard of care of a municipality — decisions not required by the written policy.
In its 7-0 ruling Thursday, the Supreme Court said a fresh trial should take place because the city has not proved that its decision on how to clear the snow was "a core policy decision" immune from liability.
While there is no suggestion the city made an irrational or "bad faith decision," the city's core policy defence fails and it owed Ms. Marchi a duty of care, justices Sheilah Martin and Andromache Karakatsanis wrote on behalf of the court.
"The regular principles of negligence law apply in determining whether the City breached the duty of care and, if so, whether it should be liable for Ms. Marchi's damages."
This report by The Canadian Press was first published Oct. 21, 2021.
Jim Bronskill, The Canadian Press