Taliban-run Kabul municipality to female workers: Stay home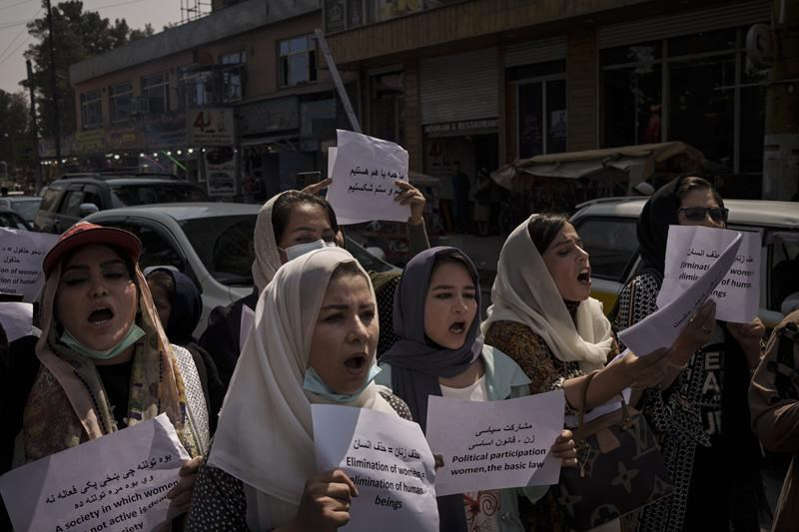 KABUL, Afghanistan (AP) — Female employees in the Kabul city government have been told to stay home, with work only allowed for those who cannot be replaced by men, the interim mayor of Afghanistan's capital said Sunday, detailing the latest restrictions on women by the new Taliban rulers.
Witnesses, meanwhile, said an explosion targeted a Taliban vehicle in the provincial city of Jalalabad, the second such deadly blast in as many days in an Islamic State stronghold.
The decision to prevent most female city workers from returning to their jobs is another sign that the Taliban, who overran Kabul last month, are enforcing their harsh interpretation of Islam despite initial promises by some that they would be tolerant and inclusive. In their previous rule in the 1990s, the Taliban had barred girls and women from schools, jobs and public life.
In recent days, the new Taliban government issued several decrees rolling back the rights of girls and women. It told female middle- and high school students that they could not return to school for the time being, while boys in those grades resumed studies this weekend. Female university students were informed that studies would take place in gender-segregated settings from now on, and that they must abide by a strict Islamic dress code. Under the U.S.-backed government deposed by the Taliban, university studies had been co-ed, for the most part.
On Friday, the Taliban shut down the Women's Affairs Ministry, replacing it with a ministry for the "propagation of virtue and the prevention of vice" and tasked with enforcing Islamic law.
On Sunday, just over a dozen women staged a protest outside the ministry, holding up signs calling for the participation of women in public life. "A society in which women are not active is (sic) dead society," one sign read.
The protest lasted for about 10 minutes. After a short verbal confrontation with a man, the women got into cars and left, as Taliban in two cars observed from nearby. Over the past months, Taliban fighters had broken up several women's protests by force.
Elsewhere, about 30 women, many of them young, held a news conference in a basement of a home tucked away in a Kabul neighborhood. Marzia Ahmadi, a rights activist and government employee now forced to sit at home, said they would demand the Taliban re-open public spaces to women.
"It's our right," she said. "We want to talk to them. We want to tell them that we have the same rights as they have."
Most of the participants said they would try to leave the country if they had an opportunity.
The explosion Sunday in Jalalabad targeting a Taliban vehicle was the second such deadly blast in as many days in an Islamic State stronghold.
The Taliban and IS extremists are enemies, and fought each other even before the Taliban seized control of Afghanistan last month.
Witnesses sid Sunday's blast targeted a vehicle of the border police, which is now run by the Taliban. Initial reports said five people were killed, including two civilians, among them a child. The Taliban were not immediately available for comment about possible casualties among their ranks.
Also on Sunday, interim Kabul Mayor Hamdullah Namony gave his first news conference since being appointed by the Taliban.
He said that before the Taliban takeover last month, just under one-third of close to 3,000 city employees were women, and that they had worked in all departments.
Namony said the female employees have been ordered to stay home, pending a further decision. He said exceptions were made for women who could not be replaced by men, including some in the design and engineering departments and the attendants of public toilets for women. Namony did not say how many female employees were forced to stay home.
"There are some areas that men can't do it, we have to ask our female staff to fulfill their duties, there is no alternative for it," he said.
Across Afghanistan, women in many areas have been told to stay home from jobs, both in the public and private sectors. However, the Taliban have not yet announced a uniform policy. The comments by the Kabul mayor were unusually specific and affected a large female work force that had been involved in running a sprawling city of more than 5 million people.
Namony also said the new government has begun removing security barriers in Kabul, a city that has endured frequent bombing and shooting attacks over the years. Such barriers — erected near ministries, embassies and private homes of politicians and warlords — had been commonplace in Kabul for years.
The mayor said private citizens would be charged for the work of taking down the barriers. While he said most barriers had been removed, reporters touring the city noted that barriers outside most government installations and embassies had been left in place.
The Taliban have tried to present themselves as guarantors of security, in hopes that this will win them support from a public still widely suspicious of their intentions. Under the previous government, a rise in crime had been a major concern for ordinary Afghans.
Perhaps the toughest challenge faced by the new Taliban rulers is the accelerated economic downturn. Even before the Taliban takeover, Afghanistan was plagued by major problems, including large-scale poverty, drought and heavy reliance on foreign aid for the state budget.
In a sign of growing desperation, street markets have sprung up in Kabul where residents are selling their belongings. Some of the sellers are Afghans hoping to leave the country, while others are forced to offer their meager belongings in hopes of getting money for the next meal.
"Our people need help, they need jobs, they need immediate help, they are not selling their household belongings for choice here," said Kabul resident Zahid Ismail Khan, who was watching the activity in one of the impromptu markets.
"For a short-term people might try to find a way to live, but they would have no other choice to turn to begging in a longer term," he said.
___
Associated Press writer Rahim Faiez in Istanbul contributed.
Kathy Gannon, The Associated Press
Edward Rogers files B.C. court petition to have newly formed board declared valid
TORONTO — The son of late Rogers Communications Inc. founder Ted Rogers is seeking a ruling from B.C.'s Supreme Court that would legitimize a company board he formed by replacing five of its members.
Edward Rogers' mother Loretta Rogers and sisters Melinda Rogers-Hixon and Martha Rogers claim the board is illegitimate and does not comply with laws in B.C., where the company is incorporated.
They and several other associates say the only legitimate version of the Rogers board is the one that existed last week, before Edward Rogers replaced five directors with people of his choosing.
Edward Rogers was ousted from his role as board chair, but he remains at the helm of his family's trust, which controls 97 per cent of the firm's Class A voting shares and 10 per cent of outstanding Class B shares.
He has been at the centre of a power struggle since media reports revealed he was plotting to give Rogers' former chief financial officer Tony Staffieri the job of CEO Joe Natale, a move some family and board members oppose.
The ongoing feud has left Rogers in a state of uncertainty as it awaits regulatory approvals for a $26-billion takeover of rival Shaw Communications Inc.
This report by The Canadian Press was first published Oct. 26, 2021.
Companies in this story: (TSX:RCI)
The Canadian Press
Blackhawks GM Bowman resigns after sexual assault probe
Chicago Blackhawks general manager and president of Hockey Operations Stan Bowman resigned Tuesday after an investigation commissioned by the team found he was among a group of leaders who failed to respond promptly to allegations that an assistant coach sexually assaulted a player in 2010.
The results of the independent review by Jenner & Block were handed over to the Blackhawks on Monday, and team CEO Danny Wirtz said the report "is both disturbing and difficult to read."
Former federal prosecutor Reid Schar, who ran the investigation, said Tuesday that Bowman, former team president John McDonough, hockey operations executive Al MacIsaac, former executive vice president Jay Blunk and then-assistant general manager Kevin Cheveldayoff met with then-coach Joel Quenneville and mental skills coach Jim Gary to discuss allegations that then assistant coach Brad Aldrich had assaulted a player.
Schar said accounts of the meeting "vary significantly."
"What is clear is that after being informed of Aldrich's alleged sexual harassment and misconduct with a player no action was taken for three weeks," Schar said.
The investigation was commissioned by the team after two lawsuits were filed against the Blackhawks: one alleging sexual assault by assistant coach Aldrich during the team's Stanley Cup run and another filed by a former student whom Aldrich was convicted of assaulting in Michigan. Aldrich left the Blackhawks after the 2009-10 season.
A former player said Aldrich assaulted him, and that the team did nothing after he informed an employee. The lawsuit, filed May 7 in Cook County Circuit Court, alleges Aldrich also assaulted another unidentified Blackhawks player. The former player who sued and is seeking more than $150,000 in damages is referred in the document as "John Doe."
The eight-page lawsuit says Aldrich, then a video coach for the Blackhawks, "turned on porn and began to masturbate in front of" the player without his consent. It says Aldrich also threatened to "physically, financially and emotionally" hurt the player if he "did not engage in sexual activity" with him.
___
More AP sports: https://apnews.com/hub/apf-sports and https://twitter.com/AP_Sports
Jay Cohen And Stephen Whyno, The Associated Press