Survey reveals widening gap between views of double-vaxxed and boosted people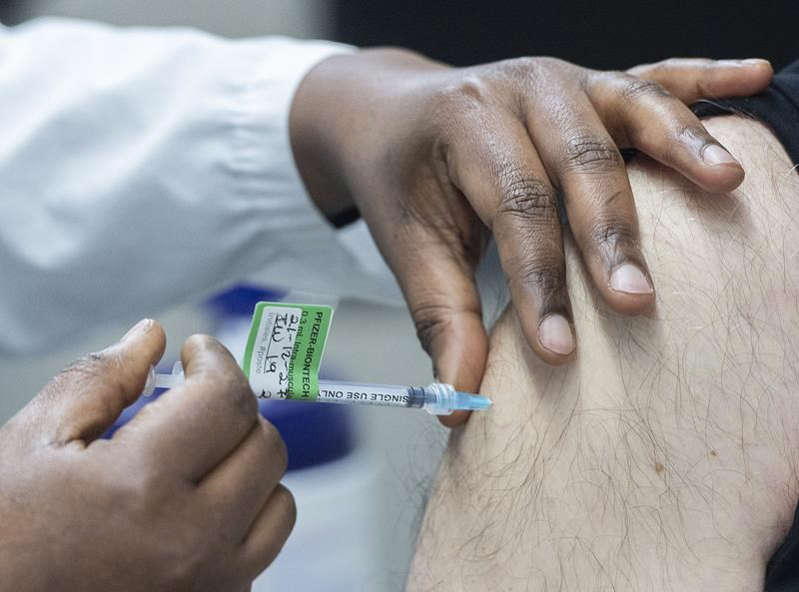 OTTAWA — A new survey suggests a widening gap between the pandemic views of people who have opted to get a COVID-19 vaccine booster and those who are holding steady with only two shots.
A web panel survey carried out by Leger for the Association for Canadian Studies shows 67 per cent of people with a booster dose who responded are afraid of contracting COVID-19, compared to just 52 per cent of those with two doses.
"We're seeing what I call a 'booster hesitancy,' as opposed to a vaccine hesitancy, and it's shaping some of their attitudes. Their level of concern about COVID is a bit different from the boosted. The degree to which they're concerned about the vaccination is a bit different," said Jack Jedwab, president of the Association for Canadian Studies.
For instance, 82 per cent of boosted respondents said they supported vaccine mandates at shopping malls and retail outlets, compared to only 57.8 per cent of people with two doses.
And 79 per cent of boosted people responded that they strongly support vaccine mandates in other non-essential public places like bars, restaurants and gyms.
That's compared to only 48 per cent of people with two vaccine doses.
There appears to be a growing split between the "boosted and the two-timers," Jedwab said.
"The issue takes on a bit more complexity than it (had) previously," he said.
People who received a booster shot were also more likely to respond that governments should not lift COVID-19 restrictions, at 85 per cent, compared to 71.5 per cent of people with two doses.
Generally, unvaccinated people responded at the other far end of the spectrum, with 65 per cent responding that COVID-19 restrictions should be lifted, and 94 per cent expressing opposition to vaccine mandates in shopping centres.
"They're in a completely different place," said Jedwab.
The results were gathered from 1,547 Canadians over the age of 18 between Jan. 7 and Jan. 9, and cannot be assigned a margin of error because the web survey did not randomly sample the population.
The number of COVID-19 cases have hit record highs in January thanks to the Omicron variant of the virus, which is said to be relatively more mild compared to past variants but can infect even vaccinated people.
Governments and public health officials have urged Canadians to get a third mRNA vaccine to protect them against the most serious effects of the virus, which has still sent people to the hospital in large numbers and threatened to overrun Canadian health systems.
The booster can also stave off the effects of waning immunity from the first two shots, which appear to offer less protection against contracting the virus over time.
About 41 per cent of Canadians over the age of 18 have opted for a COVID-19 booster as of Jan. 15, according to the Public Health Agency of Canada, but the survey suggests 73 per cent of respondents intend to get three shots.
At the same time, less than 10 per cent of adults have eschewed vaccination against the virus altogether.
Of those with two doses who say they don't want a third, 25.5 per cent said they don't believe a booster would work, and 14 per cent said they felt that two shots are enough.
Those reasons are very different from the ones given my people who have opted to remain completely unvaccinated, who since the beginning of the vaccine rollout least year have typically said they're more afraid of vaccine side-effects than the virus itself, Jedwab said.
In this latest poll, the unvaccinated were six times more worried about vaccine side-effects than getting COVID-19.
"That's not what people who are double-vaccinated are saying and it's not any meaningful degree," he said.
Only eight per cent of double-vaxxed people reported being concerned about the side-effects of the booster.
"They're more concerned with its effectiveness. So it will be up to policy-makers to remind people about the effectiveness."
This report by The Canadian Press was first published Jan. 26, 2022.
Laura Osman, The Canadian Press
Jail 'Freedom Convoy' organizer Tamara Lich again, Crown argues in Ottawa court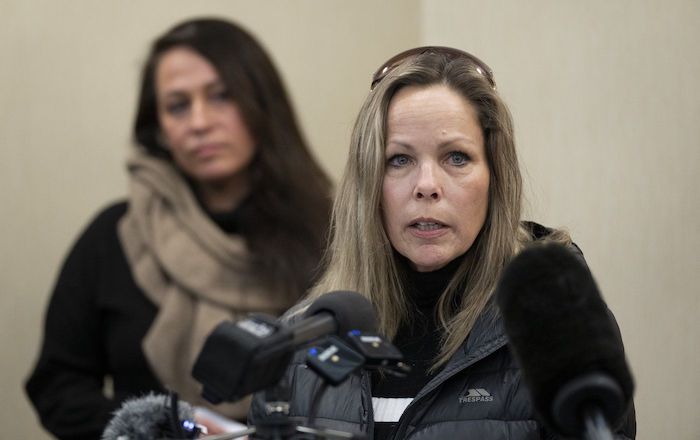 By Laura Osman in Ottawa
The Crown is accusing "Freedom Convoy" organizer Tamara Lich of breaching her bail conditions and prosecutors argue she should go back to jail until her trial.
A judge initially denied Lich bail after her arrest during the massive protest that overtook downtown Ottawa for more than three weeks in February, but she was released in March after a review of the court decision.
She appeared virtually on Thursday in Ontario Superior Court, where lawyers wrangled over how the bail hearing should proceed.
Lich and fellow protest organizer Chris Barber are jointly accused of mischief, obstructing police, counselling others to commit mischief and intimidation.
She was released with a long list of conditions, including a ban from all social media and an order not to "support anything related to the Freedom Convoy."
The Crown says Lich has violated one of her bail conditions by agreeing to accept a "freedom award" from the Justice Centre for Constitutional Freedoms, a legal advocacy group that supported the protest.
The organization planned to honour her at a gala celebration for inspiring "Canadians to exercise their Charter rights and freedoms by participating actively in the democratic process," and leading the "Freedom Convoy" protest in Ottawa.
That protest evolved into a weeks-long demonstration that gridlocked the streets of Ottawa and eventually led the federal government to invoke the Emergencies Act in an effort to dislodge the participants.
"Ms. Lich has suffered for the cause of freedom by spending 18 days unjustly jailed, and exemplifies courage, determination and perseverance," the organization wrote in a statement on its website, which the Crown included in its notice of application.
The website said Lich would attend the award dinner in Toronto on June 16, if a review of her bail conditions would allow her to attend, as well as events in Vancouver and Calgary.
The Toronto event is expected to include a keynote address by columnist Rex Murphy.
During the protest, Keith Wilson, a Justice Centre for Constitutional Freedoms lawyer, spoke on behalf of the convoy protesters at a news conference and described Lich as a client.
"Tamara Lich ought to be detained," the Crown's notice of application concludes.
Meanwhile, Lich's lawyers plan to argue that her bail conditions are too restrictive and should be reconsidered.
Her lawyer, Lawrence Greenspon, told the court Thursday that the social media ban imposed on Lich was unnecessarily broad and has had a huge impact on her life while she's been out of custody.
He said she wishes to be in contact with her 94-year-old grandmother by social media and communicate with her friends and family.
The hearing is expected to last two days.
This report by The Canadian Press was first published May 19, 2022.
Ottawa interim police chief Steve Bell didn't ask feds to invoke Emergencies Act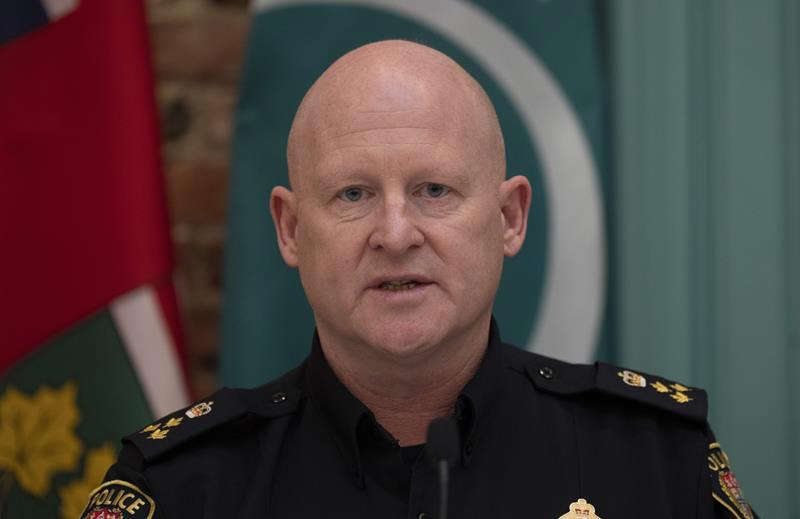 Ottawa's interim police chief says he did not ask the federal government to invoke the Emergencies Act during the "Freedom Convoy" in February.
The Liberals have said law enforcement asked for additional powers that could only be granted by declaring a national emergency.
Last week, however, Commissioner Brenda Lucki also said the RCMP did not ask the federal government to use the act.
Ottawa interim chief Steve Bell spoke to a parliamentary committee today, along with representatives from the Ontario Provincial Police, the RCMP and Gatineau police, about issues with jurisdiction in downtown Ottawa.
The committee on Procedure and House Affairs is examining whether the Parliamentary Protective Service should have jurisdiction over Wellington and Sparks streets, in addition to its current oversight of the parliamentary precinct.
Bell says there will need to be clarity on the boundaries of each organization's responsibility if any changes are made, and clarity about what happens when events such as protests cross over those boundaries.
This report by The Canadian Press was first published May 17, 2022.
The Canadian Press