Super Bowl 57: Chiefs, Eagles meet for title in Arizona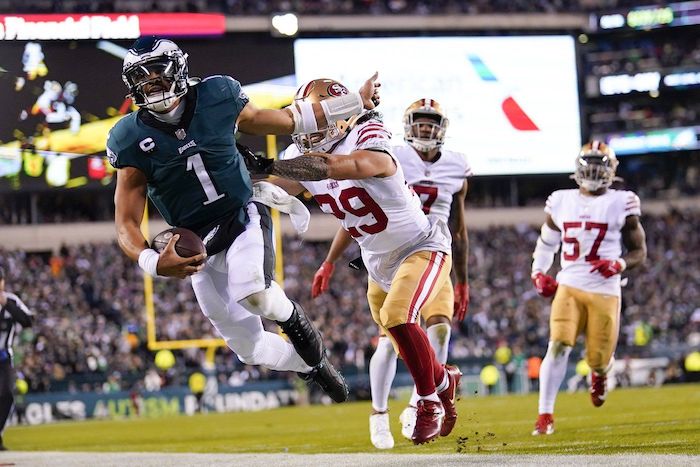 By David Brandt
Patrick Mahomes finally got the best of Joe Burrow.
All he needed was a little shove.
Harrison Butker made a 45-yard field goal with 3 seconds left — after Cincinnati's Joseph Ossai was flagged for a 15-yard penalty for shoving Mahomes after he was out of bounds — and the Chiefs beat the Bengals 23-20 in the AFC championship game to make it back to the Super Bowl.
Kansas City will face the Philadelphia Eagles in the Super Bowl on Feb. 12 in Glendale, Arizona.
The Eagles opened as a 1 1/2-point favorite, according to FanDuel Sportsbook.
There are no shortage of storylines: Kansas City coach Andy Reid goes against his old team — which he led to Super Bowl 39 — in a game that's also the first matchup of Black starting quarterbacks in the Super Bowl with Mahomes and Philadelphia's Jalen Hurts.
On top of that, there's a brother-against-brother showdown between Chiefs tight end Travis Kelce and Philadelphia center Jason Kelce.
" Officially done being a Chiefs fan this season!! " Jason Kelce tweeted immediately after the Chiefs won.
The Chiefs have been making deep postseason runs on a regular basis ever since Mahomes came to town as the franchise quarterback.
This was their fifth straight trip to the AFC title game and will be their third Super Bowl appearance in that span. They beat the 49ers for the NFL title in the 2019 season, but lost to the Bucs the following season.
The Eagles clobbered the Niners 31-7 in the NFC title gameearlier Sunday. They've looked dominant in the playoffs so far, also beating the New York Giants 38-7 in the divisional round.
Philadelphia is back in the Super Bowl five years after beating the New England Patriots 41-33 on Feb. 4, 2018.
Now a mostly new generation of Eagles — led by coach Nick Sirianni and Hurts — will come to Arizona to try and win another title.
The Chiefs-Bengals game looked as if it was going to overtime before Ossai's ill-advised play. Mahomes — who was playing on a badly sprained ankle — was running to get a first down in the final seconds as Ossai desperately tried to track him down.
Mahomes was out of bounds when Ossai gave him a shove, sending both players tumbling to the turf. The ensuing 15-yard penalty was enough to push Butker into field-goal range and the kick split the uprights.
A distraught Ossai sat on the bench with his head in his hands, well after the game was over.
The Bengals and Chiefs were playing for the fourth time in less than 400 days and Cincinnati had won the previous three meetings — all by three points. This one was decided by a field goal, too, and all Burrow could do was watch.
The Bengals lost to the Rams in last year's Super Bowl and they just missed another chance at returning to the title game.
NO DRAMA IN NFC
Oddsmakers thought fans were in for some close conference championship games.
They'll have to settle for a 50% success rate.
The NFC title game was a blowout. Niners rookie quarterback Brock Purdy was injured in the first quarter when Eagles linebacker Haason Reddick drilled his right arm on a play that was ruled a fumble. The Eagles recovered that fumble and the injury proved to be a game-changer.
With Purdy hurt, San Francisco turned to 36-year-old journeyman Josh Johnson, who couldn't do much before eventually leaving with a concussion. Purdy came back into the game, but could barely throw, and the Eagles cruised to the win.
The 49ers dealt with quarterback injuries all season, losing Trey Lance and Jimmy Garoppolo before turning to Purdy, a seventh-round draft pick out of Iowa State. Purdy stepped into a starter's role in December and won his first seven games before Sunday's injury.
Here's a few things to know about the upcoming Super Bowl:
WHAT'S THE UPCOMING SCHEDULE?
FEB. 5
Pro Bowl flag-football game, 3 p.m. EST, ABC/ESPN
FEB. 12
Super Bowl LVII, Philadelphia Eagles vs. Kansas City Chiefs, 6:30 p.m. EST, Fox
RIHANNA AT HALFTIME
Rihanna will take center stage as the headline act for this year's Super Bowl halftime show.
With sales of more than 250 million records worldwide, Rihanna ranks as one of the best-selling female artists ever. Her most recent album was 2016′s "Anti." Rihanna last performed publicly at the Grammy Awards in 2018.
The singer said she turned down a similar opportunity for the 2019 Super Bowl that was ultimately headlined by Maroon 5. At the time, many artists voiced support for Colin Kaepernick, the former San Francisco 49ers quarterback who protested police brutality against Black people and minorities by kneeling during the national anthem in 2016.
Country music star Chris Stapleton will sing the national anthem, while R&B legend Babyface will perform "America the Beautiful."
PRO BOWL MAKEOVER
The Pro Bowl is getting a major makeover this year after the NFL eliminated its full-contact all-star game and replaced it with weeklong skills competitions and a flag football game.
The flag football contest is Feb. 5 in Las Vegas at Allegiant Stadium, one week before the Super Bowl.
The Pro Bowl debuted in January 1951 in Los Angeles and stayed there for 21 seasons before the game moved to different cities from 1972-80. Hawaii hosted from 1980-2009, and the game has had several homes in the years since, including Miami, Phoenix, Orlando and Las Vegas.
"The game was kind of silly, I guess," Saints two-time Pro Bowl offensive lineman Ryan Ramczyk said back in September when the news was announced. "Guys weren't out there playing true football. Hopefully, there'll be a lot of interactions with the fans and guys will get their opportunity to go out there and show some skills. I could see that being a good change."
___
AP Entertainment Writers Jake Coyle and Jonathan Landrum Jr. and AP Pro Football Writer Rob Maaddi contributed to this story.
___
AP NFL: https://apnews.com/hub/nfl and https://twitter.com/AP_NFL
Oilers need overtime heroics to sink Sharks 5-4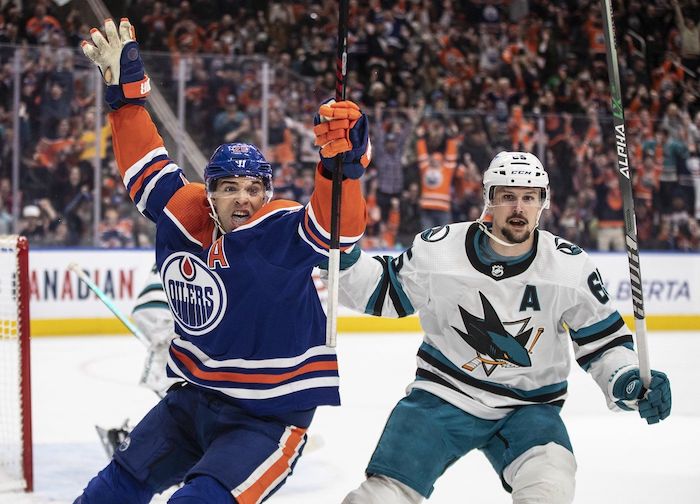 San Jose Sharks' Erik Karlsson (65) looks on as Edmonton Oilers' Darnell Nurse (25) celebrates his goal during overtime NHL action in Edmonton on Monday March 20, 2023.THE CANADIAN PRESS/Jason Franson
By Shane Jones in Edmonton
Darnell Nurse scored the overtime winner on his team's 52nd shot as the Edmonton Oilers won their fourth game in a row, defeating the San Jose Sharks 5-4 on Monday night, a game that featured four goals called back on video review.
Ryan Nugent-Hopkins was able to spring Nurse on a breakaway and he scored with just 15 seconds left in overtime.
Mattias Ekholm had a pair of goals and Nick Bjugstad and Kailer Yamamoto also scored for the Oilers (40-23-8) who have won eight of their last 10.
Erik Karlsson had two goals and Alexander Barabanov and Steven Lorentz also replied for the Sharks (19-37-15) who saw their losing streak extended to seven games. The Sharks have one win in their last 13 games.
The Sharks looked like they had an early lead just 1:14 in when Tomas Hertl cleanly beat Oilers goalie Jack Campbell with a blast to the top corner, only to have the goal called back via video review on an offside call.
San Jose would get the game's first goal, however, just 5:48 into the first, as a big rebound off of a Hertl shot came out to Barabanov, who wired home his 15th.
Edmonton pulled even at 7:08 of the opening frame as Warren Foegele found a wide-open Bjugstad at the side of the net and he had an easy time scoring his third as an Oiler before Sharks starter James Reimer could get across the crease.
The Oilers looked to have surged ahead midway through the first on the power play on a deflection in front by Zach Hyman, but the goal was disallowed upon review for goaltender interference.
Edmonton officially made it 2-1 just 30 seconds into the second period as a pass ticked off a pair of defenders before hitting the stick of Yamamoto, who scored his 10th.
The Sharks looked to have tied the game six minutes into the middle frame on a goal by Andreas Johnsson, but once again the goal was called back on goalie interference after a challenge.
San Jose tied the game at 8:32 of the second as Lorentz was stopped by Campbell on his original breakaway shot, but was able to bat his own rebound out of the air and in for his eighth.
The Sharks made it 3-2 less than two minutes later when blown coverage allowed Fabian Zetterlund to make a soft pass to Karlsson in alone, and he beat Campbell with a nifty deke.
Edmonton tied it again 11:48 into the second period, as Ekholm changed gears and cut in on net before beating Reimer with a backhand shot.
Karlsson gave the Sharks yet another lead a couple minutes later, taking a feed in the shot and blasting a one-timer in for his second of the game and 22nd of the season.
An unbelievable fourth goal was called back four minutes into the third as a goal off an odd-man rush by Noah Gregor was deemed to have been offside, the third goal taken away from the Sharks.
Cody Ceci fished a sure goal to safety as it was on its way into the Edmonton net, allowing Ekholm to score his second of the game a couple minutes later with 3:47 remaining in the third, walking in and powering a slapshot past Reimer to make it 4-4.
Reimer would make a huge save with 47 seconds remaining on Leon Draisaitl on the power play to send the game to extra time.
NOTES
It was Campbell's first start in the Edmonton net since a 6-5 loss at the Winnipeg Jets on March 4, as he served as a backup to Stuart Skinner for the last six games. … Out with injuries for the Sharks were Luke Kunin (knee), Markus Nutivaara (lower body), Jacob MacDonald (undisclosed) and Evgeny Svechnikov (lower body). … The Sharks assigned forward William Eklund to their AHL squad on Sunday and called up Andrew Agozzino, who made his season debut. … Missing for the Oilers were Ryan Murray (back) and Ryan McLeod, who missed his third game with an upper body injury. … The Oilers came into the contest leading the league with 3.91 goals per game, and have scored 138 goals and had averaged 4.31 goals/game since Jan. 1. Edmonton had scored four or more goals in 13 of their last 16 games. … The Sharks entered the contest having allowed four-plus goals per game 39 times this year, the second-most in the NHL.
UP NEXT
Oilers: Remain at home to face the Arizona Coyotes on Wednesday.
Sharks: Play the second game of a three-game road trip in Vancouver on Thursday.
This report by The Canadian Press was first published March 20, 2023.
Kempe leads Kings into 1st place with 8-2 win over Flames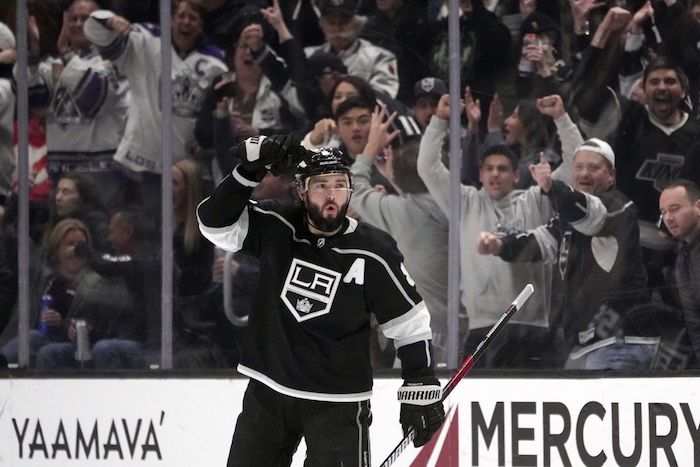 Los Angeles Kings defenseman Drew Doughty celebrates after scoring against the Calgary Flames during the first period of an NHL hockey game Monday, March 20, 2023, in Los Angeles. (AP Photo/Marcio Jose Sanchez)
By Greg Beacham in Los Angeles
LOS ANGELES (AP) — Drew Doughty and Viktor Arvidsson scored in Los Angeles' four-goal first period, Adrian Kempe had two goals and an assist, and the Kings cruised into a first-place tie in the Pacific Division with an 8-2 victory over the Calgary Flames on Monday night.
Carl Grundstrom had two goals and Gabriel Vilardi and Mikey Anderson also scored for the Kings, who pulled even with Vegas atop the division by extending its points streak to 10 games (8-0-2) with their second eight-goal outburst of the season.
Pheonix Copley made 15 saves for Los Angeles, while captain Anze Kopitar, Quinton Byfield and Rasmus Kupari had two assists apiece. The Kings have earned a point in every game in March, putting themselves in contention for just the second division title for a franchise with two Stanley Cup championships.
Tyler Toffoli scored against his former team for the Flames, who couldn't catch up after allowing four goals in a first period for the first time since November 2017. Coach Darryl Sutter's teams hadn't allowed four goals in a first period since October 2014, when he was still behind the Kings' bench.
Jacob Markstrom stopped 20 shots and gave up six goals in the first two periods of his 10th consecutive start before Dan Vladar mopped up in the third for the Flames. Markstrom also allowed six goals in Calgary's overtime loss to Dallas two days earlier to begin the team's worst two-game defensive stretch of the season.
Noah Hanifin also scored for the Flames, who have lost four of six to hurt their playoff hopes.
The Kings were prolific offensively even with top scorer Kevin Fiala missing his fifth straight game with a lower-body injury.
Grundstrom put Los Angeles ahead early when he skated around Markstrom and scored a goal in his third consecutive game. Doughty then scored his third goal in four games on a long shot through traffic, and Vilardi scored 57 seconds later.
Arvidsson added a power-play goal off a cross-ice pass from Kempe to secure his fifth career 20-goal season, including both of his years with Los Angeles.
Toffoli drove home his 29th goal from the slot on a power play 34 seconds into the second period, increasing his points total to a career-high 62. The goal was Toffoli's third in seven career games against the Kings, who drafted him in 2010 and won a Stanley Cup with him in 2014 before trading him in 2020.
But Kempe got his 33rd goal on a breakaway created by an exceptional long pass from Alexander Edler midway through the second, and he scored again 4 1/2 minutes later. Anderson scored his first career power-play goal in the third.
Milan Lucic was a healthy scratch for the second straight game. The veteran Calgary forward who played one season for the Kings has scored just one goal in his last 27 games since Jan. 10.
UP NEXT
Flames: At Anaheim on Tuesday.
Kings: Host Winnipeg on Saturday.