St. Martin de Porres Students Celebrate Canada 150!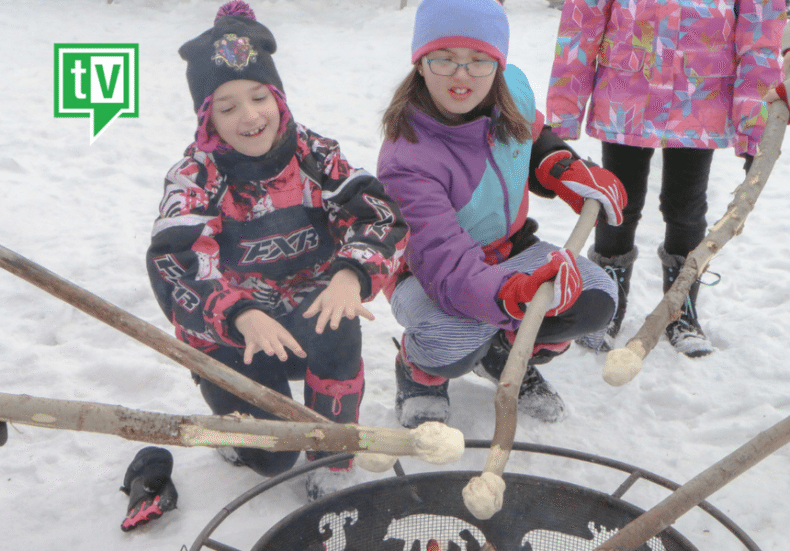 Written by Sheldon Spackman / Photos and Video by Lindsay Wiebe
About 270 Kindergarten to Grade 5 students at Red Deer's St. Martin de Porres School took time this week to celebrate Canada's 150th birthday. As part of the school's new monthly fine arts-infused "Create" (Children Regularly Engaged Actively To Excel) sessions, students had a chance to learn more about Canada's heritage by taking part in various activities.
The sessions included activities such as bannock making and drumming among others. The sessions were led by professionals from the community, including the Red Deer Museum, Central Alberta Refugee Effort (C.A.R.E.), the Alberta Sports Hall of Fame, a local author, a history professor from RDC, the RCMP and Royal Canadian Legion.
The event was attended by dignitaries such as Red Deer-Mountain View MP, the Honourable Earl Dreeshen and Red Deer Catholic Regional Schools Board Chair Guy Pelletier.
"Ontario Can't do it Alone" – Fairness Alberta Expands with Eastern Canada Campaign
It has been just over four months since the launch of Fairness Alberta, a non-partisan Proudly Canadian, Fiercely Albertan organization, in May 2020. Fairness Alberta promotes education and discussion to combat biased government policies and regulations that restrict Alberta's economic growth and prosperity. By highlighting Alberta's $324 billion net contribution to the Canadian economy from 2000 to 2019, FA's mandate is to "inform Canadians about the magnitude of the contributions Albertans make to Canada, while educating Canadian's about the damaging fiscal, trade, energy, procurement, and infrastructure policies that chronically undermine Alberta's – and Canada's – potential."
The public response to the organization throughout Alberta and across Canada has been overwhelmingly positive, according to Bill Bewick, Executive Director of Fairness Alberta. "Our factual approach is agreeable," he says, "and even people who are skeptical of Alberta demanding more from the country are willing to listen and learn."
On September 21, Fairness Alberta expanded into eastern Canada with the launch of their Fall 2020 Campaign in Ontario. The two-part billboard series in Toronto and Ottawa is designed to illustrate just how much Albertans have helped Ontarians carry the fiscal load in the federation over the last decade. "Many people are surprised by the fiscal contributions of each province given the size difference," says Bewick, "people assume Ontario makes the biggest contribution, but that's just not the case."
From 2007-2018, Ontario contributed $98 billion net and Alberta contributed $240 billion net to the country, while the remainder of the provinces have received a combined total of $370 billion.
As all Canadian provinces face the daunting road to recovery following the destructive economic impacts of COVID-19, the dissemination of accurate information regarding the crucial role of Alberta in the nation's recovery remains crucial. Arguably even more so since the recent Throne Speech, delivered by Governor General Julie Payette on September 23, has been widely criticized for once again ignoring the contributions and needs of Albertans in favor of new policies that will further restrict productivity in Alberta by targeting natural gas.
Premiere Jason Kenney openly criticized the Throne Speech and the clean-fuel standard, stating, "We got a litany of policies that would strangle investment and jeopardize resource jobs when we most need the industry that generates 20 percent of government revenues in Canada" (1). 
Fairness Alberta has responded similarly to developments from the recent Throne Speech, arguing that Alberta's role in national recovery cannot be overstated or ignored. "Alberta is an engine in the fragile Canadian economy," says Bewick, "If that productivity is hindered by the new clean fuel standards, no other province will be able to pick up the slack." 
The Ontario campaign is set to continue into the month of November, paired with online advertising that draws targeted audiences to their website, and the remainder of 2020 will see an expansion into British Columbia as Fairness Alberta continues to grow and fight for a fair deal for Alberta within Canada.  Bewick believes that "there are millions of fair-minded Canadians out there and showing them the importance of Alberta's economy is critical right now to ensure the federal government works with Alberta, not against it." 
For more information on Fairness Alberta, visit fairnessalberta.ca. 
For more stories, visit Todayville Calgary.
Next Steps After Losing Your Job Due to Covid-19
This post has been submitted to Todayville by Artur Meyster, Founder of Career Karma
Losing your job at any point can be a disheartening and worrisome event, let alone during a global pandemic. With that in mind, however, try to focus on the fact that there are still steps you can take to ensure that you reenter the workforce as an asset to the future of work. Technology is changing everything about how work is performed, as evidenced by the rise in remote work, and more jobs will be disrupted before the pandemic calms.
On that note, the next steps after losing your job due to Covid-19 should be preparatory steps that can help you thrive in this coming future. First and foremost, however, it is important that you remember to breathe and stay calm. The world may seem chaotic right now, but that doesn't mean your life needs to be as well.
Reevaluate Your Skills
Regardless of the reason you got fired, it is important that you completely break down and reevaluate your skillset. Unless you were in an intensive tech-based career already, it is unlikely that your skillset will be perfectly aligned with the future of work. 
A study by CNBC found that some of the most prominent skills for the future of work will be based on coding or programming. Jobs won't necessarily be specifically structured for these skills, but rather careers of all types will begin requiring experience with coding as computers begin to dictate business. 
To acquire this soon-to-be important skill, it may be worth looking into top-rated coding bootcamps that can give participants a beginner's knowledge of coding languages. However, this is not the only tech skill that will be needed in the future. Perform research during this time while you look for a new job, and determine what you are capable of and what interests you.
Reflect on Your Career Choice
Now that you've lost your job, it may be worth considering whether or not your career was really right for you. If you don't believe it was, take an extra minute to ensure that it was the career that bothered you and not the specific job. 
Perhaps your career was the perfect choice for you and you do not regret entering the field you did. If so, you are one of a lucky few. Realizing that you were in the wrong career, however, is actually beneficial if you just lost your job. This means you are aware that you made the incorrect career choice and can rectify that decision by tackling a new field. Unfortunately, it can be difficult for many who are passed the age of a university student to change careers, but certainly not impossible. 
To that end, identifying and pursuing some easier online degrees can be a perfect choice for someone who just lost their job. There are a number of career options that can provide growth in the future as technology takes control of the workforce, many of which now accept online degrees as an accredited source of education.
Consider Attending a Trade School
On the topic of online degrees, there is likely no better path after losing your job than attending a trade school. This form of education, sometimes called a vocational school, is a quick and efficient method of changing careers as they offer specialized courses that prepare students for a specific career.
The Atlantic covered a study that discusses how trade school attendance has risen to levels that rival traditional education enrollment. This option has become respected by employers around the world, and the fact that some trade schools, such as App Academy, don't charge tuition until you're hired make them attractive paths.
Technology and the pandemic are changing everything about the work world, but they are also changing education. In today's day and age, you are never too old to consider a new career path and enroll in some form of online education. 
Conclusion
Losing your job does not mean that the world is crumbling down around you. Treat this event as an opportunity to revamp both your skills and your career. While it may not seem like it now, doing so can set you up for success in the future. Dealing with the loss of your job, whether it was held for a long time or just began, is a difficult task, but making the best of it and growing from this loss can help you to become an even more valuable asset to any company in the future.