Sri Lanka leader says IMF agreement pushed back after unrest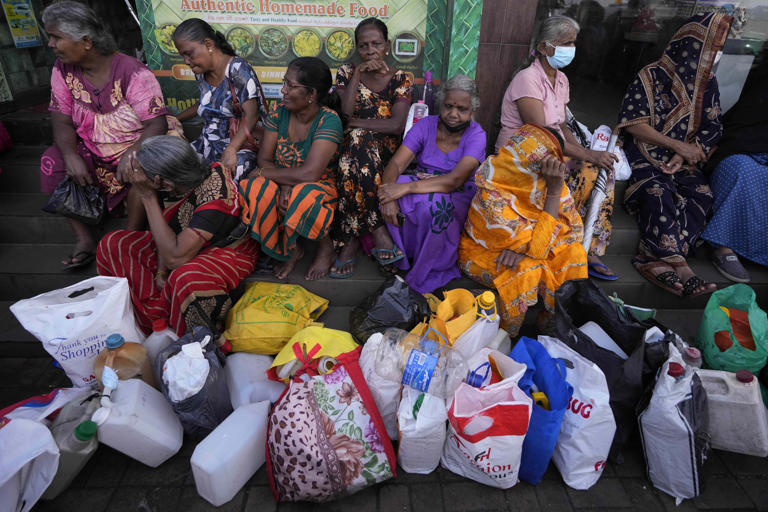 By Krishan Francis in Colombo
COLOMBO, Sri Lanka (AP) — Sri Lanka's president said Saturday that an agreement with the International Monetary Fund to help pull the bankrupt nation out of its economic crisis has been pushed back to September because of unrest over the past weeks.
President Ranil Wickremesinghe, in his first speech since he was elected by Parliament on July 20, said even though he as the prime minister had aimed to reach an agreement by early August, it has now been pushed back by a month.
Wickremesinghe was elected to complete the five-year term of his predecessor Gotabaya Rajapaksa, who fled to Singapore after protesters angry over economic hardships stormed his official residence and occupied several key government buildings.
Wickremesinghe said talked with the IMF on a rescue package had not moved since those incidents.
Sri Lanka announced in April that it is suspending repaying its foreign loans because of a serious shortage of foreign currency. The island nation owes $51 billion in foreign debt, of which $28 billion must be paid by 2027.
The currency crisis led to a shortage of many critical imported items like fuel, medicine and cooking gas.
Wickremesinghe on Friday wrote to 225 lawmakers in Parliament to join him in a multi-party government to face the crisis. He reiterated the call Saturday saying that blaming former leaders will not solve the problem but everyone should get together to stop the country from falling further.
Wickremesinghe, a six-time prime minister and veteran politician, is unpopular because he is supported by majority lawmakers who are backed by the powerful Rajapaksa family, which has ruled Sri Lanka for most of the past two decades. Many accuse Wickremesinghe of protecting the Rajapaksas, who are widely blamed for corruption and misrule that led to the crisis.
Wickremesinghe has empowered the military to dismantle protest camps that had been set up near the president's office for more than 100 days. Several people including protest leaders have been arrested in the crackdown.
I will fight this 'Just Transition' idea with every tool at Alberta's disposal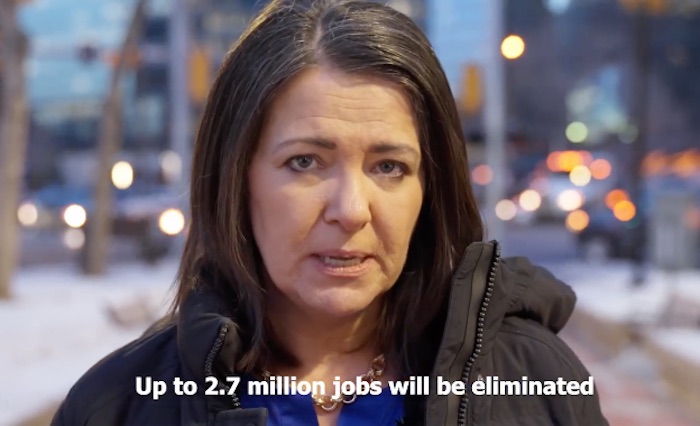 Premier Danielle Smith has released a video explaining to Albertans the tight relationship between the Provincial and Federal NDP parties. This after a briefing note from Ottawa showed Alberta will be severely affected by Prime Minister Trudeau's "Just Transition" legislation.
Overall 2.7 million jobs are expected to disappear in this scenario, including about 187,000 in Alberta's Oil and Gas sector alone. While the federal government claims these workers will be smoothly moved to clean sector energy jobs, Premier Smith says it's a non-starter for our province.
Provincial NDP Leader Rachel Notley has asked the Prime Minister to put the brakes on the plan, but Premier Smith says that's not enough. Smith suggests Notley should declare whether Alberta is her priority, or her own political party.
Thousands of political and business leaders gathering in Davos to promote their vision for our future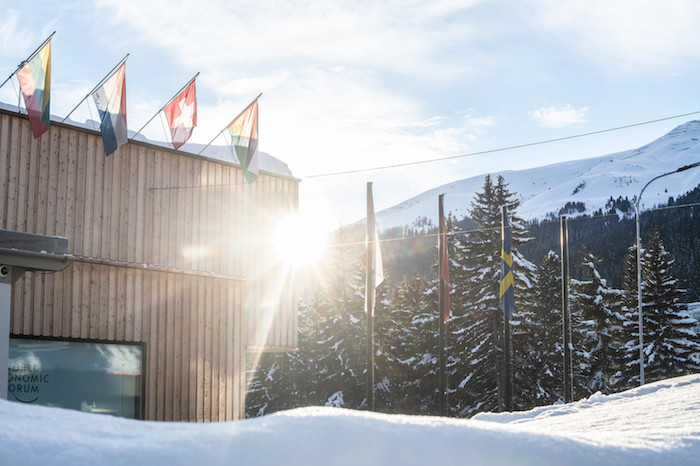 WEF social media video from 2016 that stated eight predictions about the world in 2030, including: "You'll own nothing. And you'll be happy. What you want you'll rent, and it'll be delivered by drone." – Reuters
The Annual Meeting 2023 will take place in Davos, Klosters from 16-20 January.

The theme of the meeting is 'Cooperation in a Fragmented World'.

The meeting will bring together 2,700 leaders from 130 countries including 52 heads of state/government.
Cooperation in a Fragmented World
Under the theme 'Cooperation in a Fragmented World', the Annual Meeting 2023 will bring together more than 2,700 leaders from government, business and civil society, at a pivotal time for the world.
Multiple crises are deepening divisions and fragmenting the geopolitical landscape. Leaders must address people's immediate, critical needs while also laying the groundwork for a more sustainable, resilient world by the end of the decade.
"We see the manifold political, economic and social forces creating increased fragmentation on a global and national level. To address the root causes of this erosion of trust, we need to reinforce cooperation between the government and business sectors, creating the conditions for a strong and durable recovery. At the same time there must be the recognition that economic development needs to be made more resilient, more sustainable and nobody should be left behind," said Klaus Schwab, Founder and Executive Chairman, World Economic Forum.
The programme of the 53rd Annual Meeting focuses on solutions and public-private cooperation to tackle the world's most pressing challenges. It encourages world leaders to work together on the interconnected issues of energy, climate and nature; investment, trade and infrastructure; frontier technologies and industry resilience; jobs, skills, social mobility and health; and geopolitical cooperation in a multipolar world. Special emphasis is on gender and geographical diversity across all sessions.
Top political leaders taking part include:
Olaf Scholz, Federal Chancellor of Germany; Ursula von der Leyen, President of the European Commission; Roberta Metsola, President of the European Parliament; Yoon Suk-yeol, President of the Republic of Korea; Cyril M. Ramaphosa, President of South Africa; Pedro Sánchez, Prime Minister of Spain; Alain Berset, President of the Swiss Confederation 2023 and Federal Councillor of Home Affairs; Ilham Aliyev, President of the Republic of Azerbaijan; Alexander De Croo, Prime Minister of Belgium; Gustavo Francisco Petro Urrego, President of Colombia; Félix Tshisekedi, President of the Democratic Republic of the Congo; Sanna Marin, Prime Minister of Finland; Kyriakos Mitsotakis, Prime Minister of Greece; Leo Varadkar, Taoiseach of Ireland; Maia Sandu, President of the Republic of Moldova; Aziz Akhannouch, Head of Government of Morocco; Mark Rutte, Prime Minister of the Netherlands; Ferdinand Marcos, President of the Philippines; Andrzej Duda, President of Poland; Aleksandar Vučić, President of Serbia; Samia SuluhuHassan, President of United Republic of Tanzania; Najla Bouden, Prime Minister of Tunisia.
John F. Kerry, Special Presidential Envoy for Climate of the United States of America; Avril Haines, US Director of National Intelligence; Martin J. Walsh, Secretary of Labor of the United States; Katherine Tai, United States Trade Representative; Chrystia Freeland, Deputy Prime Minister and Minister of Finance of Canada; Christine Lagarde, President, European Central Bank.
Heads of international organizations taking part include:
Antonio Guterres, UN Secretary-General; Kristalina Georgieva, Managing Director, International Monetary Fund; Ngozi Okonjo-Iweala, Director General, World Trade Organization; Jens Stoltenberg, Secretary General, North Atlantic Treaty Organization; Tedros Adhanom Ghebreyesus, Director General, World Health Organization; Fatih Birol, Executive Director, International Energy Agency; Catherine Russell, Executive Director, UNICEF; Mirjana Spoljaric Egger, President, International Committee of the Red Cross.
This year will bring about the highest ever business participation at Davos, with over 1,500 leaders registered across 700 organizations, including over 600 of the world's top CEOs form the World Economic Forum's Members and Partners, with top-level representation from sectors such as financial services, energy, materials and infrastructure, information and communication technologies. They come as governments increasingly look to business to take big ideas and put them into action quickly and inclusively. There will also be a strong representation of Global Innovators who are transforming industries, with more than 90 mission-driven leaders from the Forum's Technology Pioneers and recently launched Unicorn communities.
Leaders from civil society taking part in the meeting include:
Seth F. Berkley, Chief Executive Officer, Gavi, the Vaccine Alliance; Stephen Cotton, General-Secretary, International Transport Workers' Federation; Christy Hoffman, General-Secretary, UNI Global Union; Hindou Oumarou Ibrahim, President, Association for Indigenous Women and Peoples of Chad; Azza Karam, Secretary-General, Religions for Peace; Oleksandra Matviichuk, Nobel Peace Prize Winner 2022 and President, Centre for Civil Liberties; David Miliband, President, International Rescue Committee; Luisa Neubauer, Climate Activist, Fridays for Future Movement; Kirsten Schuijt, Director-General, WWF International; and Gurudev Sri Sri Ravi Shankar, Founder, Art of Living Foundation.
Among the new initiatives at the Annual Meeting is the Global Collaboration Village, a purpose-driven metaverse that fosters more sustainable public-private collaboration and spurs action to deliver impact at scale. The first-ever metaverse multilateral meeting hosted by the Forum will bring together experts and leaders from finance, food and retail to drive action on ocean health and seafood waste.
This year more than 160 of the Forum's civic-minded young leaders will join as members of our Global Shapers, Young Global Leaders and Social Entrepreneurs communities. We will also welcome nine Indigenous leaders bringing the knowledge and expertise of their communities to advance regional and global efforts in ecosystem restoration, inclusive trade and sustainable development.
More than 125 experts and heads of the world's leading universities, research institutions, and think tanks will join the Meeting, bringing the latest facts, insights, science, and data into the programme and the Forum's work.
The Arts and Culture programme features a number of sessions and immersive art installations on the preservation of coral reefs, displaced peoples and the global refugee crisis, gender equality and female empowerment, and global sea-level rise. It will include the 27th Annual Crystal Awards and our Cultural Leaders.
This year is the 20th anniversary of the Open Forum, which welcomes diverse people from around the world to listen and share experiences with experts and leaders on pressing issues. The theme is, Our Environment: Lessons, Challenges and Opportunities. For more information, click here.
The 53rd Annual Meeting will also be climate-neutral for the sixth consecutive year. New initiatives to boost resource efficiency and reduce emissions will build on the Forum's 2018 ISO 20121 certification for sustainable event management. Learn more about our strategy and efforts here.
---
Example of a typical session sees varied personas such as the President of Columbia and former US VP Al Gore speaking with three environmentalists, three business leaders, the President of the National Congress of American Indians, and internationally renowned cellist Yo-Yo Ma talking about "Leading the Charge through Earth's New Normal". Here is that agenda item:
—
Leading the Charge through Earth's New Normal
The world is undergoing interacting crises in food, energy, health and nature that are threatening our way of life and accelerating us towards a global catastrophe.
What visionary leadership is needed for systems thinking, transformative solutions and global collaboration to build a more inclusive, prosperous and sustainable future?
Public Speakers
Joyeeta Gupta
Professor of Environment and Development in the Global South, University of Amsterdam
Johan Rockström
Director, Potsdam Institute for Climate Impact Research (PIK)
Roshni Nadar Malhotra
Chairperson, HCL Technologies Ltd
Al Gore
Vice-President of the United States (1993-2001); Chairman and Co-Founder, Generation Investment Management LLP
Gustavo Francisco Petro Urrego
President of Colombia, Colombia Government
Marc Benioff
Chair and Co-Chief Executive Officer, Salesforce
Andrew Forrest
Chairman and Founder, Fortescue Metals Group Limited
Fawn Sharp
President, National Congress of American Indians
Gim Huay Neo
Managing Director, Centre for Nature and Climate, World Economic Forum Geneva