Special meeting of House foreign affairs committee will discuss Russia turbine export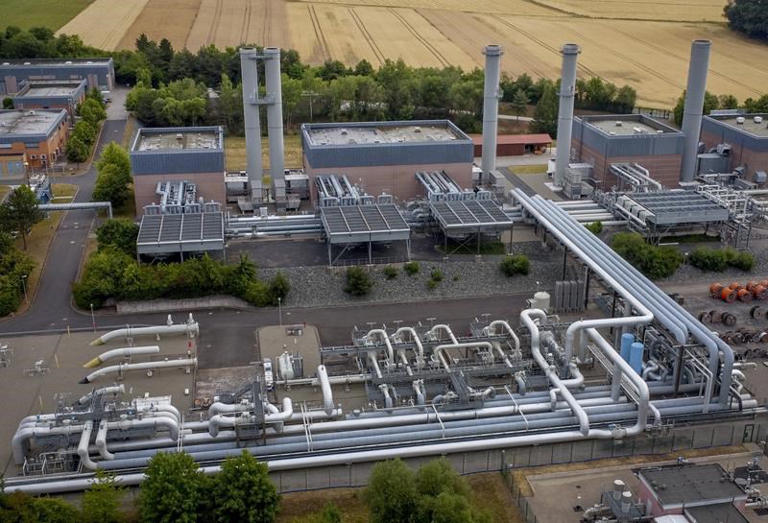 OTTAWA — A House of Commons committee will hold a special meeting this morning to discuss Canada's controversial decision to send repaired parts for a Russian natural gas pipeline back to Germany.
The Liberal government is facing mounting pressure over its move to exempt six Siemens Energy turbines, which were serviced in Montreal, from the economic sanctions it levied against Russia over its invasion of Ukraine.
Russian state-owned energy company Gazprom reduced gas deliveries from its Nord Stream 1 pipeline, which runs to northeastern Germany, by 60 per cent last month, citing turbine-related technical problems.
Prime Minister Justin Trudeau said the decision to deliver the turbines was made so Canada could support European allies that are facing energy crises as Russia constricts access to its oil and gas supply.
Conservative and NDP MPs triggered the meeting of the House of Commons foreign affairs and international development committee to raise their request for a study on the exports.
The Ukrainian Canadian Congress called for such a meeting earlier this week, and the Ukraine World Congress is petitioning the Federal Court to uphold the sanctions regime and stop the shipment.
This report by The Canadian Press was first published July 15, 2022.
The Canadian Press
Ukraine criticizes Canada over return of turbines for Russia-Germany pipeline
The Ukrainian government is calling on Canada to reconsider its decision to allow the delivery of turbines from a Russia-Europe natural gas pipeline to Germany, saying it sets a "dangerous precedent" when it comes to sanctions against the Russian regime.
Natural Services Canada Minister Jonathan Wilkinson announced on social media Saturday that turbines from the Nord Stream 1 pipeline—which supplies natural gas from Russia to Germany — that had been sent to Montreal for scheduled repairs would be allowed to be returned.
Back in June, Siemens Energy said Canadian sanctions imposed on Russia over its invasion of Ukraine meant the company couldn't return the turbines.
In his recent announcement, Wilkinson said turbine maker Siemens Canada would be granted a "time-limited and revocable permit" to return the equipment — essentially giving it an exemption.
He said delivery was necessary to support "Europe's ability to access reliable and affordable energy" as it tries to transition away from reliance on Russian oil and gas. The government says it plans to return six turbines.
In a statement Sunday, Ukraine's Foreign Affairs Ministry and Energy Ministry expressed their "deep disappointment" in Canada's decision.
"This dangerous precedent violates international solidarity, goes against the principle of the rule of law and will have only one consequence: it will strengthen Moscow's sense of impunity," it read.
In the lead up to Canada's decision, German vice chancellor Robert Habeck had voiced concerns Russia may shut off deliveries of natural gas to Europe after the planned maintenance. The warning followed Russia's previous reduction of natural gas flow to Germany, along with Italy, Austria, the Czech Republic and Slovakia.
While Gazprom, Russia's state-owned energy giant, has blamed the pipeline's reduction of natural gas to Germany on the repairs in Canada, German leaders have cast doubt on the explanation of technical problems and characterized it instead as a political move.
The Ukrainian government voiced similar concerns in its statement, saying Russia's threats amounted to "blackmail that has no technical justification."
"Russia is able to continue to supply gas to Germany in full without this turbine," it said.
Germany, which is Europe's largest economy, warned last month it was in a crisis over Russia's decision to cut the amount of gas flowing through the Nord Stream 1 pipeline by 60 per cent.
Alexandra Chyczij, president of the Ukrainian Canadian Congress, expressed disappointment in Canada's decision, saying Ottawa is bowing to Russian threats to cut off the gas supply by fulfilling Germany's request.
"Canada will not only contravene its policy of isolating Russia, it will set a dangerous precedent that will lead to the weakening of the sanctions regime imposed on Russia," Chyczij said in a statement.
"This decision will ensure that the coffers of the Russian state budget will continue to be filled with European money which will be used to finance Russia's genocide against the Ukrainian people. "
Chyczij said Canada was put in the position of deciding whether to fulfill the request of an ally or "hold firm on the sanctions imposed on Gazprom and Nordstream 1."
Three Conservative MPs also issued a statement on Sunday saying that allowing the equipment's return undermines the sanctions Canada has imposed on Russia at a time when it should be stepping up as an alternative provider of gas to Europe instead.
"Allowing the return of the gas turbine sets a dangerous precedent of folding to Putin's blackmail of Europe, and will negatively impact Canada's standing on the world stage," reads a joint statement by Tories Michael Chong, James Bezan and Pierre Paul-Hus.
In light of the criticism over Canada's decision, Wilkinson's office pointed to the minister's earlier statement. It said not only was Germany's economy vulnerable, but "Germans themselves will be at risk of being unable to heat their homes as winter approaches."
The statement also noted Canada has levied sanctions against more than 1,600 individuals since Russia annexed the Ukrainian peninsula of Crimea in 2014.
The same day Wilkinson announced the turbines would be returned, Foreign Affairs Minister Mélanie Joly announced Canada planned to apply a new set of sanctions targeting Russia's land and pipeline transportation and manufacturing sectors.
This report by The Canadian Press was first published July 10, 2022.
— With files from The Associated Press
Ukrainian president Zelenskky calls on Canada to help with long-term peace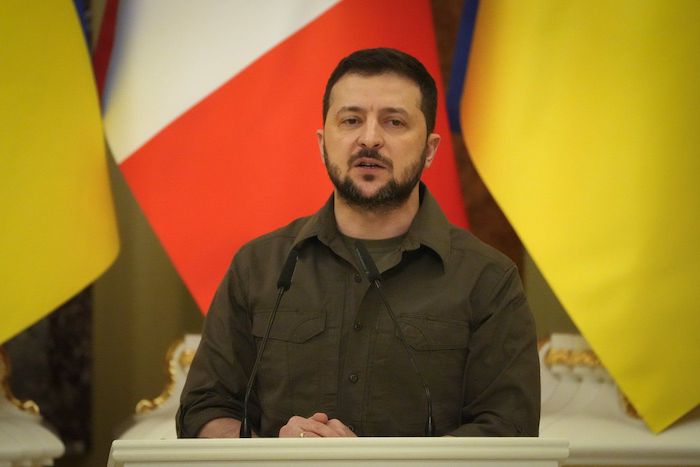 By Lee Berthiaume in Ottawa
Ukrainian President Volodymyr Zelenskyy has called on Canada to help spearhead a long-term peace plan with Russia, as the nearly 10-month war in Ukraine enters a critical phase with the approach of winter.
The Ukrainian leader threw down the gauntlet in a pre-recorded video address to the Halifax International Security Forum, where senior government and military officials from Canada and around the world are gathering this weekend.
Zelenskyy, whose country was invaded by Russia in February, told participants that real and enduring peace between Kyiv and Moscow will require agreement on 10 different areas.
Those include the withdrawal of Russian forces, the release of prisoners, the securing of Ukraine's nuclear, food and energy security, the restoration of his country's territorial integrity and a tribunal to hold those responsible to account.
The Ukrainian president went on to encourage countries to "choose which item you can help with," adding: "I believe that Canada, which strongly supports us, will also choose one of the peace formula items for itself and will show all strands of leadership."
Among those participating in the forum was Defence Minister Anita Anand, who in her own address told those in attendance that Ukraine's military is winning the war and Russian President Vladimir Putin had only united NATO and renewed its purpose.
"The spirit and determination of the Ukrainian people and President Zelenskyy continue to inspire us all. Ukraine's armed forces are driven, disciplined and better-trained — and they are winning," Anand said.
Russia is facing mounting setbacks after nearly nine months of fighting, and recently pulled troops out of the key city of Kherson in southern Ukraine. But Russia's attacks on Ukraine's energy and power facilities have fueled fears of what winter will bring.
Ukraine's electricity grid chief warned of hours-long power outages Friday as Russia zeroed in on its energy infrastructure with heavy artillery and missile attacks that have interrupted supplies to as much as 40 per cent of the country's people.
Freezing temperatures are putting additional pressure on energy networks, grid operator Ukrenergo said.
"You always need to prepare for the worst. We understand that the enemy wants to destroy our power system in general, to cause long outages," Ukrenergo's chief executive Volodymyr Kudrytskyi told Ukrainian state television.
"We need to prepare for possible long outages, but at the moment we are introducing schedules that are planned and will do everything to ensure that the outages are not very long."
Kyiv is already facing a "huge deficit in electricity," said the city's mayor, Vitali Klitschko. Some 1.5 to two million people — about half of the city's population — are periodically plunged into darkness as authorities switch electricity from one district to another.
"It's a critical situation," he said.
Meanwhile, Ukrainian and international investigators were forging ahead on uncovering suspected war crimes committed by Russian forces during the Kharkiv region's near seven-month occupation.
Ukraine's National Police said Friday that its officers had initiated over 3,000 criminal proceedings against Russian troops.
Reports of torture and other atrocities committed by Russian troops have also emerged from the southern Kherson region, where Ukrainian officials said they have opened more than 430 war crimes cases and are investigating four alleged torture sites.
This report by The Canadian Press was first published Nov. 18, 2022.
— With files from The Associated Press.
Poland, NATO say missile strike wasn't a Russian attack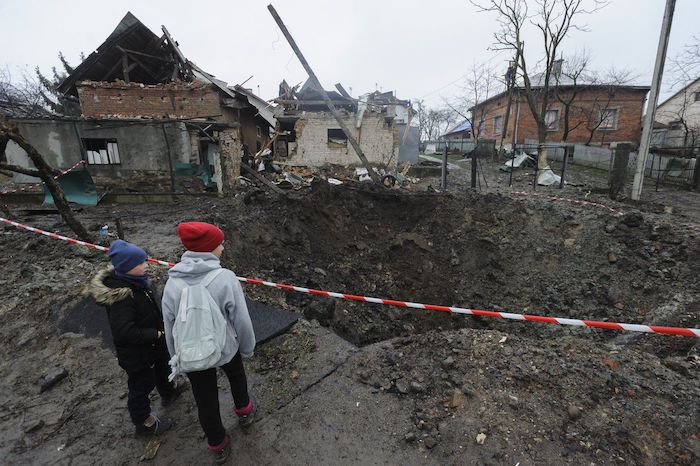 By Vasilisa Stepanenko in Przewodow
PRZEWODOW, Poland (AP) — NATO member Poland and the head of the military alliance both said Wednesday that a missile strike in Polish farmland that killed two people did not appear to be intentional and was probably launched by air defenses in neighboring Ukraine. Russia had been bombarding Ukraine at the time in an attack that savaged its power grid.
"Ukraine's defense was launching their missiles in various directions and it is highly probable that one of these missiles unfortunately fell on Polish territory," said Polish President Andrzej Duda. "There is nothing, absolutely nothing, to suggest that it was an intentional attack on Poland."
NATO Secretary-General Jens Stoltenberg, at a meeting of the 30-nation military alliance in Brussels, echoed the preliminary Polish findings.
The initial assessments of Tuesday's deadly landing of the Soviet-era missile appeared to dial back the likelihood of the strike triggering another major escalation in the nearly 9-month-old Russian invasion of Ukraine. If Russia had deliberately targeted Poland, that could have risked drawing NATO into the conflict.
Still, Stoltenberg and others laid overall but not specific blame on Russian President Vladimir Putin's war.
"This is not Ukraine's fault. Russia bears ultimate responsibility," Stoltenberg said.
Ukrainian President Volodymyr Zelenskyy disputed the preliminary findings and demanded evidence. He told reporters he had "no doubts" about a report he said he had personally received from his top commanders "that it wasn't our missile or our missile strike."
Ukrainian officials should have access to the site and take part in the investigation, he added.
"Let's say openly, if, God forbid, some remnant (of Ukraine's air-defenses killed a person, these people, then we need to apologize. We are honest people after all. But first there needs to be a probe, access — we want to get the data you have," Zelenskyy said.
On Tuesday, Zelenskyy had called the strike "a very significant escalation."
Before the Polish and NATO assessments, U.S. President Joe Biden had said it was "unlikely" that Russia fired the missile but added: "I'm going to make sure we find out exactly what happened."
A Russian Defense Ministry spokesman in Moscow said no Russian strike Tuesday was closer than 35 kilometers (22 miles) from the Ukraine-Poland border. The Kremlin denounced Poland's and other countries' initial response and, in rare praise for a U.S. leader, hailed Biden's "restrained, much more professional reaction."
"We have witnessed another hysterical, frenzied, Russo-phobic reaction that was not based on any real data," Kremlin spokesman Dmitry Peskov said.
Later Wednesday, Russia's Foreign Ministry summoned the Polish ambassador in Moscow; the discussion reportedly lasted about 20 minutes.
Three U.S. officials said preliminary assessments suggested the missile was fired by Ukrainian forces at an incoming Russian one. The officials spoke on condition of anonymity because they weren't authorized to discuss the matter publicly. That assessment and Biden's comments at the Group of 20 summit in Indonesia contradicted information earlier Tuesday from a senior U.S. intelligence official who told The Associated Press that Russian missiles crossed into Poland.
The Polish president said the missile was probably a Russian-made S-300 dating from the Soviet era. Ukraine, once part of the Soviet Union, fields Soviet- and Russian-made weaponry, including air-defense missiles, and has also seized many more Russian weapons while beating back the Kremlin's invasion forces.
Russia's assault on power generation and transmission facilities Tuesday included Ukraine's western region bordering Poland. Ukraine's military said 77 of the more than 90 missiles fired were brought down by air defenses, along with 11 drones.
The countrywide bombardment by barrages of cruise missiles and exploding drones clouded the initial picture of what happened in Poland.
"It was a huge blast, the sound was terrifying." said Ewa Byra, the primary school director in the eastern village of Przewodow, where the missile struck. She said she knew both men who were killed — one was the husband of a school employee, the other the father of a former pupil.
Another resident, 24-year-old Kinga Kancir, said the men worked at a grain-drying facility.
"It is very hard to accept," she said. "Nothing was going on and, all of a sudden, there is a world sensation."
In Europe, NATO members Germany and the U.K. laced calls for a thorough investigation with criticism of Moscow.
"This wouldn't have happened without the Russian war against Ukraine, without the missiles that are now being fired at Ukrainian infrastructure intensively and on a large scale," said German Chancellor Olaf Scholz.
Swaths of Ukraine were without power after the aerial assault. Zelenskyy said about 10 million people lost electricity, but tweeted overnight that 8 million were subsequently reconnected, with repair crews laboring through the night. Previous strikes had already destroyed an estimated 40% of the country's energy infrastructure.
Ukraine said the bombardment was the largest on its power grid so far. Pope Francis said it caused him "great pain and concern."
A Washington-based think tank, the Institute for the Study of War, said Ukraine's downing of so many Russian missiles Tuesday "illustrates the improvement in Ukrainian air defenses in the last month," which are being bolstered with Western-supplied systems. Sweden said Wednesday that an air defense system with ammunition would form part of its latest and largest package of military and humanitarian aid to Ukraine, worth $360 million.
The U.S. has been Ukraine's largest supporter, providing $18.6 billion in weapons and equipment. U.S. Defense Secretary Lloyd Austin said flows of U.S. weapons and assistance would continue "throughout the winter so that Ukraine can continue to consolidate gains and seize the initiative on the battlefield."
Russian attacks in the previous 24 hours had killed at least six civilians and wounded another 17, a senior official, Kyrylo Tymoshenko, said early Wednesday.
The Russian bombardment followed days of euphoria in Ukraine sparked by one of its biggest military successes — the retaking last week of the southern city of Kherson.
It also affected neighboring Moldova, which reported massive power outages after the strikes in Ukraine disconnected a power line to the small nation.
With its battlefield losses mounting, Russia has increasingly resorted to targeting Ukraine's power grid, seemingly hoping to turn the approach of winter into a weapon by leaving people in the cold and dark.
The governor of the western Lviv province, Maksym Kozytskyy, said two of three Russian missile strikes there hit critical energy infrastructure. He said power had been restored to about 95% of the province, but only 30% of consumers can use electricity at the same time.
Power shortages caused extensive train delays that extended into Wednesday, the longest by seven hours, but there were no cancelations, because diesel locomotives were pressed into service, the national rail network said.
Kyiv resident Margina Daria said Tuesday's strikes knocked out cellphone services in her area, where she rode out the attack in a corridor.
"We have already adapted to life without light, because we have scheduled outages every day, but without communication it was quite disturbing," she said. "There was no way to even tell our families that we were OK."
___
AP journalists Vanessa Gera and Monika Scislowska in Warsaw; Lorne Cook in Brussels; John Leicester in Kyiv, Ukraine; Yuras Karmanau in Tallinn, Estonia; Zeke Miller in Nusa Dua, Indonesia; Michael Balsamo and Lolita Baldor in Washington; Elise Morton in London and James LaPorta in Wilmington, North Carolina, contributed.
___
Follow AP's coverage of the war in Ukraine: https://apnews.com/hub/russia-ukraine