Separate fires destroy two Catholic churches in southern British Columbia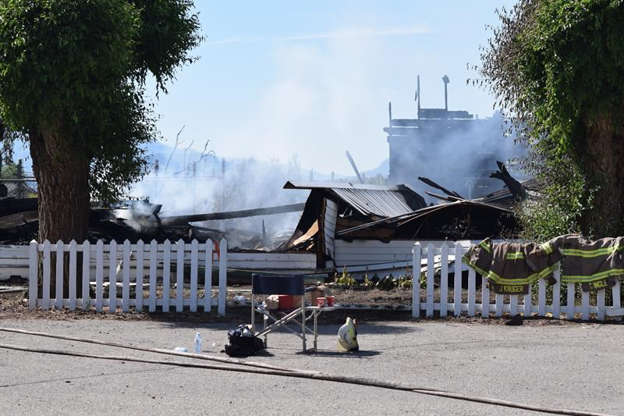 OLIVER, B.C. — A First Nations chief in southern British Columbia says there are mixed feelings in his community after a Catholic church burned to the ground in an overnight fire, one of two Catholic churches in the area that were destroyed in blazes that police consider suspicious.
Chief Greg Gabriel of the Penticton Indian Band said the Sacred Heart Church was a community fixture that hosted weddings and funerals but many people also feel pain due to the Roman Catholic Church's role operating abusive residential schools.
"There's a lot of anger, a lot of hurt in every First Nations, Indigenous community throughout Canada," he said, adding that he was not speculating on the cause of the fire.
Sacred Heart is one of two churches in the area that were destroyed by fires early Monday morning.
Less than two hours after a patrol officer found it engulfed in flames, RCMP said a second fire was reported at St. Gregory's Church on the Osoyoos Indian Band reserve lands near Oliver, B.C.
RCMP said in a statement they are investigating both fires as suspicious.
"Should our investigations deem these fires as arson, the RCMP will be looking at all possible motives and allow the facts and evidence to direct our investigative action," Sgt. Jason Bayda said in the statement.
"We are sensitive to the recent events, but won't speculate on a motive."
The fires come less than one month after the Tk'emlups te Secwepemc Nation in B.C. announced the discovery of what are believed to be the remains of 215 children at the site of the former Kamloops Indian Residential School. It operated between 1890 and 1969, when the federal government took over operations from the Catholic Church and operated it as a day school until it closed in 1978.
Gabriel said the news of the unmarked graves rippled through the community and he wants to see those responsible held criminally accountable.
Police said they are liaising with both the Penticton and Osoyoos Indian Bands as part of the investigation into the church fires.
Gabriel said he was awoken by a staff member calling at 2 a.m. to report the church was on fire.
"I quickly rushed down to the church site and by the time I got there it was already gone. It was a very old church and didn't take very much time for it to completely burn down," he said.
The church was built around 1912, he said. It was adjacent to a day school for Indigenous children that also burned down years ago after it was shut down, although Gabriel did not believe that fire was suspicious.
"I attended that school myself, the Indian day school. Even though it wasn't as traumatic as the residential school, we still suffered the abuse to some extent from the priests and the nuns," he said.
Children at the day school also attended religious services at the church, he said.
"Having said all that, there was a lot of community members today, especially the elderly ones (who were) saddened by the loss of this church because there were so many memories that were generated over the years — their children's baptism, their grandchildren's baptism," Gabriel said.
"There's mixed feelings throughout the community on the loss of this church."
Rev. Obi Ibekwa said he's the pastor for three parishes in the area including Sacred Heart Mission. He also arrived at the church grounds Monday morning to see what happened to the church, which he said had an average of seven attendees for weekly services.
"I would like to have an open mind and allow the investigation to play out."
— By Amy Smart in Vancouver.
This report by The Canadian Press was first published June 21, 2021.
The Canadian Press
David Johnston plans to keep role, as House of Commons votes for him to step aside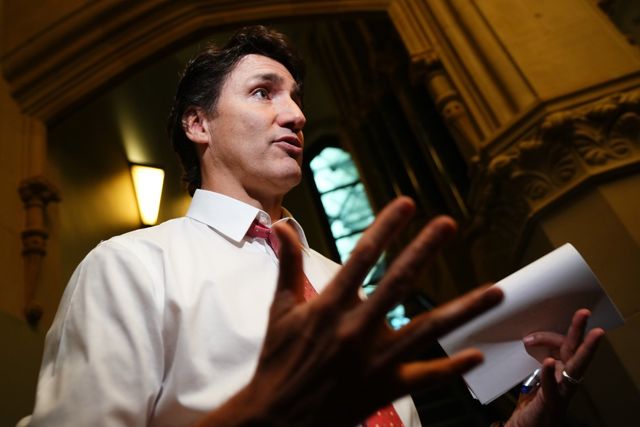 After members of Parliament voted in favour of his ouster Wednesday, David Johnston said his mandate to probe allegations of foreign interference comes from the government — not from the House of Commons.
The former governor general released a statement following the vote on a motion brought forward by the NDP, which the Conservatives and Bloc Quebecois supported while the Liberals stood opposed. It passed 174 to 150.
It called on Johnston — tasked by Prime Minister Justin Trudeau back in March with looking into allegations that China tried to meddle in the past two federal elections — to "step aside from his role."
It asked the government to instead launch a public inquiry into the issue of foreign interference. Johnston, the former governor general, recommended against such an inquiry in his initial report last week.
"When I accepted the mandate to act as independent special rapporteur, I did so with full knowledge of the fact that the work ahead would be neither straightforward nor uncontroversial," Johnston said in his statement.
"I deeply respect the right of the House of Commons to express its opinion about my work going forward, but my mandate comes the government. I have a duty to pursue that work until my mandate is completed."
Earlier in the day, Trudeau said he maintained confidence in Johnston, despite the stance of opposition MPs.
Opposition parties initially decried his appointment because of Johnston's family connections to the prime minister's family and the Pierre Elliott Trudeau Foundation.
Trudeau brushed off those concerns, telling reporters that he views the matter as political parties wanting to score "partisan points."
"The fact of the matter is David Johnston has served this country in extraordinary capacities for decades," Trudeau said Wednesday on his way into a meeting with his Liberal caucus.
"He's taken this incredibly seriously."
Government House leader Mark Holland has said he has been trying to negotiate with opposition parties to find additional avenues to address concerns about foreign interference that go beyond what has already been offered.
Holland has repeatedly said the hyper-political rhetoric around the discussions in public has been counterproductive, but he would not elaborate on what else the government is offering.
Johnston said in his report that due to the sensitive nature of national security and the intelligence he studied, there would be no way to divulge the information Canadians are seeking publicly. He said that would defeat the purpose of a public inquiry.
He said what he plans to do instead is hold a series of public hearings to further probe the issue.
Those hearings would focus on hearing from officials of both past and present governments, as well as members of diaspora communities affected by foreign interference attempts.
"Foreign governments are undoubtedly attempting to influence candidates and voters in Canada, and I have identified serious shortcomings in the way intelligence is communicated and processed from security agencies through to government," Johnston said in his statement Wednesday
"As I have indicated, there is much work yet to be done and a further public process is required to identify specific reforms that are necessary to preserve the integrity of our democratic institutions."
NDP Leader Jagmeet Singh had attempted to walk a fine line in promoting his party's motion. He has said that while he has no qualms with Johnston, he understands that others do and that creates an appearance of bias that taints his work.
Conservative Leader Pierre Poilievre has been egging Singh on to trigger an election over the issue.
The NDP signed on to a confidence-and-supply deal with the Liberals, in which it agreed to support the minority government in key parliamentary votes in exchange for movement on shared priorities, such as dental care.
Singh has said he will not kibosh that deal over the issue, arguing that it wouldn't make sense to set the wheels in motion for an election when Canadians have concerns about alleged foreign interference in the last two federal contests.
The motion was brought forward by NDP Jenny Kwan. She recently told reporters that the Canadian Security Intelligence Service informed her she has been a target of China since before the 2019 federal vote, because of her advocacy around human rights in China.
Trudeau has dismissed allegations of Johnston is in a conflict of interest as politically motivated attacks without any basis in fact.
Speaking to reporters last week, Johnston also defended his work, saying this has been the first time his impartiality has been questioned, which he finds "troubling."
He has said his "friendship" with the prime minister is rooted only in the five or so times their families went skiing together decades ago.
Trudeau was also a student at McGill University at the time when Johnston was serving as principal and vice-chancellor.
This report by The Canadian Press was first published May 31, 2023.
Court of Appeal overturns ruling directing Ottawa to help repatriate men in Syria
OTTAWA — The Federal Court of Appeal has overturned a judge's declaration that four Canadian men being held in Syrian camps are entitled to Ottawa's help to return home.
In a ruling released today, a three-member panel of the Court of Appeal says the federal government is not obligated under the law to repatriate the men.
The ruling sets aside a January decision by Federal Court Justice Henry Brown, who directed Ottawa to request repatriation of the men as soon as reasonably possible and provide them with passports or emergency travel documents.
Brown said the men were also entitled to have a representative of the federal government travel to Syria to help facilitate their release once their captors agree to hand them over.
The Canadians are among the many foreign nationals in Syrian camps and jails run by Kurdish forces that reclaimed the strife-torn region from the extremist group Islamic State of Iraq and the Levant.
The men include Jack Letts, whose parents John Letts and Sally Lane have waged a campaign to pressure Ottawa to come to his aid.
This report by The Canadian Press was first published May 31, 2023.
The Canadian Press