'Senseless death:' Closing arguments in trial of men accused of killing Calgary chef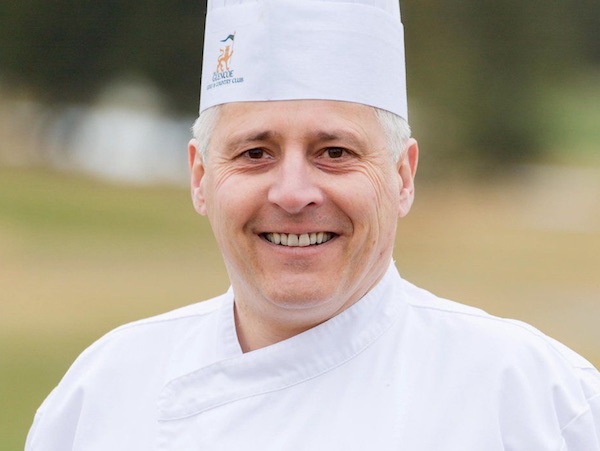 By Bill Graveland in Calgary
A lawyer for one of two men accused in the fatal stabbing of a popular Calgary chef says her client is guilty of manslaughter, but not second-degree murder.
Anthony Dodgson and Tommie Holloway have both pleaded not guilty to second-degree murder in the death of Christophe Herblin on March 14, 2020.
Herblin was a longtime executive sous chef at the Glencoe Golf and Country Club and his new restaurant was weeks away from opening.
A jury has heard that Herblin responded to an early-morning break-in at the restaurant and, after police had left, was stabbed in the parking lot and later died.
Dodgson is accused of stabbing Herblin nine times but said he only remembers being involved in a scuffle.
Holloway testified there was no plan to attack Herblin and, although he had smashed the chef's car windows, he had left before the attack.
"This is a senseless death. It's unfortunate, unnecessary, troubling. But remember what Justice (Blair) Nixon told you on your first day. He told you to judge this case fairly," Dodgson's lawyer, Tonii Roulston, said Wednesday in her final arguments.
She said because Dodgson was impaired from drugs and alcohol, he was unable to understand the consequences of his actions.
"Did Anthony Dodgson commit an unlawful act? Yes he did. Did that unlawful act cause the death of Christophe Herblin? Yes it did. Did Anthony Dodgson have the intent required for murder? No, he did not," Roulston told the jury.
"I'm asking you to find him guilty of manslaughter. He was intoxicated by drugs and alcohol to the extent that he could not see the consequences of his actions and that makes this manslaughter."
A key Crown witness, who was in the car with the two men, testified that she had seen both of them with knives and they had discussed attacking Herblin in order to get back into his store.
Roulston said the woman, who cannot be identified, was also intoxicated and her testimony is unreliable.
Kim Ross, who is representing Holloway, told the jurors that the woman was lying to deflect blame from herself. He said Holloway was truthful in his testimony and had nothing to do with Herblin's death.
"Mr. Holloway did not kill anyone. Mr. Holloway did not participate in any altercation with Mr. Herblin," Ross said in his closing.
"In no way, shape or form did Mr. Holloway commit the offence of second-degree murder or any included offence. Mr. Holloway's not guilty of anything. He's not guilty of murder. He's not guilty of manslaughter.
The trial, which was originally scheduled to last three weeks, is now entering its sixth week.
This report by The Canadian Press was first published April 6, 2022.
Alberta Premier Danielle Smith says conservatives must learn to win in 'big cities'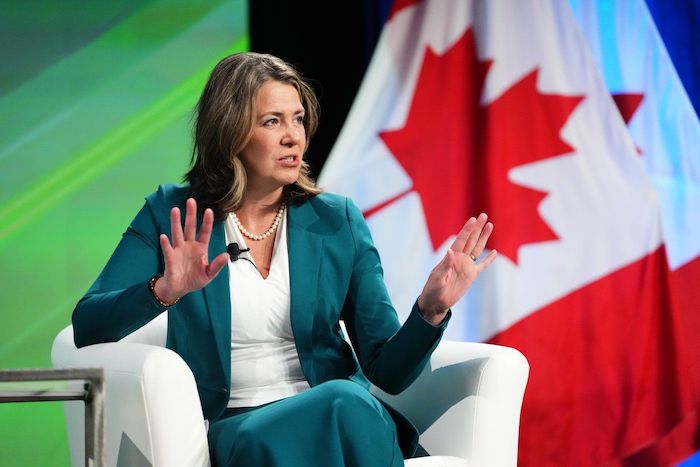 Alberta Premier Danielle Smith speaks at the Canada Strong and Free Network in Ottawa on Thursday, March 23, 2023. THE CANADIAN PRESS/Sean Kilpatrick
Ottawa (CP) – Alberta Premier Danielle Smith says conservatives must learn how to win in "big cities."
Smith made the comment to a room of conservatives gathered in Ottawa for the annual conference of the Canada Strong and Free Network, formerly called the Manning Centre.
With Albertans set to go the polls in a provincial election this year, Smith says the United Conservative Party has more ground to gain in the province's two largest cities: Calgary and Edmonton.
Smith replaced Jason Kenney as party leader and premier last fall, after he resigned following a leadership review where he received only 51 per cent support.
Kenney faced considerable backlash leading up to that vote for his handling of the COVID-19 pandemic, and Smith told today's crowd that the party had lost "a lot" of its base.
Smith's belief that conservatives must make inroads in large cities is shared by the federal Conservatives, with Leader Pierre Poilievre spending many of his weekends in Metro Vancouver and the Greater Toronto Area — areas where his party has struggled to gain ground in the past several elections.
This report by The Canadian Press was first published March 23, 2023.
Alberta Sheriffs receiving additional officers and more powers with new funding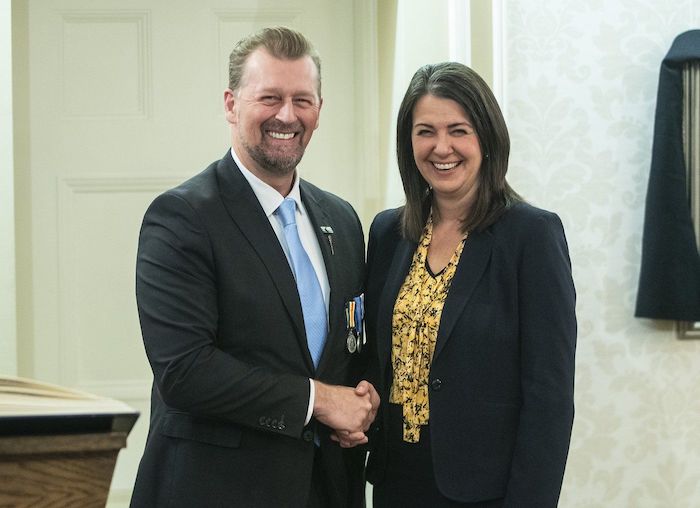 Mike Ellis shakes hands with Alberta Premier Danielle Smith after being sworn into cabinet as minister of public safety in Edmonton, Monday, Oct. 24, 2022. Alberta sheriffs will have expanded powers and play a bigger role in combating rural crime with new funding, the provincial government said Friday. THE CANADIAN PRESS/Jason Franson
St. Paul, Alberta
The Alberta Sheriffs Branch will have expanded powers and play a bigger role in combating rural crime with new funding, the provincial government said Friday.
Public Safety Minister Mike Ellis said $27.3 million will go to new positions and for rural crime initiatives, including two plain clothes teams that will help RCMP with criminal surveillance.
The announcement comes as Alberta continues to mull over whether to create a provincial police service to replace the RCMP.
"There has been some misleading commentary about this investment in the Alberta sheriffs, namely that it's the way of laying the groundwork for establishing a provincial police service by some other means," Ellis said Friday in St. Paul, Alta., 200 kilometres northeast of Edmonton.
"I'd like to remind people that the provincial government hasn't made any decision about an Alberta police service."
Ellis said although the RCMP has its own surveillance teams, most of the efforts are focused on major investigations. He said the new sheriff teams will fill a gap by helping the RCMP detachments with local investigations.
"I've heard countless stories about home invasions being committed by prolific offenders or thefts from farms. Every property owner has the right to feel safe in their home and the right not to wake up and find their equipment gone or fuel siphoned from vehicles," he said.
"These really are the type of cases that keep Albertans up at night."
The sheriffs will also get funding to add 20 investigators to the Safer Communities and Neighbourhood unit, which uses civil enforcement to target problem properties where illegal activities take place.
There is also money for the Sheriff Highway Patrol to train and equip its members to help RCMP with emergencies and high-priority calls.
"We will provide all members of the Alberta sheriffs with full powers to arrest under the Criminal Code," Ellis said.
"Some members of the sheriffs already have Criminal Code authorities, but we believe the public will be better served with consistency throughout this province."
The head of the Alberta RCMP said he welcomes the additional help from the sheriffs.
"These additional resources for the Alberta Sheriffs will improve our combined ability to suppress criminal activity in rural Alberta," said Deputy Commissioner Curtis Zablocki in a statement.
Farooq Sheikh, the chief of Alberta Sheriffs, called it a proud day.
"While our members have a visible presence in many functions they perform such as highway patrol, fish and wildlife enforcement, security in our provincial courts … the sheriffs perform a lot of important work to keep communities safe that's outside of the public eye."
This report by The Canadian Press was first published March 24, 2023.