Scheer backs Brexit despite chaos, says it's giving Britain back control of itself
OTTAWA — Canadian Conservative Leader Andrew Scheer says his support for Britain's departure from the European Union is undiminished, despite the chaos Brexit has sown in British politics.
The United Kingdom was plunged into uncertainty Thursday as Prime Minister Theresa May's new Brexit deal with Europe met a rash of criticism. Two cabinet ministers resigned, the British pound fell sharply, and part of May's own Conservative caucus was trying to take her out. All over a negotiated deal for Britain to leave the European Union that critics say will leave the country bound to rules made by the European Union but without a say in how those rules are made.
Scheer said his support for Britain's move out of the EU rests not on economics or the practicalities of trade but rather on the principle of sovereignty.
"I do believe that the U.K. over the years has given up a tremendous amount of sovereignty," he said in an interview. "The bureaucratic nature of the EU, the different levels of government, the fact that court decisions in the U.K. can be appealed to a higher level of court in Europe, those are all things I don't think Canadians would ever accept for ourselves."
The British voted to leave the European Union by 52 per cent to 48 per cent. But exactly how Britain should leave Europe hasn't been settled and time is running out.
If Britain and the EU can't agree on terms for Britain's departure, the country will be propelled out of the union in March with no rules for how goods or money or people will move across Britain's border. Under a "hard Brexit," Britain and the remaining EU countries will be bound together by just the most basic of global treaties.
Scheer published an op-ed in June 2016, supporting the idea of Brexit just before the British voted. He said he hasn't followed the twists and turns of the Brexit negotiations all that closely but he still firmly believes Britain should leave the European Union because he doesn't think nations should give up important decision-making powers to citizens of other countries.
While some international agreements give their participants shared influence or create dispute-settlement mechanisms, neither is the same as having an entirely new level of government where people in other countries can dictate what happens in your own, Scheer said.
"There is a difference between influence and direct control," he said. "I don't think that if Justin Trudeau came back from the NAFTA negotiations with a new clause — 'Oh, by the way, there's going to be a new legislature that Americans will send members to that will pass laws that will bind Canada' — I don't believe Canada would ever go for that."
Scheer acknowledged Canada has signed comprehensive trade agreements recently with Europe and with Asia, and now a new North American trade agreement is on the table. But regardless whether Conservatives or Liberals were negotiating, Canadians insisted on the supremacy of Parliament and Canadian courts in Canadian affairs, he said.
Despite his skepticism of the European Union, Scheer said he's a free-trader and warned that Canadians can't ignore the rise of anti-free trade rhetoric in many countries, including the United States.
"The takeaway from this last round of trade negotiations and what's going on in the world is we can't assume the case for free trade is made and then leave it alone. We have to be vigilant against protectionism and be constantly making the argument for free trade," he said.
"There will always be those that may not believe in those arguments so we have to be very proactive that Canada is always touting the benefits of free trade, not just to Canadians but to Americans, so it is less likely for protectionist policies to take hold in countries we trade with."
Mia Rabson, The Canadian Press
Stand for the 'common person' Pierre Poilievre tells faithful gathered in Ottawa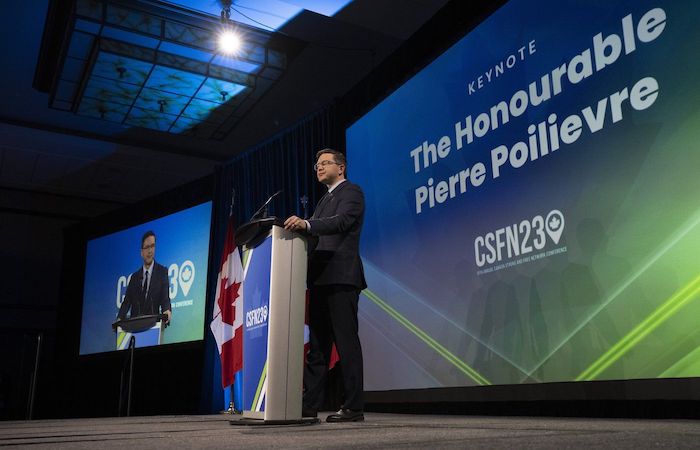 Conservative leader Pierre Poilievre speaks at a conference in Ottawa, Thursday, March 23, 2023. Pierre Poilievre rallied a room conservative faithful gathered in Ottawa Thursday by calling on them to become "champions" of ordinary people. THE CANADIAN PRESS/Adrian Wyld
By Stephanie Taylor in Ottawa
Pierre Poilievre rallied a room of conservative faithful gathered in Ottawa Thursday by calling on them to become "champions" of ordinary people.
It's a picture the Conservative leader has painted before to his party's caucus: one in which the "everyday common person" is under attack by Prime Minister Justin Trudeau.
Throughout his address at the Canada Strong and Free Network event, Poilievre evoked images of the single mother, police officer, farmer and general worker whose interests, he said, are not represented in Ottawa.
"More and more, I see them rising up because they feel like they're losing control over their lives."
Poilievre's refrain — a message he believes will open the party up to a coalition of voters needed to defeat the Liberals — was delivered hours after Alberta Premier Danielle Smith said conservatives across the country have another challenge to overcome: winning in cities.
With Albertans set to go the polls in a provincial election this year, Smith said her United Conservative Party has more ground to gain in the province's two largest cities: Calgary and Edmonton. Insiders predict a competitive race with the Alberta NDP.
Smith replaced Jason Kenney as party leader and premier last fall when he resigned after getting only 51 per cent support in a leadership review.
Kenney, who also attended the conference in Ottawa, faced considerable backlash leading up to that vote for his handling of the COVID-19 pandemic, and Smith told Thursday's crowd that the party lost "a lot" of its base.
She ran for its leadership promising to bolster provincial sovereignty and appealing to party members and others who opposed public-health measures like vaccine mandates as an infringement of personal freedoms.
"The good news is that we're finally united as a conservative movement," she told Thursday's crowd. "Now, we just need to gain a little bit more ground in Calgary and in Edmonton."
She added: "This is a challenge for all conservatives. We have to figure out how to win in big cities because increasingly, people are moving to big cities."
That belief is shared by the federal Conservatives, with Poilievre spending many of his weekends in Metro Vancouver and the Greater Toronto Area — areas where the party has struggled to gain ground in the past several elections.
Since becoming party leader last September, Poilievre — who has long talked about inflation, food prices and cost-of-living issues — has increased his focus on crime, an issue that affects many who live in cities and suburbs.
He has adopted what some say is a controversial policy on drugs, opposing the practice of providing drug users with a safe supply of certain illicit substances, despite a broad consensus from experts who say that is necessary to prevent accidental overdoses arising from an increasingly toxic drug supply.
Pointing to regions such as Vancouver's Downtown Eastside, Poilievre recently slammed safe supply as a "failed experiment," saying he would instead focusing on increasing access to recovery and treatment spaces.
On Thursday, Smith said she believes her government's drug policy — which Poilievre has touted as a model to follow — is supported by people living in cities like Edmonton.
Poilievre is also looking to grow the party's support in urban ridings by getting more immigrant and visible minority communities to consider voting Conservative.
This report by The Canadian Press was first published March 23, 2023.
Former prime minister Stephen Harper says Canada needs a 'Conservative renaissance'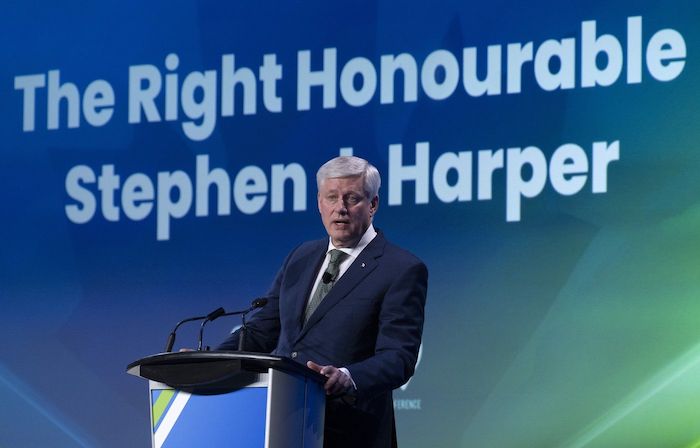 Former prime minister Stephen Harper delivers the keynote address at a conference, Wednesday, March 22, 2023 in Ottawa. THE CANADIAN PRESS/Adrian Wyld
By Stephanie Taylor in Ottawa
Canada needs a "Conservative renaissance," former prime minister Stephen Harper said Wednesday, but he cautioned that Pierre Poilievre should wait until an election before telling Canadians how he might run the country.
Harper delivered a speech that evening to a room of party faithful staged by the Canada Strong and Free Network, formerly called the Manning Centre.
His public appearance is a rare one for Harper, who exited political life after losing the 2015 election to Prime Minister Justin Trudeau's Liberals after nine years in power.
Poilievre's election as party leader last September appears to have changed that, with Harper throwing his endorsement behind Poilievre, which was the first time he had done so for a Conservative leader.
Introduced as a "statesman" of the party, Harper mounted a defence of the term "populism," which he said is often portrayed in a negative or imprecise light by what he called the "liberal media."
"Our country is badly in need of a Conservative renaissance at the national level," he told the crowd.
Harper reminded the audience that the modern Conservative party was built from the populism in Western Canada, a sense of nationalism in Quebec and Tories from Ontario.
He said its owes credit to Preston Manning, founder of the populist Reform Party, a precursor to the Canadian Alliance, which merged with the Progressive Conservatives to form the Conservative Party of Canada.
Harper and Manning then shared the stage Wednesday for what organizers billed as a "fireside chat" about the legacy of the Reform Party.
During the talk, the former Conservative prime minister quipped about foreign election interference, telling the crowd "I hear it's topical" and referred to the federal NDP as a "branch plant" for entering into a supply-and-confidence agreement with the Liberal government.
Only its leader Jagmeet Singh could enter into a deal with the Liberals and leave with nothing, Harper told the room.
As for Poilievre — whom Harper at one point referred to as first meeting as a "very tiny Reformer" — the former prime minister said if he forms the next government, Poilievre would be leading under much tougher circumstances than he ever did.
In the meantime, Harper said Poilievre's job as Opposition leader is to hold Trudeau's government to account, rather than outline how he would run the country.
"That's the job."
He said until an election happens, Poilievre and his team should be developing with their alternative vision for the country looks like to be ready.
This report by The Canadian Press was first published March 22, 2023.