Saskatchewan teen sentenced for killing his pregnant mother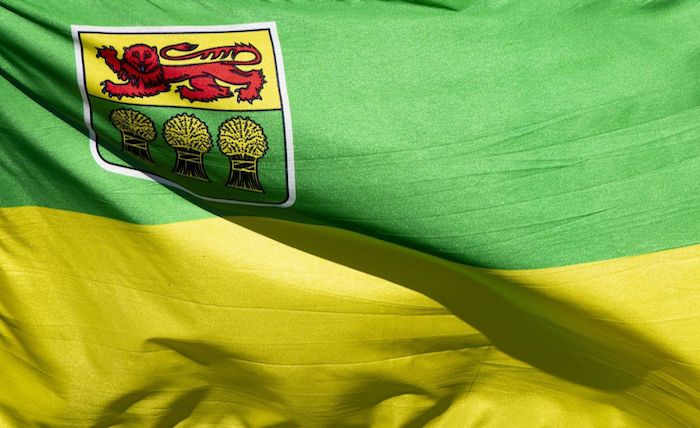 Nipawin – A 14-year-old boy has been sentenced to six years and eight months in custody for killing his pregnant mother in their Saskatchewan home.
The boy, who cannot be identified under the Youth Criminal Justice Act, pleaded guilty last year to second-degree murder for the 2021 death in Choiceland, a town northeast of Prince Albert.
Judge Lloyd Stang described in his sentencing decision Friday how, on Sept. 24, 2021, the boy hit his mother in the head with various objects, including an aerosol can, while she was sleeping, then strangled her with a USB cable.
After the attack, the boy, then 13, phoned his uncle, who contacted the police. When officers arrived, they found the boy standing on the driveway with blood on his clothing, where he admitted to killing his mother.
Two siblings were in the home when the attack happened.
The 37-year-old woman was nine months pregnant with her fifth child, who also died.
Stang said in his decision that the boy had wanted to live with his father and his mother wouldn't let him. Stang said that the father was convicted for a 2020 assault against the boy, who "apparently did not understand" that his father was prohibited from having any contact with him.
Stang said that this resulted in the boy having "acute anger" toward his mother. The boy "felt he had no other choice but to kill her," said a pre-sentence report cited in the decision.
Following the boy's guilty plea on Sept. 7, 2022, Stang ordered a psychological assessment. Registered psychologist Ashley Viklund reported that the boy met the criteria for conduct disorder and adjustment disorder with disturbance of conduct. Viklund also reported that the boy had "moderate risk for violent recidivism."
Stang said in his decision that the boy had brandished and/or threw a knife at his mother 10 months before her death.
The judge also said the boy showed no remorse for the killing, which could be attributed to his mental health problems and behavioural disorders.
"With time and additional maturity, he may come to be genuinely remorseful for what he has done," Stang wrote in his decision.
Crown prosecutor Wade Rogers said no credit for time already served should be deducted from the boy's sentence, which the defence disputed.
Stang gave the boy 16 months credit for time already served on what would have been a maximum eight-year sentence.
Stang included a provision that if there is sufficient concern about the boy's risk to reoffend violently, authorities can apply for him to remain in custody beyond his sentence.
In addition to his custodial sentence, the boy is prohibited from possessing firearms, weapons, ammunition or explosive substances for 15 years after completing his sentence and must provide DNA samples for forensic analysis.
This report by The Canadian Press was first published Jan. 20, 2023.
— By Angela Amato in Edmonton.
Funeral for two officers shot and killed in Edmonton scheduled for next week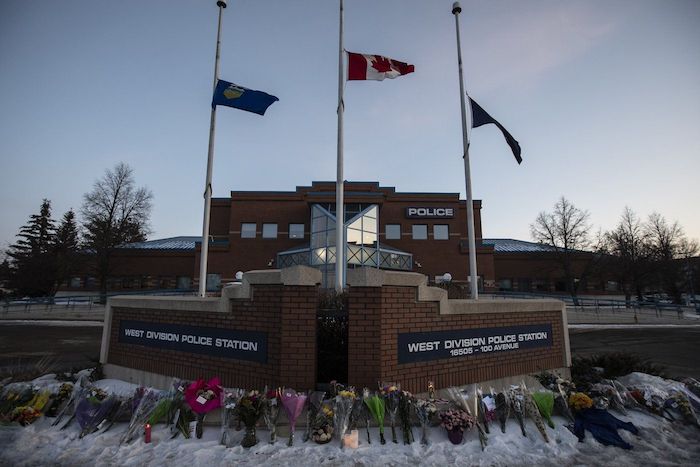 Flowers lay outside a police station for Constables Brett Ryan and Travis Jordan, who were shot and killed while on duty, in Edmonton on March 17, 2023. THE CANADIAN PRESS/Jason Franson
Edmonton (CP) – Police say a regimental funeral has been scheduled for two Edmonton officers who were shot and killed in the line of duty last week.
The funeral for Travis Jordan, who was 35, and Brett Ryan, 30, is to be held March 27 at Rogers Place, the home arena for the Edmonton Oilers of the National Hockey League.
Police say the constables were responding to a family dispute at a northwest apartment complex early Thursday when they were shot multiples times by a 16-year-old boy.
Police say the boy shot and wounded his mother during a struggle for the gun and then shot and killed himself.
The officers' bodies are set to be transported Tuesday from the medical examiner's office to a funeral home.
Police say the public is encouraged to show their support by lining the route.
Investigators said last week the boy's 55-year-old mother had called 911 because she was having trouble with the teen, but there was no indication of a threat of violence or that he had a gun.
Jordan and Ryan didn't have a chance to reach for their guns before the shooting, which was "consistent with an ambush," Deputy Chief Devin Laforce said Friday.
He said the boy's 73-year-old father was in another room in the apartment at the time and was not injured.
Police had previously responded to a mental health call at the home, Laforce said, and the boy had no criminal record or outstanding warrants.
This report by The Canadian Press was first published March 20, 2023.
With overdoses up, states look at harsher fentanyl penalties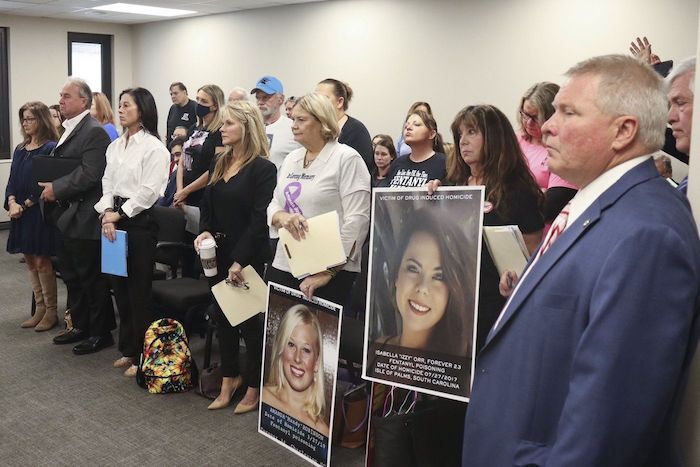 People whose family members have died from fentanyl overdose stand at a committee meeting on Jan. 19, 2023, in Columbia, S.C. With U.S. overdose fatalities at an all-time high, state legislatures are considering tougher penalties for possession of fentanyl, the powerful opioid linked to most of the deaths. (AP Photo/James Pollard)
By Gabe Stern, James Pollard And Geoff Mulvihill in Reno
RENO, Nev. (AP) — State lawmakers nationwide are responding to the deadliest overdose crisis in U.S. history by pushing harsher penalties for possessing fentanyl and other powerful lab-made opioids that are connected to about 70,000 deaths a year.
Imposing longer prison sentences for possessing smaller amounts of drugs represents a shift in states that in recent years have rolled back drug possession penalties. Proponents of tougher penalties say this crisis is different and that, in most places, the stiffer sentences are intended to punish drug dealers, not just users.
"There is no other drug — no other illicit drug — that has the same type of effects on our communities," said Mark Jackson, the district attorney for Douglas County, Nevada, and president of the Nevada District Attorneys Association, which is pushing for stricter penalties for fentanyl-related crimes.
But the strategy is alarming recovery advocates who say focusing on the criminal angle of drugs has historically backfired, including when lawmakers elevated crack cocaine penalties in the 1980s.
"Every time we treat drugs as a law enforcement problem and push stricter laws, we find that we punish people in ways that destroy their lives and make it harder for them to recover later on," said Adam Wandt, an assistant professor of public policy at John Jay College of Criminal Justice in New York. He said people behind bars often continue getting drugs — often without receiving quality addiction treatment — then emerge to find it's harder to get work.
Since 2020, drug overdoses are now linked to more than 100,000 deaths a year nationally, with about two-thirds of them fentanyl-related. That's more than 10 times as many drug deaths as in 1988, at the height of the crack epidemic.
Fentanyl mostly arrives in the U.S. from Mexico and is mixed into supplies of other drugs, including cocaine, heroin, methamphetamine and counterfeit oxycodone pills. Some users seek it out. Others don't know they're taking it.
Ingesting 2 milligrams of fentanyl can be fatal, meaning 1 gram — about the same as a paper clip — could contain 500 lethal doses.
That's what's driving some lawmakers to crack down with harsh penalties, along with adopting measures such as legalizing materials to test drug supplies for fentanyl and distributing naloxone, a drug that can reverse overdoses.
Before this year's legislative sessions began, a dozen states had already adopted fentanyl possession measures, according to tracking by the National Conference of State Legislatures.
And in this year, in one legislative chamber of liberal Oregon and one chamber of conservative West Virginia, lawmakers have agreed upon tougher penalties. In her State of the State speech this March, Alabama Gov. Kay Ivey, a Republican, called on lawmakers to adopt a drug trafficking bill that includes tougher fentanyl sentences.
In Nevada, where Democrats control the Legislature, a bill backed by Democratic Attorney General Aaron Ford would give one to 20 years in prison for selling, possessing, manufacturing or transporting 4 grams or more of fentanyl into the state, depending on the amount. It's a change for Ford, who has supported criminal justice reforms including a sweeping 2019 law that, among other provisions, raised the threshold for such penalties to 100 grams. It would also remove fentanyl from the state's "Good Samaritan" law, which exempts people from criminal drug possession charges while reporting an overdose.
"What we've learned is that lowering the thresholds for all drugs was overinclusive," Ford said.
Harm reduction advocates are pushing Ford and others to rethink their support, arguing the thresholds for longer penalties can sweep up low-level users — not just the dealers the law is aimed at — as well as some who may not even know they are taking fentanyl. They warn that the state's crime labs test only for the presence of fentanyl, not the exact amount in a mixture of drugs. Thus, people with over 4 grams of drugs containing a few milligrams of fentanyl could be subject to trafficking penalties, they say.
Rosa Johnson runs a needle exchange where she meets people who could face consequences should the stricter fentanyl bill pass. For the dozens of people that show up each day, it is rare for them to cite fentanyl as their "drug of choice." But it's also rare that fentanyl test strips come back negative, with the drug being "laced in a lot of things," Johnson said.
Other lawmakers introduced two bills to create penalties for fentanyl with lower thresholds, though much of the internal debate surrounds the Ford-backed bill. Meanwhile, Nevada's Republican Gov. Joe Lombardo, a former sheriff, has vowed to introduce tougher legislation that would make possession of any amount of fentanyl the same felony threshold as fentanyl trafficking.
Both Republican-led chambers in South Carolina have passed fentanyl trafficking measures with bipartisan support, although lawmakers haven't agreed on which version to send the governor. Senators also unanimously approved a bill allowing alleged drug dealers to be charged with homicide in overdose deaths.
House Minority Leader Todd Rutherford slammed colleagues for selling a "false bill of goods." While Republican Rep. Doug Gilliam said he understood concerns about ambiguity, he said lawmakers had to send a "strong message" to drug dealers.
A Senate subcommittee heard emotional testimony from family members of people who died of a fentanyl overdose. Among them was Holly Alsobrooks, co-founder of an advocacy group that also supports more fentanyl test strips, opioid antidotes and rehabilitation centers. While Alsobrooks said there is no "perfect" solution, she said the fentanyl trafficking measures are the "best" answers she has heard.
"We are fully behind this bill," she said. "And if people go to jail, they're going to go to jail."
Marc Burrows, who leads a Greenville-based harm reduction program that reports it has reversed 700 overdoses through the provision of opioid antidotes, said these bills could increase deaths by creating hesitancy among drug users to report overdoses.
"I just don't know if a policy like this is the way to do it," Burrows said.
___
Pollard reported from Columbia, South Carolina, and Mulvihill from Cherry Hill, New Jersey. Pollard and Stern are members for the Associated Press/Report for America Statehouse News Initiative. Report for America is a nonprofit service program that places journalists in newsrooms to report on undercovered issues.