Saskatchewan landowners fight against illegal drainage washing out land, roads
WAWOTA, Sask. — Lane Mountney spreads a map over his kitchen table at his farmhouse in southeast Saskatchewan, pointing to yellow and orange arrows slithering across the document.
Many of the arrows represent existing channels and ditches, moving across fields and out of wetlands to drain water. The arrows eventually make their way to a creek, causing what he describes as a deluge of problems downstream.
"All these years, guys have gotten away with draining water and the next guy figures he can get away withit," Mountney said in an interview at his farm near Wawota, Sask., about 200 kilometres southeast of Regina.
"If this keeps going like it has, I don't know what Saskatchewan's going to look like in 10 years."
Mountney's map depicts what's called the Wawken Drainage Project, a plan developed by the local watershed group that has since been taken over by the Water Security Agency, which is responsible for overseeing drainage in Saskatchewan.
The project is nearly 14 square kilometres and contains 880 wetlands of various sizes representing a total of 2.4 square kilometres of water.
A project document indicates that 88 per cent of these wetlands have been drained, partially drained or farmed. About 12 per cent remain intact.
Most of this water is supposed to flow into a creek that runs through a parcel of Mountney's land.
The plan developers believe the creek can handle the flows, but Mountney is not convinced.
Last year, he and his wife, Sandra Mountney, dealt with flooding ontheir horses' pasture. They decided not to use their well water at the time because it was yellow.
"They were very excited to tell us that nobody inside the project area is going to lose acres, but they haven't even looked at who's going to lose acres miles down the line." Sandra Mountney said.
Brent Fry, who farms grain and livestock, said it's common for his land to flood for three days when people upstream get 50 millimetres of rain.
He said it has caused roads and access points to erode.
"There are about four farms out there and all they're doing is draining whether they've got permission or not," Fry said. "I don't even know what to do because the government's not doing anything — they're siding with the big guys."
Farmers have drained water in Saskatchewan for generations and many have done so illegally by digging ditches without permits.
Most producers drain because it allows them to grow more crops, helping them pay for land that has become increasingly expensive. However, it has caused yearly flooding for people downstream. Roads also wash out and habitat gets lost.
At the Saskatchewan Association of Rural Municipalities convention in February, reeves passed a resolution asking the Water Security Agency to require those who are illegally draining to remediate their unapproved works.
Saskatchewan legislation requires upstream landowners to receive permission from those downstream when they want to drain, but many say that's not happening.
Sandra Mountney said the Water Security Agency hasn't been taking concerns seriously.
"It's hard to know who's really protecting our waterways," she said.
The Wawken project began about three years ago but hasn't been completed. It's among many drainage projects underway.
Daniel Phalen, a watershed planner, worked on the project as technician before he left for another job.
He said landowners had been draining water with no permits before the plan. His job was to determine how many wetlands were drained and what works had already been done.
Phalen said the plan was to put in structures that would slow down the drainage to reduce problems downstream.
It's unclear what work had been done on the Wawken project to mitigate flows since Phalen left. The Water Security Agency did not respond to a request for comment.
Phalen said projects can get held up if affected landowners don't come to an agreement. Expropriation is allowed but it's rare, he said.
Another nearby drainage plan, known as the Martin project, has stalled because of landowner concerns.
Researchers have estimated Saskatchewan has lost half of its total wetlands over time for crop production.
Phalen, who also worked on the Martin plan, said it was concerning to see the number of wetlands sucked out.
"The Water Security Agency doesn't have the manpower to do much about it," Phalen said. "There's such low enforcement already that if they had any policies in place, people would just drain anyways. It's kind of a scary problem to be in."
Sandra Mountney said she's worried about losing wetlands because they help recharge groundwater supplies and filter contaminants — particularly important when it's dry.
The Water Security Agency has released a drainage management framework that aims to prevent flooding and ensure Saskatchewan retains a "sufficient" number of wetlands.
Leah Clark, the Interim Executive Director of Agriculture Water Management, told attendees at a Saskatchewan Farm Stewardship Association meeting earlier this year that 43 per cent of wetlands are retained within approved projects. She added the province has "thriving" wildlife populations.
However, she said under the policy, landowners would be able to select which wetlands to retain.
"It will achieve a working landscape for landowners to continue to use their land for farming and ranching. This approach will allow for new development while retaining current drainage," she said.
Phalen said Saskatchewan could look to Manitoba for solutions to retain wetlands.
Manitoba has historically drained most of its wetlands in the agricultural regions, he said, but the province has since developed a policy where landowners are paid for retaining them.
"You know, $100 an acre is not a ton of money, but it's another incentive to help producers," he said. "It's such a complex problem where you got this huge financial incentive to drain."
Lane Mountney said regulations just need to be enforced.
"It's almost too late," he said. "They should have been out there checking stuff before we got this point."
This report by The Canadian Press was first published June 4, 2023.
Jeremy Simes, The Canadian Press
Regulator rules in favour of Trans Mountain route deviation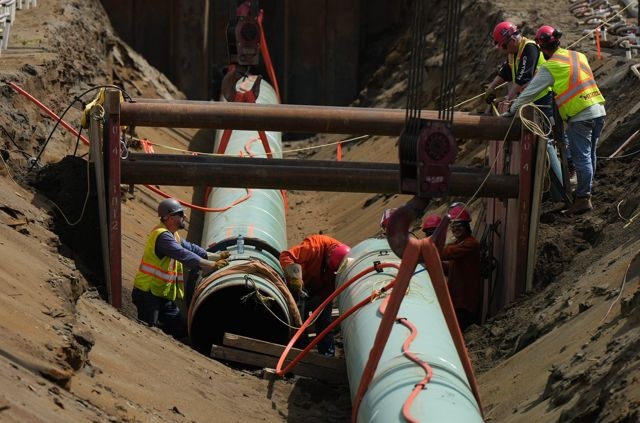 Workers place pipe during construction of the Trans Mountain pipeline expansion on farmland, in Abbotsford, B.C., on Wednesday, May 3, 2023. THE CANADIAN PRESS/Darryl Dyck
By Amanda Stephenson in Calgary
The Canada Energy Regulator has approved Trans Mountain Corp.'s application to modify the pipeline's route, a decision that could spare the government-owned pipeline project from an additional nine-month delay.
The regulator made the ruling Tuesday, just one week after hearing oral arguments from Trans Mountain and a B.C. First Nation that opposes the route change.
It didn't release the reasons for its decision Tuesday, saying those will be publicized in the coming weeks.
By siding with Trans Mountain Corp., the regulator is allowing the pipeline company to alter the route slightly for a 1.3-kilometre stretch of pipe in the Jacko Lake area near Kamloops, B.C., as well as the construction method for that section.
Trans Mountain Corp. had said it ran into engineering difficulties in the area related to the construction of a tunnel, and warned that sticking to the original route could result in up to a nine-month delay in the pipeline's completion, as well as an additional $86 million more in project costs.
Trans Mountain has been hoping to have the pipeline completed by early 2024.
But Trans Mountain's application was opposed by the Stk'emlúpsemc te Secwépemc Nation, whose traditional territory the pipeline crosses and who had only agreed to the originally proposed route.
In their regulatory filing, the First Nation stated the area has "profound spiritual and cultural significance" to their people, and that they only consented to the pipeline's construction with the understanding that Trans Mountain would minimize surface disturbances by implementing specific trenchless construction methods.
The Stk'emlúpsemc te Secwépemc argued that Trans Mountain never said its originally proposed construction method was impossible, only that it couldn't be done in time to meet a Jan. 1 in-service date for the pipeline.
The First Nation didn't respond to a request for comment by publication time.
The Trans Mountain pipeline is Canada's only pipeline system transporting oil from Alberta to the West Coast. Its expansion, which is currently underway, will boost the pipeline's capacity to 890,000 barrels per day (bpd) from 300,000 bpd currently.
The pipeline — which was bought by the federal government for $4.5 billion in 2018 after previous owner Kinder Morgan Canada Inc. threatened to scrap the pipeline's planned expansion project in the face of environmentalist opposition and regulatory hurdles — has already been plagued by construction-related challenges and delays.
Its projected price tag has since spiralled: first to $12.6 billion, then to $21.4 billion and most recently to $30.9 billion (the most recent capital cost estimate, as of March of this year).
Keith Stewart with Greenpeace Canada said it's alarming to see the regulator over-rule the wishes of Indigenous people in order to complete a pipeline on deadline.
"Every Canadian should be outraged that our public regulator is allowing a publicly owned pipeline to break a promise to Indigenous people to protect lands of spiritual and cultural significance," Stewart said.
The federal government has already approved a total of $13 billion in loan guarantees to help Trans Mountain secure the financing to cover the cost overruns.
Trans Mountain Corp. has blamed its budget problems on a variety of factors, including inflation, COVID-19, labour and supply chain challenges, flooding in B.C. and unexpected major archeological discoveries along the route.
Given the Canadian regulatory system has a reputation for being slow and cumbersome, it was surprising to see the Canada Energy Regulator rule so quickly on Trans Mountain's route deviation request, said Richard Masson, executive fellow with the University of Calgary's School of Public Policy.
"It's a challenging decision to have to make, when you've got a $30 billion pipeline that needs to be completed," Masson said.
"If there's no feasible way to do that tunnel, then I guess you have to allow for this."
Masson added that if the regulator had denied Trans Mountain's request, it would have been bad news for taxpayers as well as the federal government, which is seeking to divest the pipeline and has already entered into negotiations with several interested Indigenous-led buyers.
It also would have been bad news for Canadian oil companies, who have been eagerly anticipating the pipeline's start date to begin shipping barrels to customers.
"If this can result in the pipeline being completed by year-end and started up in the first quarter, that's good news. The world is still looking for oil, and oil prices are up at US$90 a barrel," Masson said.
This report by The Canadian Press was first published Sept. 25, 2023.
Partial settlement approved in lawsuit against Calgary Stampede over abuse of boys
Calgary
A judge has approved a partial settlement in a class-action lawsuit against the Calgary Stampede that alleged the organization allowed a performance school staffer to sexually abuse young boys.
Phillip Heerema received a 10-year prison sentence in 2018 after pleading guilty to charges including sexual assault, sexual exploitation, child pornography and luring.
Heerema admitted to using his position with the Young Canadians School of Performing Arts, which performs each year in the Calgary Stampede Grandstand Show, to lure and groom six boys into sexual relationships.
The school is operated by the Calgary Stampede Foundation.
Court of King's Bench Justice Alice Woolley approved the deal in which the Stampede has agreed to pay 100 per cent of the damages.
Hearings on the amount will take place on Dec. 14 and 15.
This report by The Canadian Press was first published Sept. 25, 2023