Saskatchewan entrepreneur says government thwarted his ag-plastics recycling business
Dallon Leger thought he was part of the solution.
The entrepreneur from Yorkton, Sask., about 190 kilometres northeast of Regina, says he collected more than 1.8 million kilograms of used grain bags over the past few years, helping his neighbours deal with their mounting plastic problem.
Leger's business, EcoGenX, transported the grain bags to a company in the United States that would recycle them. The company would turn the bags into various agricultural plastic products, including new grain bags. EcoGenX would then sell the recycled product in Saskatchewan.
But he says the Saskatchewan government has stifled his business through rules he believes are unfair.
The province recently took Leger to court and won, fining him for not following the province's grain bag regulations. It effectively forced him to close his business.
"I'm not perfect, no entrepreneur is, but my government was my biggest hurdle," said Leger, a farm worker, in an interview earlier this month. "That should never have happened, not when climate change and environment as a whole is the hot topic right now."
Leger pleaded guilty in late April for failing to comply with the government's Agricultural Packaging Waste Stewardship Regulations, therefore violating a section of Saskatchewan's Environment and Management Protection Act.
Court determined he did not operate a product stewardship program that was approved by the environment minister. He was fined $580 and must pay $10,604 to Cleanfarms, a regulated non-profit that also collects grain bags in the province.
Leger explained his lawyer advised him to plead guilty because it wouldn't have been a winning fight.
However, he said the province's position is still not right.
"How can you charge me under the environmental act, find me guilty of anything, when I did no harm to the environment? That says a lot," he said. "I felt I did something good."
The Saskatchewan government regulates the industry, requiring grain bag sellers to participate in an approved product stewardship program.
EcoGenX didn't operate under an approved program.
Environment Minister Dana Skoropad said the legislation is meant to ensure agricultural plastics recycling is sustainable in Saskatchewan.
"The community of sellers of these products is quite small in Saskatchewan, so it's certainly important that all first sellers be compliant with the regulations and a level playing field be existent," Skoropad said. "And that ensures the financial stability and sustainability of the program."
Cleanfarms is the only approved product stewardship program in Saskatchewan, which means grain bag sellers must work with Cleanfarms or get their own program rubber-stamped if they want to participate.
Under the Cleanfarms program, farmers can deliver bags to more than 40 collection points set up by the organization.
Sellers collect an environment handling fee when they sell the bags. The sellers then remit those fees to Cleanfarms so the organization can operate its collection sites.
Leger didn't remit environmental handling fees to Cleanfarms when he sold bags, arguing he didn't need to because his company did all the work in partnership with the American recycler.
"I would travel anywhere in the province, roll up their bags. I would do all the work," he said. "I had the best answer for this fairly large problem — like it's a significant amount of plastic."
The $10,604 Leger is required to pay to Cleanfarms represents the environmental handling fees he was supposed to pay to the organization.
Skoropad said he's open to working with anyone who would meet the requirements in the legislation.
He said Leger did not submit a proposal.
However, Leger said he tried to work with the provincial government but was told the province was not interested in another operator.
"I'm told, 'We have to focus on the sustainability of the current approved program,'" he said. "Well, I'm sorry I'm a threat to this non-profit organization. That's kind of what a business is meant to do, is grow and succeed."
Leger accused the government of siding with Cleanfarms, pointing to past lobbying by CropLife Canada, a sister organization of Cleanfarms.
In 2016, CropLife representatives lobbied Saskatchewan ministers about "promoting the benefits of industry stewardship programs." It noted Cleanfarms had been active in the province.
CropLife, which is based in Ontario, lobbied former environment minister Scott Moe, who's now premier, and former agriculture minister Lyle Stewart. Ted Menzies, CropLife's former president, was among those lobbying. Menzies had previously served as a Conservative MP and cabinet minister before moving to CropLife.
In 2018, the province's Agricultural Packaging Waste Stewardship Regulations came into effect.
"I believe this created a monopoly and gives an out-of-province organization 100 per cent of the money that Saskatchewan farmers pay," Leger said.
Skorpopad denied the accusations.
"Cleanfarms submitted an application to be a product stewardship operator and that would be the extent of my knowledge of that," he said. "As I said before, we're open to working with anyone who would meet the requirements of the regulations on this program."
Skoropad said he doesn't know if there have been previous applications to become an operator. He said there are 14 regulated grain bag sellers in Saskatchewan.
Leger said he has plans to continue fighting his case.
"I was demonized, so to me that's worth continuing to fight for and why I didn't give up."
This report by The Canadian Press was first published May 28, 2023.
Jeremy Simes, The Canadian Press
"With success comes challenge." Premier Smith to Alberta Municipalities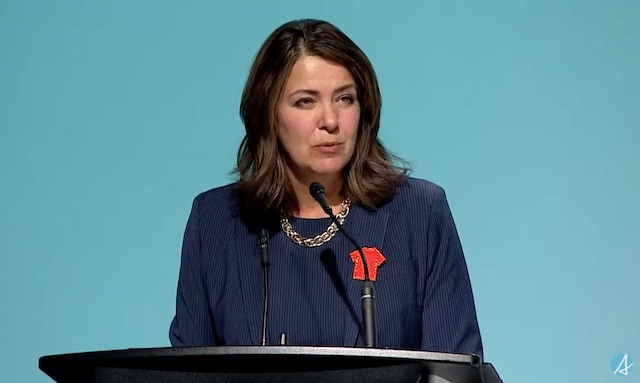 Premier Danielle Smith delivered a keynote address at the 2023 Alberta Municipalities Convention in Edmonton.
Alberta says first steps to reform provincial health delivery system coming this fall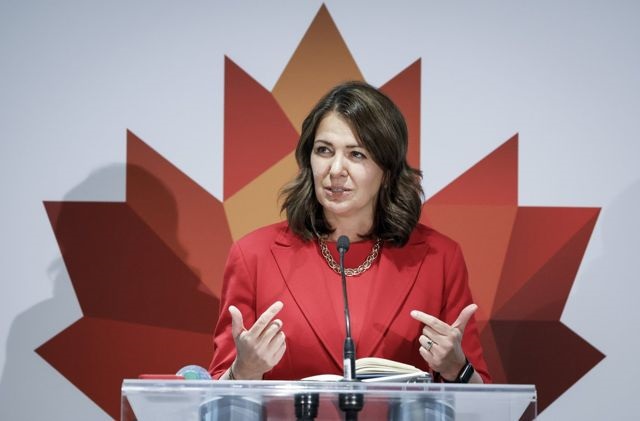 Alberta Premier Danielle Smith speaks to the media in Calgary, Monday, Sept. 18, 2023. Smith says the first steps are coming this fall to reconfigure Alberta's health delivery system – a plan the Opposition calls a recipe for more chaos from a government fresh off turning lab testing into a debacle. THE CANADIAN PRESS/Jeff McIntosh
By Dean Bennett in Edmonton, Alberta, Canada
Premier Danielle Smith says the first steps are coming this fall to reconfigure Alberta's health delivery system — a plan the Opposition calls a recipe for more chaos from a government fresh off turning lab testing into a debacle.
"We will not delay," Smith told mayors, councillors and other local leaders at the Alberta Municipalities convention Friday.
She said Health Minister Adriana LaGrange is to present her proposal to Smith and cabinet Wednesday on how to decentralize Alberta Health Services.
"If we get the cabinet approval and the caucus approval, we would be moving on some of that direction in the fall so that we are prepared for the new budget cycle in February."
Smith has directed LaGrange to revamp the structure of Alberta Health Services, better known as AHS, saying it needs to be more responsive to regional needs and focus more on direct hospital care.
She has said LaGrange will look at whether AHS still needs to be in charge of non-acute functions such as midwifery, primary care staffing and continuing care.
Alberta finished centralizing its health system 15 years ago to create AHS.
Smith has made AHS reform the centrepiece of her leadership.
Last year, she fired the governing board of AHS and replaced it with a single administrator. She blamed the agency for failing to step up during the COVID-19 pandemic as hospitals came close to being overrun with patients.
Opposition NDP Leader Rachel Notley said Smith's plan is only going to make things worse, particularly given the province abandoned last month its attempt to fully privatize community lab services after the changes resulted in long waits for tests in Calgary and southern Alberta.
"People all across this province are struggling to get access to lab (testing) now because of the dysfunction of this UCP (government)," Notley told reporters after her speech to Alberta Municipalities delegates.
"Overlaying more disorganization on top of that is a recipe for further undermining our health care and our public health care.
"There is not a single solitary thing that this UCP government has done under (former premier) Jason Kenney's leadership or Danielle Smith's leadership that has made our health care better."
Alberta Municipalities represents and speaks for villages, towns and cities that make up about 85 per cent of the province's population.
Wetaskiwin Mayor Tyler Gandam, the newly elected president of Alberta Municipalities, said they're hoping for changes and improvements to fix doctor shortages and emergency rooms forced to limit their operating hours.
"I was speaking with members of council from Ponoka and hearing that their emergency room had been shut down nearly 20 times this year so far," Gandam told reporters.
"The last thing that a person should be worrying about is whether or not the emergency room is going to be open or an ambulance is going to able to respond to their call when they need it."
The convention focused mainly on calls for more funding from the province.
On Thursday, delegates voted 98 per cent on a motion calling on the province to roll back years of municipal funding cuts on infrastructure.
The association says the province has cut both per capita spending and the percentage of total budget spending for years, resulting in about $1.3 billion less investment in community infrastructure per year that needs to be returned, particularly as the province continues to attract thousands more newcomers a year.
Smith said she will look at ways to get more money to municipalities to help bring property taxes down along with more one-time funding from recent budget surpluses to help accelerate capital projects.
"'I've watched it happen many times that we're very generous (and) increase the funding when times are good, and then when times turn the other way, we ask you to take a pretty big haircut, and that puts a lot of extra pressure on you," Smith told the delegates.
This report by The Canadian Press was first published Sept. 29, 2023.