Russia's Putin opens signing event to annex parts of Ukraine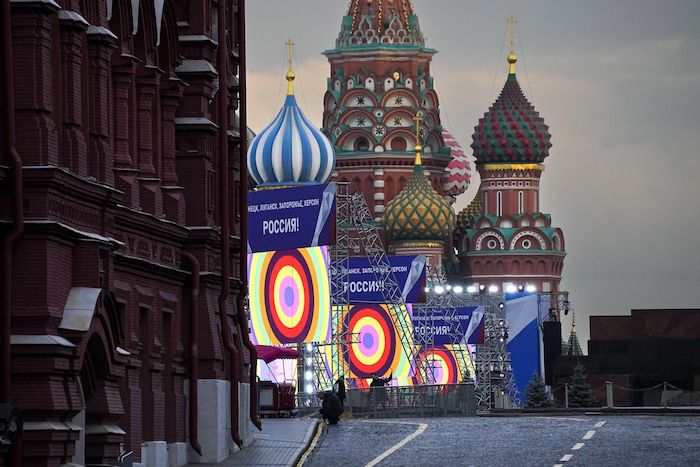 By Jon Gambrell And Hanna Arhirova in Kyiv
KYIV, Ukraine (AP) — Russian President Vladimir Putin opened a Kremlin ceremony Friday to start the process of absorbing parts of Ukraine into Russia by saying he would sign laws to annex them despite international condemnation and protect the newly incorporated regions using "all available means."
The annexation ceremony in the Kremlin's opulent white-and-gold St. George's Hall was organized for Putin and the heads of the four regions of Ukraine to sign treaties for the areas to join Russia, in a sharp escalation of the seven-month conflict.
At the beginning of the event, Putin urged Ukraine to sit down for talks but warned that Moscow would not give up the newly incorporated regions.
The ceremony comes three days after the completion of Kremlin-orchestrated "referendums" on joining Russia that were dismissed by Kyiv and the West as a bare-faced land grab, held at gunpoint and based on lies.
The separatist Donetsk and Luhansk regions in eastern Ukraine have been backed by Moscow since declaring independence in 2014, weeks after the annexation of Ukraine's Crimean Peninsula. The southern Kherson region and part of the neighboring Zaporizhzhia were captured by Russia soon after Putin sent troops into Ukraine on Feb. 24.
Both houses of the Kremlin-controlled Russian parliament will meet next week to rubber-stamp the treaties for the regions to join Russia, sending them to Putin for his approval.
Putin and his lieutenants have bluntly warned Ukraine against pressing an offensive to reclaim the regions, saying Russia would view it as an act of aggression against its sovereign territory and wouldn't hesitate to use "all means available" in retaliation, a reference to Russia's nuclear arsenal.
The Kremlin-organized votes in Ukraine and the nuclear warning are an attempt by Putin to avoid more defeats in Ukraine that could threaten his 22-year rule.
Russia controls most of the Luhansk and Kherson regions, about 60% of the Donetsk region and a large chunk of the Zaporizhzhia region where it took control of Europe's largest nuclear power plant.
Asked about Russia's plans, Kremlin spokesman Dmitry Peskov said that at the very least Moscow aims to "liberate" the entire Donetsk region.
As it prepared to celebrate the incorporation of the occupied Ukrainian regions, the Kremlin was on the verge of another stinging battlefield loss, with reports of the imminent Ukrainian encirclement of the eastern city of Lyman.
Retaking it could open the path for Ukraine to push deep into one of the regions Russia is absorbing, a move widely condemned as illegal that opens a dangerous new phase of the seven-month war.
Russia on Friday also pounded Ukrainian cities with missiles, rockets and suicide drones, with one strike reported to have killed 25 people. The salvos together amounted to the heaviest barrage that Russia has unleashed for weeks.
They followed analysts' warnings that Putin was likely to dip more heavily into his dwindling stocks of precision weapons and step up attacks as part of a strategy to escalate the war to an extent that would shatter Western support for Ukraine.
The Kremlin preceded its scheduled annexation ceremonies Friday with another warning to Ukraine that it shouldn't fight to take back the four regions. Kremlin spokesman Dmitry Peskov said Moscow would view a Ukrainian attack on the taken territory as an act of aggression against Russia itself.
The annexations are Russia's attempt to set its gains in stone, at least on paper, and scare Ukraine and its Western backers with the prospect of an increasingly escalatory conflict unless they back down — which they show no signs of doing. The Kremlin paved the way for the land-grabs with "referendums," sometimes at gunpoint, that Ukraine and Western powers universally dismissed as rigged shams.
"It looks quite pathetic. Ukrainians are doing something, taking steps in the real material world, while the Kremlin is building some kind of a virtual reality, incapable of responding in the real world," former Kremlin speechwriter turned political analyst Abbas Gallyamov said.
"People understand that the politics is now on the battlefield," he added. "What's important is who advances and who retreats. In that sense, the Kremlin cannot offer anything сomforting to the Russians."
A Ukrainian counter-offensive has deprived Moscow of mastery on the military fields of battle. Its hold of the Luhansk region appears increasingly shaky, as Ukrainian forces make inroads there, with the pincer assault on Lyman. Ukraine also still has a large foothold in the neighboring Donetsk region.
Luhansk and Donetsk – wracked by fighting since separatists there declared independence in 2014 – form the wider Donbas region of eastern Ukraine that Putin has long vowed, but so far failed, to make completely Russian. Peskov said that both Donetsk and Luhansk will be incorporated Friday into Russia in their entirety.
All of Kherson and parts of Zaporizhzhia, two other regions being prepared for annexation, were newly occupied in the invasion's opening phase. It's unclear whether the Kremlin will declare all, or just part, of that occupied territory as Russia's. Peskov wouldn't say in a call Friday with reporters.
In the Zaporizhzhia region's capital, anti-aircraft missiles that Russia has repurposed as ground-attack weapons rained down Friday on people who were waiting in cars to cross into Russian-occupied territory so they could bring family members back across front lines, the deputy head of Ukraine's presidential office, Kyrylo Tymoshenko, said.
The general prosecutor's office said 25 people were killed and 50 wounded. The strike left deep impact craters and sent shrapnel tearing through the humanitarian convoy's lined-up vehicles, killing their passengers. Nearby buildings were demolished. Trash bags, blankets and, for one victim, a blood-soaked towel, were used to cover bodies.
Russian-installed officials in Zaporizhzhia blamed Ukrainian forces for the strike, but provided no evidence.
Russian strikes were also reported in the city of Dnipro. The regional governor, Valentyn Reznichenko, said at least one person was killed and five others were wounded.
Ukraine's air force said the southern cities of Mykolaiv and Odesa were also targeted with Iranian-supplied suicide drones that Russia has increasingly deployed in recent weeks, seemingly to avoid losing more pilots who don't have control of Ukraine's skies.
Putin was expected to give a major speech at the ceremony to fold Luhansk, Donetsk, Kherson and Zaporizhzhia into Russia. The Kremlin planned for the region's pro-Moscow administrators to sign annexation treaties in the ornate St. George's Hall of the palace in Moscow that is Putin's seat of power.
Putin also issued decrees recognizing the supposed independence of the Kherson and Zaporizhzhia regions, steps he previously took in February for Luhansk and Donetsk and earlier for Crimea, seized from Ukraine in 2014.
Ukrainian President Volodymyr Zelenskyy, meanwhile, called an emergency meeting of his National Security and Defense Council and denounced the latest Russian strikes.
"The enemy rages and seeks revenge for our steadfastness and his failures," he posted on his Telegram channel. "You will definitely answer. For every lost Ukrainian life!"
The U.S. and its allies have promised even more sanctions on Russia and billions of dollars in extra support for Ukraine as the Kremlin duplicates the annexation playbook used for Crimea.
With Ukraine vowing to take back all occupied territory and Russia pledging to defend its gains, threatening nuclear-weapon use and mobilizing an additional 300,000 troops despite protests, the two nations are on an increasingly escalatory collision course.
That was underscored by the fighting for Lyman, a key node for Russian military operations in the Donbas and a sought-after prize in the Ukrainian counteroffensive launched in late August.
The Russian-backed separatist leader of Donetsk, Denis Pushilin, said the city is now "half-encircled" by Ukrainian forces. In comments reported by Russian state news agency RIA Novosti, he described the setback as "worrying news."
"Ukraine's armed formations," he said, "are trying very hard to spoil our celebration,"
___
Follow the AP's coverage of the war at https://apnews.com/hub/russia-ukraine
N Korea fires 23 missiles, prompting air raid alert in South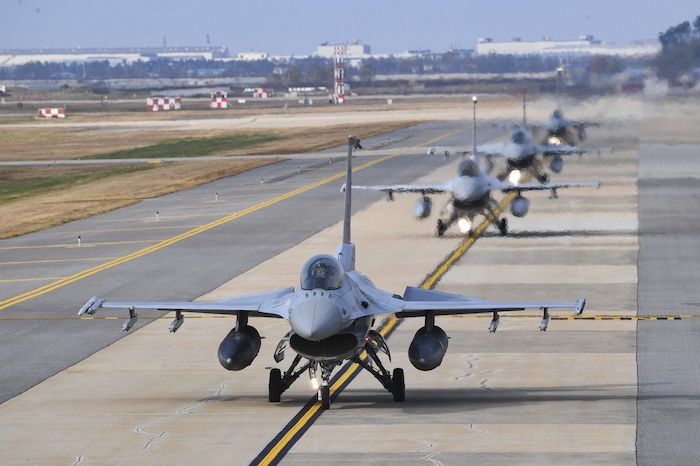 By Hyung-jin Kim in Seoul
SEOUL, South Korea (AP) — Air raid sirens sounded on a South Korean island and residents evacuated to underground shelters after North Korea fired more than 20 missiles Wednesday, at least one of them in its direction and landing near the rivals' tense sea border. South Korea quickly responded by launching its own missiles in the same border area.
The launches came hours after North Korea threatened to use nuclear weapons to get the U.S. and South Korea to "pay the most horrible price in history" in protest of ongoing South Korean-U.S. military drills that it views as an invasion rehearsal. The White House maintained that the United States has no hostile intent toward North Korea and vowed to work with allies to curb North Korea's nuclear ambitions.
The North's barrage of missile tests also came as world attention was focused on South Korea following a weekend Halloween tragedy that saw more than 150 people killed in a crowd surge in Seoul in what was the country's largest disaster in years.
South Korea's military said North Korea launched at least 23 missiles — 17 in the morning and six in the afternoon — off its its eastern and western coasts on Wednesday. It said the weapons were all short-range ballistic missiles or suspected surface-to-air missiles. Also Wednesday, North Korea fired about 100 artillery shells into an eastern maritime buffer zone the Koreas created in 2018 to reduce tensions, according to South Korea's military.
The 23 missiles launched is a record number of daily missile tests by North Korea, some experts say.
One of the ballistic missiles was flying toward South Korea's Ulleung island before it eventually landed 167 kilometers (104 miles) northwest of the island. South Korea's military issued an air raid alert on the island, according to the South's Joint Chiefs of Staff. South Korean media published photos of island residents moving to underground shelters.
Hours later, South Korea's military said it lifted the air raid alert on the island. South Korea's transport ministry said it has closed some air routes above the country's eastern waters until Thursday morning in the wake of the North Korean launches.
That missile landed 26 kilometers (16 miles) away from the rivals' sea border. It landed in international waters off the east coast of South Korea. South Korea's military said it was the first time a North Korean missile has landed so close to the sea border since the countries' division in 1948.
"This is very unprecedented and we will never tolerate it," the Joint Chiefs of Staff said in a statement.
In 2010, North Korea shelled a front-line South Korean island off the peninsula's western coast, killing four people. But the weapons used were artillery rockets, not ballistic missiles whose launches or tests are banned by multiple U.N. Security Council resolutions.
Later Wednesday, South Korean fighter jets launched three air-to-surface, precision-guided missiles near the eastern sea border to show its determination to get tough on North Korean provocations. South Korea's military said the missiles landed in international waters at the same distance of 26 kilometers (16 miles) north of the sea border as the North Korean missile fell earlier Wednesday.
It said it maintains a readiness to win "an overwhelming victory" against North Korea in potential clashes.
"North Korea firing missiles in a way that sets off air raid sirens appears intended to threaten South Koreans to pressure their government to change policy," said Leif-Eric Easley, a professor at Ewha University in Seoul. "North Korea's expanding military capabilities and tests are worrisome, but offering concessions about alliance cooperation or nuclear recognition would make matters worse."
The Joint Chiefs of Staff earlier identified three of the North Korean weapons launched as "short-range ballistic missiles" fired from the North's eastern coastal town of Wonsan, including the one that landed near the sea border.
North Korean short-range weapons are designed to strike key facilities in South Korea, including U.S. military bases there.
In an emergency meeting with top security officials, South Korean President Yoon Suk Yeol ordered officials to take swift unspecified steps to make North Korea face consequences for its provocation. He said he would consider the North Korean missile's landing near the border "a virtual violation of (our) territorial waters."
During the meeting, officials also lamented that the North Korean missile launches came as South Korea is in a mourning period over the crowd crush. They noted this "clearly showed the nature of the North Korean government," according to South Korea's presidential office.
Earlier Wednesday, Japanese Defense Minister Yasukazu Hamada said at least two ballistic missiles fired by North Korea showed a possibly "irregular" trajectory. This suggests the missiles were the North's highly maneuverable, nuclear-capable KN-23 missile, which was modeled on Russia's Iskander missile.
Japanese Prime Minister Fumio Kishida called North Korea's continuing missile tests "absolutely impermissible."
Analyst Cheong Seong-Chang at the private Sejong Institute in South Korea said the danger of armed clashes between the Koreas off their western or eastern coasts is increasing. He said South Korea needs to make "proportional responses" to North Korean provocations, not "overwhelming responses," to prevent tensions from spiraling out of control and possibly leading the North to use its tactical nuclear weapons.
Animosities on the Korean Peninsula have been running high in recent months, with North Korea testing a string of nuclear-capable missiles and adopting a law authorizing the preemptive use of its nuclear weapons in a broad range of situations. Some experts still doubt North Korea would use nuclear weapons first in the face of U.S. and South Korean forces.
North Korea has argued its recent weapons tests were meant to issue a warning to Washington and Seoul over their joint military drills that it views as an invasion rehearsal, including this week's exercises.
In a statement released early Wednesday, Pak Jong Chon, a secretary of the ruling Workers' Party who is considered a close confidant of leader Kim Jong Un, called the Vigilant Storm air force drills "aggressive and provocative."
"If the U.S. and South Korea attempt to use armed forces against (North Korea) without any fear, the special means of the (North's) armed forces will carry out their strategic mission without delay," Pak said, in an apparent reference to his country's nuclear weapons.
"The U.S. and South Korea will have to face a terrible case and pay the most horrible price in history," he said.
U.S. and South Korean officials have steadfastly said their drills are defensive in nature and that they have no intentions of attacking North Korea.
"We reject the notion that they serve as any sort of provocation. We have made clear that we have no hostile intent towards (North Korea) and call on them to engage in serious and sustained diplomacy," White House National Security Council spokesperson Adrienne Watson said late Tuesday.
North Korea "continues to not respond. At the same time, we will continue to work closely with our allies and partners to limit the North's ability to advance its unlawful weapons programs and threaten regional stability," Watson said.
This year's Vigilant Storm military exercises are the largest-ever for the annual fall maneuvers, the U.S. Indo-Pacific Command said. About 1,600 flights are planned involving 240 U.S. and South Korean fighter jets. The round-the-clock drills, which began Oct. 31, are to continue through Nov. 4 and include warfighting tactics both in the air and on the ground, it said.
___
Associated Press writers Kim Tong-hyung in Seoul, Mari Yamaguchi in Tokyo and Aamer Madhani in Washington, D.C. contributed to this report.
Freeland says comments about Africa aid were not meant to offend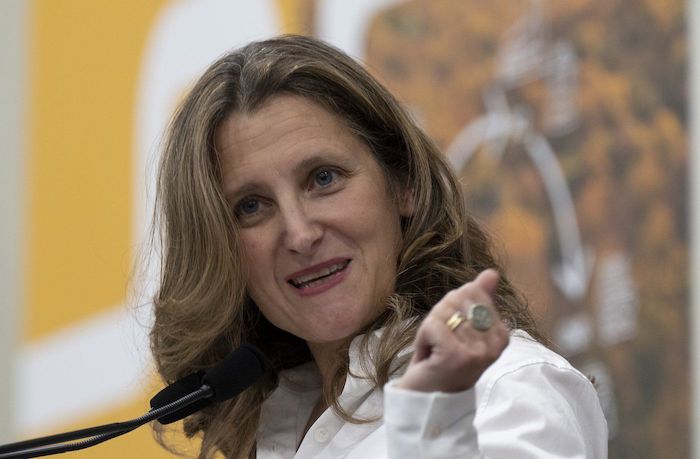 By Dylan Robertson in Ottawa
Deputy Prime Minister Chrystia Freeland says she did not mean to offend anyone after saying last week that Africans must be "prepared to die for their democracy," and hinted that Canada might boost aid for the continent.
"If anyone did find my comments to be insensitive, then I'm very sorry," Freeland said Monday.
"If … a white western person has offended someone, the first answer is to say, 'I really didn't mean to offend you.'"
In a speech last week in Washington, Freeland urged democracies to grow closer through trade and energy ties, in the face of a perilous new world order where autocracies are trying to usurp democracy.
In a question session afterwards, a man who said he works for African Development Bank asked Freeland about western countries hinting at a drop in aid for the continent, in order to fund Ukraine's needs.
The unnamed man, whom The Canadian Press could not identify, asked Freeland to respond to concerns that this will only increase Russia's sway in that continent.
Freeland responded that western countries do need to step up and "prove we're real partners."
But she also said it is up to African countries to choose their own paths, and rejected the idea that they can simply fall into Russia's orbit by accident.
"A democracy can only be defended by people themselves if they're actually prepared to die for their democracy," she said last week.
The comment led to pushback on social media, and raised eyebrows among Africa experts.
University of Ottawa professor Rita Abrahamsen said Freeland was correct in saying that it's up to Africans to determine their destiny, but cautioned that the conflict in Ukraine has become a sensitive issue.
"This a strong sense among many African countries that they are being bullied or patronized, or that one is holding aid hostage to support in the UN (forums), for the war in Ukraine," she said.
"Canada has to be very, very careful here."
Abrahamsen, the director of the Centre for International Policy Studies, says Russia's invasion of Ukraine has put economic pressure on the continent.
"Emotions are running high around this on the African continent, and it means that words have to be judged very carefully," she said.
"We're looking at a continent where a large part of it … (is) close to famine conditions, acute starvation. We're looking at immense flooding in large parts of West Africa; we're looking at a return of military coups."
Freeland said Monday that the western world needs to recognize that current problems stem from colonization.
"These are challenges that have been imposed from the outside. And I think that means we have a high level of responsibility."
She hinted that upcoming budgets could include more humanitarian aid for Africa, and noted Canada's push to reform global financial organizations to better fit the needs of poorer nations.
"We need today, if anything, to step up our engagement with the global south," she said, referring to developing nations.
"What is important is to take the lead from our African partners, and to listen to them about what it is specifically that is on their agenda, and what specifically they need."
This report by The Canadian Press was first published Oct. 17, 2022.