Russia's Gazprom keeps gas pipeline to Germany switched off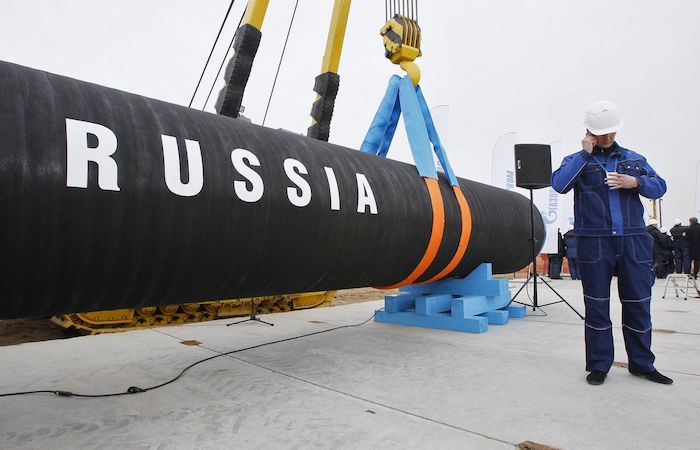 By Geir Moulson And Joanna Kozlowska in Berlin
BERLIN (AP) — Europe's energy crisis loomed larger Friday after Russian energy giant Gazprom said it couldn't resume the supply of natural gas through a major pipeline to Germany for now. The company cited what it said was a need for urgent maintenance work to repair key components — in an announcement made just hours before it had been due to restart deliveries.
The Russian state-run energy company had shut down the Nord Stream 1 pipeline on Wednesday for what it said would be three days of maintenance.
It said in a social media post Friday evening that it had identified "malfunctions" of a turbine and added that the pipeline would not work unless those were eliminated.
The move was the latest development in a saga in which Gazprom has advanced technical problems as the reason for reducing gas flows through Nord Stream 1 — explanations that German officials have rejected as a cover for a political power play following Russia's invasion of Ukraine.
European utilities have scrambled to find additional supply during the summer months to get ready for the winter's heating demands, buying expensive liquefied gas that comes by ship, while additional supplies have come by pipeline from Norway and Azerbaijan.
Fears of a winter shortage have eased somewhat as storage has progressed, but a complete cutoff could present Europe with serious difficulties, analysts say. The European Union needs to step up efforts to reduce gas consumption, said energy policy expert Simone Tagliapietra at the Bruegel think tank in Brussels.
The continuing interruptions from Gazprom mean that "a winter with zero Russian gas is the central scenario for Europe." he said. "There is only one way to prepare for that: reducing gas and electricity demand."
Gazprom said it had identified oil leaks from four turbines at the Portovaya compressor station at the Russian end of the pipeline, including the sole operational one. It claimed to have received warnings from Russia's industrial safety watchdog that the leaks "do not allow for safe, trouble-free operation of the gas turbine engine."
"In connection with this, it is necessary to take appropriate measures and suspend further operation of the … gas compressor unit in connection with the identified gross (safety) violations," the company said.
Gazprom started cutting supplies through Nord Stream 1 in mid-June, blaming delays to the delivery of a turbine that had been sent to Canada for repair. Canada has since allowed the turbine's delivery to Germany, which has said that nothing stands in the way of it being sent to Russia other than Russia saying it wants the part.
In recent weeks, Nord Stream 1 has been running at only 20% of capacity.
Germany's Siemens Energy, which manufactured the turbines, said following Gazprom's announcement that "such a finding is not a technical reason for stopping operation."
"Such leakages do not usually affect the operation of a turbine and can be sealed on site," it said in a statement. It added that this "is a routine procedure during maintenance work" and that type of leakage didn't result in operations being shut down in the past.
Siemens Energy said it wasn't currently contracted for maintenance work, but was standing by. "Irrespective of this, we have already pointed out several times that there are enough additional turbines available at the Portovaya compressor station for Nord Stream 1 to operate," it added.
Russia, which before the reductions started accounted for a bit more than a third of Germany's gas supplies, has also reduced the flow of gas to other European countries which have sided with Ukraine in the war.
Natural gas is used to power industry, heat homes and offices, and generate electricity. Increasing the amount in reserve has been a key focus of the German government since Russia invaded Ukraine, to avoid rationing for industry as demand rises in the winter.
Germany's storage facilities are now over 84% full.
The head of Germany's network regulatory agency, Klaus Mueller, tweeted that the Russian decision to keep Nord Stream 1 switched off for now increases the significance of new liquefied natural gas terminals that Germany plans to start running this winter, gas storage and "significant needs to save" gas.
It is "good that Germany is now better prepared, but now it comes down to everyone," Mueller added.
Germany's Economy Ministry said it had "taken note" of Gazprom's latest announcement and wouldn't comment on it directly, but added that "we have already seen Russia's unreliability in recent weeks" and continued efforts to reduce the country's reliance on Russian energy imports.
"Of course these are difficult times but we will continue to strengthen provisions consistently," the ministry said in a statement. "Great efforts are still needed but we are on a good path to coping with the situation."
The European Union has just reached its goal of filling its gas storage to 80%, ahead of a Nov. 1 deadline, despite Russian supply cutbacks.
___
Kozlowska contributed from London. David McHugh in Frankfurt, Germany also contributed to this story.
___
Follow all of AP's coverage of the war in Ukraine at https://apnews.com/hub/russia-ukraine
Budget measures unlikely enough to spur major carbon capture investments: Experts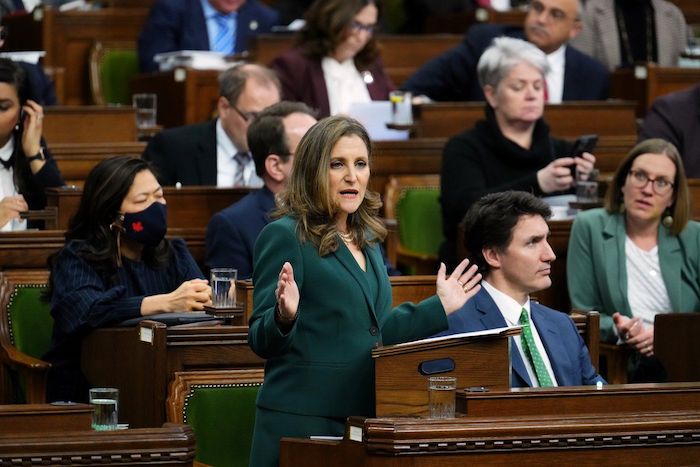 Deputy Prime Minister and Minister of Finance Chrystia Freeland delivers the federal budget in the House of Commons on Parliament Hill in Ottawa, Tuesday, March 28, 2023. Industry watchers say Tuesday's federal budget likely won't be enough to convince Canadian oil and gas companies to pull the trigger on expensive, emissions-reducing carbon capture and storage projects. THE CANADIAN PRESS/Sean Kilpatrick
By Amanda Stephenson in Calgary
A question mark continues to hang over the future of carbon capture and storage projects in Canada, in spite of a pledge in Tuesday's federal budget to deliver more investment certainty for major emissions-reducing projects.
"Look, we have set some very aggressive climate targets in Canada. You can't kick the can down the road," said carbon capture advocate James Millar, arguing that's exactly what the federal government did Tuesday when it provided no additional details around its previously stated intention to reduce the risk of investing in pricey emissions-reduction projects by essentially guaranteeing the future price of carbon.
"The difference comes down to investment certainty in the U.S., versus the promise of investment certainty in Canada."
As president and CEO of the International CCS (carbon capture and storage) Knowledge Centre, a non-profit organization based in Regina, Millar had been closely watching Tuesday's budget in hopes of obtaining more federal support for the expensive technology that can be used to trap harmful greenhouse gas emissions from industrial processes and store them safely underground.
Heavy emitters — in particular, the oil and gas sector — have identified carbon capture and storage technology as key to helping the sector meet its emissions reduction targets and have been looking for government incentives akin to what is being offered south of the border, where the U.S. Inflation Reduction Act promises to pay companies a guaranteed US$85 price for each tonne of injected carbon.
While Canada has already announced an investment tax credit that will help to offset some of the up-front capital costs of carbon capture projects, companies have so far been hesitant to pull the trigger and go ahead with proposed large-scale projects.
The Pathways Alliance, for example, a consortium of oilsands companies, has proposed building a $16.5-billion carbon capture and storage transportation line to combat emissions from existing oilsands infrastructure in northern Alberta.
But the group has not yet made a final investment decision, saying it needs to know its project will be competitive with those in the U.S. before proceeding.
One thing the oil and gas sector has said will help with that is some kind of mechanism that would reduce the risk to companies that the federal price on carbon could be lowered or eliminated. If a new government were to be elected and remove or change Canada's carbon pricing system, investing in expensive carbon-reducing technology could suddenly become uneconomical.
On Tuesday, the federal government reiterated that it intends to create such a mechanism through a so-called carbon contracts for difference system — but disappointed many who were hoping for details. Instead, the government announced it plans to begin consultations around the development of such a program.
Millar said while he doesn't doubt the government's good intentions, companies that have proposed large-scale projects need to get moving now if they have any hope of meeting Canada's goal to reduce this country's overall emissions by 40 per cent below 2005 levels by 2030 looms.
"We're already in 2023, we're seven years out. The consultations that were announced yesterday will take months," he said. "I think it will take at least a year because it's going to take time to set up the process."
The Pathways Alliance itself took a diplomatic tone Tuesday, issuing a statement after the tabling of the budget saying it was "encouraged" by the signal that more policy certainty is coming, and adding it looks forward to a "better understanding" of the government's intentions.
But Greg Pardy of RBC Capital said in a research note that in spite of some enhancements to the previously announced investment tax credit, budgetary support for carbon capture and storage was "somewhat limited — perhaps even disappointing."
"In our view, Canada's federal government needs to shift into much higher gear when it comes to incentivizing decarbonization investment if it is to achieve its bold climate change ambitions," Pardy said.
A report from BMO Capital Markets published just before the release of Tuesday's budget said Canada's policy framework for large-scale deployment of carbon capture and storage disadvantages producers here compared to the U.S., "despite claims to the contrary from some proponents of the environmental lobby."
Environmentalists have been critical of any additional federal support for carbon capture, calling it akin to a subsidy for oil and gas companies that enables them to increase production when the world should be scaling down fossil fuel usage.
But the BMO report said carbon capture is an essential part of the energy transition, and without offering improved incentives to keep up with the U.S., Canada risks not meeting its 2030 emissions reduction targets.
"Canada's market-based carbon price systems are much too uncertain to act as 'incentive' for industry to invest in major decarbonization projects," the BMO report stated.
"Emitters need financial supports that are tangible and recognized by financial institutions to underwrite bank financing."
This report by The Canadian Press was first published March 29, 2023.
US to auction Gulf of Mexico oil under climate compromise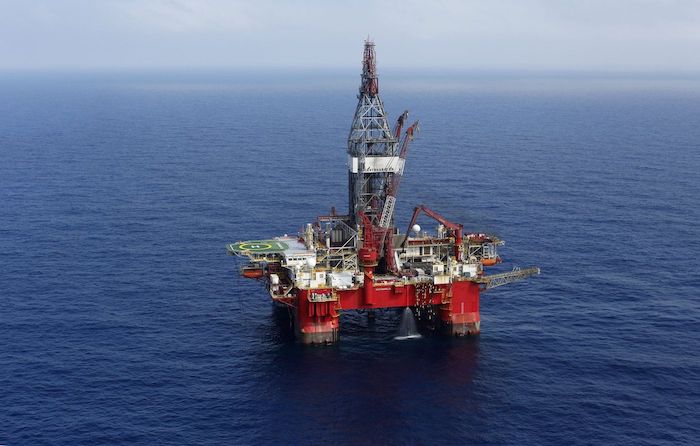 The Centenario deep-water drilling platform off the coast of Veracruz, Mexico, in the Gulf of Mexico, is pictured on Nov. 22, 2013. The Biden administration will auction oil and gas leases across more than 114,000 square miles of public waters in the Gulf of Mexico on Wednesday, March 29, 2023, in a sale mandated by last year's climate bill compromise. (AP Photo/Dario Lopez-Mills, File)
By Kevin Mcgill And Matthew Brown in New Orleans
NEW ORLEANS (AP) — Companies have offered bids on more than 2,600 square miles (6,700 square kilometers) of federal oil and gas leases in the Gulf of Mexico in a sale mandated by last year's climate bill compromise.
Wednesday's auction is the first in more than a year and is expected to draw interest from major oil companies such as ExxonMobil and Chevron. It could further test the loyalty of environmentalists and young voters who backed President Joe Biden in 2020 but were frustrated by this month's approval of the huge Willow drilling project in northern Alaska.
Developing the leases for sale in public waters in the Gulf of Mexico could produce more than 1 billion barrels of oil and more than 4 trillion cubic feet (113 billion cubic meters) of natural gas over 50 years, according to a government analysis. Burning that oil would increase planet-warming carbon dioxide emissions by tens of millions of tons, the analysis found.
Oil prices fell sharply over the past year and it's uncertain how much companies will be willing to invest in new leases. There's one more sale scheduled in September, but it's unknown how many more the administration could conduct, which could hinder companies' expansion plans.
Yet analyst Sami Yahya said approval of the ConocoPhillips Willow project in the National Petroleum Reserve-Alaska bodes well for the industry and prospects for future leasing.
"It showed that the Biden administration is likely trying to strike a balance between energy transition and energy security," said Yahya with S&P Global.
The Department of Interior sale comes two days before a deadline set in last year's climate bill that Biden signed into law. The measure prohibited leasing public lands for renewable power unless tens of millions of acres are first offered for fossil fuels. That was a concession to get support from West Virginia Democrat Joe Manchin, a fossil fuels industry supporter.
The undersea parcels that were up for auction Wednesday covered 114,000 square miles (295,000 square kilometers) an area larger than Arizona. But similar to past auctions of similar magnitude, only a fraction of the available acreage sold.
Bids from companies were due Tuesday and were being opened Wednesday in New Orleans.
The sale is taking place in a state that is economically dependent on the oil and gas industry but also especially vulnerable to climate change.
Since it takes years to develop offshore parcels before crude is pumped, the leases could produce oil and gas long past 2030, when scientists say the world needs to have drastically cut greenhouse gas emissions to stave off catastrophic climate change.
Sea level rise is a factor in Louisiana's steady loss of coastal wetlands, which in addition to harboring a variety of fisheries and wildlife, provide a buffer between inland population areas and hurricanes that scientists say are growing stronger as the world warms.
Louisiana's complicated relationship with the industry also is illustrated by lawsuits filed by coastal parishes over decades of alleged damage to wetlands from dredging canals to service oil and gas drilling.
A lawsuit against Wednesday's sale is pending before a U.S. District judge in Louisiana. It takes 90 days for the government to evaluate any bids, which means they still could be blocked before being issued.
"There's been a lot of talk from the administration about taking climate change seriously and moving our economy away from fossil fuels, and yet we continue to see massive oil and gas projects, both onshore with Willow and offshore in the Gulf of Mexico," said George Torgun, an attorney with Earthjustice representing environmental groups in the case.
Chevron said in a Monday court filing that it could lose millions of dollars from future production if the leases are blocked. The company's Gulf of Mexico operations produce the equivalent of almost 200,000 barrels a day from hundreds of leases it has bought since 2001, a representative of the Houston-based company said in an affidavit.
"Chevron plans to produce from its Gulf of Mexico leases for decades into the future," said Trent Webre, a Chevron manager in the region.
At the prior Gulf of Mexico auction in 2021, companies offered a combined $192 million for tracts totaling nearly 2,700 square miles (6,993 square kilometers). That sale was subsequently blocked by a federal judge, then reinstated under last year's climate bill.
Over several months beginning in May the administration plans to auction more than 500 square miles (1,400 square kilometers) of onshore oil and gas leases in Wyoming, New Mexico, Montana, Nevada and other states.
___
Brown reported from Billings, Montana.
___