'Revolutionary' high court term on abortion, guns and more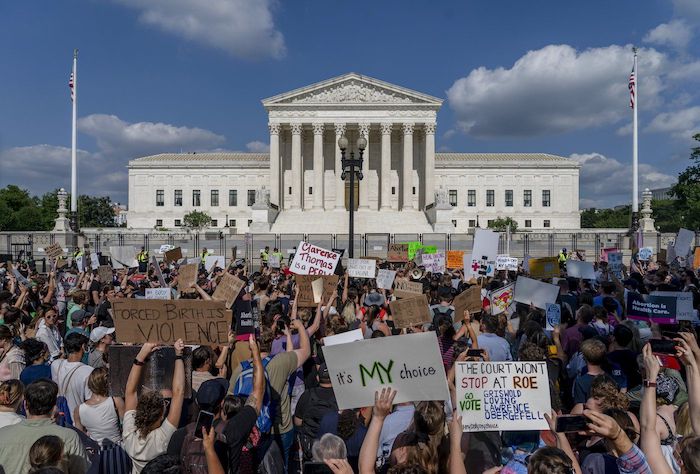 By Mark Sherman in Washington
WASHINGTON (AP) — Abortion, guns and religion — a major change in the law in any one of these areas would have made for a fateful Supreme Court term. In its first full term together, the court's conservative majority ruled in all three and issued other significant decisions limiting the government's regulatory powers.
And it has signaled no plans to slow down.
With three appointees of former President Donald Trump in their 50s, the six-justice conservative majority seems poised to keep control of the court for years to come, if not decades.
"This has been a revolutionary term in so many respects," said Tara Leigh Grove, a law professor at the University of Texas. "The court has massively changed constitutional law in really big ways."
Its remaining opinions issued, the court began its summer recess Thursday, and the justices will next return to the courtroom in October.
Overturning Roe v. Wade and ending a nearly half-century guarantee of abortion rights had the most immediate impact, shutting down or severely restricting abortions in roughly a dozen states within days of the decision.
In expanding gun rights and finding religious discrimination in two cases, the justices also made it harder to sustain gun control laws and lowered barriers to religion in public life.
Setting important new limits on regulatory authority, they reined in the government's ability to fight climate change and blocked a Biden administration effort to get workers at large companies vaccinated against COVID-19.
The remarkable week at the end of June in which the guns, abortion, religion and environmental cases were decided at least partially obscured other notable events, some of them troubling.
New Justice Ketanji Brown Jackson was sworn in Thursday as the first Black woman on the court. She replaced the retiring Justice Stephen Breyer, who served nearly 28 years, a switch that won't change the balance between liberals and conservatives on the court.
In early May, the court had to deal with the unprecedented leak of a draft opinion in the abortion case. Chief Justice John Roberts almost immediately ordered an investigation, about which the court has been mum ever since. Soon after, workers encircled the court with 8-foot-high fencing in response to security concerns. In June, police made a late-night arrest of an armed man near Justice Brett Kavanaugh's Maryland home, and charged him with attempted murder of the justice.
Kavanaugh is one of three Trump appointees along with Justices Neil Gorsuch and Amy Coney Barrett who fortified the right side of the court. Greg Garre, who served as former President George W. Bush's top Supreme Court lawyer, said when the court began its term in October "the biggest question was not so much which direction the court was headed in, but how fast it was going. The term answers that question pretty resoundingly, which is fast."
The speed also revealed that the chief justice no longer has the control over the court he held when he was one of five, not six, conservatives, Garre said.
Roberts, who favors a more incremental approach that might bolster perceptions of the court as a nonpolitical institution, broke most notably with the other conservatives in the abortion case, writing that it was unnecessary to overturn Roe, which he called a "serious jolt" to the legal system. On the other hand, he was part of every other ideologically divided majority.
If the past year revealed limits on the chief justice's influence, it also showcased the sway of Justice Clarence Thomas, the longest-serving member of the court. He wrote the decision expanding gun rights and the abortion case marked the culmination of his 30-year effort on the Supreme Court to get rid of Roe, which had stood since 1973.
Abortion is just one of several areas in which Thomas is prepared to jettison court precedents. The justices interred a second of their decisions, Lemon v. Kurtzman, in ruling for a high school football coach's right pray on the 50-yard line following games. It's not clear, though, that other justices are as comfortable as Thomas in overturning past decisions.
The abortion and guns cases also seemed contradictory to some critics in that the court handed states authority over the most personal decisions, but limited state power in regulating guns. One distinction the majorities in those cases drew, though, is that the Constitution explicitly mentions guns, but not abortion.
Those decisions do not seem especially popular with the public, according to opinion polls. Polls show a sharp drop in the court's approval rating and in people's confidence in the court as an institution.
Justices on courts past have acknowledged a concern about public perception. As recently as last September, Justice Amy Coney Barrett said, "My goal today is to convince you that this court is not comprised of a bunch of partisan hacks." Barrett spoke in at a center named for Senate Republican leader Mitch McConnell of Kentucky, who engineered her rapid confirmation in 2020 and was sitting on the stage near the justice.
But the conservatives, minus Roberts, rejected any concern about perception in the abortion case, said Grove, the University of Texas professor.
Justice Samuel Alito wrote in his majority opinion that "not only are we not going to focus on that, we should not focus on that," she said. "I'm sympathetic as an academic, but I was surprised to see that coming from that many real-world justices."
The liberal justices, though, wrote repeatedly that the court's aggressiveness in this epic term was doing damage to the institution. Justice Sonia Sotomayor described her fellow justices as "a restless and newly constituted Court." Justice Elena Kagan, in her abortion dissent, wrote: "The Court reverses course today for one reason and one reason only: because the composition of this Court has changed."
In 18 decisions, at least five conservative justices joined to form a majority and all three liberals were in dissent, roughly 30% of all the cases the court heard in its term that began last October.
Among these, the court also:
— Made it harder for people to sue state and federal authorities for violations of constitutional rights.
— Raised the bar for defendants asserting their rights were violated, ruling against a Michigan man who was shackled at trial.
— Limited how some death row inmates and others sentenced to lengthy prison terms can pursue claims that their lawyers did a poor job representing them.
In emergency appeals, also called the court's "shadow" docket because the justices often provide little or no explanation for their actions, the conservatives ordered the use of congressional districts for this year's elections in Alabama and Louisiana even though lower federal courts have found they likely violated the federal Voting Rights Act by diluting the power of Black voters.
The justices will hear arguments in the Alabama case in October, among several high-profile cases involving race or elections, or both.
Also when the justices resume hearing arguments the use of race as a factor in college admissions is on the table, just six years after the court reaffirmed its permissibility. And the court will consider a controversial Republican-led appeal that would vastly increase the power of state lawmakers over federal elections, at the expense of state courts.
These and cases on the intersection of LGBTQ and religious rights and another major environmental case involving development and water pollution also are likely to result in ideologically split decisions.
Khiara Bridges, a professor at the University of California, Berkeley, law school, drew a link between the voting rights and abortion cases. In the latter, Alito wrote in Dobbs v. Jackson Women's Health Organization that abortion should be decided by elected officials, not judges.
"I find it to be incredibly disingenuous for Alito to suggest that all that Dobbs is doing is returning this question to the states and that people can battle in the state about whether to protect fetal life or the interest of the pregnant person," Bridges said. "But that same court is actively involved in insuring that states can disenfranchise people."
Bridges also said the outcomes aligned almost perfectly with the political aims of Republicans. "Whatever the Republican party wants, the Republican party is going to get out of the currently constituted court," she said.
Defenders of the court's decisions said the criticism misses the mark because it confuses policy with law. "Supreme Court decisions are often not about what the policy should be, but rather about who (or which level of government, or which institution) should make the policy," Princeton University political scientist Robert George wrote on Twitter.
For now, there is no sign that either the justices or Republican and conservative interests that have brought so many of the high-profile cases to the court intend to trim their sails, Grove said.
That's in part because there's no realistic prospect of court reforms that would limit the cases the justices could hear, impose term limits or increase the size of the Supreme Court, said Grove, who served on President Joe Biden's bipartisan Supreme Court commission on court reforms.
___
Associated Press writer Jessica Gresko contributed to this report.
Author Salman Rushdie attacked on lecture stage in New York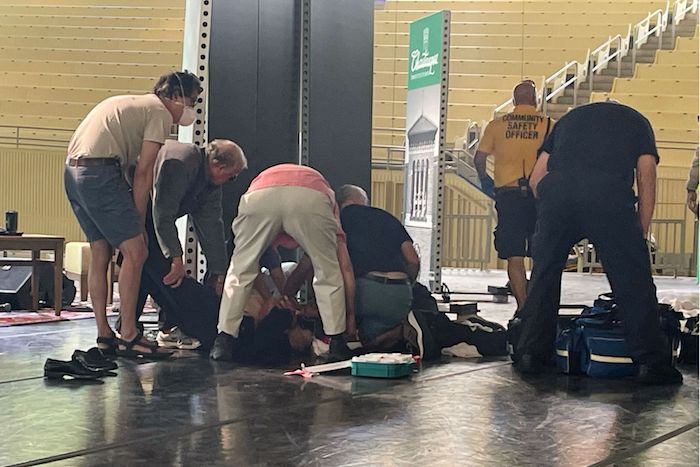 CHAUTAUQUA, N.Y. (AP) — Salman Rushdie, the author whose writing led to death threats from Iran in the 1980s, was attacked and apparently stabbed in the neck Friday by a man who rushed the stage as he was about to give a lecture in western New York.
An Associated Press reporter witnessed a man confront Rushdie on stage at the Chautauqua Institution and punch or stab him 10 to 15 times as he was being introduced. The 75-year-old author was pushed or fell to the floor, and the man was arrested.
State police said Rushdie was apparently stabbed in the neck and was flown to a hospital. His condition wasn't immediately known. The moderator at the event was also attacked and suffered a minor head injury, police said.
Rabbi Charles Savenor was among the roughly 2,500 people in the audience. Amid gasps, spectators were ushered out of the outdoor amphitheater.
The assailant ran onto the platform "and started pounding on Mr. Rushdie. At first you're like, 'What's going on?' And then it became abundantly clear in a few seconds that he was being beaten," Savenor said. He said the attack lasted about 20 seconds.
Another spectator, Kathleen Jones, said the attacker was dressed in black, with a black mask.
"We thought perhaps it was part of a stunt to show that there's still a lot of controversy around this author. But it became evident in a few seconds" that it wasn't, she said.
A bloodied Rushdie was quickly surrounded by a small group of people who held up his legs, presumably to send more blood to his chest.
Rushdie has been a prominent spokesman for free expression and liberal causes. He is a former president of PEN America, which said it was "reeling from shock and horror" at the attack.
"We can think of no comparable incident of a public violent attack on a literary writer on American soil," CEO Suzanne Nossel said in a statement.
Rushdie "has been targeted for his words for decades but has never flinched nor faltered," she added.
His 1988 book "The Satanic Verses" was viewed as blasphemous by many Muslims. Often-violent protests against Rushdie erupted around the world, including a riot that killed 12 people in Mumbai.
The novel was banned in Iran, where the late leader Grand Ayatollah Ruhollah Khomeini issued a 1989 fatwa, or edict, calling for Rushdie's death. Khomeini died that same year.
Iran's current Supreme Leader Ayatollah Ali Khamenei has never issued a fatwa of his own withdrawing the edict, though Iran in recent years hasn't focused on the writer.
Iran's mission to the United Nations did not immediately respond to a request for comment on Friday's attack.
A bounty of over $3 million has also been offered for anyone who kills Rushdie.
The death threats and bounty led Rushdie to go into hiding under a British government protection program, which included a round-the-clock armed guard. Rushdie emerged after nine years of seclusion and cautiously resumed more public appearances, maintaining his outspoken criticism of religious extremism overall.
He has said he is proud of his fight for freedom of expression, saying in a 2012 talk in New York that terrorism is really the art of fear.
"The only way you can defeat it is by deciding not to be afraid," he said.
Iran's government has long since distanced itself from Khomeini's decree, but anti-Rushdie sentiment has lingered. The Index on Censorship, an organization promoting free expression, said money was raised to boost the reward for his killing as recently as 2016, underscoring that the fatwa for his death still stands.
In 2012, Rushdie published a memoir, "Joseph Anton," about the fatwa. The title came from the pseudonym Rushdie had used while in hiding.
Rushdie rose to prominence with his Booker Prize-winning 1981 novel "Midnight's Children," but his name became known around the world after "The Satanic Verses."
The Chautauqua Institution, about 55 miles southwest of Buffalo in a rural corner of New York, has served for more than a century as a place for reflection and spiritual guidance. Visitors don't pass through metal detectors or undergo bag checks. Most people leave the doors to their century-old cottages unlocked at night.
Police said a state trooper was assigned to Rushdie's lecture.
The Chautauqua center is known for its summertime lecture series, where Rushdie has spoken before. Speakers address a different topic each week. Rushdie and moderator Henry Reese were set to discuss "the United States as asylum for writers and other artists in exile and as a home for freedom of creative expression."
___
Associated Press writers Carolyn Thompson in Buffalo, New York; Michael Hill in Albany, New York; and Jennifer Peltz in New York City contributed to this report.
Trump calls for 'immediate' release of Mar-a-Lago warrant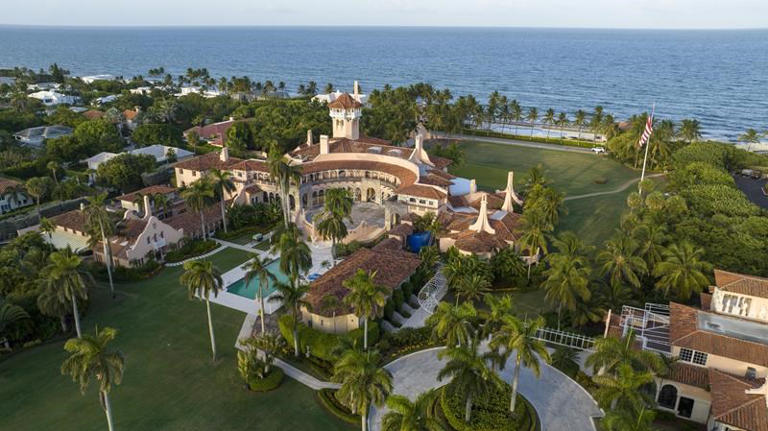 WASHINGTON (AP) — Former President Donald Trump called late Thursday for the "immediate" release of the federal warrant the FBI used to search his Florida estate, hours after the Justice Department had asked a court to unseal the warrant, with Attorney General Merrick Garland citing the "substantial public interest in this matter."
In messages posted on his Truth Social platform, Trump wrote, "Not only will I not oppose the release of documents … I am going a step further by ENCOURAGING the immediate release of those documents." He continued to assail the FBI search of Mar-a-Lago as "unAmerican, unwarranted and unnecessary."
"Release the documents now!" he wrote.
The Justice Department request earlier Thursday is striking because such documents traditionally remain sealed during a pending investigation. But the department appeared to recognize that its silence since the search had created a vacuum for bitter verbal attacks by Trump and his allies, and that the public was entitled to the FBI's side about what prompted Monday's action at the former president's home.
"The public's clear and powerful interest in understanding what occurred under these circumstances weighs heavily in favor of unsealing," said a motion filed in federal court in Florida on Thursday.
Should the warrant be released — the request is now with the judge — it could disclose unflattering information about the former president and about FBI scrutiny of his handling of sensitive government documents right as he prepares for another run for the White House. During his successful 2016 campaign, he pointed frequently to an FBI investigation into his Democratic opponent, Hillary Clinton, over whether she mishandled classified information.
It's unclear at this point how much information would be included in the documents, if made public, or if they would encompass an FBI affidavit that would presumably lay out a detailed factual basis for the search. The department specifically requested the unsealing of the warrant as well as a property receipt listing the items that were seized, along with two unspecified attachments.
To obtain a search warrant, federal authorities must prove to a judge that probable cause exists to believe that a crime was committed. Garland said he personally approved the warrant, a decision he said the department did not take lightly given that standard practice where possible is to select less intrusive tactics than a search of one's home.
In this case, according to a person familiar with the matter, there was substantial engagement with Trump and his representatives prior to the search warrant, including a subpoena for records and a visit to Mar-a-Lago a couple of months ago by FBI and Justice Department officials to assess how the documents were stored. The person was not authorized to discuss the matter by name and spoke on condition of anonymity.
Neither Trump nor the FBI has said anything about what documents the FBI might have recovered, or what precisely agents were looking for. But the former president complained anew Thursday about the search.
Trump, who for years has lambasted the FBI and sought to sow distrust among his supporters in its decisions, said the warrant was served and the search conducted despite his cooperation with the Justice Department over the search.
In a post to his Truth Social platform, Trump said that his "attorneys and representatives were cooperating fully" prior to the search, and that government officials "could have had whatever they wanted, whenever they wanted, if we had it."
The Justice Department has until Friday afternoon to alert the judge about whether Trump will object to the release.
FBI and Justice Department policy cautions against discussing ongoing investigations, both to protect the integrity of probes and to avoid unfairly maligning someone who is being scrutinized but winds up ultimately not being charged. That's especially true in the case of search warrants, where supporting court papers are routinely kept secret as the investigation proceeds.
In this case, though, Garland cited the fact that Trump himself had provided the first public confirmation of the FBI search, "as is his right." The Justice Department, in its new filing, also said that disclosing information about it now would not harm the court's functions.
Even so, Garland, in a hastily scheduled public statement delivered from the Justice Department podium, appeared to acknowledge the unusual nature of the department's request as he declined to take questions or provide any substantive details about the FBI's investigation.
"Much of our work is by necessity conducted out of the public eye. We do that to protect the constitutional rights of all Americans and to protect the integrity of our investigations," he said. "Federal law, longstanding department rules and our ethical obligations prevent me from providing further details as to the basis of the search at this time."
The Justice Department under Garland has been leery of public statements about politically charged investigations, or of confirming to what extent it might be investigating Trump as part of a broader probe into the Jan. 6 riot at the U.S. Capitol and efforts to overturn the results of the 2020 election.
The department has tried to avoid being seen as injecting itself into presidential politics, as happened in 2016 when then-FBI Director James Comey made an unusual public statement announcing that the FBI would not be recommending criminal charges against Clinton regarding her handling of email — and when he spoke up again just over a week before the election to notify Congress that the probe was being effectively reopened because of the discovery of new emails.
The Mar-a-Lago search warrant served Monday was part of an ongoing Justice Department investigation into the discovery of classified White House records recovered from Trump's home in Palm Beach, Florida, earlier this year. The National Archives had asked the department to investigate after saying 15 boxes of records it retrieved from the estate included classified records. Multiple federal laws govern the handling of classified information.
The attorney general also condemned verbal attacks on FBI and Justice Department personnel over the search. Some Republican allies of Trump have called for the FBI to be defunded. Large numbers of Trump supporters have called for the warrant to be released hoping they it will show that Trump was unfairly targeted.
"I will not stand by silently when their integrity is unfairly attacked," Garland said of federal law enforcement agents, calling them "dedicated, patriotic public servants."
Earlier Thursday, an armed man wearing body armor tried to breach a security screening area at an FBI field office in Ohio, then fled and was later killed after a standoff with law enforcement. A law enforcement official briefed on the matter identified the man as Ricky Shiffer and said he is believed to have been in Washington in the days leading up to the attack on the Capitol and may have been there on the day it took place.
_____
Associated Press writers Zeke Miller, Lindsay Whitehurst and Meg Kinnard contributed to this report.
More on Donald Trump-related investigations: https://apnews.com/hub/donald-trump
Eric Tucker And Michael Balsamo, The Associated Press