Red Deer South Conservative MLA is a one man opposition party within government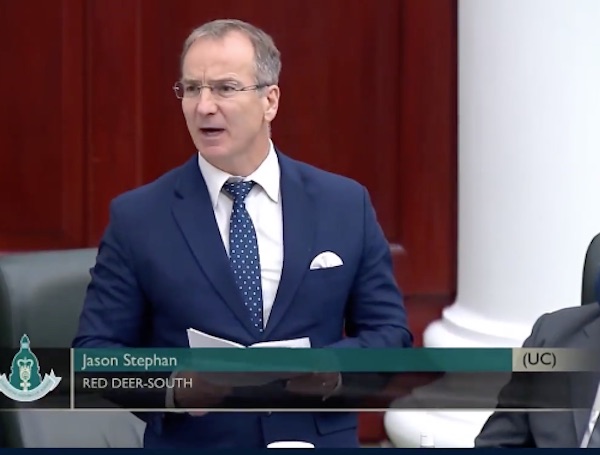 Jason Stephan may be treading on thin ice with his government as the backbench MLA stood in the Legislature this week t0 challenge his own government.. again. Backbench government MLA's tend to disappear for long periods of time waiting for a shot to get into cabinet and make decisions that affect the province. These MLA's spend time on committees trying to influence the cabinet decision makers and ultimately the Premier. Stephan is having none of that. The Red Deer South MLA has repeatedly taken his own government to task when he doesn't agree with the actions they're taking.
The latest example took place in the Legislature Thursday when Jason Stephan rose to challenge Health Minister Jason Copping on Section 1 of the Charter which says "limits to fundamental freedoms must be justified." In this extraordinary exchange Health Minister Jason Copping repeated government talking points while Stephan demanded answers on whether the province has subjected any of the public health restrictions to due diligence to ensure they meet requirements set out in the Charter of Rights.
In this amazing exchange between members of the same government, MLA Stephan challenged Minister Copping on due diligence, restrictions against children, and restrictions against people who test negative or have protective antibodies due to the fact they've already survived covid.
Alberta man faces child pornography charges after investigation with U.S. authorities
DRUMHELLER, Alta. — RCMP in southern Alberta say a man is facing child luring and child pornography charges after being alerted by authorities in the United States.
Mounties say the investigation began in January 2021 when RCMP officers in Drumheller, Alta., were contacted by a police agency in Indiana about a man having sexually explicit conversations with a 16-year-old.
RCMP say as a result of an investigation with Indiana police and U.S. Homeland Security, a 45-year-old man was arrested and charged last Wednesday.
They say Shawn Albrecht has been charged with making sexually explicit material available to someone under the age of 18, child luring, possession of child pornography and accessing child pornography.
Police say Albrecht was released with an extensive list of conditions.
He is scheduled to appear in Drumheller Provincial Court on Feb. 18.
This report by The Canadian Press was first published Jan. 22, 2022.
The Canadian Press
Teen girl dies, two others critically injured in collision in northern Alberta
FORT MCMURRAY, Alta. — RCMP in northern Alberta say they are investigating a three-vehicle collision in which a 16-year-old girl died and two other teens were critically injured.
Wood Buffalo RCMP say the crash happened in Fort McMurray on Saturday.
Police say an eastbound transport truck was slowing down to make a right turn when a pickup truck passed from behind and collided head-on with a small car travelling west.
They say a passenger in the small car, a 16-year-old girl, was airlifted to an Edmonton hospital where she later died.
Two other occupants, a 16-year-old boy and a 16-year-old girl, were taken to hospital with critical injuries.
Mounties say the pickup's driver, a 28-year-old man, was sent to hospital with non-life-threatening injuries and the driver of the transport truck was unharmed.
RCMP say road conditions were icy and visibility was reduced because of snowfall.
They did not say whether charges will be laid. The Fort McMurray Municipal Traffic Unit continues to investigate.
The Canadian Press