Red Deer South Conservative MLA is a one man opposition party within government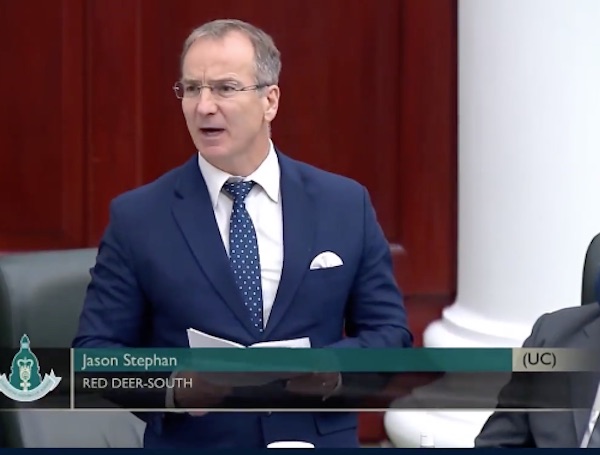 Jason Stephan may be treading on thin ice with his government as the backbench MLA stood in the Legislature this week t0 challenge his own government.. again. Backbench government MLA's tend to disappear for long periods of time waiting for a shot to get into cabinet and make decisions that affect the province. These MLA's spend time on committees trying to influence the cabinet decision makers and ultimately the Premier. Stephan is having none of that. The Red Deer South MLA has repeatedly taken his own government to task when he doesn't agree with the actions they're taking.
The latest example took place in the Legislature Thursday when Jason Stephan rose to challenge Health Minister Jason Copping on Section 1 of the Charter which says "limits to fundamental freedoms must be justified." In this extraordinary exchange Health Minister Jason Copping repeated government talking points while Stephan demanded answers on whether the province has subjected any of the public health restrictions to due diligence to ensure they meet requirements set out in the Charter of Rights.
In this amazing exchange between members of the same government, MLA Stephan challenged Minister Copping on due diligence, restrictions against children, and restrictions against people who test negative or have protective antibodies due to the fact they've already survived covid.
Second-degree murder charge laid after 'unprovoked' attack at southern Alberta prison
DRUMHELLER, Alta. — RCMP say a man at a medium-security federal prison in southern Alberta has been charged in the death of a fellow inmate.
Mounties say officers responded to a call Wednesday of a serious assault at Drumheller Institution.
They allege an assault on 34-year-old Jeffrey Ryan of Parkland County, Alta., was unprovoked.
RCMP say Ryan sustained serious injuries and later died in hospital.
Ashley Baird of Nanaimo, B.C., who is 38, has been charged with second-degree murder and is to appear in Drumheller provincial court on Feb. 11.
Police say an autopsy has been ordered by the Office of the Chief Medical Examiner and will be performed in the coming days.
This report by The Canadian Press was first published Jan. 28, 2022.
The Canadian Press
Calgary Stampeders sign Canadian linebacker Fraser Sopik to new contract
CALGARY — The Calgary Stampeders have re-signed Canadian linebacker Fraser Sopik.
The Toronto native played all 14 regular-season games for the Stampeders in 2021 and finished second on the team with 13 special-teams tackles. He also had four defensive tackles.
Calgary's fourth-round selection in the 2019 draft, Sopik has played 32 career regular-season games in two seasons with the team.
He has accumulated 23 special-teams tackles, 17 defensive stops, two sacks, two forced fumbles and one blocked kick.
The University of Western Ontario product had been eligible to become a free agent next month.
"I've enjoyed my time and development as a player in Calgary since 2019," Sopik said in a statement. "This coaching staff and organization is special, and I look forward to contributing in any way I can to a Grey Cup run this upcoming year."
This report by The Canadian Press was first published Jan. 28, 2022.
The Canadian Press