Red Deer man arrested for multiple child porn offences
From the Alberta Law Enforcement Response Team ALERT
Red Deer man arrested for child luring
A joint investigation between Internet Child Exploitation (ICE) units in Saskatchewan and Alberta has led to the arrest of a Red Deer man. The suspect was allegedly grooming and luring a young Regina girl.
ALERT's ICE unit arrested the 33-year-old Red Deer man on January 21, 2021. Jeremie Raphael Roy was identified by Saskatchewan ICE as allegedly sharing sexually explicit materials and luring a young girl via a social media application. The offences date back to October 2019.
"Great work by the ICE investigators in Saskatchewan and Alberta to keep kids safe," said Staff Sergeant Shawn Stubbs, Saskatchewan ICE Coordinator.
"The internet knows no borders, however, ICE units from around the world routinely collaborate to help protect children and hold predators accountable," said Sergeant Randy Poon, ALERT ICE.
The investigation is ongoing pending the forensic examination of computers and electronic devices seized from the suspect's home.
Roy has been charged with the following offences:
Invitation to sexual touching;
Child luring;
Making child pornography;
Possess child pornography;
Access child pornography; and
Making sexually explicit material available to a child.
Anyone with information about this investigation, or any child exploitation offence is encouraged to contact local police or cybertip.ca.
The Saskatchewan ICE Unit is comprised of investigators from the RCMP, Regina Police Service, Saskatoon Police Service, and Prince Albert Police Service. Their mandate is to investigate crimes involving the abuse and/or exploitation of children on the Internet.
ALERT was established and is funded by the Alberta Government and is a compilation of the province's most sophisticated law enforcement resources committed to tackling serious and organized crime.
Supreme Court won't hear bail appeal from fashion mogul Peter Nygard
OTTAWA — The Supreme Court of Canada won't hear a bail appeal from a Canadian fashion mogul who is facing trafficking and racketeering charges in the United States.
Peter Nygard applied earlier this year to the country's highest court for permission to challenge a Manitoba ruling that denied him release while he awaits possible extradition. His lawyers argued there is inconsistency in how courts decide on incarceration when it comes to extradition hearings.
An Appeal Court justice had ruled that Nygard's detention was necessary because of the enormity of the allegations against him.
Nygard is accused by American authorities of using his influence to lure women and girls with the promise of modelling and other financial opportunities.
He has denied all the allegations.
As usual, the high court gave no reasons for it's decision to not examine the case.
Nygard was arrested in Winnipeg last December under the Extradition Act and faces nine counts in the Southern District of New York.
The 80-year-old was first denied bail in February with a judge citing concerns Nygard would contact witnesses if released. Nygard appealed that decision and was again denied release in March.
His lawyers presented the bail hearings with a release plan that included monitoring of all emails and text messages. It also involved an in-home security guard and 24-hour video surveillance.
Federal prosecutors argued that Nygard has the finances and personnel available to help him in obstructing justice.
Nygard's extradition hearing is to take place in November. The extradition request from the U.S. details accounts from seven alleged victims who are expected to testify in a criminal trial in that country.
The women allege their livelihoods and their movements became dependent on having sex with Nygard. They say they were coerced through financial means or physical force.
Nygard is also the subject of a class-action lawsuit in the U.S. involving 57 women with similar allegations.
This report by The Canadian Press was first published Sept. 9, 2021.
— By Kelly Geraldine Malone in Winnipeg
The Canadian Press
Breaking Bad sized superlab busted by police!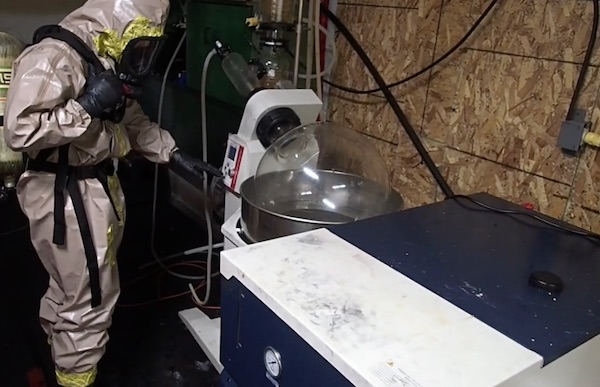 News Release from the Alberta Law Enforcement Response Team
ALERT has prevented possibly hundred of millions of fentanyl doses from hitting the streets after a superlab has been dismantled.
More than 31 kilograms of fentanyl and precursors were seized, along with 7,600 kilograms of chemicals used in fentanyl production.
ALERT executed 13 search warrants on July 7, 2021 as part of Project Essence. The search locations included homes and businesses in the Edmonton and Calgary areas, and a suspected fentanyl superlab located at a rural location near Aldersyde, Alta.
Project Essence covered all aspects of fentanyl production; from importation, to accumulation and stockpiling of equipment and raw chemicals, to production, and eventual distribution.
ALERT will provide full details via a news conference on Wednesday, September 1, 2021.