Rare H1N2 flu virus has surfaced in Central Alberta
From the Province of Alberta
Influenza A (H1N2)v: Chief medical officer of health and chief provincial veterinarian
Dr. Deena Hinshaw, chief medical officer of health, and Dr. Keith Lehman, chief provincial veterinarian, issued the following statement on Influenza A (H1N2)v in Alberta:
"A confirmed case of variant Influenza A (H1N2)v has been detected in central Alberta. This currently appears to be one isolated case and there is no increased risk to Albertans at this time. This is the only influenza case reported in Alberta so far this flu season.
"The virus was detected in mid-October after an Alberta patient sought medical care with influenza-like symptoms. The patient experienced mild symptoms, was tested and then quickly recovered. There is no evidence at this time that the virus has spread further.
"Health officials, in conjunction with Alberta Agriculture and Forestry, have launched a public health investigation to determine the source of the virus and to verify that no spread occurred. The Government of Alberta will continue working closely with Alberta Health Services, the Public Health Agency of Canada and other partners across Canada.
"AHS will proactively offer influenza testing to residents in parts of central Alberta if they are presenting for COVID-19 testing at an AHS assessment centre. This testing will be optional and supports our ongoing influenza surveillance in the region.
"We are taking this seriously, but Albertans should know that sporadic cases of variant influenza have been reported over the past decade in North America. Variant Influenza A (H1N2) is rare with only 27 cases reported globally since 2005, and no cases in Canada prior to this one.
"H1N2 is not a food-related illness. It is not transmissible to people through pork meat or other products that come from pigs and there is no risk associated with eating pork.
"We will keep Albertans informed of the outcomes of the public health investigation."
Aurora Cannabis to raise $33.8M in share offering, plans to repay convertible debt
EDMONTON — Shares of Aurora Cannabis Inc. were down more than 10 per cent after the cannabis company announced plans to raise $33.8 million in a share offering.
The company says Canaccord Genuity has agreed to buy, on a bought deal basis, 46,250,000 shares of the company at a price of 73 cents per share.
It has also granted Canaccord Genuity an over-allotment option for up to an additional 6,937,500 shares on the same terms. If the over-allotment option is exercised in full, the offering will total $38.8 million.
Aurora says it plans to use the money raised to repay the remainder of its outstanding convertible senior notes at or prior to maturity.
The company says the remainder, if any, will be used for strategic purposes, including potential acquisitions.
Aurora's stock price was down 13 per cent at 79 cents per share in early trading on the Toronto Stock Exchange.
This report by The Canadian Press was first published Sept. 28, 2023.
Companies in this story: (TSX:ACB)
The Canadian Press
Running Reins Ranch in Red Deer County picks up $250,000 grant from province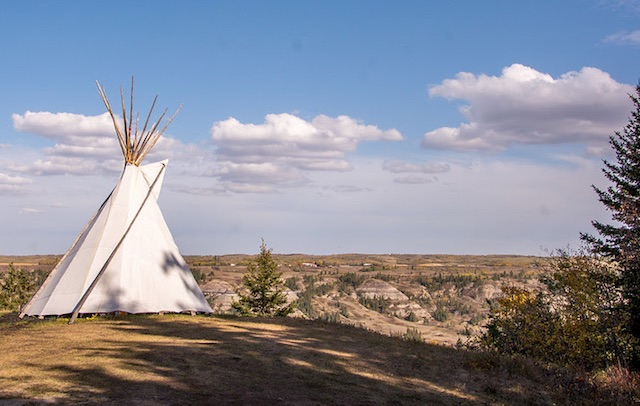 Running Reins Ranch partners with members of the local Indigenous community to set-up teepee accommodations and host regular cultural programming for guests.
Tourism investment fuels growth in rural Alberta
Alberta's government continues to support regional tourism opportunities across the province, generating jobs and new tourism destinations for locals and visitors alike.
Ahead of World Tourism Day 2023, Minister of Tourism and Sport Joseph Schow visited Running Reins Ranch to see first-hand how tourism investment grants are making a difference in the lives of Albertans.
"Alberta's government is proud to invest in growing visitor destinations like Running Reins Ranch that celebrate the richness and diversity of Alberta's rural destinations and provide a sustainable tourism experience for visitors to enjoy."
As part of the Tourism Investment Program, Running Reins Ranch received a $250,000 grant from Travel Alberta.
"Our investment will support the building of additional unique accommodations at the ranch that will triple their capacity, emphasize their year-round offerings and create five new full-time jobs. This investment in Running Reins Ranch is a perfect example of how Travel Alberta is driving tourism growth in rural communities across the province."
Running Reins is located east of Innisfail, offering cabin and teepee accommodations and a wide range of outdoor activities for visitors looking to combine the beauty of the Prairies with farm experiences for a one-of-a-kind getaway.
Right to Left: Minister of Tourism and Sport Joseph Schow, Owners of Running Reins Ranch Terry and Janice Scott, and team member Grace Finlan.
"This funding is a game-changer for us and our business. We are excited to bring our vision to life and provide visitors with unforgettable experiences while supporting the economic growth of the surrounding community."
Tourism is Alberta's No. 1 service export sector. In 2019, Alberta welcomed 34.6 million visitors, generating $10.1 billion in expenditures and supporting more than 80,000 full-time jobs. The Tourism Investment Program is Travel Alberta's commitment to investing $15 million annually with communities and operators to develop the province's tourism sector. Developing Alberta's rural and agri-tourism sector is an essential component of the government's efforts to grow Alberta's tourism economy to more than $20 billion by 2035.
Quick facts
In 2022-23, Travel Alberta funded 166 projects across 73 communities – about 75 per cent of the projects and 70 per cent of the funding were in smaller urban and rural areas of the province.
In December 2022, Alberta's government released its Economic Development in Rural Alberta Plan, with supporting initiatives that demonstrate the government's commitment to building healthy and prosperous communities across rural Alberta and Indigenous communities.