Queen Elizabeth II lies in state after solemn procession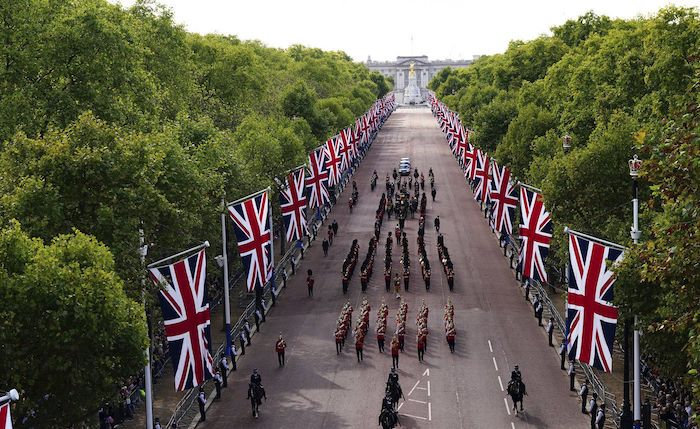 By Mike Corder, Jill Lawless And Danica Kirka in London
LONDON (AP) — The coffin of Queen Elizabeth II left Buckingham Palace for the last time Wednesday, borne on a horse-drawn carriage and saluted by cannons and the tolling of Big Ben, in a solemn procession through the flag-draped, crowd-lined streets of London to Westminster Hall. There, Britain's longest-serving monarch will lie in state for the world to mourn.
Her son, King Charles III, and his siblings and sons marched behind the coffin, which was topped by a wreath of white roses and her crown resting on a purple velvet pillow.
The queen will lie in state for four days until her funeral Monday, with hundreds of thousands of people expected to file past. Eight pall bearers carried the oak and lead-lined coffin into Westminster Hall, placing it on a raised platform known as a catafalque.
Shortly after 5 p.m., the first members of the public were allowed to file past the coffin. They moved in two lines, one on either side of the coffin.
Many were in tears as they approached the casket. Some doffed their hats and one curtseyed. One fell to one knee and blew a kiss.
The military procession from Buckingham Palace was designed to underscore the queen's seven decades as head of state as the national mourning process shifted to the grand boulevards and historic landmarks of the U.K. capital.
Thousands who had waited for hours along The Mall outside the palace and other locations along the route held up phones and cameras, and some wiped away tears, as the procession passed. Applause broke out as the coffin passed through Horse Guards Parade. Thousands more sat in nearby Hyde Park watching on large screens.
The coffin was draped in the Royal Standard and topped with the Imperial State Crown — encrusted with almost 3,000 diamonds — and a bouquet of flowers and plants, including pine from the Balmoral Estate, where Elizabeth died on Sept. 8 at the age of 96.
Two officers and 32 troops from the 1st Battalion Grenadier Guards in red uniforms and bearskin hats walked on either side of the gun carriage. The 38-minute procession ended at Westminster Hall, where Archbishop of Canterbury Justin Welby led a service attended by Charles and other royals.
"Let not your heart be troubled: ye believe in God, believe also in me. In my Father's house are many mansions: if it were not so, I would have told you," Welby read from the Book of John.
After a short service, the captain of The Queen's Company 1st Battalion Grenadier Guards, assisted by a senior sergeant, laid the royal standard of the regiment on the steps of the catafalque.
Four officers from the Household Cavalry -– two from the Life Guards and two from the Blues Royals -– began the first vigil at the coffin, taking their places at each corner and bowing their heads.
Thousands had queued up along the banks of the River Thames, waiting to enter the hall and pay their respects.
The crowds are the latest manifestation of the nationwide outpouring of grief and respect for the only monarch most Britons have ever known after her 70 years on the throne.
Esther Ravenor, a Kenyan who lives in the U.K. said she was humbled as she watched the procession.
"I love the queen, I love the royal family, and you know, I had to be here," she said. "She is a true role model. She loved us all, all of us. Especially someone like me, a migrant woman coming to the U.K. 30 years ago, I was allowed to be here and to be free and safe, so I really honor her. She was a big part of my life."
Maj. Gen. Christopher Ghika, of the Household division, who organized the ceremonial aspects of the queen's funeral, said it was "our last opportunity to do our duty for the queen, and it's our first opportunity to do it for the king, and that makes us all very proud."
Troops involved in the procession had been preparing since the queen died. So had the horses of the King's Troop Royal Horse Artillery.
Sgt. Tom Jenks said the horses were specially trained, including how to handle weeping mourners, as well as flowers and flags being tossed in front of the procession.
Heathrow Airport temporarily halted flights, saying it would "ensure silence over central London as the ceremonial procession moves from Buckingham Palace to Westminster Hall."
President Joe Biden spoke Wednesday with Charles to offer his condolences, the White House said.
Biden recalled "the Queen's kindness and hospitality" she hosted them and the first lady at Windsor Castle in June, the statement said. "He also conveyed the great admiration of the American people for the Queen, whose dignity and constancy deepened the enduring friendship and special relationship between the United States and the United Kingdom."
Crowds have lined the route of the queen's coffin whenever it has been moved in its long journey from Scotland to London.
On Tuesday night, thousands braved a typical London drizzle as the hearse, with interior lights illuminating the casket, drove slowly from an air base to Buckingham Palace.
Earlier, in Edinburgh, about 33,000 people filed silently past her coffin in 24 hours at St. Giles' Cathedral.
Hundreds of thousands are expected to visit the 900-year-old Westminster Hall, the oldest building in Parliament, before her state funeral Monday. The line snaking along the banks of the River Thames was nearly 3 miles long, according to a government tracker.
The hall is where Guy Fawkes and Charles I were tried, where kings and queens hosted magnificent medieval banquets, and where ceremonial addresses were presented to Queen Elizabeth II during her silver, golden and diamond jubilees.
Chris Bond, from Truro in southwest England, was among those waiting to see the queen's coffin. He also attended the lying in state of the queen's mother in 2002.
"Obviously, it's quite difficult queuing all day long, but when you walk through those doors into Westminster Hall, that marvelous, historic building, there was a great sense of hush and one was told you take as much time as you like, and it's just amazing," he said.
"We know the queen was a good age and she served the country a long time, but we hoped this day would never come," he added.
Chris Imafidon, secured the sixth place in the queue.
"I have 1,001 emotions when I see her," he said. "I want to say, God, she was an angel, because she touched many good people and did so many good things."
—-
Associated Press writer Sylvia Hui contributed.
___
Follow AP coverage of Queen at https://apnews.com/hub/queen-elizabeth-ii
Survivors scream as desperate rescuers work in Turkey, Syria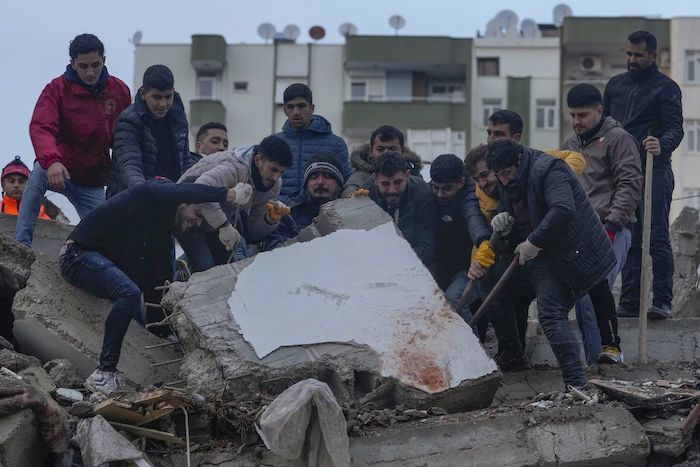 By Mehmet Guzel And Zeynep Bilginsoy in Adana
ADANA, Turkey (AP) — Rescuers called out, "Slowly, slowly," as they lifted a man inch by inch from between slabs of collapsed concrete Monday in the Turkish province that was the epicenter of a devastating earthquake.
His neck in a brace, the barefoot man was carried on a stretcher as he emerged. Rescuers in Pazarcik in the province of Kahramanmaras held him aloft and ran off with him.
It was among numerous rescue efforts that unfolded as darkness, rain and cold enveloped the region of Turkey and Syria that was rocked by a powerful 7.8 magnitude earthquake. Hours later, a 7.5 magnitude temblor struck more than 100 kilometers (60 miles) away. At least 3,400 people were killed, and civilians joined rescuers in desperate efforts across Turkey and Syria.
"Can anyone hear me?" rescuers shouted. In some places around southeast Turkey, survivors could be heard screaming from beneath collapsed buildings.
People crouched to look below a massive sheet of concrete propped at an angle by steel bars. They crawled in and out, trying to reach survivors. Excavating equipment dug through the rubble below.
Elsewhere in Kahramanmaras province, rescuers pulled two children alive from the rubble. One lay on a stretcher on the snowy ground. Rescuers quieted the throngs of people trying to help so they could hear survivors and find them.
Some emerged safely then waited to hear any word on relatives.
"My two grandchildren, my daughter-in-law, are all inside. They haven't come out," said Hasan Birbalta while waiting near a collapsed building in Pazarcik, adding the granddaughter is 2 and the grandson is 6.
Thousands of search-and-rescue personnel, firefighters and medics were working across 10 provinces, along with some 3,500 soldiers. Residents lifted rubble and unearthed people heard screaming from beneath buildings. Aftershocks made rescue efforts more dangerous.
In Adana, about 20 people, some in emergency rescue jackets, used power saws atop the concrete mountain of a collapsed building to carve out space that would let any survivors climb out or be rescued. Later, excavators joined the efforts as bright spotlights illuminated the wreckage.
Turkish military ambulance planes were transporting the injured to Istanbul and Ankara hospitals, the defense ministry said. Rescuers from across Turkey tried to make it to the provinces amid heavy snow and rain.
At a news conference late Monday, four ministers said that because Hatay's airport had been severely damaged, they had to fly into Adana nearly three hours away.
In Syria, a man held a dead girl in his arms beside a two-story collapsed concrete building as he walked away from the debris. He and a woman set the girl on the floor under covering to protect her from the rain, wrapping her in a large blanket and looking back to the building, overwhelmed.
An official with Turkey's disaster management authority said 7,840 people had been rescued across 10 provinces. The official, Orhan Tatar, said 5,606 buildings had collapsed.
Tatar said the total area affected was large and places were hard to reach, but that as of late Monday, teams had been directed to all collapsed buildings.
___
Bilginsoy reported from Istanbul. Associated Press writer Carley Petesch in Chicago contributed.
Britcoin? UK gets closer to launching a digital currency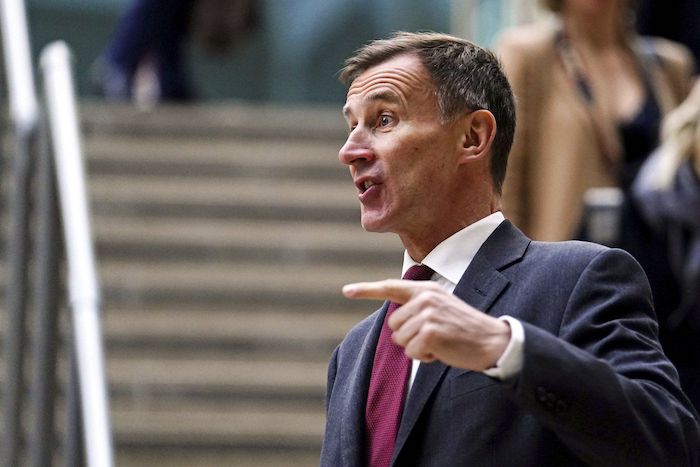 By Danica Kirka in London
LONDON (AP) — Britcoin is moving closer to reality.
U.K. authorities on Monday said British businesses and consumers are likely to need a digital version of the pound, formally asking for public comment on the idea of introducing a central bank digital currency.
Britain, home to the world's second-biggest financial center, is trailing former colonies such as Nigeria, the Bahamas and Jamaica in rolling out a digital currency. More than 80% of the world's central banks are considering launching digital currencies or have already done so, according to the consultant PwC.
"While cash is here to stay, a digital pound issued and backed by the Bank of England could be a new way to pay that's trusted, accessible and easy to use," Treasury chief Jeremy Hunt said in a statement. "That's why we want to investigate what is possible first, whilst always making sure we protect financial stability."
The call for public input comes almost two years after the Treasury and Bank of England said they were considering introducing a digital currency.
While Prime Minister Rishi Sunak suggested naming the initiative "Britcoin" when he was Treasury chief, the Bank of England has stressed that the potential currency shouldn't be confused with cryptocurrencies like Bitcoin.
Backed by the central bank, the new currency would be "reliable and retain its value over time," in contrast to cryptocurrencies that can fluctuate wildly and threaten the holdings of investors, the Bank of England says on its website.
That industry has been particularly unstable in recent months, escalating calls for greater regulation. Crypto crashes last yeartanked assets, while crypto exchange FTX's multibillion-dollar collapse and bankruptcy in November triggered fraud chargesagainst founder Sam Bankman-Fried.
The proposed digital currency would be denominated in pounds, with 10 pounds of digital currency always equal to a 10-pound note, the bank said. Held in a digital wallet, the currency could be used to pay for goods and services electronically.
Supporters of central bank digital currencies say they make digital transactions easier and cheaper and expand access to the financial system because they can be used by people who don't have bank accounts.
This is one of the reasons the Bahamas became the first country to introduce a digital currency in 2020. Nigeria and Jamaica have since followed suit, with China and more than 20 other countries running trial projects. The U.S. and European Union are considering introducing digital currencies.
But digital currencies also present risks, including cyberattacks, privacy concerns and the danger that they can be used by criminals.
Because money invested in central bank digital currencies is safer than a bank deposit, they also may draw savings away from commercial banks and weaken the financial system, critics argue.
A digital pound would have "risks but no obvious benefits," former Bank of England Gov. Mervyn King, now a member of the House of Lords, said recently.
While such digital currencies may be useful in countries that don't have effective banking systems, that's not the case in the Britain, he said.
"The government has said that it wants the U.K. to be at the forefront of innovation, crypto-assets and fintech, but we need to be selective and not driven by a misplaced enthusiasm for all things crypto," King said.