Provincial governments not jumping to act on tighter alcohol warning guidelines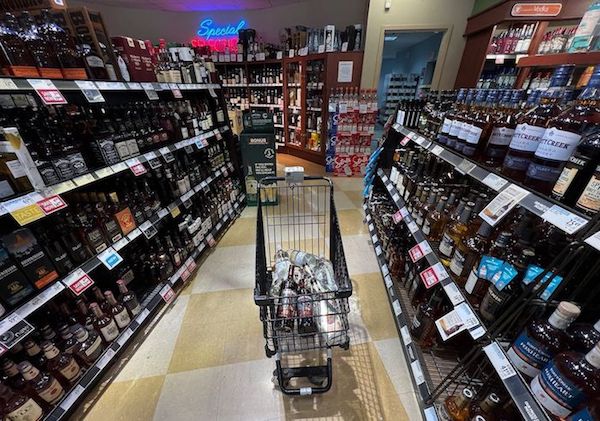 By Michael Tutton in Halifax
Politicians in charge of provincial and territorial liquor laws aren't hurrying to adopt or promote newly updated guidelines that advise a steep drop in Canadian drinking habits.
Across Canada, the responsible ministers declined interview requests from The Canadian Press. In written responses, they didn't commit to changing marketing methods for alcohol and noted they're awaiting Ottawa's lead on whether to slap warning labels on products.
In some cases, such as Nunavut and British Columbia, governments say they're actively reviewing the guidelines. Two provinces — New Brunswick and Nova Scotia — as well as the Northwest Territories said their health departments are developing plans to incorporate the new advice. The Northwest Territories Health Department said it intends to "share the new guidelines broadly."
The guidance prepared by the Canadian Centre on Substance Use and Addiction for Health Canada and released on Jan. 17 represents a major shift from its 2011 advice that having two drinks a day was considered low risk. The updated report says there is a moderate risk of harm for those who consume between three and six standard drinks a week, and it increases for every additional drink.
Kevin Shield, a professor at University of Toronto's school of public health, notes about two-thirds of Canadians who drink are consuming in the guideline's riskier ranges, according to the most recent Statistics Canada survey.
Shield — who studies methods used by governments to reduce harms caused by alcohol — said in an interview Wednesday that liquor agencies aren't currently giving consumers a good sense of the long-term health risks of alcohol. The typical messages, he said, are: "Don't drink and drive, don't drink while pregnant and please enjoy responsibly," with only the Northwest Territories including labels warning of health impacts.
Some governments have been loosening marketing restrictions. For example, in its 2019 budget, Ontario's Progressive Conservatives called for earlier serving hours for bars and restaurants, alcohol in municipal parks and advertising of free alcohol by casinos.
The province's Finance Department said in an emailed response it's "aware" of the CCSA update but didn't comment on whether the province's liquor corporation, the LCBO, will alter its policies. The LCBO website contains a link to the updated guidelines, but finding it requires surfing through three other topics before reaching a link written in small type at the bottom of a page.
Tim Stockwell, the former head of the Canadian Institute for Substance Use Research at the University of Victoria, said the reality is the issue isn't a political priority.
"They're thinking about the economy, and tourism and the vitality of nightlife in their cities. The last thing on policymakers' minds is whether this commodity we're so familiar with is doing any harm," he said in an interview Tuesday.
The liquor corporations continue to be key sources of revenue to their provinces, with the B.C. agency providing close to $1.2 billion in the last fiscal year, Ontario's LCBO providing about $2.4 billion and Quebec's SAQ reporting a $1.35-billion profit.
A spokesman for Quebec's finance minister said the province isn't considering any changes to the provincial liquor corporation's current practices. "We trust citizens to make the best decisions for their health, in light of the latest knowledge on the subject," spokeswoman Claudia Loupret said.
In Nova Scotia, Finance Minister Allan MacMaster said liquor education materials "do not yet" reflect the new guidance. Beverley Ware, a spokeswoman for the province's liquor corporation, said the Department of Health "plans to develop materials to inform Nova Scotians of the new guidance on alcohol and health," and the liquor retailer is in favour of sharing this information with its customers.
A spokesman for New Brunswick's Health Department said it supports the updated guidelines and is working on a communication plan to help New Brunswickers understand them.
Siobhan Coady, the finance minister in Newfoundland and Labrador, provided an email saying her officials are "always mindful of new research," noting the province was already examining whether to introduce policies that limit liquor consumption — including raising the minimum price for drinks sold in bars.
Manitoba's government didn't comment on how it will incorporate the guidelines into its liquor marketing, but noted its liquor corporation has a "DrinkSense" website that encourages responsible consumption.
Meanwhile, none of the provinces reached by The Canadian Press indicated they are considering directly implementing the call for health warning labels, though the Northwest Territories does already have a label mentioning the risk to pregnant women and drivers, and noting alcohol "may cause health problems."
Nunavut's Finance Department said in an email it is reviewing its alcohol regulations, including possible warning label requirements, and will "note the findings" of the CCSA in its review.
David Morris, a spokesman for the Saskatchewan liquor authority, said the province's retail liquor system will be fully private later this year and there are no plans to change the way private retailers in the province sell or market alcoholic beverages.
A spokesperson for British Columbia's Ministry of Mental Health and Addictions said the province will be reviewing the CCSA guidelines and "have more to say in the weeks ahead."
Manitoba, Saskatchewan, Nova Scotia and Yukon said it's up to Ottawa to take the lead on creating warning labels that discuss the risks of cancer, heart disease and stroke. Carolyn Bennett, the federal minister of mental health and addictions, was unavailable for an interview, and her office said she's reviewing the CCSA's advice.
Dan Malleck, a professor of health sciences at Brock University who has been critical of the CCSA guidelines, said the provinces are right to be reluctant about adopting the updated guidelines. "I think any reasonable government should ignore the guidelines completely," he said in an email. "It's poor research, ideologically driven, and based upon spurious connections with health harms."
This report by The Canadian Press was first published Jan. 27, 2023.
— With files from Allison Jones, Steve Lambert, Terri Theodore, Kelly Malone, Colette Derworiz, Hina Alam, Sidhartha Banerjee and Emily Blake.
Alberta moves to force oilpatch to pay owed taxes above 'threshold' amount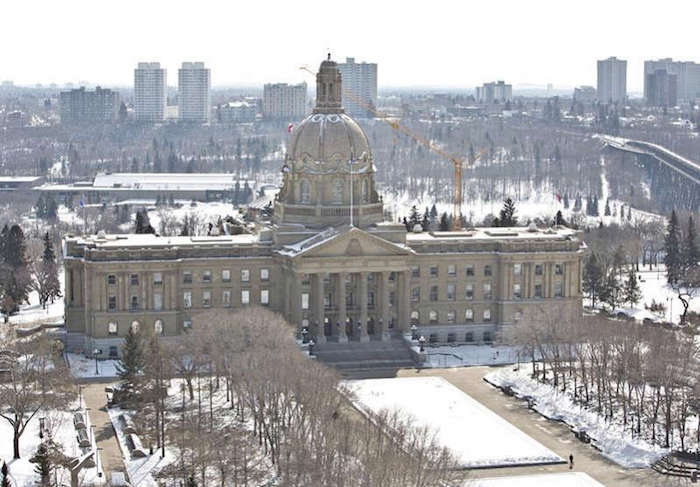 The Alberta government says it's moving to force oilpatch companies to make good on their unpaid municipal taxes.
Energy Minister Peter Guthrie says he's issued an order that blocks companies from acquiring or transferring licences on wells or other assets if their unpaid taxes exceed a threshold amount.
That threshold is yet to be determined and will be set by the Alberta Energy Regulator and Alberta Municipal Affairs.
Alberta Energy says in a release that once the threshold has been established, companies that don't meet it will be targeted for collection.
Rural Municipalities Alberta has said energy companies owe the municipal districts in which they operate a total of $268 million.
Paul McLauchlin of the group says the order will help reduce the unpaid tax burden on its members.
This report by The Canadian Press was first published March 20, 2023.
The Canadian Press
Fed's tough challenge: Confront inflation and bank jitters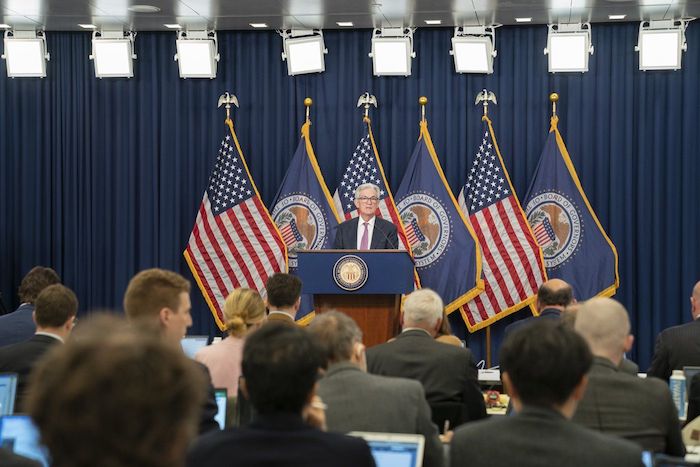 Federal Reserve chair Jerome Powell speaks during a news conference, Wednesday, Feb. 1, 2023, at the Federal Reserve Board in Washington. With inflation still high and anxieties gripping the banking industry, the Federal Reserve and its chair, Jerome Powell, will face a complicated task at their latest policy meeting Wednesday and in the months to follow: How to tame inflation by continuing to raise interest rates while also helping to restore faith in the financial system – all without triggering a severe recession. (AP Photo/Jacquelyn Martin, File)
By Christopher Rugaber in Washington
WASHINGTON (AP) — Still grappling with persistently high inflation, the Federal Reserve faces an entirely new — and in some ways conflicting — challenge as it meets to consider interest rates this week: How to restore calm to a nervous banking system.
The two simultaneous problems would normally push the Fed in different directions: To fight elevated inflation, it would raise its benchmark rate, perhaps substantially, for the ninth time in the past year. But at the same time, to soothe financial markets, the Fed might prefer to leave rates unchanged, at least for now.
Most economists think the Fed will navigate the conundrum by raising rates by just a quarter-point when its latest policy meeting ends Wednesday. That would be less than the half-point hike that many economists had expected before the recent collapse of two large banks. But it would still mark another step by the Fed in its continuing drive to tame inflation.
If the Fed were instead to leave rates alone, which some analysts last week had suggested it might do given the banking turmoil, it could alarm Wall Street traders by suggesting that significant problems remain in the banking system.
Vincent Reinhart, a former top Fed economist now at the investment bank Dreyfus-Mellon, noted that the central bank prefers to manage financial stability issues separately from its rate decisions. One goal of a series of emergency steps the Fed announced Sunday to bolster the banking system is to allow it to separately address inflation through its rate policies.
"If you are obviously seen as adjusting your monetary policy because of concerns about financial strain, then you're admitting you're not (successfully) doing … crisis management," Reinhart said.
Last week, the European Central Bank imposed a half-point rate hike to try to reduce an 8.5% inflation rate despite jitters caused by the struggles of Switzerland's second-largest lender, Credit Suisse. ECB President Christine Lagarde said she saw "no tradeoff" between fighting inflation and preserving financial stability.
On Sunday, the Swiss banking giant UBS bought troubled Credit Suisse for $3.25 billion in a deal orchestrated by banking regulators to try to prevent potentially calamitous turmoil in global markets.
The Fed intervened in the banking emergency a little over a week ago by joining with the Treasury Department and the Federal Deposit Insurance Corporation to announce that the government would protect all of the banks' deposits. It also unveiled an expansive emergency lending program to provide ready cash for banks and other financial institutions. And it sweetened the terms for the banks to borrow from a long-standing Fed facility known as the "discount window."
On Thursday, the Fed said it had lent nearly $300 billion in emergency funding to banks, including a record amount from the discount window.
Assuming that those programs work as intended, the Fed can focus on its ongoing campaign to cool inflation. Most recent economic reports point to a still-hot economy with strong hiring, steady consumer spending and persistent inflation.
Consumer prices rose 6% in February from a year earlier, down from a peak of 9.1% last June. Most of that decline reflected a shift in consumer spending away from goods — such as used cars, furniture and appliances, which have been falling in price — and toward services, including traveling, dining out and entertainment events.
That spending surge has kept inflation high in services categories, which Fed Chair Jerome Powell has singled out as a major concern because inflation tends to be particularly persistent in services.
"Inflation — it's still got some legs, unfortunately," said Nathan Sheets, a former Treasury official and Fed economist, now chief global economist at Citi. "The labor market is still booming."
Hiring and inflation figures accelerated earlier this year after having shown signs of cooling in late 2022. In response, Powell and other Fed officials suggested that the central bank would likely raise rates higher than they had forecast in December and probably keep them at a peak for longer.
When the Fed raises its key rate, it typically leads to higher rates on mortgages, auto loans, credit cards and many business loans. Typically, consumer and business spending slow in response.
"The recent data indicate that we haven't made as much progress as we thought," Christopher Waller, a member of the Fed's Board of Governors, said this month. The Fed's efforts to reduce inflation to its 2% target, Waller said, "will be slower and longer than many had expected just a month or two ago."
The banking troubles have also intensified fears among many economists that the economy could soon tumble into recession.
One reason for the pessimism is that some banks will likely curtail lending to help shore up their finances and avoid running the risk of a collapse. Economists at Goldman Sachs estimate that credit tightening by the banking sector could reduce economic growth this year by as much as a half-percentage point.
Ironically, though, that slowdown in growth could help the Fed, which has had only limited success in trying to cool the economy through its rate hikes.
The potential slowdown in lending "is going to do some of the Fed's work for it," said John Roberts, a former Federal Reserve economist said. "So the Fed won't have to raise rates as high as otherwise."