Provincial funds help build biofuel plant at Lethbridge reducing emissions equivalent to 41,000 homes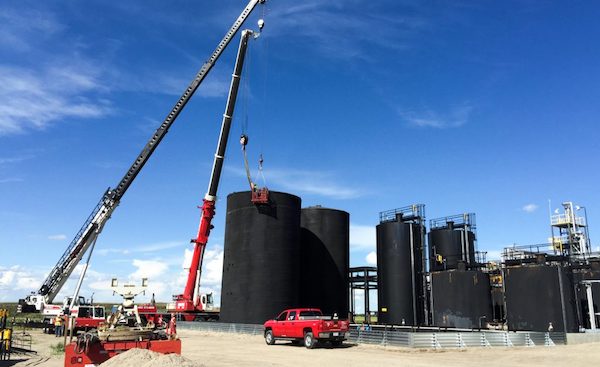 Diversifying the economy with cutting-edge tech
The Technology Innovation and Emissions Reduction (TIER) fund is supporting a new facility in southern Alberta that will create jobs and cut emissions by transforming agricultural waste.
Alberta's government is using $4.7 million from the TIER fund through Emissions Reduction Alberta to create a $28.6-million facility in Lethbridge that will produce an estimated 70 million litres of high-value renewable fuel. This facility will be the first of its kind in Canada, turning local agricultural waste, inedible animal fats and used cooking oil into biodiesel fuel and glycerin.
The facility will buy more than $375 million of local feedstock from farmers over the next five years, generating about $500 million in revenue and supporting up to 130 local jobs in fields like engineering, construction and transportation. It will also cut about 224,000 tonnes of emissions each year – the same as reducing emissions from the electricity used by 41,000 homes.
"Alberta is home to world-renowned expertise on cutting agricultural emissions, and the Canary Biofuels facility is another world-class project Alberta's government is supporting to diversify the economy and create jobs. I'm pleased to see the expansion of another groundbreaking Alberta-based technology that is cutting emissions and getting Albertans back to work."
The facility's biodiesel will have up to one-third the carbon intensity of petroleum diesel. The renewable fuel produced at the facility has also been pre-sold to a leading Canadian supplier of biodiesel whose customers include fuel retailers, wholesalers, distributors and fleet managers across Canada and the United States. This builds on Alberta's strong record of environmental, social and governance actions.
"As world leaders in agricultural emission reductions, Alberta farmers will be key beneficiaries of the renewable diesel produced at this facility. Projects like this showcase the steps Alberta is taking to diversify the economy with cutting-edge technology and to create local jobs and opportunities."
"Emissions Reduction Alberta continues to identify and invest in opportunities that accelerate the innovation required to strengthen Alberta's economy and reduce greenhouse gases. Canary's project will create new revenues for western Canadian agricultural producers and help meet the growing North American demand for biodiesel. This project is another example of what can happen when government, industry and entrepreneurs come together to deliver better economic and environmental outcomes."
This funding is part of the province's commitment of up to $750 million for emissions reduction and economic diversification programs and projects through the TIER fund and other funding that will directly support about 9,000 jobs and inject $1.9 billion into Alberta's economy.
"Canary Biofuels is Alberta's first Generation 2 biodiesel producer with its flagship facility in Lethbridge. Canary is excited to lead the path in Alberta in abating emissions through sustainable waste-based biodiesel production that supports the energy and agriculture industries in Alberta and the Prairies. Canary would like to thank all its investors and partners, including the Government of Alberta, for their tremendous support. Canary is proud to support Alberta in creating new jobs and helping Alberta industry on its journey to net zero."
"Canadian canola is used in biofuel production around the world because it's a low-carbon, sustainable and renewable resource. We are excited to see more investment in Lethbridge that will directly benefit canola farmers and Alberta's agriculture value chain."
"Canary Biofuels will provide long-term diversified business opportunity for R.K. Heggie Grain and Transmark. Local canola producers will have direct market access to the growing biofuel industry, and the livestock industry will get a much-needed supply of canola meal. Canary Biofuels is natural fit with R.K. Heggie Grain and Transmark to provide the company with feedstock for the plant and rail infrastructure to the get finished product to international markets."
TIER funding
The TIER system is funded by large industry that pay into the fund when they do not meet emissions targets. Alberta is using the TIER fund for a range of programs that are reducing emissions, boosting the economy and getting Albertans back to work.
Quick facts
The new Canary Biofuels facility is expected to be operational by fall 2021.
TIER helps industrial facilities, which account for more than 60 per cent of Alberta's total emissions, find innovative ways to reduce emissions and invest in clean technology to save money and stay competitive.
Emissions Reduction Alberta invests revenues from TIER to accelerate the development and deployment of innovative clean technology solutions.
Since 2009, Emissions Reduction Alberta has committed $649 million toward 204 projects worth $4.5 billion that are reducing emissions, creating competitive industries and leading to new business opportunities in Alberta. These projects are estimated to deliver cumulative reductions of almost 35 million tonnes of emissions by 2030.
Edmonton Oilers re-sign forward Kailer Yamamoto to one-year contract
EDMONTON — The Edmonton Oilers have extended the contract of forward Kailer Yamamoto by a year.
The Oilers and the 22-year-old from Spokane, Wash., agreed to a one-year deal worth $1.175 million.
Yamamoto compiled eight goals, 13 assists and 26 penalty minutes over 52 games for Edmonton last season.  
The five-foot-eight, 155-pound forward carried a plus-minus of nine through the season.
He led all Oiler forwards in blocked shots with 40, ranked fourth in average ice time (16.22 minutes) and was sixth in hits (52).
Yamamoto was a first-round pick (22nd overall) of the Oilers in 2017. 
He has a career 20 goals and 32 assists in 105 games for Edmonton.
This report by The Canadian Press was first published Sept. 18, 2021.
The Canadian Press
Alberta RCMP investigating deaths of mother and her toddler as homicides
HINTON, Alta. — Alberta RCMP say its major crimes unit is investigating the deaths of a mother and her 16-month-old toddler as homicides. 
Mounties in Hinton, Alta., say the pair were reported missing on Thursday night from the community 290 kilometres west of Edmonton.
Police say the bodies of the mother and her child have since been found.
RCMP say a 53-year-old man was arrested Friday in Hinton and remains in custody.
There was no word on any charges.
Police say there is no risk to the public.
This report by The Canadian Press was first published Sept. 17, 2021
The Canadian Press