Provinces asking feds for $138 million to help buy out flooded properties
OTTAWA — Flood-ravaged provinces are asking the federal government to provide almost $138 million to move or buy out homeowners affected by previous years' inundations, according to new data that gives a glimpse into the national costs of helping residents leave floodplains.
Calculations based on previous experience suggest that the total cost of giving up on 100,000 of the most endangered structures could run into the billions.
Only four times in the past decade have provinces turned to the federal treasury for help to move homes — twice in New Brunswick, and once each in Quebec and Yukon.
In New Brunswick's case, the federal government picked up more than 80 per cent of the $1.8 million spent to buy out a combined 36 properties after flooding in 2008 and 2010.
Public Safety Canada says provinces and territories have asked for $137.9 million in federal money to help cover costs related to 10 floods, but the dollar figure is only an estimate and doesn't include this year's.
The department says it expects to get more requests for financial help to relocate homes as the frequency of extreme flooding increases and wants to know how much provinces and territories have spent on it without federal help.
All that data will feed into a debate governments are having about whether it's better to move people off floodplains rather than repeatedly pay for repairs.
Federal help for disaster relief kicks in once costs surpass what lower levels of government could reasonably be expected to cover on their own.
Within the program, called the "Disaster Financial Assistance Arrangements," is a provision that allows provinces to claim the cost of relocating residents to areas less prone to floods or other disasters. Federal funding can also be used to buy out affected homeowners and dismantle damaged buildings.
How much gets doled out depends on the design of the buyout program, which has become a point in discussions between Public Safety Minister Ralph Goodale and his provincial and territorial counterparts.
A program could provide money up to a pre-set maximum, which is what Quebec's government is offering this year — up to $200,000 to anyone with severe damage to their homes. Or it could pay the full estimated value of a home before it was flooded, as Alberta did after flooding there in 2013.
In that case, about one-third of homeowners who were offered buyouts took them within a year of the offer, costing the province $81 million in 2014. Alberta covered the bill itself, without federal assistance.
Based on the data available, the federal government has paid, on average, about $41,000 for each property owner who accepted previous buyouts in New Brunswick.
This year, New Brunswick is offering up to $160,000 for each home where damage exceeds 80 per cent of its pre-flood value. Owners can sell their buildings and have them demolished and levelled but retain their land. They can also sell out entirely, or take up to $160,000 to use on repairs — in exchange for giving up any future disaster aid.
The Insurance Bureau of Canada estimates about 100,000 homes — out of the 14 million dwellings Statistics Canada counted in the 2016 census — are at the highest risk of repeat flood damage. A buyout program for those properties could cost the federal treasury hundreds of millions of dollars based on the limited information available about previous federal disaster help, in addition to what provincial governments put up.
"No government bailout program or insurance program is going to be able to deal with those repeated cases where you're going to have repeated claims in a short period of time. That's where you may focus buyouts," said Craig Stewart, vice-president of federal affairs with the Insurance Bureau of Canada.
"In our view, the calculation is buy out a few and then protect and insure the rest."
Jordan Press, The Canadian Press
Most unused COVID-19 vaccines will expire at the end of the year: auditor general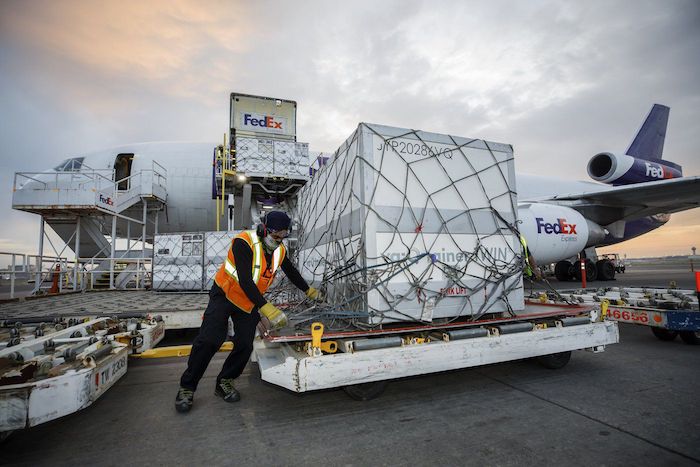 By Laura Osman in Ottawa
Tens of millions of doses of COVID-19 vaccines are likely about to expire and go to waste because of a failure to manage an oversupply, Canada's auditor general reported Tuesday — a failure with an estimated price tag of about $1 billion.
Karen Hogan has released the results of her office's investigation into the government's efforts to get ahold of COVID-19 vaccine doses in the early days of the pandemic, and track how many people got them.
The auditor gave the Public Health Agency of Canada and the Procurement Department a thumbs up when it came to quickly getting enough doses into the country to meet vaccination goals, but said the government did a much poorer job of managing all that supply.
"We found that the Public Health Agency of Canada was unsuccessful in its efforts to minimize vaccine wastage," Hogan wrote in the report.
The government knew that by signing advanced purchase agreements with a number of pharmaceutical companies there was a risk of buying up more COVID-19 vaccines than Canadians needed.
PHAC and the federal government signed deals with seven companies that were developing vaccines in 2020 and 2021, in case only a few them were approved by Health Canada.
So far six of those have been authorized by the drug review agency.
"In my view, it was a prudent approach given all the uncertainty back in 2020," she said at a press conference Tuesday.
The auditor found that about half of the 169 million doses the government paid for have made it into the arms of Canadians between December 2020 and May 2022.
The federal government announced plans to donate some 50 million surplus doses to other countries, but as of May 31 only about 15 million had been given away and another 13.6 million expired before they could be donated.
Canada has offered the remaining 21.7 million doses to other countries but so many countries are now offering donations that the market is saturated, Hogan said, and those vaccines will be wasted if they are not distributed soon.
There were also 32.5 million doses in federal and provincial inventories by the end of the audit period in May, worth about $1 billion, based on the auditor's estimate.
Hogan said in her report that the majority of those doses will expire by the end of 2022.
Hogan said the public health agency informed her that another 10 million have expired since the end of the audit and another 11 million were donated.
Part of the problem, she said, was that provinces and territories did not communicate and share data with PHAC.
"Although some provinces and territories consistently reported to the agency, the agency was unable to obtain complete data from most. This meant that the status of these doses was unknown and reduced the agency's ability to predict supply needs and plan for donations," the report said.
The auditor general's office and the public health agency itself warned for a decade before the COVID-19 pandemic that there were serious gaps in the federal and provincial health data sharing plans.
In January 2021, Deloitte Inc. was awarded a $59.1 million contract to come up with a national vaccine management system called VaccineConnect to share timely information about vaccine distribution, coverage and safety.
Some elements of that program were up and running on time, but others were delayed and the auditor found that PHAC was instead using spreadsheets to manually track expiration dates and waste as of June 2021.
The information silos made it difficult for vaccine companies to monitor national safety indicators of their products, as they've been ordered to by Health Canada.
"Companies cannot entirely fulfil this requirement when they do not have access to the necessary data on adverse events," the report said.
Hogan found two incidents in 2021 where companies learned of adverse effects to their vaccines from the media and urgently requested the data from the government, but couldn't get access to it for three months.
Canada is also the only G7 country that does not follow World Health Organization guidance to share case-level information about patients who have adverse effects after immunization, and instead sends only summary data.
This report by The Canadian Press was first published Dec. 6, 2022.
Military was told to prepare to intervene in 'Freedom Convoy' protests: official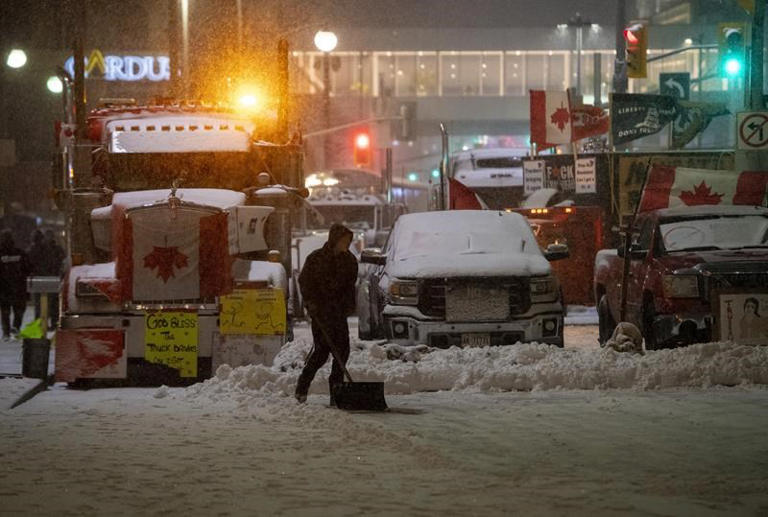 OTTAWA — The Defence Department's top official says he directed the military to prepare to intervene in the "Freedom Convoy" protests earlier this year, but the resulting plans were never seriously considered — in part due to concerns about another Oka Crisis.
Deputy minister Bill Matthews and another top defence official also said the Canadian Armed Forces was prepared to fly police officers to demonstration sites across the country, but that its tow trucks were too big ⁠— and too old ⁠— to help with the protests.
Matthews and Defence Department associate deputy minister Stefanie Beck made the comments in an August interview with lawyers for the public inquiry looking into the Liberal government's decision to use the Emergencies Act to end the protests.
A summary of that interview is among thousands of documents released by the Public Order Emergency Commission, which will ultimately determine whether the government was justified in invoking the act in February.
Neither was called to publicly testify before the commission.
The Liberals faced public calls in January and February to deploy the military as thousands of protesters opposed to vaccine mandates and pandemic restrictions gridlocked Ottawa and border crossings with the United States for three weeks.
The inquiry was also shown text messages in recent weeks in which federal Justice Minister David Lametti and then-Alberta premier Jason Kenney raised the prospect of using the military alongside police to clear protesters.
In one text exchange, Lametti and Public Safety Minister Marco Mendicino raised the idea of using a tank to end the protests. Lametti told the commission last week that the exchange was a joke.
Lametti and Defence Minister Anita Anand instead told the commission that the military was always considered a last resort — a position that Matthews and Beck echoed in their interview with commission lawyers.
Both defence officials "strongly emphasized that CAF members are not police officers," the summary reads.
"They are trained to use lethal force, not do crowd control. Indeed, the domestic use of military force is, and in their view should always be, seen as a last resort."
Matthews did say he asked defence officials to prepare "for the possibility that the CAF might be called out to intervene in the protests," with a number of scenarios and internal plans subsequently drawn up.
"These plans considered the use of military equipment, infrastructure and deployment of CAF members."
Yet Matthews and Beck said it was clear throughout the planning process that the government and the minister did not want to use the military due to fears "deploying the military in any way would inflame tensions with the protesters."
The two officials "noted that the shadow of the Oka Crisis still looms large," reads the summary.
On July 11, 1990, Quebec provincial police moved in on a barricade near the small town, which is about 50 kilometres northwest of Montreal. The barricade was erected by Indigenous activists to protest the planned expansion of a golf course and development on ancestral land.
After a police officer was killed, the situation escalated into a tense, 78-day standoff between Mohawk and thousands of Canadian soldiers that captured the country's attention and raised enduring concerns about using the military in protests.
Matthews and Beck told the commission lawyers that they shared their concerns about a possible repeat of the crisis with senior officials in other departments, but that the military's actual plans were not shared with them or with Anand.
"It was a necessary planning exercise, but the option of deploying the CAF was never seriously considered."
The military did end up providing limited support to law enforcement efforts, with Ottawa police using the Cartier Drill Hall in downtown Ottawa as a staging area. It also provided 1,200 ration packs to the Parliamentary Protective Service.
The Defence Department and Armed Forces expected and considered requests for military planes to fly police to various parts of the country, but Matthews and Beck said domestic flights ended up being adequate.
Officials also considered whether the military could be used to clear protesters' trucks from downtown Ottawa, the border crossing in Coutts, Alta., and other places where local officials were having trouble getting local tow companies to help.
However, Matthews and Beck said that ultimately wasn't an option as the military's own tow trucks weren't designed for the types of vehicles involved in the protests, and using them would damage not only those vehicles but also any roads driven upon.
There were also concerns that moving the military's tow trucks would represent a "significant logistical effort" and could have "drawn significant attention to themselves and the CAF members operating them."
"Third, the trucks are quite old and require frequent maintenance," the interview summary adds. "DND has plans to replace these trucks."
This report by The Canadian Press was first published Dec. 1, 2022.
Lee Berthiaume, The Canadian Press