Province boosts apprenticeship programs adding room for more than 1,000 new students in Alberta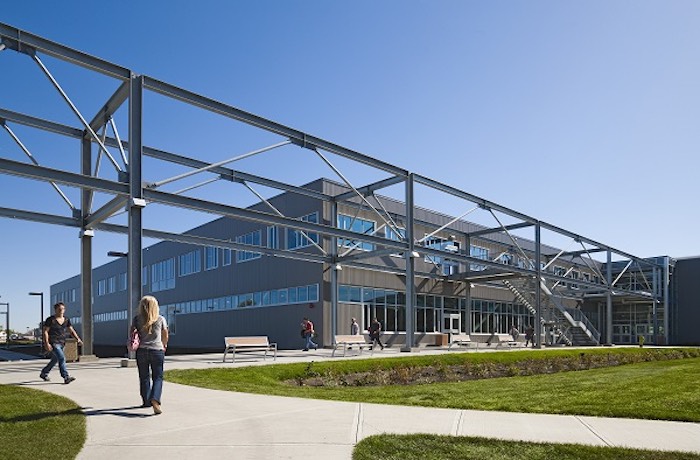 More apprenticeship spaces for Alberta students
Alberta is creating more than 1,000 new spaces for students in high-demand apprenticeship programs at post-secondary institutions.
Through Budget 2023, Alberta's government is providing a funding boost of $15 million over three years to the Apprenticeship Learning Grants. With this increase, total funding for the grants will be $42 million in 2023-24.
The Apprenticeship Learning Grants are important for post-secondary institutions in Alberta that deliver classroom instruction to complement on-the-job training. New seats will be allocated to post-secondary institutions based on student demand and workforce data for in-demand skilled trades.
"This investment will help post-secondary institutions across Alberta create new spaces for students to build rewarding careers in the skilled trades. Strengthening our skilled labour force ensures that Alberta can respond to the needs of industry and the opportunities of our booming economy."
"Apprenticeship education is an important part of our
post-secondary system. Making sure students have access to programs, training and resources not only sets them up for success but supports and grows industries and our economy with a world-class workforce."
Alberta continues to diversify and grow, and as more people retire, the province is seeing an increased demand for skilled workers and apprenticeship learning opportunities. Student registration in Alberta's apprenticeship programs increased to more than 15,600 in 2022 from 7,820 in 2020.
Each new seat created through this funding means more opportunities to connect students to
well-paying jobs while securing the talent Alberta needs to ensure the province remains competitive in a global economy.
"There is a growing need for skilled trade workers across Alberta. This announcement will provide support for new apprenticeships that will build Alberta's economy."
"Investment in post-secondary education is a key driver of Alberta's economic prosperity. The expansion of apprenticeship seats ensures Red Deer Polytechnic can address the increased demand for skilled labour and trades training as Alberta industry and business continue to grow and prosper."
"Alberta's rebounding with opportunities for people in the skilled trades. I welcome this increase for post-secondaries to host classroom training for registered apprentices. For them, and especially for women in the trades, this financial support will change lives and keep Alberta growing."
"Every new apprentice seat funded by this announcement supports a young Alberta family, builds community and strengthens the Alberta economy."
Budget 2023 secures Alberta's future by transforming the health-care system to meet people's needs, supporting Albertans with the high cost of living, keeping our communities safe and driving the economy with more jobs, quality education and continued diversification.
Quick facts
In the 2022-23 school year, 11 post-secondary institutions across Alberta are offering a combined total of about 22,000 seats in apprenticeship classroom instruction.
The Government of Alberta offers apprenticeship education programs in 47 designated trades. Government administers and serves as the registrar, while post-secondary institutions deliver classroom instruction.
Expanding transit access for low-income Albertans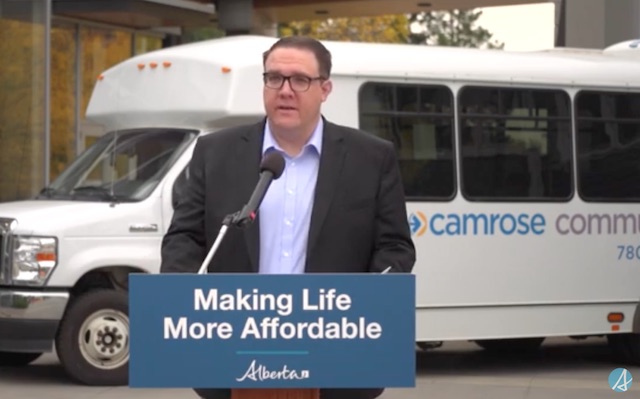 Alberta's government is providing $1.7 million to expand low-income transit programs in six new communities across the province.
Many Albertans rely on public transportation to help them get to work, appointments and attend recreational activities. To help combat high inflation, Alberta's government introduced additional funding in February to provide low-income Albertans with more affordable access to transit service.
In addition to Edmonton and Calgary, 10 Alberta communities have low-income transit passes. With this additional funding and to reduce financial barriers to transit, low-income Albertans in Camrose, Hinton, Leduc, Lethbridge, Red Deer and Spruce Grove will now be able to apply for a low-income transit pass.
"Many Albertans rely on public transit on a daily basis. These new agreements to expand low-income transit passes will help individuals and families move through their communities with ease, and without breaking the bank."
Funding will fully cover the municipality's cost of subsidizing the low-income transit program, including an additional 10 per cent for administration costs. Details on how communities can access this funding will be shared directly with eligible municipalities.
"The City of Camrose has provided transit options to the community for the past eight years. We appreciate the Government of Alberta's contribution to our program, which assists in making transit more affordable to our citizens. We look forward to working with our neighbours and the province in the future on potentially facilitating a regional transit system."
Quick facts
More than $14 million has already been allocated for low-income transit passes across the province, including $6 million each for Calgary and Edmonton to operate their programs.
Regulator rules in favour of Trans Mountain route deviation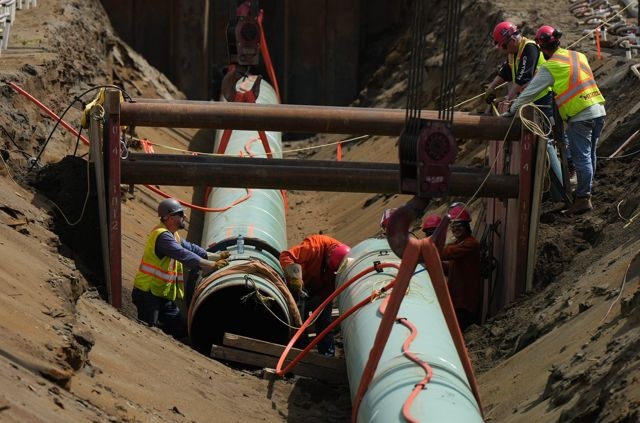 Workers place pipe during construction of the Trans Mountain pipeline expansion on farmland, in Abbotsford, B.C., on Wednesday, May 3, 2023. THE CANADIAN PRESS/Darryl Dyck
By Amanda Stephenson in Calgary
The Canada Energy Regulator has approved Trans Mountain Corp.'s application to modify the pipeline's route, a decision that could spare the government-owned pipeline project from an additional nine-month delay.
The regulator made the ruling Tuesday, just one week after hearing oral arguments from Trans Mountain and a B.C. First Nation that opposes the route change.
It didn't release the reasons for its decision Tuesday, saying those will be publicized in the coming weeks.
By siding with Trans Mountain Corp., the regulator is allowing the pipeline company to alter the route slightly for a 1.3-kilometre stretch of pipe in the Jacko Lake area near Kamloops, B.C., as well as the construction method for that section.
Trans Mountain Corp. had said it ran into engineering difficulties in the area related to the construction of a tunnel, and warned that sticking to the original route could result in up to a nine-month delay in the pipeline's completion, as well as an additional $86 million more in project costs.
Trans Mountain has been hoping to have the pipeline completed by early 2024.
But Trans Mountain's application was opposed by the Stk'emlúpsemc te Secwépemc Nation, whose traditional territory the pipeline crosses and who had only agreed to the originally proposed route.
In their regulatory filing, the First Nation stated the area has "profound spiritual and cultural significance" to their people, and that they only consented to the pipeline's construction with the understanding that Trans Mountain would minimize surface disturbances by implementing specific trenchless construction methods.
The Stk'emlúpsemc te Secwépemc argued that Trans Mountain never said its originally proposed construction method was impossible, only that it couldn't be done in time to meet a Jan. 1 in-service date for the pipeline.
The First Nation didn't respond to a request for comment by publication time.
The Trans Mountain pipeline is Canada's only pipeline system transporting oil from Alberta to the West Coast. Its expansion, which is currently underway, will boost the pipeline's capacity to 890,000 barrels per day (bpd) from 300,000 bpd currently.
The pipeline — which was bought by the federal government for $4.5 billion in 2018 after previous owner Kinder Morgan Canada Inc. threatened to scrap the pipeline's planned expansion project in the face of environmentalist opposition and regulatory hurdles — has already been plagued by construction-related challenges and delays.
Its projected price tag has since spiralled: first to $12.6 billion, then to $21.4 billion and most recently to $30.9 billion (the most recent capital cost estimate, as of March of this year).
Keith Stewart with Greenpeace Canada said it's alarming to see the regulator over-rule the wishes of Indigenous people in order to complete a pipeline on deadline.
"Every Canadian should be outraged that our public regulator is allowing a publicly owned pipeline to break a promise to Indigenous people to protect lands of spiritual and cultural significance," Stewart said.
The federal government has already approved a total of $13 billion in loan guarantees to help Trans Mountain secure the financing to cover the cost overruns.
Trans Mountain Corp. has blamed its budget problems on a variety of factors, including inflation, COVID-19, labour and supply chain challenges, flooding in B.C. and unexpected major archeological discoveries along the route.
Given the Canadian regulatory system has a reputation for being slow and cumbersome, it was surprising to see the Canada Energy Regulator rule so quickly on Trans Mountain's route deviation request, said Richard Masson, executive fellow with the University of Calgary's School of Public Policy.
"It's a challenging decision to have to make, when you've got a $30 billion pipeline that needs to be completed," Masson said.
"If there's no feasible way to do that tunnel, then I guess you have to allow for this."
Masson added that if the regulator had denied Trans Mountain's request, it would have been bad news for taxpayers as well as the federal government, which is seeking to divest the pipeline and has already entered into negotiations with several interested Indigenous-led buyers.
It also would have been bad news for Canadian oil companies, who have been eagerly anticipating the pipeline's start date to begin shipping barrels to customers.
"If this can result in the pipeline being completed by year-end and started up in the first quarter, that's good news. The world is still looking for oil, and oil prices are up at US$90 a barrel," Masson said.
This report by The Canadian Press was first published Sept. 25, 2023.