Province adds $335 million over three years to attract more investment from Hollywood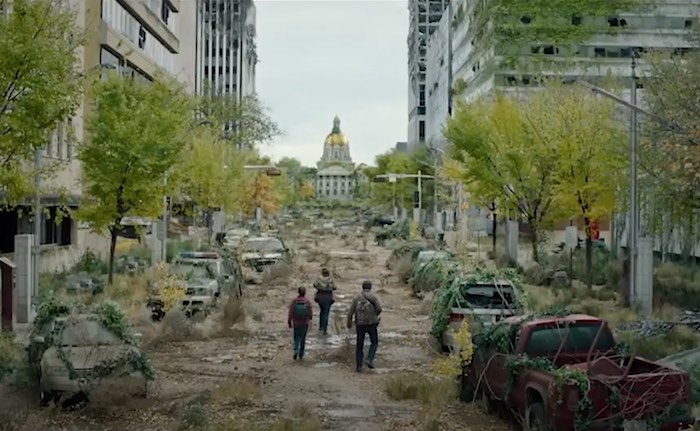 Action! for Alberta's film and television industry
Alberta's screen-based sector has momentum, and Alberta's government is helping to make the province a magnet for the job-creating film and television industry.
In 2020, Alberta's government launched the Film and Television Tax Credit, causing the province's film and television industry to grow in size and reputation. Since then, Alberta has attracted 129 productions with a total production value of $1.7 billion. This growth has resulted in approximately 9,000 direct and indirect jobs for Albertans.
To keep this momentum going, Alberta's government continues to make changes to the program and increase investment in it. One year after the tax credit was launched, the cap was raised, resulting in a doubling of the province's film and television sector. Now, Alberta's government is increasing its investment to a total of $335 million over three years to continue attracting the attention and investment dollars of Hollywood.
"Alberta is experiencing exponential growth in our film and television sector, and we are well on our way to becoming a top Canadian jurisdiction for producers from around the world. Since the introduction of the Film and Television Tax Credit, the film and television sector in Alberta has doubled. Productions reach every part of Alberta – big cities, small towns and rural locations – and use local resources, businesses, accommodations and contractors, supporting thousands of jobs."
As the province's film and television industry grows, so does the quality and number of Alberta-made productions. To help grow and promote local talent and productions, Alberta's government is also doubling the funding to the Alberta Made Screen Industries Program. This funding will support local producers and attract productions from around the world to set up shop in Alberta.
"Alberta-made film and television productions showcase Alberta's unique culture, breathtaking landscapes and stories to audiences across the globe. We are increasing our support to smaller productions because they provide a unique Alberta-made training ground for emerging talent and create local, highly skilled workers in the sector."
The Film and Television Tax Credit and Alberta Made Screen Industries Program work together to showcase the beauty and diversity of Alberta, create jobs, diversify the economy and support hospitality, service and tourism in the province. These targeted incentives to the film and television industries are helping to ensure Alberta remains the economic engine of Canada for years to come and the next film and television hub.
"The tax credit is central to the success of the industry. This is a competitive industry globally, and here in Alberta we're fortunate we had the cap removed. Now we can see productions with budgets from $100,000 to well over $100 million. Now that we have a robust production environment, there are more opportunities for people to have well-paying creative jobs."
"The Alberta government has provided supports for the film and television industry that provide certainty. It gives us more flexibility in how we're moving forward in our film and television work and the way that we're running our businesses."
"Seeing the increase to the Alberta Made Production Grant in the last budget has been fantastic. It will help grow the local industry, which means so much to local performers because that's where they build their resumés. It allows them to be a working performer, and not take side jobs or a day job somewhere else, and really focus on their craft."
Quick facts
According to Statistics Canada data:

Every $1 million of production activity in the screen-based production sector creates about 13 Alberta jobs.
Every $1 million of government investment under the Film and Television Tax Credit program is expected to support about 85 Alberta jobs.

The film and television industry is experiencing significant growth nationally and globally.
Every year, Alberta graduates more than 3,000 creative industry professionals from its post-secondary institutions.
The production workforce has grown 71 per cent from 2017, or by about 4,000 workers across all positions.
Alberta's Film and Television Tax Credit supports medium- and large-scale productions with costs over $499,999 through a refundable tax credit on eligible Alberta production and labour costs to corporations that produce films, television series and other eligible screen-based productions.
The Alberta Made Production Grant supports productions with a budget of up to $499,999.
The Alberta Made Screen Industries Program, through the Alberta Made Production Grant, supports smaller productions that do not qualify for the tax credit, covering 25 per cent of eligible Alberta production costs to a maximum of $125,000.
Every $1 investment in the Alberta Made Production Grant program generates an additional $4 in economic return.
Regulator rules in favour of Trans Mountain route deviation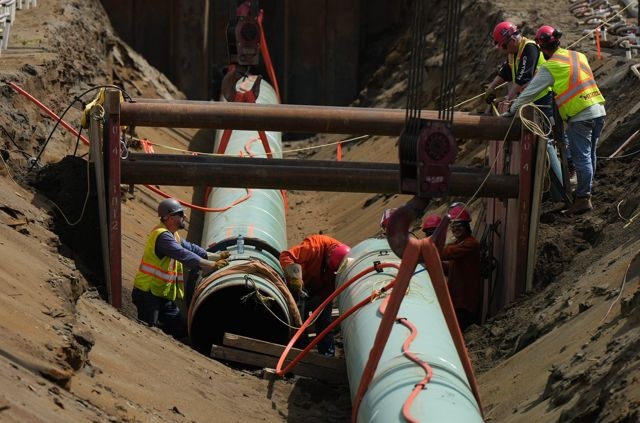 Workers place pipe during construction of the Trans Mountain pipeline expansion on farmland, in Abbotsford, B.C., on Wednesday, May 3, 2023. THE CANADIAN PRESS/Darryl Dyck
By Amanda Stephenson in Calgary
The Canada Energy Regulator has approved Trans Mountain Corp.'s application to modify the pipeline's route, a decision that could spare the government-owned pipeline project from an additional nine-month delay.
The regulator made the ruling Tuesday, just one week after hearing oral arguments from Trans Mountain and a B.C. First Nation that opposes the route change.
It didn't release the reasons for its decision Tuesday, saying those will be publicized in the coming weeks.
By siding with Trans Mountain Corp., the regulator is allowing the pipeline company to alter the route slightly for a 1.3-kilometre stretch of pipe in the Jacko Lake area near Kamloops, B.C., as well as the construction method for that section.
Trans Mountain Corp. had said it ran into engineering difficulties in the area related to the construction of a tunnel, and warned that sticking to the original route could result in up to a nine-month delay in the pipeline's completion, as well as an additional $86 million more in project costs.
Trans Mountain has been hoping to have the pipeline completed by early 2024.
But Trans Mountain's application was opposed by the Stk'emlúpsemc te Secwépemc Nation, whose traditional territory the pipeline crosses and who had only agreed to the originally proposed route.
In their regulatory filing, the First Nation stated the area has "profound spiritual and cultural significance" to their people, and that they only consented to the pipeline's construction with the understanding that Trans Mountain would minimize surface disturbances by implementing specific trenchless construction methods.
The Stk'emlúpsemc te Secwépemc argued that Trans Mountain never said its originally proposed construction method was impossible, only that it couldn't be done in time to meet a Jan. 1 in-service date for the pipeline.
The First Nation didn't respond to a request for comment by publication time.
The Trans Mountain pipeline is Canada's only pipeline system transporting oil from Alberta to the West Coast. Its expansion, which is currently underway, will boost the pipeline's capacity to 890,000 barrels per day (bpd) from 300,000 bpd currently.
The pipeline — which was bought by the federal government for $4.5 billion in 2018 after previous owner Kinder Morgan Canada Inc. threatened to scrap the pipeline's planned expansion project in the face of environmentalist opposition and regulatory hurdles — has already been plagued by construction-related challenges and delays.
Its projected price tag has since spiralled: first to $12.6 billion, then to $21.4 billion and most recently to $30.9 billion (the most recent capital cost estimate, as of March of this year).
Keith Stewart with Greenpeace Canada said it's alarming to see the regulator over-rule the wishes of Indigenous people in order to complete a pipeline on deadline.
"Every Canadian should be outraged that our public regulator is allowing a publicly owned pipeline to break a promise to Indigenous people to protect lands of spiritual and cultural significance," Stewart said.
The federal government has already approved a total of $13 billion in loan guarantees to help Trans Mountain secure the financing to cover the cost overruns.
Trans Mountain Corp. has blamed its budget problems on a variety of factors, including inflation, COVID-19, labour and supply chain challenges, flooding in B.C. and unexpected major archeological discoveries along the route.
Given the Canadian regulatory system has a reputation for being slow and cumbersome, it was surprising to see the Canada Energy Regulator rule so quickly on Trans Mountain's route deviation request, said Richard Masson, executive fellow with the University of Calgary's School of Public Policy.
"It's a challenging decision to have to make, when you've got a $30 billion pipeline that needs to be completed," Masson said.
"If there's no feasible way to do that tunnel, then I guess you have to allow for this."
Masson added that if the regulator had denied Trans Mountain's request, it would have been bad news for taxpayers as well as the federal government, which is seeking to divest the pipeline and has already entered into negotiations with several interested Indigenous-led buyers.
It also would have been bad news for Canadian oil companies, who have been eagerly anticipating the pipeline's start date to begin shipping barrels to customers.
"If this can result in the pipeline being completed by year-end and started up in the first quarter, that's good news. The world is still looking for oil, and oil prices are up at US$90 a barrel," Masson said.
This report by The Canadian Press was first published Sept. 25, 2023.
Partial settlement approved in lawsuit against Calgary Stampede over abuse of boys
Calgary
A judge has approved a partial settlement in a class-action lawsuit against the Calgary Stampede that alleged the organization allowed a performance school staffer to sexually abuse young boys.
Phillip Heerema received a 10-year prison sentence in 2018 after pleading guilty to charges including sexual assault, sexual exploitation, child pornography and luring.
Heerema admitted to using his position with the Young Canadians School of Performing Arts, which performs each year in the Calgary Stampede Grandstand Show, to lure and groom six boys into sexual relationships.
The school is operated by the Calgary Stampede Foundation.
Court of King's Bench Justice Alice Woolley approved the deal in which the Stampede has agreed to pay 100 per cent of the damages.
Hearings on the amount will take place on Dec. 14 and 15.
This report by The Canadian Press was first published Sept. 25, 2023