Prospect of no jab, no visa for Australian Open tennis stars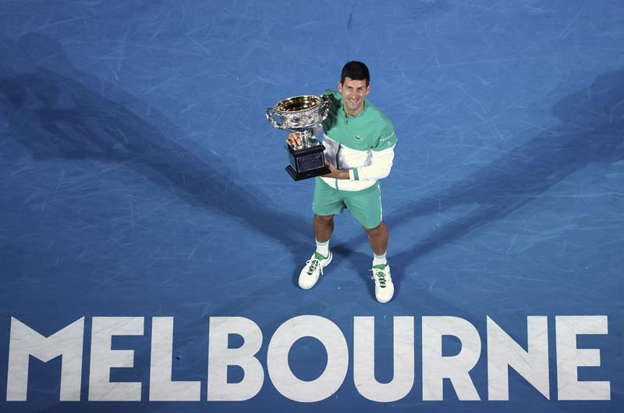 Elite tennis players are being urged to get a COVID-19 vaccination or risk missing the Australian Open next January.
Victoria Premier Daniel Andrews, whose state hosts the season-opening major at Melbourne Park, has already introduced a vaccine mandate for professional athletes competing in domestic sports leagues and people working in some industries.
On Tuesday, he increased the pressure on tennis players traveling from abroad.
"I don't think any unvaccinated tennis player is going to get a visa to come into this country," Andrews said. "If they did get a visa, they'd probably have to quarantine for a couple of weeks when no other players will have to."
Australia's federal Immigration Minister Alex Hawke said the policy for all incoming arrivals, including international athletes, will be the same.
"Our health advice is that when we open the borders everyone that comes to Australia will have to be double-vaccinated," Hawke told the Australian Broadcasting Corp. early Wednesday.
Australia is preparing to re-open its international borders for the first time in more than 18 months, but it'll be a gradual, state-by-state process starting next month and will depend on vaccination rates across the country. Fully vaccinated people will have fewer restrictions in Australia than those who are not.
The vaccination debate has been ongoing in tennis since international competition started re-emerging following a global shutdown last year.
Some players, including men's No. 1 Novak Djokovic, have advocated that the decision to get the vaccine should be a personal choice. Others, including Andy Murray, have said it should be mandated for the good of the majority.
Djokovic, who has won the Australian Open title a record nine times and shares the men's Grand Slam record of 20 titles with Roger Federer and Rafael Nadal, hasn't confirmed whether he has been vaccinated for COVID-19. If he doesn't get vaccinated, he risks missing the tournament he has won for the last three years.
Australia's immigration minister didn't think there'd be any exceptions, for anyone.
"I have a message to everyone who wishes to visit Australia, you'll need to be double vaccinated," Hawke told the ABC. "That's a universal application, not just to tennis players."
At the U.S. Open, which ended Sept. 12, spectators had to show proof of at least one dose of a COVID-19 vaccine to attend matches, although players weren't required to get a shot.
Victoria Azarenka, a two-time Australian Open champion and three-time runner-up at the U.S. Open, thought that sent a mixed message. She reached the U.S. Open final in 2020, when there were no fans allowed.
"To me that's a bit bizarre that fans have to be vaccinated and players are not," Azarenka said. "So I think that in my opinion, it's inevitable that it will be mandated at some point, like other leagues are doing."
Both the men's and the women's tours are recommending all players get vaccinated but so far have not enforced it. Just before the U.S. Open, roughly half of the elite male and female players were vaccinated.
Ahead of the Australian Open earlier this year, all players had to quarantine for two weeks and be regularly tested under Australia's strict regulations on COVID-19 measures.
Most were allowed a limited time to practice, but any who tested positive or we deemed to be close contacts of a positive case — which in some cases meant simply being on the same charter flight — had to do a hard lockdown. Those players weren't allowed to leave their hotel rooms.
Melbourne, which hosts season-opening Formula One Grand Prix races, the richest horse race in the southern hemisphere and the biggest football crowd in Australia, has either barred crowds or shifted sports events interstate during months of lockdown in recent months.
There are plans to have crowds at the Australian Open.
___
More AP tennis: https://apnews.com/hub/tennis and https://twitter.com/AP_Sports
John Pye, The Associated Press
CFL leaves door open for Argos' quarterback Bethel-Thompson playing in East final
TORONTO — The CFL has left the door open to McLeod Bethel-Thompson playing in the East Division final Sunday.
The Toronto Argonauts starting quarterback was held out of practice and sent home Friday after attending the Toronto Raptors 97-93 home win over the Milwaukee Bucks on Thursday night.
That violated the CFL's COVID-19 protocol, which would've normally meant Bethel-Thompson having to quarantine for four days and provide two negative tests before being able to resume team activities.
But Toronto hosts the Hamilton Tiger-Cats in the conference final Sunday afternoon at BMO Field.
The CFL announced Friday afternoon Bethel-Thompson will be allowed to play Sunday if he produces negative COVID testing following a 48-hour quarantine at his residence.
Argos Dexter McCoil, Charleston Hughes, Llevi Noel and Jeff Richards also attended the basketball game and will be subject to the same requirements as Bethel-Thompson.
Toronto (9-5) finished atop the East Division standings to secure home-field advantage for the conference final.
Bethel-Thompson was 7-2 as Toronto's starter this season.
Both the Argos and Raptors are owned by Maple Leafs Sports & Entertainment.
If Bethel-Thompson can't play, Antonio Pipkin will start for Toronto on Sunday.
The six-foot-three, 225-pound Pipkin started Toronto's season-ending 13-7 home loss to Edmonton on Nov. 16, completing 10-of-22 passes for 111 yards and an interception while rushing for 78 yards and a TD on nine carries.
Video of Bethel-Thompson holding his infant daughter at the NBA game was carried on the Argos' Twitter account Thursday night but was no longer available Friday.
But it was present long enough for Hamilton receiver Brandon Banks to notice.
"Wow when I tried to go to raptors game the @cfl told me I couldn't go!" Banks tweeted. "I ain't snitching but shit fishy ! #Protocol #tier1."
Bethel-Thompson also appeared on TSN's broadcast of the Raptors-Bucks game.
TSN is the CFL's broadcast partner.
"So lemme get this straight," TSN's Kayla Grey, who interviewed Bethel-Thompson during the broadcast, tweeted Friday. " … a starting quarterback goes on a national broadcast to promote an East Final that he is now forced to miss because the league is forcing him to quarantine for going to a game to promote said East Final?
"Baby what a mess."
This report by The Canadian Press was first published Dec. 3, 2021.
The Canadian Press
Canada buying up to 1.5 million courses of oral antiviral drugs to fight COVID-19
OTTAWA — Procurement Minister Filomena Tassi says Canada has signed agreements to buy up 1.5 million courses of oral antiviral treatment for COVID-19.
The government has signed up for an initial one million courses of antiviral treatment, once Health Canada endorses their safety and efficacy.
Pfizer submitted a request for Health Canada approval earlier this week.
Canada has also purchased 500,000 courses of Merck's oral antiviral treatment for COVID-19, with the option to purchase another 500,000 once Health Canada approves the drug.
The drugs are designed to block the enzyme essential for viral replication.
Merck's clinical trial showed a 50 per cent reduced risk of hospitalization or death compared to placebo patients with mild or moderate COVID-19.
This report by The Canadian Press was first published Dec. 3, 2021.
The Canadian Press