Prospect of no jab, no visa for Australian Open tennis stars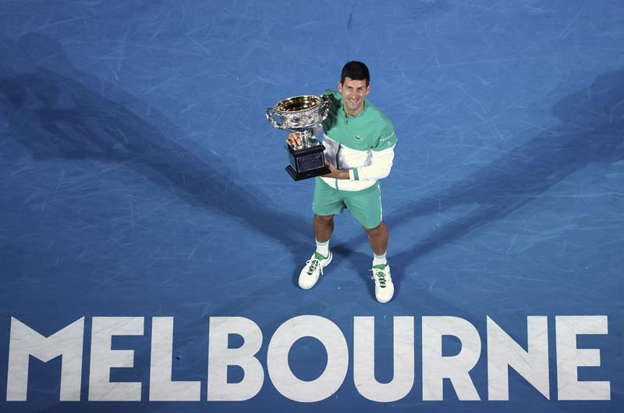 Elite tennis players are being urged to get a COVID-19 vaccination or risk missing the Australian Open next January.
Victoria Premier Daniel Andrews, whose state hosts the season-opening major at Melbourne Park, has already introduced a vaccine mandate for professional athletes competing in domestic sports leagues and people working in some industries.
On Tuesday, he increased the pressure on tennis players traveling from abroad.
"I don't think any unvaccinated tennis player is going to get a visa to come into this country," Andrews said. "If they did get a visa, they'd probably have to quarantine for a couple of weeks when no other players will have to."
Australia's federal Immigration Minister Alex Hawke said the policy for all incoming arrivals, including international athletes, will be the same.
"Our health advice is that when we open the borders everyone that comes to Australia will have to be double-vaccinated," Hawke told the Australian Broadcasting Corp. early Wednesday.
Australia is preparing to re-open its international borders for the first time in more than 18 months, but it'll be a gradual, state-by-state process starting next month and will depend on vaccination rates across the country. Fully vaccinated people will have fewer restrictions in Australia than those who are not.
The vaccination debate has been ongoing in tennis since international competition started re-emerging following a global shutdown last year.
Some players, including men's No. 1 Novak Djokovic, have advocated that the decision to get the vaccine should be a personal choice. Others, including Andy Murray, have said it should be mandated for the good of the majority.
Djokovic, who has won the Australian Open title a record nine times and shares the men's Grand Slam record of 20 titles with Roger Federer and Rafael Nadal, hasn't confirmed whether he has been vaccinated for COVID-19. If he doesn't get vaccinated, he risks missing the tournament he has won for the last three years.
Australia's immigration minister didn't think there'd be any exceptions, for anyone.
"I have a message to everyone who wishes to visit Australia, you'll need to be double vaccinated," Hawke told the ABC. "That's a universal application, not just to tennis players."
At the U.S. Open, which ended Sept. 12, spectators had to show proof of at least one dose of a COVID-19 vaccine to attend matches, although players weren't required to get a shot.
Victoria Azarenka, a two-time Australian Open champion and three-time runner-up at the U.S. Open, thought that sent a mixed message. She reached the U.S. Open final in 2020, when there were no fans allowed.
"To me that's a bit bizarre that fans have to be vaccinated and players are not," Azarenka said. "So I think that in my opinion, it's inevitable that it will be mandated at some point, like other leagues are doing."
Both the men's and the women's tours are recommending all players get vaccinated but so far have not enforced it. Just before the U.S. Open, roughly half of the elite male and female players were vaccinated.
Ahead of the Australian Open earlier this year, all players had to quarantine for two weeks and be regularly tested under Australia's strict regulations on COVID-19 measures.
Most were allowed a limited time to practice, but any who tested positive or we deemed to be close contacts of a positive case — which in some cases meant simply being on the same charter flight — had to do a hard lockdown. Those players weren't allowed to leave their hotel rooms.
Melbourne, which hosts season-opening Formula One Grand Prix races, the richest horse race in the southern hemisphere and the biggest football crowd in Australia, has either barred crowds or shifted sports events interstate during months of lockdown in recent months.
There are plans to have crowds at the Australian Open.
___
More AP tennis: https://apnews.com/hub/tennis and https://twitter.com/AP_Sports
John Pye, The Associated Press
Vancouver Canucks trade captain Bo Horvat to New York Islanders
VANCOUVER — The rebuild of the Vancouver Canucks has begun, with centre Bo Horvat heading to the New York Islanders.
The Canucks announced Monday that their captain is heading east in exchange for forwards Anthony Beauvillier and Aatu Raty and a protected 2023 first-round draft pick.
Horvat is having an excellent 2022-23 campaign. He has tied his career high with 31 goals and has added 23 assists in 49 games.
However, he was the first domino to fall on a Canucks roster that will likely undergo more changes with the team in the midst of a disappointing season.
The trading of Vancouver's captain comes eight days after head coach Bruce Boudreau was fired and replaced with Rick Tocchet.
The Canucks enter the NHL all-star break in sixth place in the Pacific Division with a 20-26-3 record.
Beauvillier has nine goals and 11 assists in 49 games this season, while Raty has two goals in 12 games.
Raty also has seven goals and eight assists in 27 games with the American Hockey League's Bridgeport Islanders.
This report by The Canadian Press was first published Jan. 30, 2023.
The Canadian Press
CP NewsAlert: L'Arche says co-founder Jean Vanier sexually abused 25 women
MONTREAL — A report commissioned by a non-profit organization founded by the late Jean Vanier says the Canadian sexually abused 25 women during his decades with the group.
L'Arche International says the investigation identified 25 women who experienced a sexual act or an intimate gesture from Vanier between 1952 and 2019.
It says the relationships between Vanier, who died in 2019, and the women are "part of a continuum of confusion, control and abuse."
Vanier, son of former Governor General Georges Vanier, worked as a Canadian navy officer and professor before turning to Catholic-inspired charity work.
He founded L'Arche in 1964 as an alternative living environment where those with developmental disabilities could be full-fledged participants in the community instead of patients.
More coming.
The Canadian Press