Privacy czar probing complaints about federal public service vaccination requirement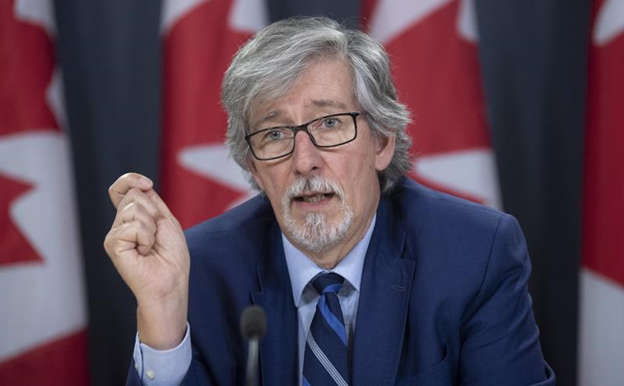 OTTAWA — The federal privacy watchdog is investigating "a number of complaints" about the government's COVID-19 vaccination requirement for public servants.
Privacy commissioner Daniel Therrien said in a statement Friday his office was looking into the concerns, but provided no details given they are now the subject of "ongoing investigations."
The Liberal government announced earlier this month that core public servants must be vaccinated against the virus or face suspension without pay as early as Nov. 15.
Prime Minister Justin Trudeau also announced this week that provinces and the federal government have agreed on a new national vaccine passport for domestic and international travel.
Therrien said his office has had "constructive discussions" with federal officials over the last few months on the standardized proof-of-vaccination for travel initiative.
"That being said, in recent days, our office has received a number of complaints related to the government's COVID-19 vaccination requirement for federal public servants. We will therefore be investigating the application of privacy principles in this context."
He added that although the initiatives are distinct, the principles applicable to vaccine passports for travel and to the vaccination requirement for federal public servants are the same.
"It would therefore be inappropriate to offer conclusions until we have completed our investigations," Therrien said.
"Given the complaints about the public service vaccination requirement are now the subject of ongoing investigations, no further details can be provided."
Therrien said Friday that vaccine passports might offer significant public health benefits but they remain exceptional measures. "They should only be imposed after careful consideration of privacy and other human rights principles."
In May, Therrien and his counterparts across the country said respect for laws and principles governing personal information must guide introduction of proof-of-vaccination certificates that could smooth the transition to post-pandemic life.
In the joint statement, federal, provincial and territorial privacy commissioners said that in order to be justified, vaccine passports must be necessary to achieve their intended public health purposes, and their effectiveness in meeting the goals should be evidence-based.
The commissioners also said privacy risks associated with the initiative must be proportionate to the purpose, the personal information collection limited, the data used only for the intended goal, and the program have an expiration date.
"The government has provided us with information relevant to each of these criteria," Therrien said Friday.
This report by The Canadian Press was first published Oct. 22, 2021.
Jim Bronskill, The Canadian Press
CFL leaves door open for Argos' quarterback Bethel-Thompson playing in East final
TORONTO — The CFL has left the door open to McLeod Bethel-Thompson playing in the East Division final Sunday.
The Toronto Argonauts starting quarterback was held out of practice and sent home Friday after attending the Toronto Raptors 97-93 home win over the Milwaukee Bucks on Thursday night.
That violated the CFL's COVID-19 protocol, which would've normally meant Bethel-Thompson having to quarantine for four days and provide two negative tests before being able to resume team activities.
But Toronto hosts the Hamilton Tiger-Cats in the conference final Sunday afternoon at BMO Field.
The CFL announced Friday afternoon Bethel-Thompson will be allowed to play Sunday if he produces negative COVID testing following a 48-hour quarantine at his residence.
Argos Dexter McCoil, Charleston Hughes, Llevi Noel and Jeff Richards also attended the basketball game and will be subject to the same requirements as Bethel-Thompson.
Toronto (9-5) finished atop the East Division standings to secure home-field advantage for the conference final.
Bethel-Thompson was 7-2 as Toronto's starter this season.
Both the Argos and Raptors are owned by Maple Leafs Sports & Entertainment.
If Bethel-Thompson can't play, Antonio Pipkin will start for Toronto on Sunday.
The six-foot-three, 225-pound Pipkin started Toronto's season-ending 13-7 home loss to Edmonton on Nov. 16, completing 10-of-22 passes for 111 yards and an interception while rushing for 78 yards and a TD on nine carries.
Video of Bethel-Thompson holding his infant daughter at the NBA game was carried on the Argos' Twitter account Thursday night but was no longer available Friday.
But it was present long enough for Hamilton receiver Brandon Banks to notice.
"Wow when I tried to go to raptors game the @cfl told me I couldn't go!" Banks tweeted. "I ain't snitching but shit fishy ! #Protocol #tier1."
Bethel-Thompson also appeared on TSN's broadcast of the Raptors-Bucks game.
TSN is the CFL's broadcast partner.
"So lemme get this straight," TSN's Kayla Grey, who interviewed Bethel-Thompson during the broadcast, tweeted Friday. " … a starting quarterback goes on a national broadcast to promote an East Final that he is now forced to miss because the league is forcing him to quarantine for going to a game to promote said East Final?
"Baby what a mess."
This report by The Canadian Press was first published Dec. 3, 2021.
The Canadian Press
Canada buying up to 1.5 million courses of oral antiviral drugs to fight COVID-19
OTTAWA — Procurement Minister Filomena Tassi says Canada has signed agreements to buy up 1.5 million courses of oral antiviral treatment for COVID-19.
The government has signed up for an initial one million courses of antiviral treatment, once Health Canada endorses their safety and efficacy.
Pfizer submitted a request for Health Canada approval earlier this week.
Canada has also purchased 500,000 courses of Merck's oral antiviral treatment for COVID-19, with the option to purchase another 500,000 once Health Canada approves the drug.
The drugs are designed to block the enzyme essential for viral replication.
Merck's clinical trial showed a 50 per cent reduced risk of hospitalization or death compared to placebo patients with mild or moderate COVID-19.
This report by The Canadian Press was first published Dec. 3, 2021.
The Canadian Press