Princes William, Harry won't walk side-by-side at funeral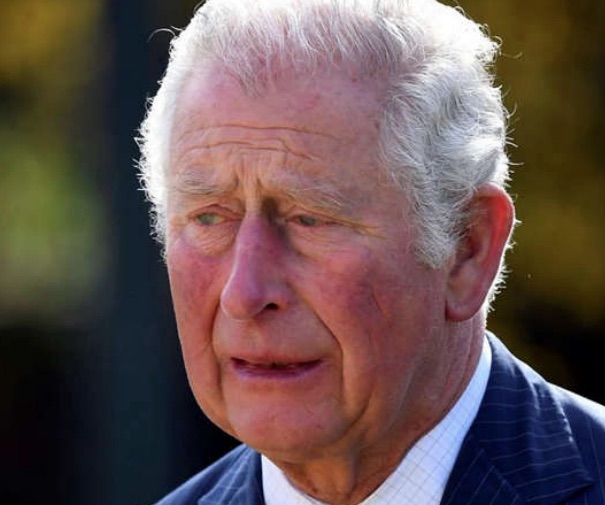 LONDON — Prince William and Prince Harry won't walk side-by-side Saturday as they follow their grandfather's coffin into the church ahead of Prince Philip's funeral, minimizing the chances of any awkward moments between the brothers who are grappling with strained relations since Harry's decision to step away from royal duties last year.
Buckingham Palace on Thursday released the broad outlines of the funeral program for Queen Elizabeth II's husband, who died April 9 at 99. The palace revealed that William and Harry's cousin, Peter Phillips, will walk between the princes as they escort the coffin to St. George's Chapel at Windsor Castle, west of London.
Prince Charles, the heir to the throne and the father of the princes, together with his sister, Princess Anne, will lead the 15-member procession.

The brothers had been closely watched as Saturday's funeral will almost certainly remind the pair of their shared grief at another royal funeral more than two decades ago. As young boys, both walked behind their mother Princess Diana's coffin in 1997 in London in a ceremony watched around the world.

Palace officials refused to comment when asked whether the positioning of William and Harry was an effort to minimize family tensions, which have grown after Harry and his wife Meghan, the Duchess of Sussex, gave an explosive interview to Oprah Winfrey that suggested an unnamed member of the royal family had made a racist comment to Harry before the birth of their child Archie.

Meghan, who is pregnant and living in California with Harry, is not coming to the funeral on the advice of her doctor.

"We're not going to be drawn into those perceptions of drama or anything like that,'' a palace spokesman said while speaking on condition of anonymity in line with policy. "This is a funeral and the arrangements have been agreed and they represent Her Majesty's wishes."
In another effort to preserve family unity, the palace said senior royals would wear civilian clothes to the funeral. The decision, signed off by the queen, means that Harry won't risk being the only member of the royal family not in uniform during the funeral.
Members of the royal family often wear uniforms to public events by virtue of their honorary roles with the British Army, Royal Navy and Royal Air Force, but Harry lost his honorary military titles when he decided to give up frontline royal duties last year. As a result, protocol suggests that Harry, an army veteran who served two tours of duty in Afghanistan, would only wear a suit with medals at royal functions.
The decision also sidesteps another potential controversy after reports that Prince Andrew, the queen's second-oldest son, considered wearing an admiral's uniform to his father's funeral. Andrew retains his military titles even though he was forced to step away from royal duties after a disastrous interview with the BBC about his acquaintance with convicted sex offender Jeffrey Epstein.
Attendance at the funeral will be limited to 30 people because of the coronavirus restrictions in England. The list will include several of Philip's relatives from Germany, together with immediate members of the royal family. The children in the family will not attend.
Guests will wear masks inside the chapel and observe social distancing. The queen, always the first to set an example, will also wear a mask.
In other details released about the funeral, Royal Marine buglers will play "Action Stations," an alarm that alerts sailors to prepare for battle.
Philip, also known as the Duke of Edinburgh, served in the Royal Navy for 12 years and maintained close ties to the armed forces throughout his life. Military personnel will have a large role in honouring him Saturday despite the attendance limit.
Members of the Royal Navy, the Royal Marines, the Royal Air Force and the British Army will take part in the funeral procession. Philip's coffin will be carried to St. George's Chapel on a specially adapted Land Rover that he designed himself.
___
For AP's full coverage of the death of Prince Philip go to https://apnews.com/hub/prince-philip
Danica Kirka, The Associated Press
CP NewsAlert: Dany Fortin leaves vaccine rollout post pending military investigation
OTTAWA — The military officer in charge of Canada's vaccine rollout has left his assignment with the Public Health Agency of Canada.
The Department of National Defence says in a release that Maj.-Gen. Dany Fortin is off the job pending the results of a military investigation.
The release says acting chief of the defence staff, Lt.-Gen. Wayne Eyre, will be reviewing next steps with Fortin. 
The Department says it will have no further comment. 
More coming …
The Canadian Press
Biden meets DACA recipients in immigration overhaul push
President Joe Biden met Friday with six immigrants who benefited from an Obama-era policy that protected those brought to the U.S. illegally as children. The president is trying to turn attention toward overhauling the nation's immigration laws, but it's an issue he has made scant progress on in the first months of his presidency.
Maria Praeli, one of the immigrants who participated in the meeting, said she and others spoke candidly to Biden about their concerns and about worries that their fates could be upended by a Texas court decision if Congress doesn't act.
"Our lives have been in limbo for far too long," Praeli said. She was brought to the U.S. from Peru when she was 5 and is now government relations manager at the immigrant advocacy group FWD.us.
Immigration has been largely left on the back burner while Biden has dealt with the coronavirus pandemic and pushed for legislative action on a massive infrastructure package.
The immigrants invited to Friday's Oval Office meeting have used the Deferred Action for Childhood Arrivals program instituted in 2012 to legalize their residency. Biden renewed his call for Congress to codify DACA and to approve longer-shot legislation that would establish a pathway to citizenship for 11 million immigrants in the country illegally, an effort that faces tough odds in a closely divided Congress.
The White House in a statement said Biden reiterated to the group his commitment to immigration reform. He noted his support for legislation that's passed the Democratic-controlled House to enshrine the DACA program in law and for a separate bill intended to help migrant farm workers attain lawful status and better working conditions.
Ahead of the meeting, White House press secretary Jen Psaki pushed back against the notion that immigration has slid as a priority, noting that Biden has continued through the early days of his administration to have conversations with top aides on strategy to push the issue forward. She added that Biden viewed meeting with individuals helped by DACA — a program that has widespread, bipartisan support among the American public — as a chance to highlight an area on immigration reform where there is a measure of agreement with many Republicans.
"He believes there's an opportunity to move forward on areas where we agree," Psaki said.
Homeland Security Secretary Alejandro Mayorkas said in March that his agency was issuing a rule to "preserve and fortify DACA," but the policy faces a Texas court challenge that could invalidate the protections established under Obama. Former President Donald Trump tried to phase out the program. The U.S. Supreme Court ruled last year that Trump could end it but that he did so improperly.
Biden has made clear that passing legislation enshrining DACA should be the floor for action on immigration.
"If you don't like my plan, let's at least pass what we all agree on," Biden said in his address before the joint session of Congress last month. "Congress needs to pass legislation this year to finally secure protection for Dreamers — the young people who have only known America as their home."
To be certain, there's been little sign of progress on Capitol Hill.
A bipartisan group of senators led by Democratic Sen. Dick Durbin of Illinois, the chair of the Judiciary Committee, and Sen. John Cornyn, R-Texas — two veterans of immigration debates — appears to have hit a stalemate, with only halting progress despite weeks of private meetings.
A more narrow House-passed measure focused on DACA and another bill to revamp rules for farm workers has almost zero chance of passage in the Senate.
It's a familiar political standoff as Republicans are focused on the problems at the border, while Democrats want to consider changes to the immigration system.
Ali Noorani, president of the National Immigration Forum, said the meeting with the DACA recipients — a group often referred to by immigration advocates as "Dreamers" based on never-passed proposals in Congress called the DREAM Act— is a positive development.
Still, Noorani said he's hoping for the issue to receive greater White House and congressional attention once lawmakers get beyond infrastructure package negotiations. Biden has set a soft deadline of Memorial Day for finding the contours of a deal with Republicans on infrastructure.
"The sense here is that you get past infrastructure, the next immigration meeting on the couch in the Oval Office should be a bipartisan set of senators," Noorani said.
___
AP Congressional Correspondent Lisa Mascaro contributed to this report.
Aamer Madhani, The Associated Press