Prime minister signs historic land claim settlement with Alberta First Nation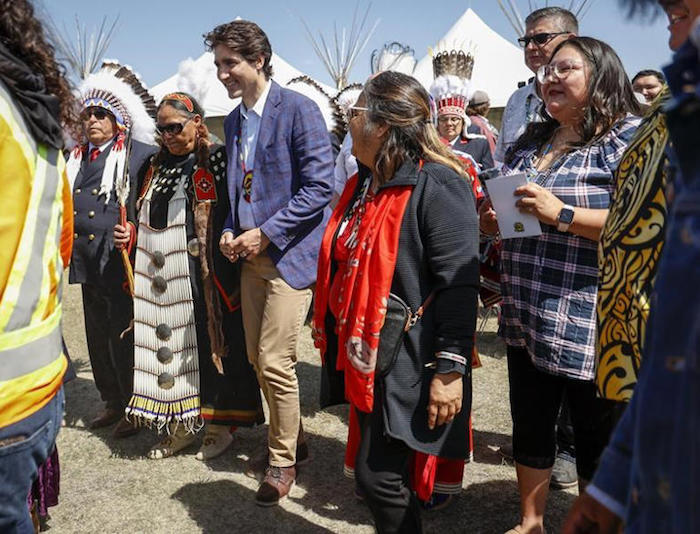 SIKSIKA, Alta. — Prime Minister Justin Trudeau and the chief of a southern Alberta First Nation have signed a historic land-claim settlement which the federal government says is one of the largest of its kind in Canada.
Trudeau and Marc Miller, minister of Crown-Indigenous relations, participated in a signing ceremony Thursday with Chief Ouray Crowfoot of Siksika First Nation, its council and community members 150 kilometres east of Calgary.
"We're gathered today to right a wrong from the past," Trudeau said during the ceremony held where the original treaty was signed 145 years ago.
"We're gathered to give ourselves a chance to start rebuilding trust between us, nation to nation."
The federal government said the settlement dates back more than a century to when Canada broke its Blackfoot Treaty promise and took almost half of Siksika's reserve land, including some of its agricultural lands, to sell to people who settled in the area.
The agreement provides $1.3 billion in compensation to the First Nation to resolve outstanding land claims, which include about 46,500 hectares of Siksika's reserve and certain mineral rights taken by Canada.
Miller drew applause when he addressed the crowd in Blackfoot in a speech that last nearly three minutes.
"We'll see if I can do better in English," Miller joked after he had finished.
"Today's a new day. It's time to move on."
Trudeau said it's important to move forward with Indigenous people as partners.
"This settlement will enable you to invest in your priorities like infrastructure, education and supports for elders and youth," he said. "It will create new economic, social and cultural opportunities."
Crowfoot said the settlement doesn't make up for past wrongs, but it will make a difference in people's lives.
"Canada needs to stop using the word reconciliation. You will never reconcile. You will never make it whole," he said.
"This land claim — $1.3 billion, that's a lot of money — it will never make it whole of what it was before. But we've got to move forward. What the $1.3 (billion) can do is provide opportunities, opportunities we didn't have before.
"I do see the tide turning for Siksika … I see us becoming a thriving nation."
Crowfoot said some of the money is to be spent on addressing issues that affect its members.
"We are the second-largest First Nation from a land perspective, yet we don't have policing on the reserve," he said. "We're working to get our policing back.
"We are working through the residential school searches and mental health."
The Siksika website indicates each member is also to receive $20,000 in July as part of the settlement.
In his initial speech during the signing ceremony, Crowfoot noted that he wasn't sure yet if he considered Trudeau to be a friend.
He explained at a media availability later that he knows Miller has proven to be a friend of the Siksika people.
"I have about three friends that I consider close friends. This is the first time I've ever met the prime minister," he said.
"How do we work on these relationships so I can call the prime minister a friend? I don't call him an enemy."
This report by The Canadian Press was first published June 2, 2022.
— With files from Colette Derworiz in Calgary
Bill Graveland, The Canadian Press
Future of Energy is Here – Province of Alberta pitches Alberta and Albertans at 2022 Energy Council conference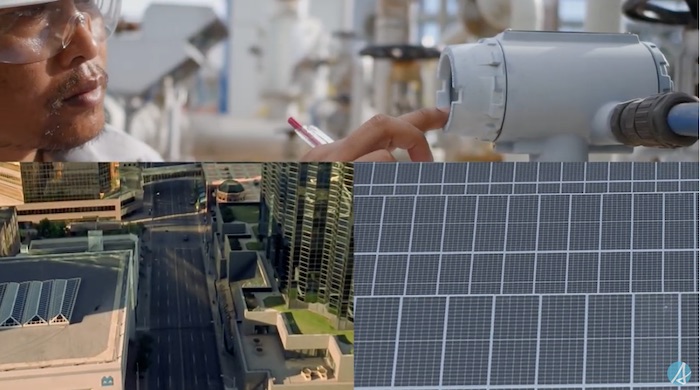 Alberta's Energy Minister Pete Guthrie is making a powerful presentation to state and provincial legislators from across the United States and Canada at the Energy Council's Global Energy and Environmental Issues Conference in Banff.
It's a convincing pitch on behalf of energy workers, and Alberta taxpayers who rely so heavily on the province's most lucrative industry. The presentation is boosted by this video profiling Alberta's stable, abundant and environmentally responsible energy supply.
Energy Minister Pete Guthrie issued the following statement on Alberta's energy sector at the 2022 Energy Council conference:
"Energy matters now more than ever. This year, we've seen how geopolitical events and volatile energy markets can impact the lives of people throughout the world. It matters where the energy that powers our homes, our economies and our lives comes from.
"The world needs a solution for long-term energy security that is also responsible, reliable and affordable. That solution is Alberta.
"It's in this spirit that Alberta is proud to host the Energy Council's Global Energy and Environmental Issues Conference in Banff. We are promoting our energy sector to more than 160 participants – including state and provincial legislators from the United States and Canada.
"During the conference, we will focus discussions on the future of the energy industry, the strength and security of the North American energy system and the role Alberta has to play.
"Alberta is the global leader in responsible energy development that the world needs. We have the innovation, technology and expertise needed to produce responsible energy. We have the highest human rights, labour and environmental standards. We have Canada's fastest-growing renewable energy sector. On top of all that, we are rapidly developing carbon capture and storage and lowering emissions, with the Pathways Alliance targeting net zero by 2050.
"Our government firmly believes Alberta is the key to energy security for North America and the world. Our track record speaks for itself. Last year, about 62 per cent of the crude oil imported to the United States came from Alberta – that is 10 times more than their oil imports from Saudi Arabia, and over four times more than all of OPEC. Every barrel that comes from Alberta helps replace one produced by countries that do not adhere to our high environmental and social standards. Our province has one of the largest oil reserves in the world, and we are ready to supply nations around the world with our reliable and responsibly produced resources.
"Alberta's support of research and innovation excellence ensures that innovators can continue to make groundbreaking discoveries, commercialize game-changing emissions-reducing technologies and solve some of the industry's biggest challenges.
"The future of energy is here. It's Alberta."
Ice Explorer rollover investigation complete – No criminal charges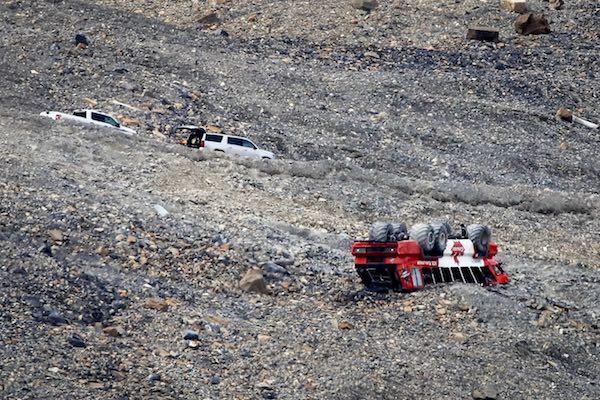 Submitted by Alberta RCMP
Jasper RCMP investigate Ice Explorer rollover in the Columbia Icefields – Update #7
The RCMP have completed their investigation into the tragic events of the Ice Explorer rollover in Columbia Icefields on July 18, 2020. The RCMP have shared all requested investigative material gathered during the criminal investigation with the Ministry of Labour as required by the Alberta OH&S Act. While the RCMP is aware of the charges resulting from the regulatory investigation, the criminal standard is high and the criminal investigation is independent, separate and parallel to the OH&S investigation.
Upon consultation with the Alberta Crown Prosecution Service, the RCMP have determined that no criminal charges are warranted in this investigation. This determination brings the RCMP's criminal investigation to a close.
This investigation was of the utmost seriousness and was complex, both factually and legally.
Our thoughts continue to go out to the families of the deceased and the injured, and to all who have been impacted by this tragedy.
No further details can be shared at this time.