Prime minister signs historic land claim settlement with Alberta First Nation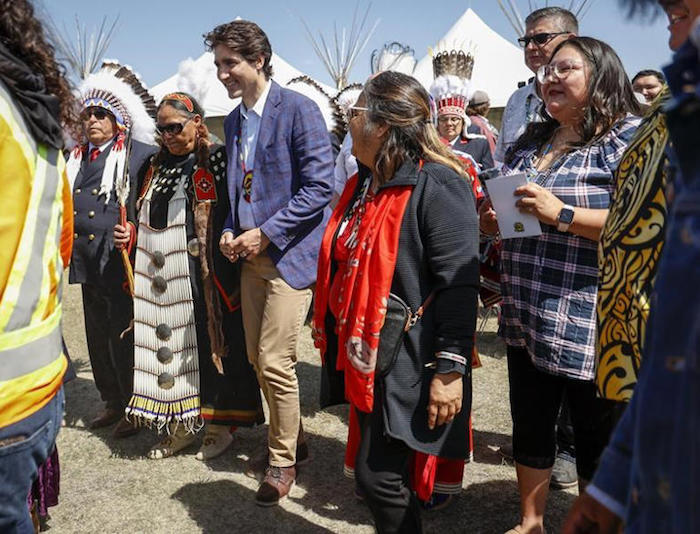 SIKSIKA, Alta. — Prime Minister Justin Trudeau and the chief of a southern Alberta First Nation have signed a historic land-claim settlement which the federal government says is one of the largest of its kind in Canada.
Trudeau and Marc Miller, minister of Crown-Indigenous relations, participated in a signing ceremony Thursday with Chief Ouray Crowfoot of Siksika First Nation, its council and community members 150 kilometres east of Calgary.
"We're gathered today to right a wrong from the past," Trudeau said during the ceremony held where the original treaty was signed 145 years ago.
"We're gathered to give ourselves a chance to start rebuilding trust between us, nation to nation."
The federal government said the settlement dates back more than a century to when Canada broke its Blackfoot Treaty promise and took almost half of Siksika's reserve land, including some of its agricultural lands, to sell to people who settled in the area.
The agreement provides $1.3 billion in compensation to the First Nation to resolve outstanding land claims, which include about 46,500 hectares of Siksika's reserve and certain mineral rights taken by Canada.
Miller drew applause when he addressed the crowd in Blackfoot in a speech that last nearly three minutes.
"We'll see if I can do better in English," Miller joked after he had finished.
"Today's a new day. It's time to move on."
Trudeau said it's important to move forward with Indigenous people as partners.
"This settlement will enable you to invest in your priorities like infrastructure, education and supports for elders and youth," he said. "It will create new economic, social and cultural opportunities."
Crowfoot said the settlement doesn't make up for past wrongs, but it will make a difference in people's lives.
"Canada needs to stop using the word reconciliation. You will never reconcile. You will never make it whole," he said.
"This land claim — $1.3 billion, that's a lot of money — it will never make it whole of what it was before. But we've got to move forward. What the $1.3 (billion) can do is provide opportunities, opportunities we didn't have before.
"I do see the tide turning for Siksika … I see us becoming a thriving nation."
Crowfoot said some of the money is to be spent on addressing issues that affect its members.
"We are the second-largest First Nation from a land perspective, yet we don't have policing on the reserve," he said. "We're working to get our policing back.
"We are working through the residential school searches and mental health."
The Siksika website indicates each member is also to receive $20,000 in July as part of the settlement.
In his initial speech during the signing ceremony, Crowfoot noted that he wasn't sure yet if he considered Trudeau to be a friend.
He explained at a media availability later that he knows Miller has proven to be a friend of the Siksika people.
"I have about three friends that I consider close friends. This is the first time I've ever met the prime minister," he said.
"How do we work on these relationships so I can call the prime minister a friend? I don't call him an enemy."
This report by The Canadian Press was first published June 2, 2022.
— With files from Colette Derworiz in Calgary
Bill Graveland, The Canadian Press
Police looking for these 3 suspects after Super 8 Motel in Innisfail robbed early Monday morning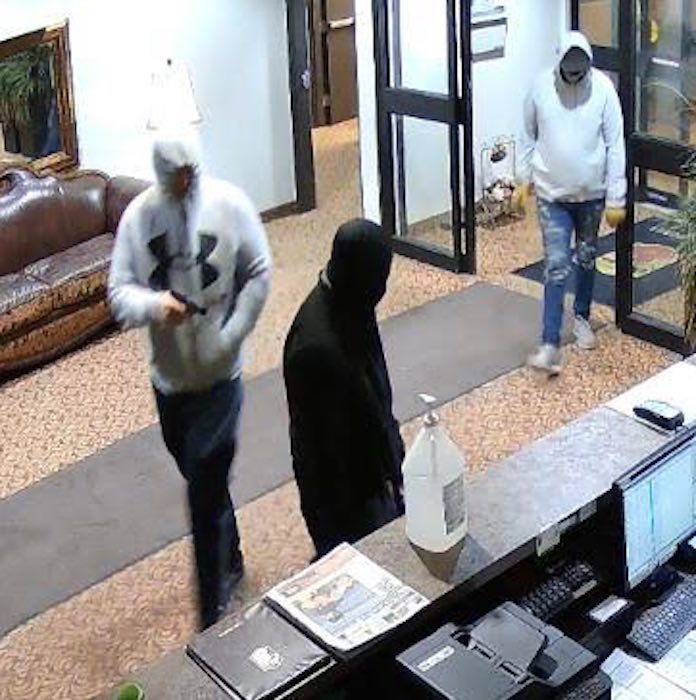 Innisfail RCMP investigate robbery
Innisfail Ala. – On May 29, 2023, at approximately 4:10 a.m., the Super 8 motel in Innisfail was the victim of an armed robbery. Three male suspects entered the hotel, two of which had firearms. Money was demanded from the manager. All three left the motel in a vehicle which is described as:
Chevrolet Dura Max truck
Sliver
Lifted
The suspects are described as:
Suspect #1: Caucasian male, tall and muscular. Wearing jeans and a grey Under Armour hoody. He was carrying a pistol.
Suspect #2: Caucasian male, short. Wearing all black. He was carrying a sawed off shotgun
Suspect #3: Caucasian male tall with a chubby belly. He was wearing a grey hoody, jeans and a black ball hat.
If you have information about this incident, please call the Innisfail RCMP at 403-227-3341 or call your local police. If you want to remain anonymous, you can contact Crime Stoppers by phone at 1-800-222-8477 (TIPS), by internet atwww.tipsubmit.com, or by SMS (check your local Crime Stoppers www.crimestoppers.ab.ca for instructions).
'Tragic accident' blamed for recent death of giraffe at Calgary Zoo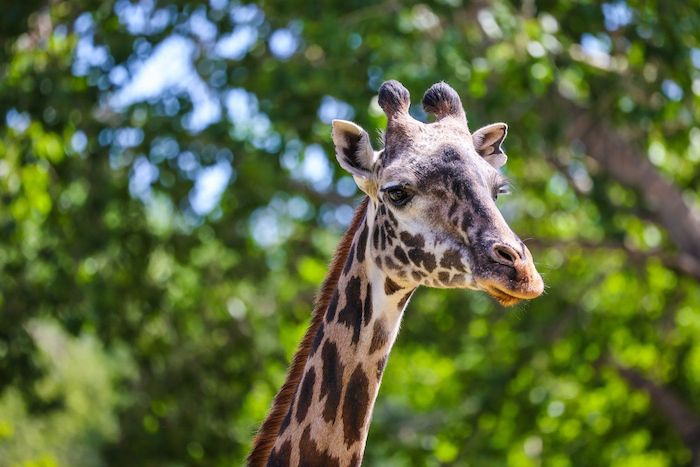 The Wilder Institute/Calgary Zoo says a "tragic accident" led to the recent death of an adult Masai giraffe. A statement from the zoo says the female giraffe named Emara died May 19 after tangling one of her horns on a cable surrounding her enclosure. THE CANADIAN PRESS/HO-Wilder Institute/Calgary Zoo-Sergei Belskey
Calgary
The Calgary Zoo says a "tragic accident" led to the recent death of one of its adult Masai giraffes.
A statement from the zoo says a female giraffe named Emara died May 19 after tangling one of her horns in a cable surrounding her enclosure.
The statement says a necropsy revealed Emara fell against the enclosure fence and died almost instantly of a broken neck.
Emara, who had just turned 12, came to Calgary from the San Diego Zoo in 2016.
The statement says she was a treasured member at the zoo and was known for her cautious yet curious personality and gentle nature.
The zoo says it is checking fencing within its African Savannah Yard enclosure to see if changes are needed to better protect the other giraffes and animals that share the space.
Doug Whiteside, interim associate director of animal care and welfare at the zoo, said Emara was in her prime and was in excellent health when she died.
"Major life changes such as this not only affect our people but can affect our animal residents as well," Whiteside said in the statement Monday.
He said the zoo's remaining giraffes, Nabo and Moshi, are doing well.
Grief counsellors are being made available to Emara's caregivers and other zoo staff.
This report by The Canadian Press was first published May 29, 2023.